These vegan lentil quinoa bowls are a delicious and filling plant-based meal. Loaded with veggies like cabbage, sweet potatoes, and carrots, and topped with a savory peanut sauce, this bowl provides a variety of flavors and nutrients. While it does take a bit of prep time, it's worth it!
Ingredients
This recipe does call for quite a few ingredients and a bit of time to make 'em all, but I think you'll love all the amazing flavors in the final dish!
Here's what you'll need for the bowl ingredients:
Red lentils – Lentils are a type of legume (like beans). Red lentils have an earthy, slightly sweet flavor to them.
Quinoa – Though technically a seed, we treat quinoa like a whole grain in cooking. It's hearty and higher in protein than many other grains. (PS – you can make an even bigger batch then called for, and save the extra to use tomorrow in this yummy cranberry apple quinoa breakfast bowl!)
Sweet potatoes – Packed with beta carotene and fiber, sweet potatoes are a great healthy carb for active folks.
Red onion – Roasted red onions add a nice mild onion flavor to these bowls.
Cabbage – You can use red or green cabbage for this recipe. I used red since that's what I had on hand. Around half of a small head will do; if it's really small feel free to use the entire head.
Green onions – In addition to the red onion, I like adding green onions in here to for another pop of flavor.
Cilantro – This adds an herbaceous quality to the bowl – but if you're one of those people that perceives cilantro as soapy or metallic tasting, feel free to leave this off!
Avocado – Healthy fats for the win!
Olive oil, salt, and pepper – Additional ingredients for roasting your veggies.
And here's what you'll need for the peanut sauce:
Natural peanut butter – This works best in the sauce because it's creamier and drippier, which helps it blend into the sauce.
Soy sauce – Adds salty and umami components.
Red chili sauce – I always have this in my fridge, and love the tangy flavor it offers. Feel free to leave it out if you don't have any on hand though.
Rice vinegar – Adds acidity and tanginess to help the sauce "pop."
Sesame oil – With a slightly nutty flavor, this adds additional fat and richness.
Garlic and salt – For flavor and seasoning.
Maple syrup – Adds just a smidge of sweetness to round out the salty and umami flavors.
Coconut milk – Creates a base for the sauce and makes it rich and delightful.
Instructions
Alright, I know looking at the ingredients can be a little overwhelming! But if you prep everything at the start, you can move through this recipe pretty quickly.
Full instructions and ingredient amounts are in the recipe card at the bottom of this post, but here's a helpful overview with some photos:
Start by getting all your veggies chopped and set aside. Little prep bowls help with this! You can also take out all the sauce ingredients and set 'em aside on the counter so they're ready when you need them. And of course, preheat your oven.
Now that you're ready to cook, go ahead and make your lentils and quinoa according to package directions. For the best texture on each, cook in separate pots – but if you want to make this easier and save a pot, go ahead and cook them in the same pot. If you're planning to make that way, combine the ½ cup quinoa, ½ cup lentils, and 2 ½ cups water in the pot, then simmer about 15-20 until both are cooked.
Next, it's time to roast some of your veggies – so you'll pop 'em on a baking sheet and mix with oil, salt, and pepper. You're going to use two baking sheets:
Baking sheet 1: Carrots, sweet potatoes, red onion. The carrots and sweet potatoes are chopped; the red onion is quartered, like the photo below (this is before cooking):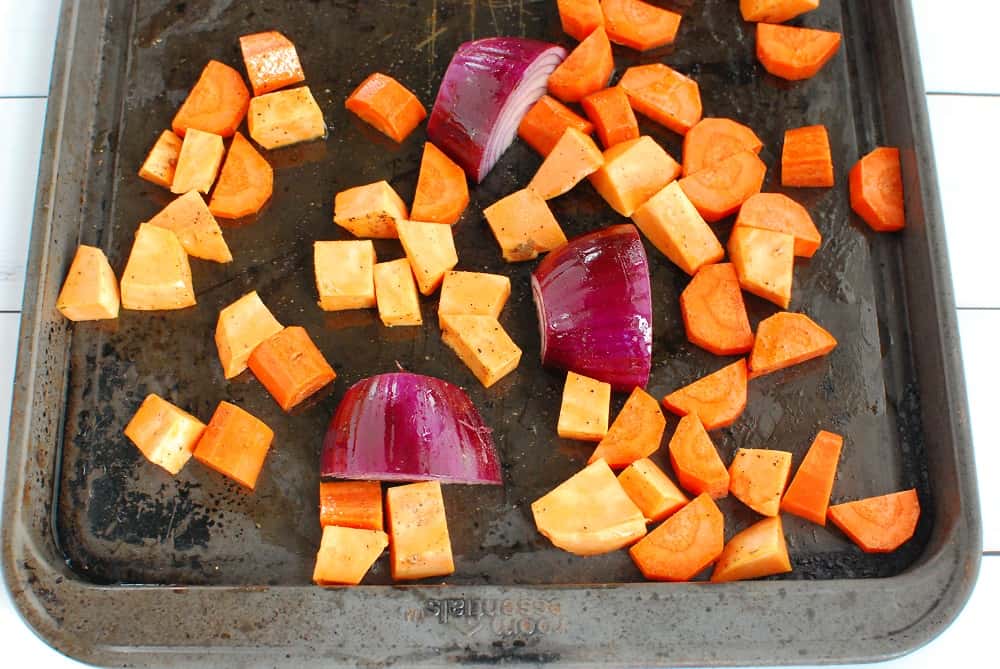 Baking sheet 2: Cabbage. You want this sliced about ½ to ¾ inch thick into rounds. Here's what that looks like (before cooking):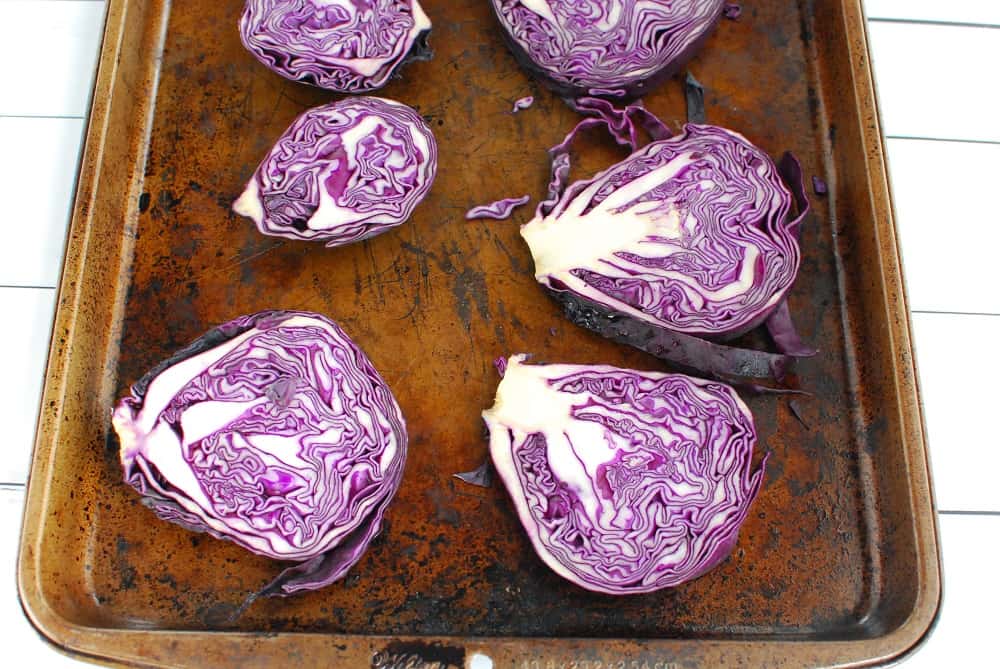 Pop both of those in the oven at the same time. Set a timer for 15 minutes and give everything a stir (or for the cabbage, a flip). Pop them both back in the oven, and let the cabbage cook for another 5 minutes (20 total) and the other pan for another 10-15 minutes (25-30 minutes total).
When they're done, you will need to chop up the cabbage and red onion a bit.
Now you're ready to make your peanut sauce. All you're going to do is take every single sauce ingredient and dump it in a small pot. Simmer that for a few minutes, stirring occasionally, and it'll blend together and thicken up a bit.
Last step – build your bowls! To each bowl, add some quinoa, lentils, carrots, sweet potato, red onion, cabbage, cilantro, green onions, avocado, and peanut sauce.
Phew – not so hard, right?!
If your family won't be finishing the full recipe today, feel free to prep some meal prep containers with the remaining portions to heat up and eat for lunches later – it works great that way!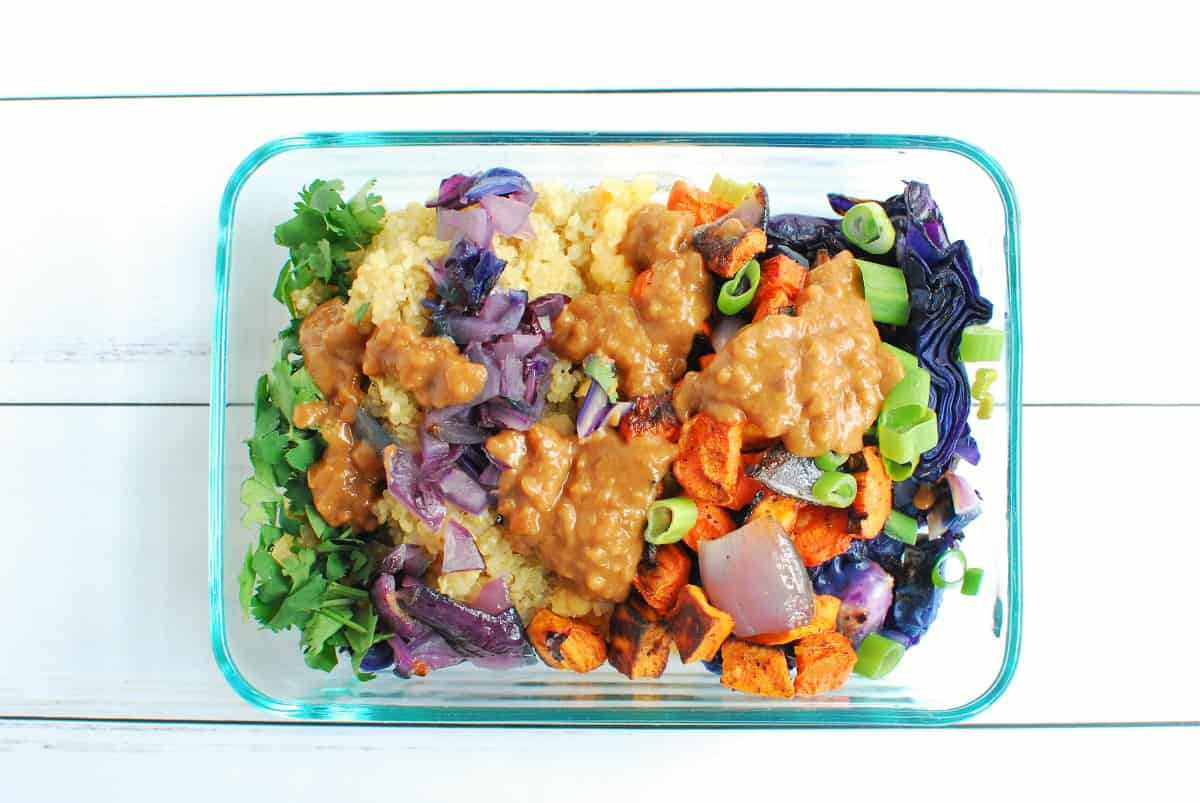 Recipe FAQ
Here are some common questions that may come up as you prepare this recipe:
Can you use another grain besides quinoa? Sure – feel free to use rice, amaranth, or sorghum.
How do you store leftovers? Use food storage containers and add all the bowl ingredients except the avocado. Store in the fridge for up to 4 days. Reheat in the microwave for 1-2 minutes when ready to eat. Cut fresh avocado and add to the top.
Can you use other vegetables? Yes! This quinoa lentil bowl is very flexible. For example, you could try butternut squash instead of sweet potatoes, parsnips instead of carrots, and brussels sprouts in place of cabbage. Feel free to adjust based on what you have on hand.
Nutrition benefits
While I'm not personally vegan, I do appreciate any meal that packs in quality produce and nutrients. This recipe definitely meets that criteria!
As a dietitian and runner, I love this dish because it's rich in healthy carbs that help to fuel workouts.
It's also packed with fiber to support digestive health and the microbiome – 13 grams per serving!
And you get a variety of other nutrients too. In fact, this bowl is an excellent source (i.e. provides more than 20%) of the following vitamins and minerals:
Many B Vitamins, including niacin, riboflavin, and thiamin
Vitamin A
Vitamin C
Vitamin E
Vitamin K
Iron
Magnesium
Potassium
Zinc
Last but not least, all those colorful veggies contain many phytonutrients and antioxidants to promote good health.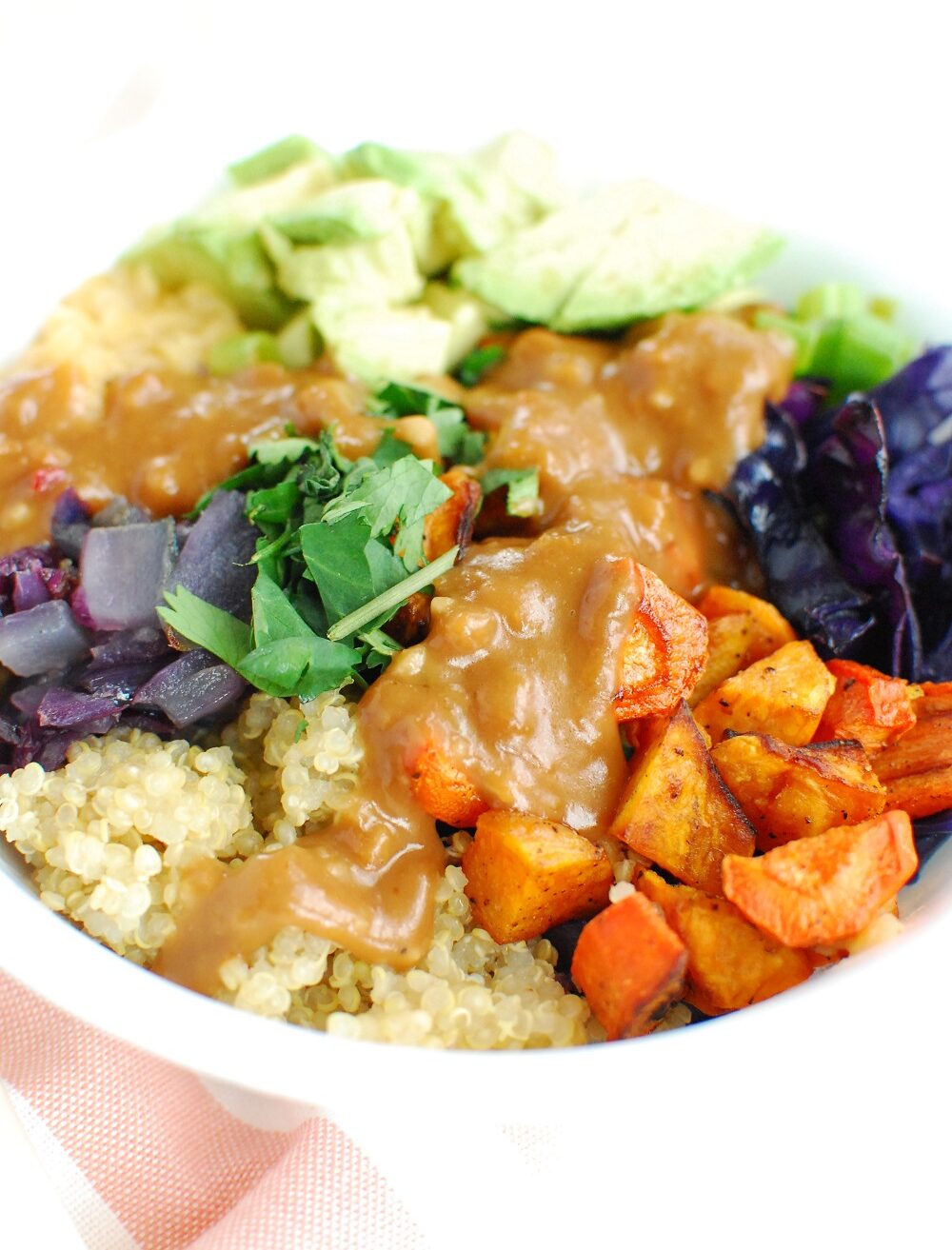 I hope you enjoy this lentil quinoa bowl recipe! I know it's a bit of work, but I think you'll be pleased with the outcome. If you get a chance to try it, please feel free to share your rating and comments below.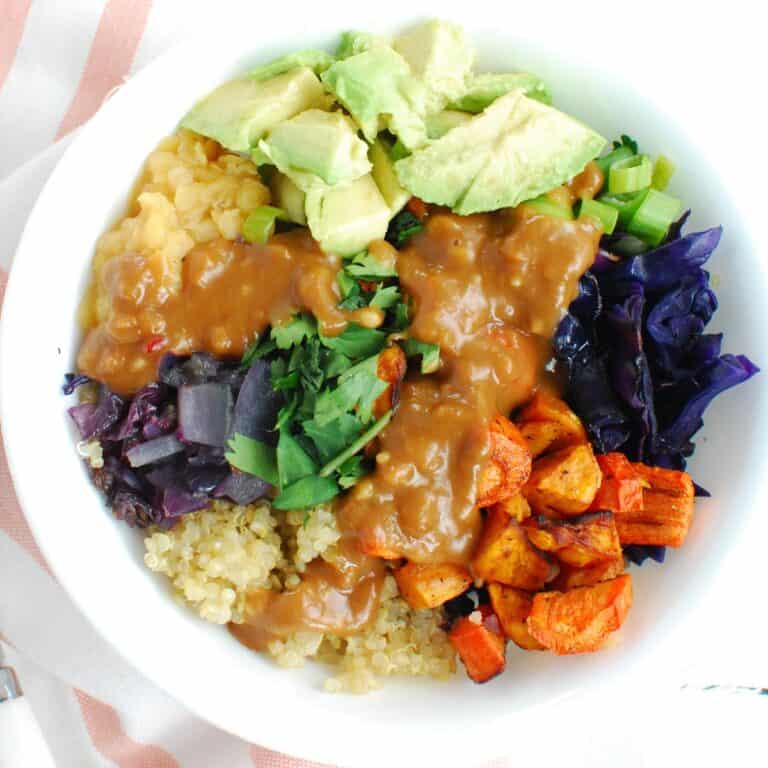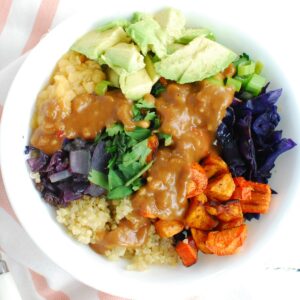 Vegan Lentil Quinoa Bowl with Peanut Sauce
Enjoy this power-packed vegan lentil quinoa bowl, with tons of veggies and a delicious peanut sauce!
Ingredients
For the Bowls:
½

cup

uncooked red lentils

½

cup

uncooked quinoa

2

medium sweet potatoes, peeled and chopped

2

large carrots, peeled and chopped

1

medium red onion, quartered

½

small head of cabbage, cut lengthwise into ½-inch rounds

2

tbsp

olive oil

¼

tsp

salt

¼

tsp

pepper

3

green onions, chopped

¼

cup

cilantro, chopped

(optional)

1

avocado, peeled, pitted, and chopped
For the Peanut Sauce:
2

tbsp

natural peanut butter

2

tbsp

lower-sodium soy sauce

(use gluten free tamari or soy aminos if gluten free)

1

tbsp

sweet red chili sauce

(optional)

1

tbsp

rice vinegar

1

tsp

sesame oil

1

tsp

minced garlic

1/2

tbsp

maple syrup

1/8

tsp

salt

1/2

cup

coconut milk
Instructions
Preheat the oven to 400 degrees F. Prep and chop all your vegetables.

Prepare the quinoa and red lentils according to package directions.*

Place the sweet potatoes, carrots, and red onion on one baking sheet. Place the cabbage rounds in a single layer on the other baking sheet. Drizzle the vegetables with the olive oil and sprinkle on the salt and pepper, dividing evenly between the two baking sheets. Give everything a good toss with your hands to ensure it's coated and seasoned well.

Place the baking sheets in the oven. Cook the cabbage for about 20 minutes, and the carrots and sweet potatoes for 25-30 minutes, stirring and flipping once halfway through.

While the quinoa, lentils, and veggies are cooking, prepare the peanut sauce. Add all the sauce ingredients to a small pot. Simmer over low heat for 5 minutes, stirring occasionally, until well combined and slightly thickened.

When the veggies are done, chop the cabbage and red onions.

Build your bowl! To each bowl, add some quinoa, lentils, sweet potato, carrots, cabbage, red onion, green onions, cilantro, and avocado. Top with a little peanut sauce. Enjoy!
Notes
To save on dishes, you can cook the quinoa and red lentils together in the same pot if you'd like. Combine the ½ cup quinoa, ½ cup lentils, and 2 ½ cups water. Simmer for 15-20 minutes, until fluffy and tender, keeping a close eye on it and adding additional water if needed.
Feel free to use any leftover roasted vegetables instead of roasting the carrots, sweet potatoes, onion, and cabbage.  This dish is flexible.
Nutrition analysis (approximate per serving): 541 calories, 27 g fat, 8 g saturated fat, 525 mg sodium, 65 g carbohydrate, 13 g fiber, 15 g sugar, 15 g protein, Vitamin D: 0%, Calcium: 9%, Iron: 26%, Potassium: 26%
Nutrition
Share: What are your favorite veggies to add to a vegan power bowl like this?
Feel free to pin this post to refer to later…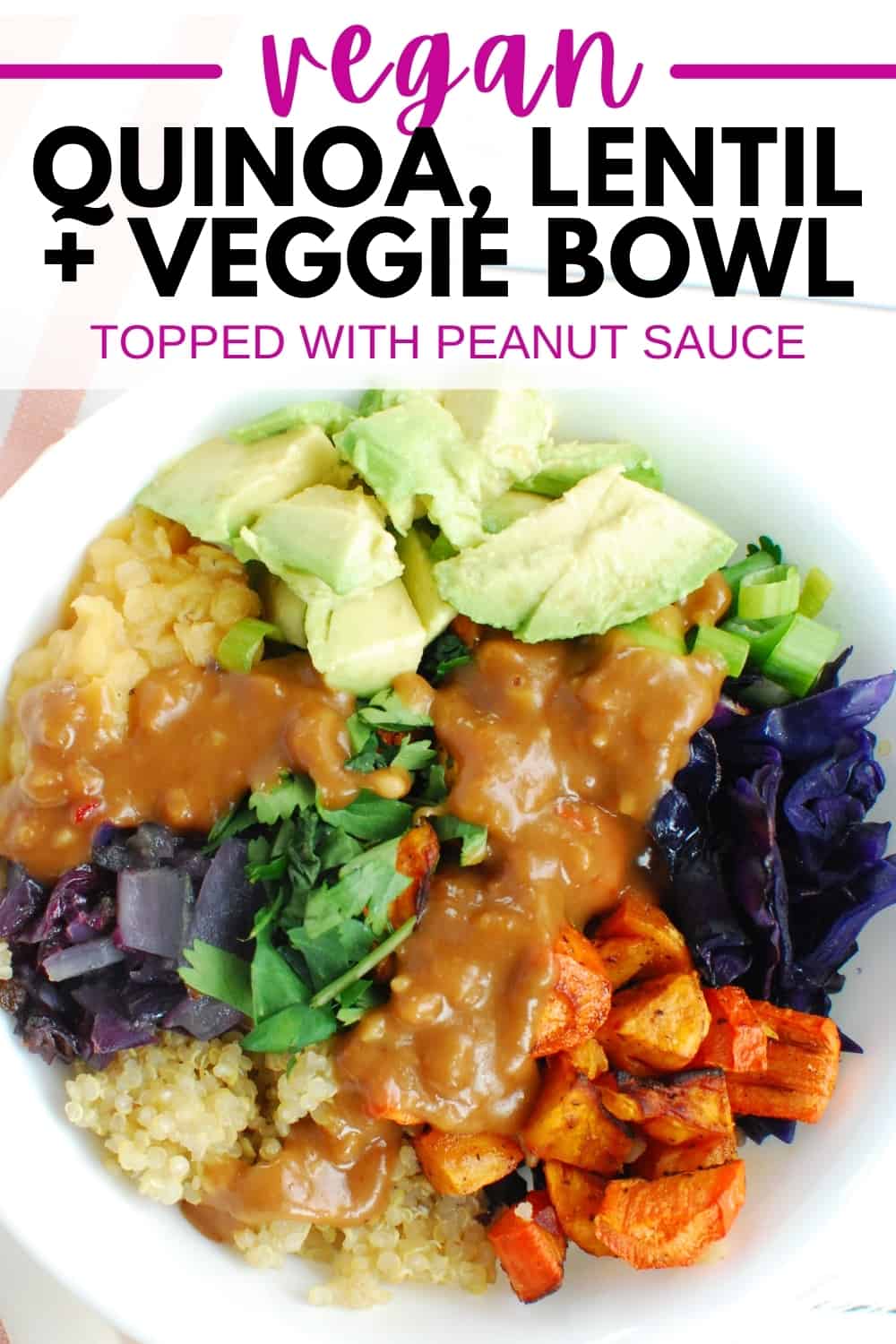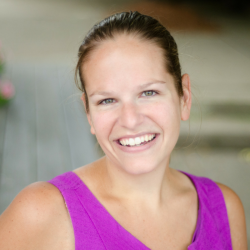 Latest posts by Chrissy Carroll
(see all)