Alright runners and triathletes, this cranberry apple breakfast quinoa is for you! I like this recipe as a pre-long run breakfast because it's carb-rich and for most people it's pretty easy on the stomach. It's great to fuel you up about an hour or two before a long run or event.
I've left the recipe as-is from how I make it, but you can tweak it in several ways:
Cut back on the cranberries or apples as needed if the amount of fruit bothers your stomach (or if you don't like the tartness of the cranberries).
Reduce or eliminate the nuts if they bother your stomach, or if you're allergic.
Add some plain greek yogurt to mix in if you want to add more protein.
You could also turn it into a dinner the night before a long run or race by stuffing it in some acorn squash and adding grilled chicken to the mix.
Because it's relatively low in protein as written, I might not use this as a regular everyday breakfast without adding some greek yogurt or a side of a protein-rich food to the mix – but the basic version is perfect to try before long runs or rides to see if it sits well in your stomach and helps fuel you.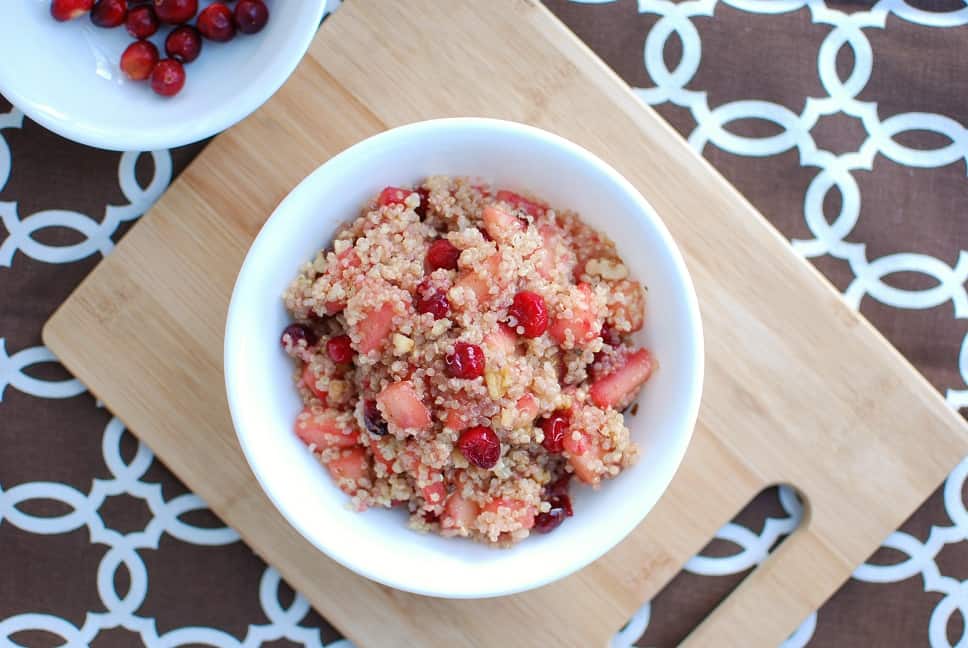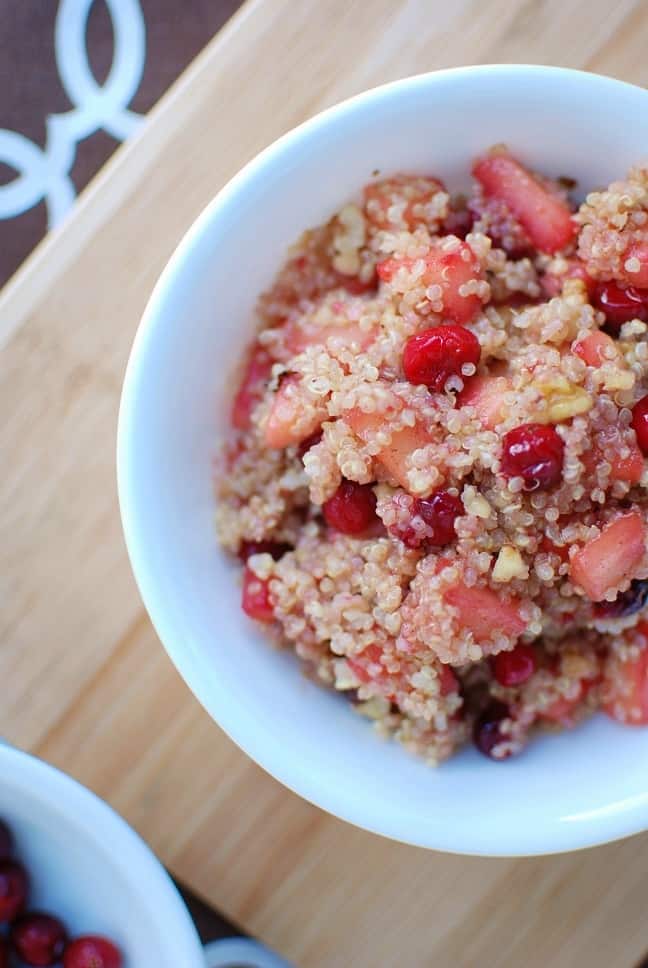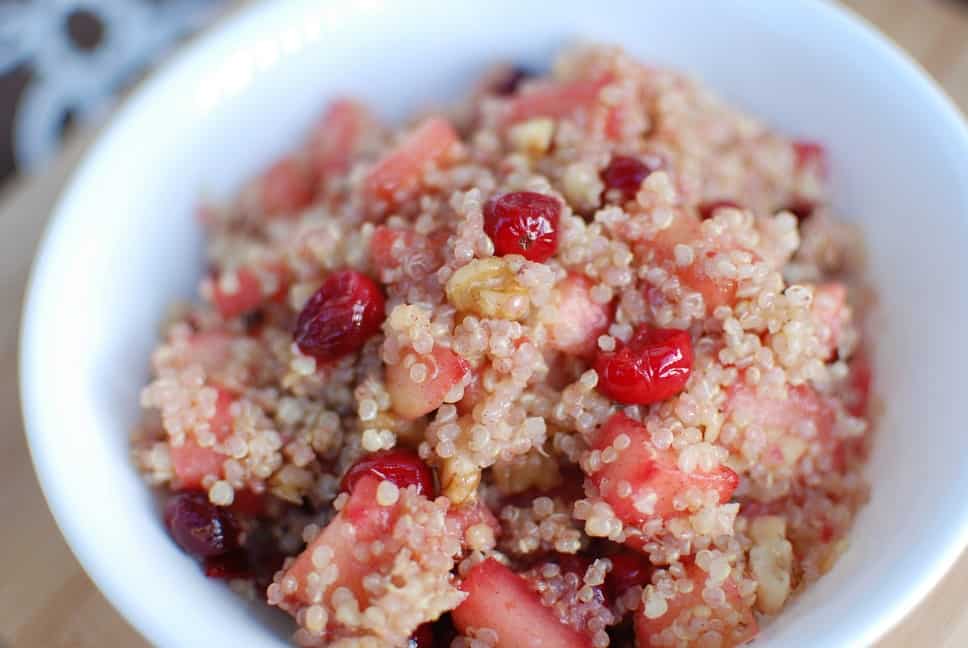 Cranberry Apple Breakfast Quinoa
2016-02-13 13:02:11
Serves 2
Ingredients
2 tsp cooking oil (whatever you prefer – olive oil, coconut oil, etc)
1 large apple (or 2 small apples), peeled and sliced thinly or chopped into small pieces
1 cup fresh cranberries
1 tbsp brown sugar
1/2 tsp cinnamon
1 cup cooked quinoa (simply cook according to package directions; about 1/3 cup dry = 1 cup cooked)
3 tbsp chopped walnuts
Instructions
Cook quinoa according to package directions.
Meanwhile, in a large skillet, heat 2 tsp olive oil. Add apples and cook for a few minutes until they start to soften a bit.
Add cranberries, brown sugar, and cinnamon to the pan. Cook until berries are soft and a few begin to burst.
Mix apple cranberry mixture with cooked quinoa and walnuts. Voila! All done.
Nutrition analysis (approximate per serving)
330 calories, 13 g fat, 48 g carbohydrate, 8 g fiber, 6 g protein
Vitamin A: 2%, Vitamin C: 19%, Calcium: 5%, Iron: 12%
Snacking in Sneakers https://www.snackinginsneakers.com/
Share with me: Have you ever had quinoa for breakfast? What's your favorite breakfast to eat before a long run or ride?