Gearing up to run a full 26.2 this year? Whether it's your first race and you're trying to figure out how to get started, or you've already done a full marathon but want a more structured training plan this round – you've come to the right place. This free 16 week marathon training schedule will help you cross the finish line strong!
This plan was produced in partnership with the coaches over at Multisport Mastery. If you're an intermediate or advanced athlete looking for individualized help – definitely reach out to them.
Everything you need to know about this 16 week marathon training schedule:
The full plan is located at the bottom of this post; however I recommend reading over all the important details below prior to starting it. This will help you assess if you're ready to start and also provides details on all the workouts in the training schedule.
Who is this training plan for?
This plan is designed for the following groups:
Beginner runners doing their first marathon
Experienced runners who want a simple training plan for a marathon (but who aren't looking to crush a PR time goal – if that's more your style, check out our 12 week intermediate marathon training plan)
What level of fitness do I need to start?
Athletes should be regularly running around 20 miles per week with a comfortable long run of around 6-7 miles prior to beginning this plan.*
*Disclaimer: I am not a physician; check with your doctor prior to starting any new exercise program.
What if I don't have this level of fitness yet?
If you haven't yet built up to being able to do a 6-7 mile run comfortably yet, spend some time working up to this prior to starting this 16 week marathon training schedule.
You can also check out some of my other training plans, like the 6 month marathon training plan or 20 week marathon training schedule – because both of these start father out from race day, you can start from a lesser fitness level. For the 6 month plan, you should be able to comfortably run (or run/walk) 2 miles; for the 20 week plan you should be able to comfortably run 3-4 miles to start.
What is the time commitment for this plan?
The plan is designed to help you get from a solid running base to crossing the finish line of a full marathon in 16 weeks.
This plan includes 4 run workouts each week with optional cross-training days on Wednesdays and Sundays. Mid-week runs range from 20 minutes to 90 minutes. Weekly long runs range from 8 miles to 20 miles.
Your Weekly Schedule
Your week is broken down as follows:
Monday – Easy run
Tuesday – Track speed workouts
Wednesday – Rest or cross training
Thursday – Easy run
Friday – Rest
Saturday – Long run
Sunday – Rest or cross training
Workout Descriptions:
On your schedule, you'll notice a few different types of workouts. Here's the breakdown of what those mean:
CROSS TRAINING workouts – For the purposes of this training plan, cross training should be low-intensity/low-impact exercises. Try weaving in activities like easy cycling, gentle yoga, or swimming to promote recovery.
EZ Runs – Just like it sounds, these runs should not feel overly challenging. Aim to complete them around 60-90 seconds slower than your goal marathon pace – think a comfortable, conversational pace. By running at this pace, you are able to promote training adaptations without stressing your body too much.
LONG runs – The long runs are the backbone of any marathon training plan. They gradually increase in mileage for 2-3 weeks, then drop down slightly for a week to give your body a chance to recover. Don't worry about finishing these in any particular pace, just aim to complete the mileage listed. And don't feel overwhelmed looking at the high mileage numbers – remember you can always add in walking breaks as needed too.
TRACK workouts – Always start and conclude your Tuesday track workouts with 10-15 minutes of easy running. Then you'll complete the sets that are listed on the schedule. The workouts are listed as number of sets X distance, along with a rest interval.
For example, the week 13 track workout is listed as 3×1 mile at PACE, R = 90 seconds. That would look like this:
Warm up with 10-15 minutes easy running
Run 1 mile at goal marathon pace
Rest 90 seconds (active rest OK)
Run 1 mile at goal marathon pace
Rest 90 seconds (active rest OK)
Run 1 mile at goal marathon pace
Rest 90 seconds (active rest OK)
Cool down 10-15 minutes easy running
On these Tuesday track workouts, you'll notice a few different connotations listed specific to these runs for pacing. These include:
PACE = goal marathon pace
TEMPO = 30 seconds faster than goal marathon pace
R = Rest interval (active rest i.e. walking or jogging is fine depending on your personal fitness level)
Descend = start easy and get faster each rep
Warm Ups, Cool Downs, and Stretching:
On your easy runs and long runs, give your body a few minutes at the beginning at a slow pace to warm up. Similarly, when you finish, try walking around for a few minutes afterward just to give your heart rate a chance to drop back down gradually.
All of your Tuesday track workouts should begin with 10-15 min. of easy running to warm up, followed by the Main Set as indicated in the schedule, and conclude with 10-15 minutes of easy running to cool down.
Stretch after your runs. If you struggle with tight muscles on a regular basis, consider adding foam rolling.
There you have it! All the key info you need to know to cross the finish line at your marathon race.
16 Week Marathon Training Schedule
You'll find a quick image with all the basic training plan data below. Feel free to pin this so you can save it for later!
If you want a more specific day by day breakdown (i.e. when to do cross training, which days should be rest days, etc), you can download a comprehensive version of the plan here.
*Please note, this plan is not to be distributed on other websites or used for commercial purposes.*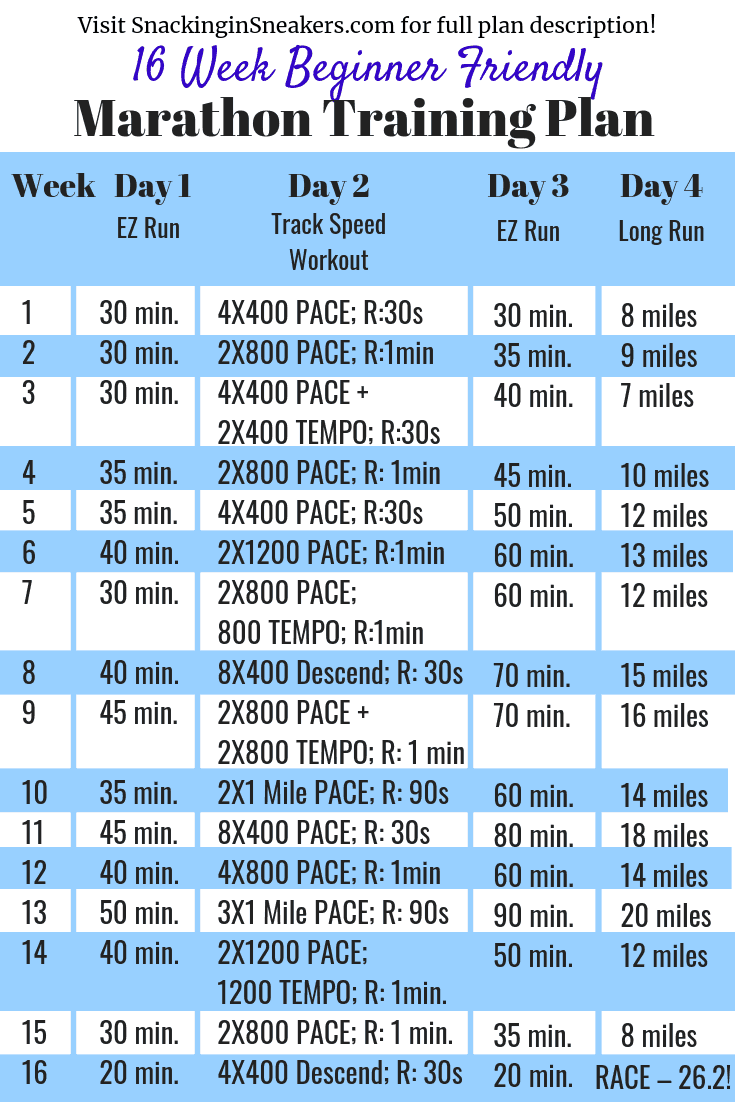 Multisport Mastery helped put together this training plan. They specialize in individualized performance plans for multisport athletes of all abilities. Whether your goal is to run a marathon, compete in a triathlon, ride in a week-long cycling event or finish an Ironman, Multisport Mastery offers customized coaching to bring out the best in each athlete no matter who you are or where you want to go.
Share with me: Which marathon are you currently training for? Is it your first race? Do you have any questions about this 16 week marathon training plan?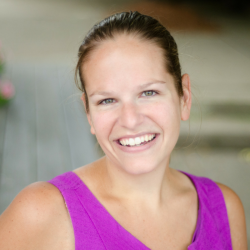 Latest posts by Chrissy Carroll
(see all)