Calf pain is a common complaint among runners, athletes, and physically active individuals. Calf pain can limit your ability to train and compete, so it's important to take steps to prevent injury and reduce pain.
This article will review the anatomy of the lower leg and discuss common types of calf pain. We will also explore why you may have calf pain when running, how to treat and prevent it, and when to seek professional help. Keep reading to learn more about handling calf pain as a runner.
Disclaimer: This post was written by JayDee Vykoukal, Doctor of Physical Therapy. It has been reviewed by Chrissy Carroll, MPH, USAT Level I Triathlon Coach, RRCA Running Coach. This post is for informational purposes only and does not constitute medical advice. Please consult a physician for any medical concerns.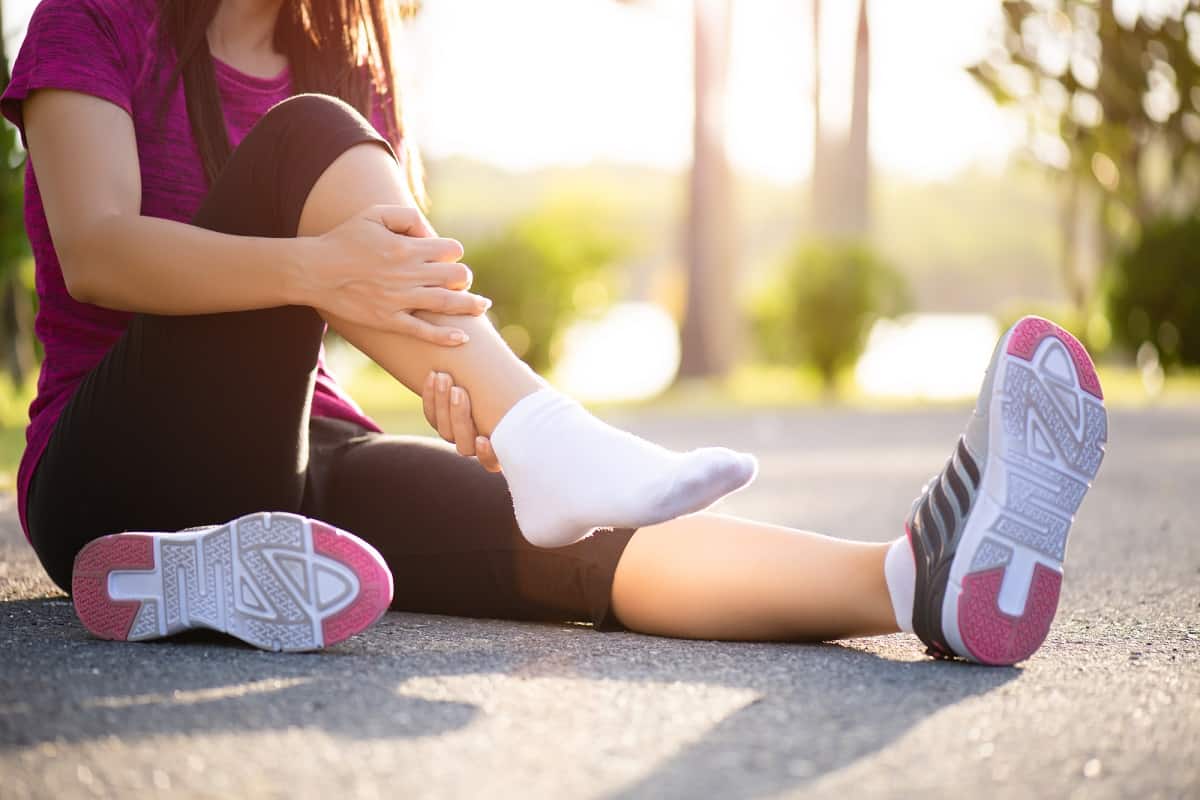 Calf Anatomy and Function
The calf muscles are the large muscles on the back of your lower leg, called the gastrocnemius and soleus muscles. These muscles connect your knee to your ankle and play a major role in activities such as walking, running, and jumping.
These powerful muscles allow the body to propel itself forward with running and walking. Additionally, they can collectively flex (bend) the knee and point the toes (plantarflexion)- but not simultaneously- and provide lower body stability via intricate connective tissue.
Daily activities and sports can become nearly impossible without properly functioning calf muscles. Thus, optimal calf strength and flexibility (and overall health) are key to a good quality of life and doing the things you love most.
Common Types of Calf Pain in Runners
Let's review the most common causes of calf pain that runners may deal with.
Acute Calf Pain
Acute calf pain is sudden and often severe, usually caused by a specific incident or injury.
Examples of conditions that can cause acute calf pain include:
Calf muscle strain

: A tear or partial tear in one of the calf muscles from overexertion (such as with overuse, sprinting, heavy lifting/pushing, etc.)

Achilles tendon strain/rupture

: A tear or rupture of the Achilles tendon, a thick band of tissue that connects the calf muscle to the heel bone

Calf muscle cramp

: A sudden, involuntary contraction of the calf muscles due to overexertion or dehydratio

n
Lower leg trauma

: From a fall or other high-impact force that can lead to bruising, swelling, and pain
Chronic Calf Pain
Chronic calf pain persists over a long period (over six weeks) and is often the result of overuse injuries or other underlying conditions. Common causes of chronic calf pain include:
Tendinitis

: Inflammation of a tendon, which can occur in the Achilles tendon or other tendons in the lower leg.

Stress fractures

: A small crack in a bone that can be caused by overtraining or imbalances in the lower body.
Less common reasons for chronic calf pain include:
Arthritis

: Inflammation of the joints, including the ankle joint

Nerve entrapment

: Compression of a nerve in the lower leg, which can cause sensations of pain, burning, tingling, and numbness.

Compartment syndrome or shin splints

: Excessive pressure in a muscle compartment can cause severe lower leg pain (much more common in the front of the leg in the shin, not the calf).
Risk Factors for Developing Calf Pain as a Runner
Various factors can contribute to the development of calf pain. Understanding the potential causes of calf pain can help individuals take steps to prevent it and seek appropriate treatment.
Poor Mechanics
Poor mechanics, or the way in which the body moves during physical activity, can contribute to calf pain.
For example, overstriding (taking steps that are too big while running) can put excessive strain on the calf muscles and lead to overuse injuries.
Shoe choices and other components of your running strategy and overall body alignment can also impact calf pain (don't immediately think you need to start barefoot running; this can make calf pain worse for some runners).
Other mechanical factors contributing to calf pain include:
Tightness in the hip flexors

Weakness in the core muscles

Overpronation of the foot (collapsing of the arch)

Excessive hip adduction or internal rotation, often evident as "knock knees" with running

Landing stiffly and heavily with each strike of the foot due to habit or underlying muscle weakness
Lower Body Dysfunction
Lower body dysfunction can contribute to calf pain, including:
Flat feet, or fallen arches, can cause the foot to roll inward excessively, leading to overuse injuries in the calf muscles

High arches and stiff feet can lead to poor shock absorption, ankle stiffness, and calf strain
Tight muscles, particularly in the calves, hamstrings, and hip flexors, can also contribute to muscle strain and overuse injuries

Conversely, hypermobility, or excessive flexibility, can lead to muscle strain and overuse injuries as the muscles may not provide sufficient support and stability

The entire lower body (and even the upper body) are connected via dense connective tissue known as fascia. Thus, a dysfunction anywhere in the body can contribute to calf pain (and vice versa). See more about conditions like lower cross syndrome.
Overuse Injury/High Training Volume
Overuse injuries are a common cause of calf pain and can occur when the body is not given sufficient time to recover between runs and other high-impact activities. Increasing training volume too quickly can also contribute to overuse injuries and calf pain.
Improper Footwear
Wearing inappropriate or poorly-fitting footwear can also contribute to calf pain while running. Shoes not offering sufficient support or cushioning (for those that need it) can strain the calf muscles, leading to overuse injuries. Excessively worn shoes can also exacerbate calf pain. Choosing shoes that fit properly and are designed for your running goals (terrain, distance, etc.) is important.
Running Surface
The surface on which an individual runs can also contribute to calf pain. Hard surfaces, such as concrete or a treadmill, can be jarring and strain the calf muscles more than softer surfaces, such as dirt or a track. It is important to vary running surfaces and avoid running on hard surfaces excessively to reduce the risk of calf pain.
Other Risk Factors for Calf Pain with Running
Dehydration or electrolyte depletion

Exhaustion

Trying a new exercise or sport
Red Flags That Warrant Immediate Medical Help
In some cases, calf pain may signify a more serious underlying condition. It is important to seek medical attention if any of the following red flags accompany calf pain:
Extreme swelling or bruising in the lower leg

Difficulty bearing weight on the affected leg

Pain that does not improve with rest

Skin that is warm to the touch and dark red

Extreme sensitivity to touch and squeezing of the calf muscle

Calf pain that occurs after a prolonged stretch of sitting, flying, or a surgical procedure
These are signs of a blood clot, known as a deep vein thrombosis (DVT)- a medical emergency.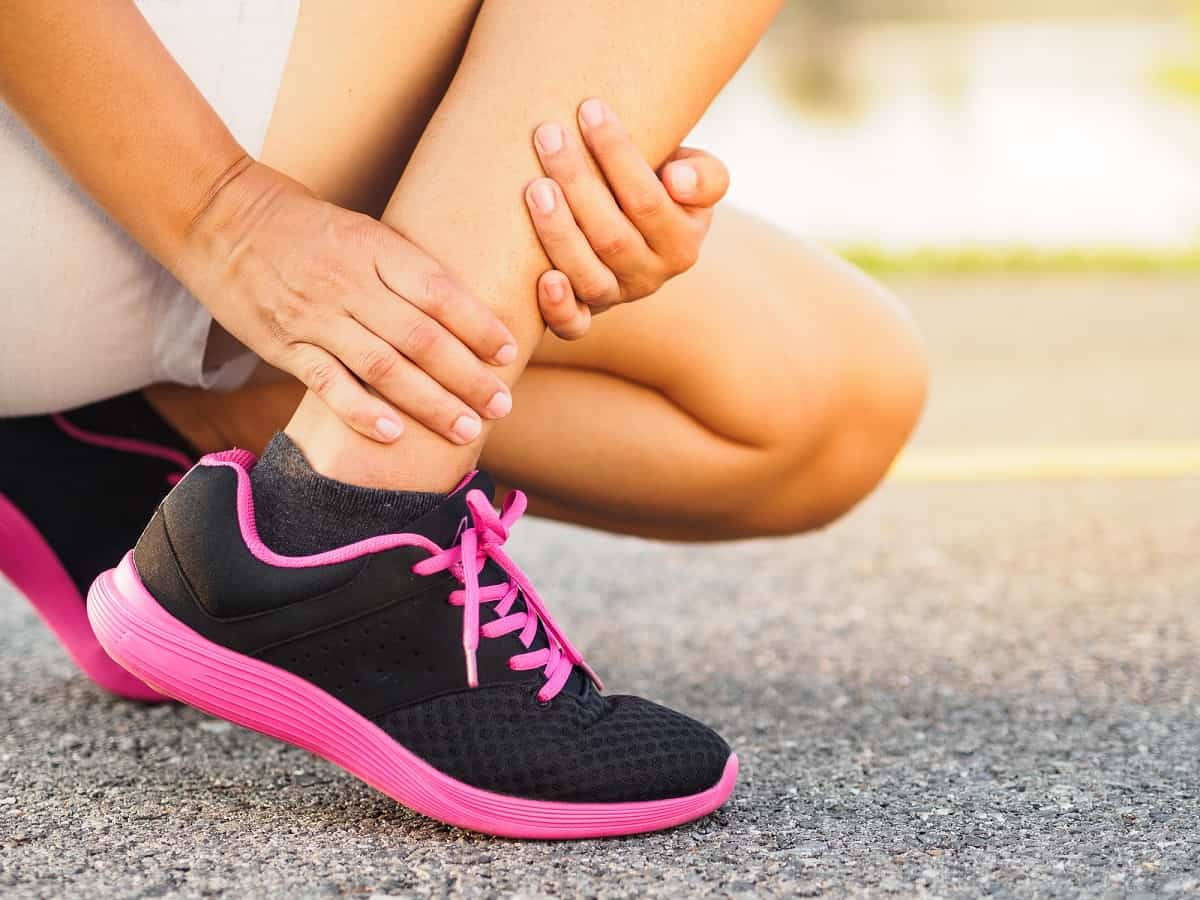 How to Prevent or Treat Calf Pain
Calf pain can be frustrating and debilitating, but some steps can be taken to prevent or treat it. Taking steps to manage your pain can help reduce the risk of injury progression, re-aggravation, or other complications that can force you to take a break from running longer than you'd like.
As a Doctor of Physical Therapy, here are my top tips.
Schedule a Biomechanical Analysis
A biomechanical analysis involves evaluating how the body moves during running (or any physical activity) and can help identify any mechanical factors contributing to calf pain. A virtual or in-person physical therapist can watch, assess, and explain exactly what does (or doesn't) need to change with your running form. It can be a game changer for calf pain, overall performance, and beyond.
Modify Your Training Schedule (and Surfaces)
When dealing with calf pain, make sure to modify your training schedule to allow your body time to recover. This may involve reducing the intensity or volume of training or taking additional rest days.
Additionally, varying the running surface can help reduce the onset or aggravation of calf pain. Avoid running on hard surfaces excessively, and consider incorporating softer surfaces, such as a track (dirt or rubber rice), into the training schedule.
Depending on the severity of your calf pain, you won't necessarily need to take a complete break from running. However, you will have to stay tuned into your body and adjust your training accordingly (rather than ignoring any pain and pushing through).
Wear Appropriate Footwear
It is important to wear shoes that are well-fitting and appropriate for your running goals. Remember that the type of shoe can vary depending on many factors, such as terrain, mileage, foot alignment, and foot mobility.
Consider consulting a footwear expert if needed, such as a podiatrist or physical therapist. Additionally, replace shoes when they become excessively worn and no longer provide adequate support or cushioning.
Try These Exercises and Stretches
Several exercises and stretches can help prevent and treat calf pain. Incorporating these and other lower body exercises into your weekly gym or home workout routine for maximal benefits is best. Options include:
Intrinsic Foot Strengthening
Intrinsic foot strengthening exercises can help improve the stability and support of the foot and reduce the risk of calf pain. These exercises can be performed while sitting or standing. To get started, grab a seat, place your foot flat on the ground, and try these foot-coordinating moves for a few minutes throughout the day as needed.
Alternate between lifting and crunching the toes while keeping the ball of the foot on the floor

Grab a small bowl of marbles and practice picking them up with your toes

Place a towel on the floor and try to scrunch it under your foot with your toes

Practice keeping your heel and toes firmly on the ground while you "lift" your arch off the ground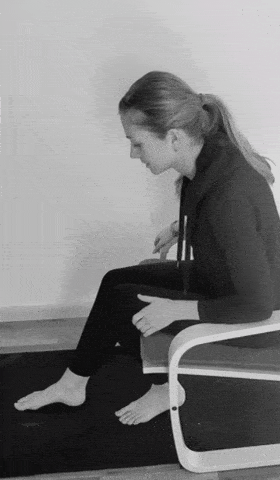 Calf Stretching
Stretching the calf muscles can help support tissue flexibility and reduce the risk of muscle strain. Let's review my favorite way to stretch the calves:
Stand on a step with the ball of your foot resting on the edge

Keeping your balance with the railing and let your free heel fall toward the ground while keeping a straight knee

Stop when a strong stretch is felt in the calf and hold for 60 or more seconds

Repeat for 2 or 3 sets

Next, repeat the stretch with the knee bent to stretch the deeper calf muscle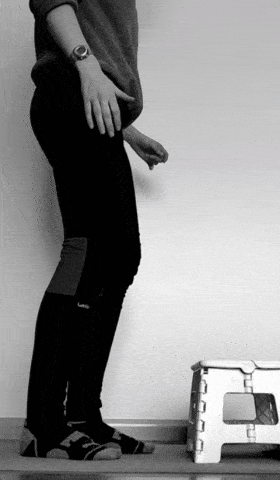 Full Body Stretching
Stretching the muscles of the entire body, including the glutes, hamstrings, and lower back can help improve overall flexibility and reduce the risk of calf pain.
Yoga is one great way to stretch the entire body and improve balance and stability. Try one or more of these moves:
Tree pose (single leg balance)

Static lunge

Child's pose

Seated forward fold (hamstring stretch)
Ankle Strengthening
Strengthening the ankle muscles can help improve stability and reduce the risk of calf pain.
Grab a lightweight resistance band and tie a loop in one end for your foot to fit in

Sit on the floor with your legs out in front of you and rest them on the floor

Complete the four following movements while focusing on moving slowly and controlled with each exercise

Repeat each move for 10 to 15 repetitions and 2-3 sets total
Plantarflexion: Place the loop around your toes with the ends facing upward. Hold the ends tight in your hands as you point your toes against the resistance (this will gently activate the calf muscles to promote blood flow and healing- don't force it if it's painful).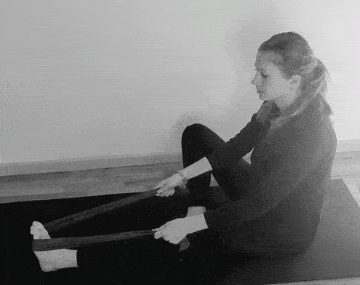 Dorsiflexion: Opposite the move above, you will change the direction of the band ends so that it is on the bottom of the foot. Ask a family member or friend to hold the ends for you. Otherwise, secure the band to a sturdy surface like a weight. Then, with the band taut, pull your toes toward your shin.
Inversion: Turn the band, so the end is outside your foot. Then, cross your legs with the foot you're strengthening on top. Hold the band diagonally as far away from your foot as possible. With a taut band, push inward with your foot- taking care only to move your ankle (not your hip).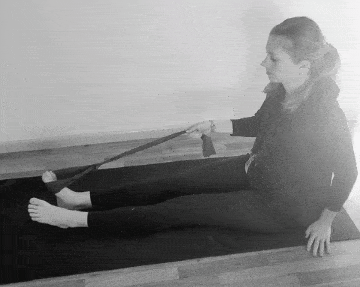 Eversion: Finally, uncross your legs and turn the band to face inward. Hold your opposite hand to the side while you push away and outward, once again taking care only to move the ankle.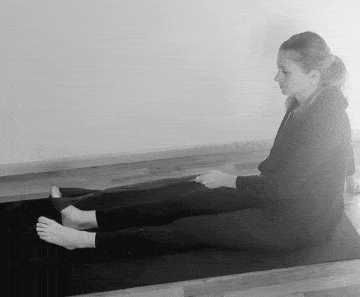 Functional Training
Functional training exercises, such as single-leg balance, lunges, and jumping, can help improve stability and reduce the risk of calf pain. The key is to focus on pain-free movement and good form.
Other Calf Pain Prevention Tips for Runners
In addition to the above strategies, several lifestyle changes and activities can help manage and prevent calf pain. These include:
Cross-training

: Incorporating a variety of physical activities, such as cycling or swimming, can help reduce the risk of overuse injuries and calf pain

Strength training

: Strengthening the muscles of the entire body, particularly the core, can improve stability and reduce the risk of calf pain

Follow the 10% Rule: While there are exceptions to every rule, it's generally good practice to not increase training mileage by more than 10% compared to the previous week.
Overall health

: Lifestyle habits like managing stress, prioritizing good mental health, getting enough sleep, and eating a balanced diet, can help prevent calf pain and other overuse injuries from running- and ultimately help you feel your best.
When in Doubt, Talk to a Professional
Seeking guidance from a professional, especially a movement expert like a physical therapist, can be powerful in preventing and treating calf pain. They can assess any underlying mechanical or functional issues and provide recommendations for treatment and prevention. They can also advise on appropriate footwear and training strategies to reduce the risk of calf pain.
Should I Run with Calf Pain?
Whether you can continue running with calf pain or not depends on a lot of factors. If you're unsure, it's best to take a break and re-assess. If the pain persists after modifying your training plan (and trying the tips above), talk to a professional for guidance sooner than later.
Ultimately, listening to your body and respecting its limitations is important. Taking the time to address any underlying issues can help you get back on track with running safely and confidently. These strategies can be a great tool in managing calf pain and preventing the risk of further injury. Don't wait until the pain gets worse – take action today to keep your calf muscles healthy and strong.
Latest posts by JayDee Vykoukal
(see all)