This cheeseburger frittata is easy to make with just a few ingredients, is packed with protein, is low carb, and just plain delicious!
Disclosure: This post is in partnership with Walden Local Meat. If you choose to sign up for their meat share, I receive a credit towards my share. As always, all opinions are my own.
Most of us get plenty of protein at lunch and dinner meals, but breakfast is one meal that tends to fall short. And while you don't necessarily need a protein-packed morning meal every single day, it is wise to mix these options into your week.
Protein helps keep you full longer, preventing those mid-morning hunger pangs. And for any of my active peeps reading this, you know that protein is key for muscle repair and recovery. Research is starting to show that ideally, getting protein in moderate amounts spread throughout the day is a better nutrition strategy compared to the standard American diet where we get very little in the morning and then a ton at night at dinner.
So where do you turn for a protein rich breakfast option? This cheeseburger frittata, of course!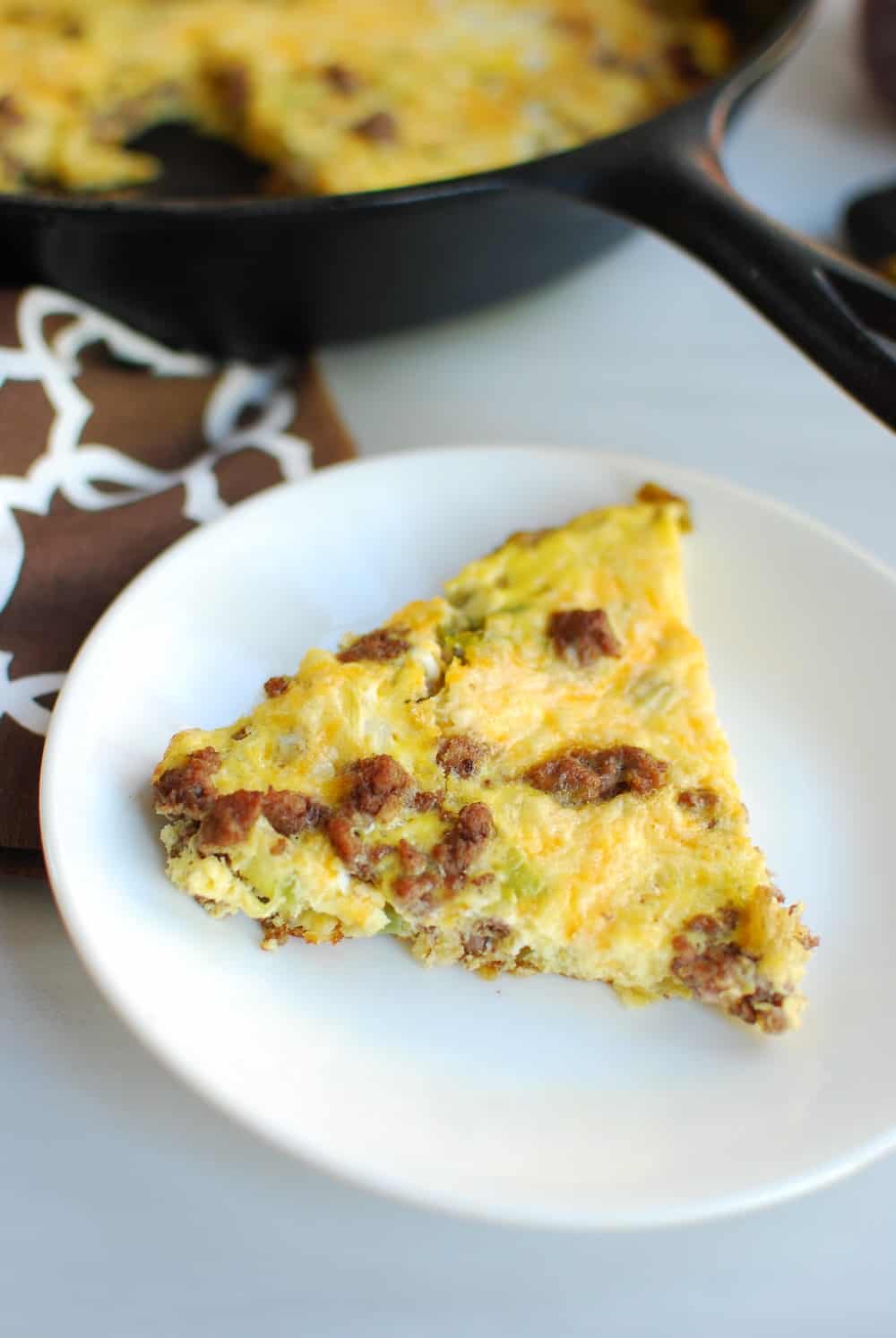 Reasons to love this cheeseburger frittata
Ground beef at breakfast may seem like a novel idea, but it works so well in this frittata. It's cheesy and filling and just all around delicious. And all you need to make this are five simple ingredients:
ground beef
scallions
green chiles
eggs
cheese
Use a cast iron skillet to brown the beef, then toss in the scallions, chiles, scrambled up eggs, and cheese. Pop it in the oven for about 10-12 minutes and boom – it's as simple as that!
You end up with about 6 servings of frittata with just 250 calories each and 21 grams of protein. Heck to the yes.
You can put any extra servings in tuperware and pull them out throughout the week for breakfast – a quick 30-60 seconds in the microwave and it's ready to eat.
And for anyone on the ketogenic diet, this is definitely a delish keto frittata!  It only has 2 grams of carbohydrate and packs in plenty of fat and protein.  I'm not personally a keto follower (you can read my thoughts about why I don't think it's been proven to boost performance for athletes) – but I also know that nutrition is super individualized.  If you follow it and don't find it too restrictive, by all means, more power to ya.  And I'm glad I could include a recipe to help! 🙂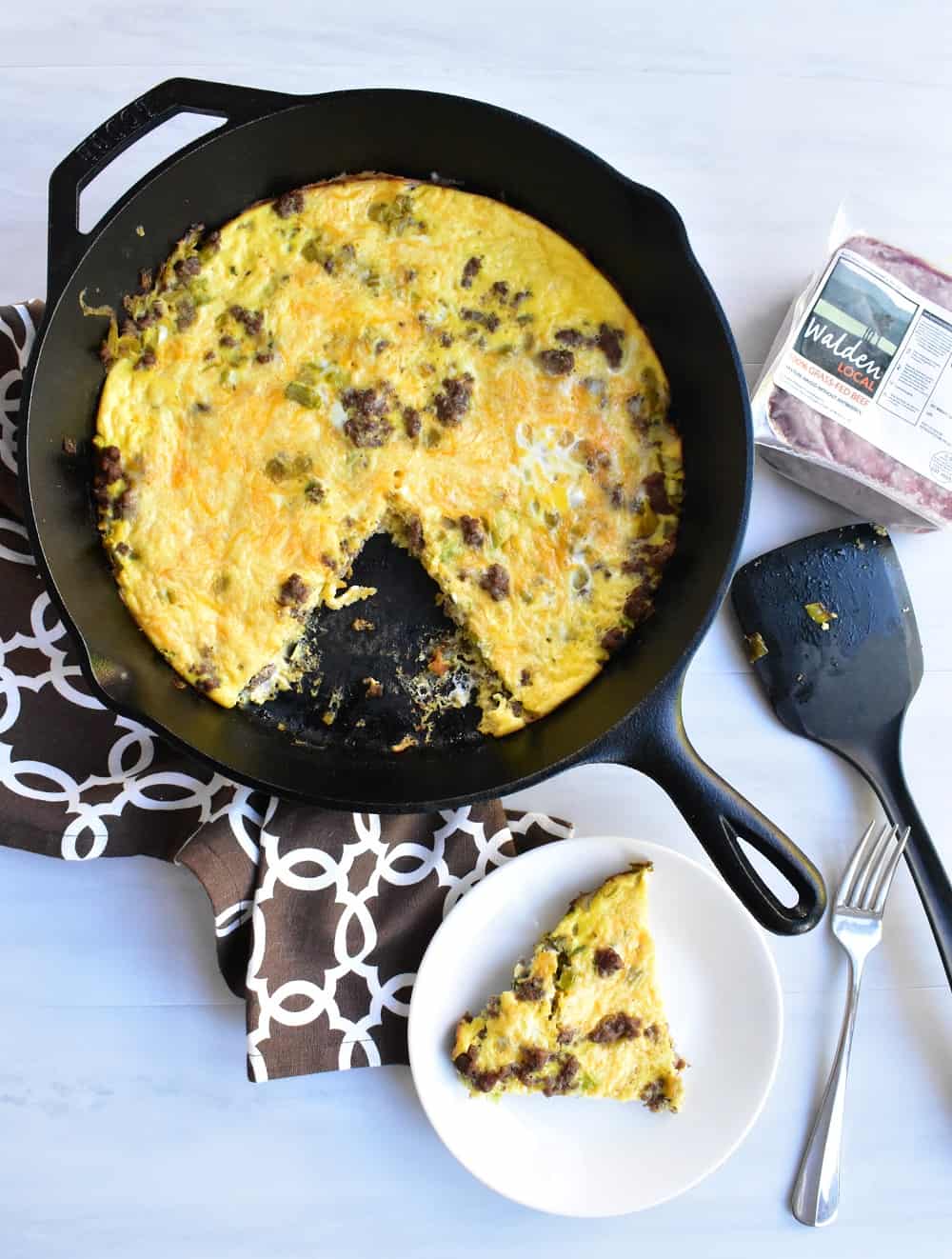 What kind of ground beef should you use for this frittata?
Lately, I've been obsessed with getting my ground beef from Walden Local Meat Co. They offer shares of local, pasture-raised meat that is grown on small farms throughout New England – and deliver it right to your door.
My family gets the 20-21 lb share, and that gives us a ton of meat to use for the month:
Those ground beef packages are what I use in this frittata – I actually like to defrost a package and use half for this frittata, and then meal prep a few taco bowls for lunch with the rest of the meat.
All of the beef from Walden Local is grass fed and finished, which gives it a slight nutritional edge compared to conventional counterparts.  It generally contains less overall fats, more omega-3s, and more CLA.  (Whether those differences become clinically significant in the diet is a matter of debate among professionals, but one thing is for sure – I definitely believe any unprocessed beef can play a role in a healthy diet thanks to it's protein, B12, and iron.)
If you're in the Northeast and you want to grab some of the grass fed beef for yourself, you can sign up for Walden Local here.  And when you select share size that's right for your family using my link and you get to the sign up page, just choose "referred by current member" in the "how did you hear about us?" drop down box.  You can put my name (Chrissy Carroll) and you may be treated to a $25 credit for your first share. (Note this offer may expire at anytime).
As an aside, you can skip shares or cancel with them at anytime, but I really think once you try them you won't ever want to quit – at least that's been our experience so far.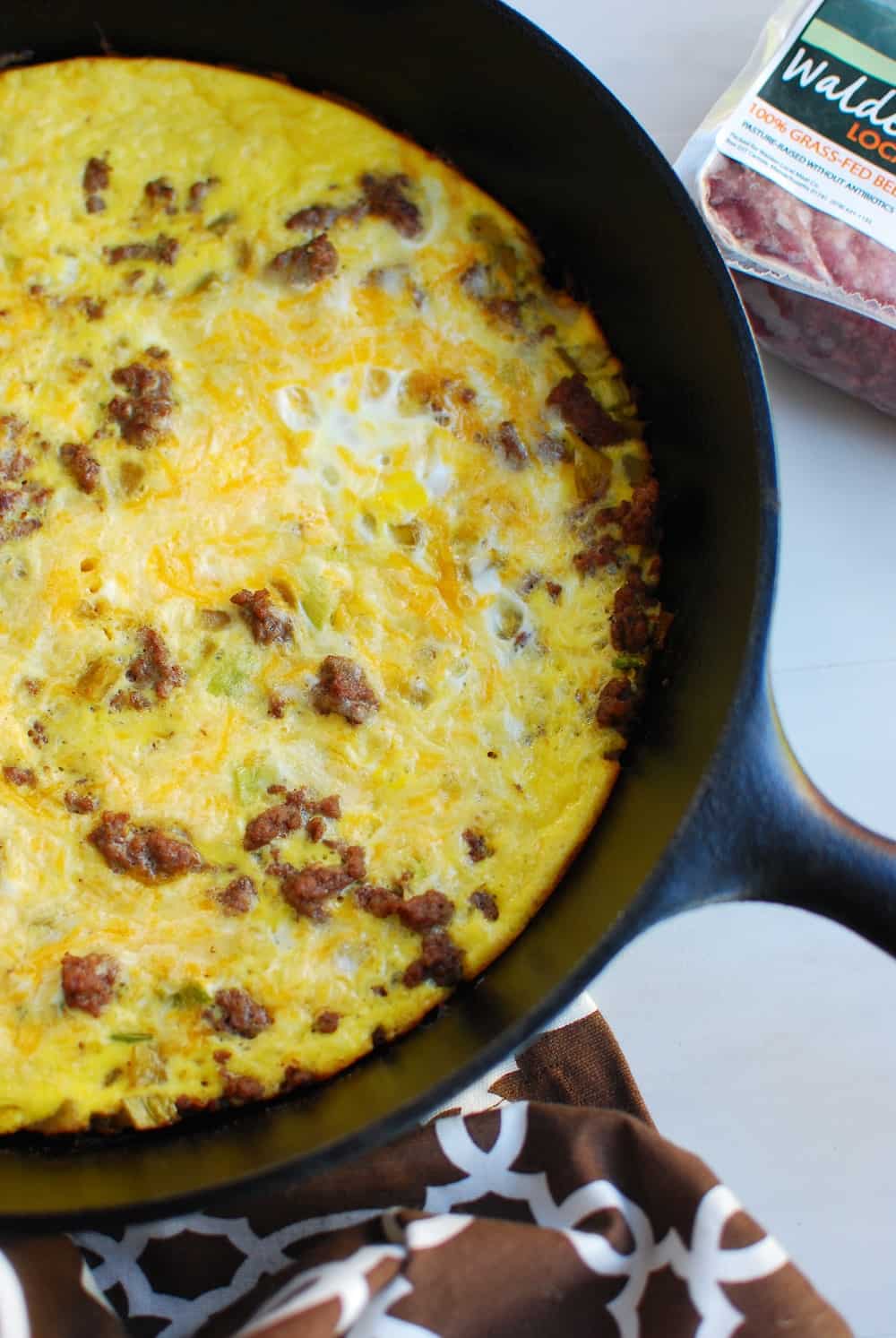 Anyway – no matter where you buy your meat, I know you'll just love this keto-friendly ground beef frittata. Give it a try, then be sure to pop back over here, rate the recipe, and let me know how you liked it in the comments!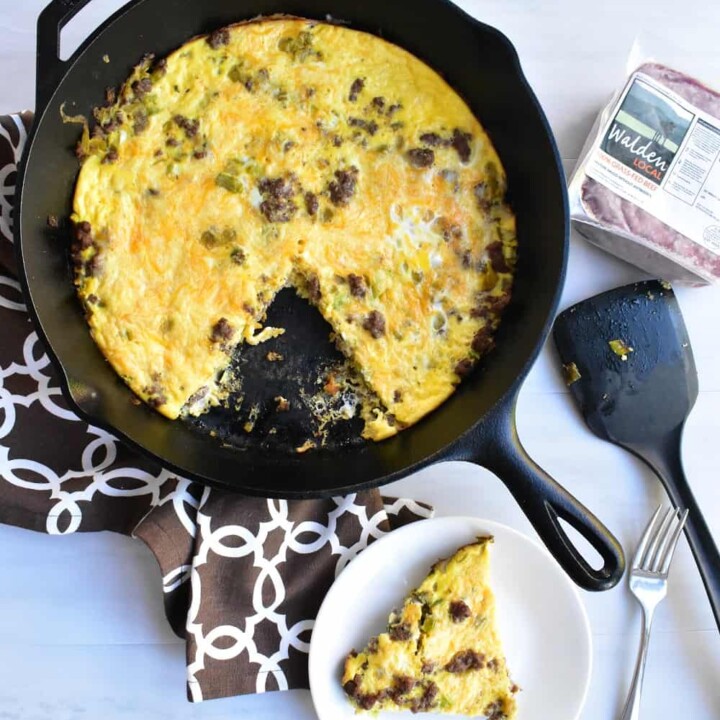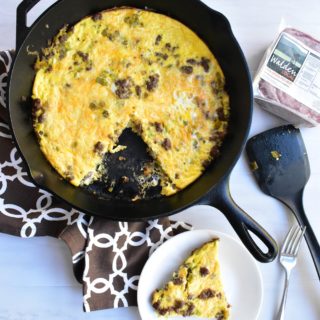 Cheeseburger Frittata
This 5 ingredient cheeseburger frittata is a protein-packed breakfast that's super easy to make! And it's low carb and keto friendly.
Ingredients
8

ounces

ground beef

3

scallions, chopped

4

ounce

can green chiles

6

eggs

1

cup

cheddar cheese
Instructions
Preheat oven to 375 degrees.

Brown the ground beef in a large cast iron skillet until fully cooked. Drain off any excess fat.

Add scallions and green chiles and give everything a good stir. Turn off heat.

Whisk together 6 eggs in a mixing bowl. Stir in the cheddar cheese. Dump egg and cheese mixture in the skillet.

Place skillet in the oven and bake for 10-12 minutes, or until eggs are fully cooked through. Eat as-is, topped with salsa, or topped with ketchup.
Notes
Nutrition analysis (approximate per serving):
250 calories, 17 g fat, 7.5 g sat fat, 533 mg sodium, 2 g carbohydrate, 0.5 g fiber, 1 g sugar, 21.5 g protein, Vitamin A: 16%, Vitamin C: 5%, Calcium: 18%, Iron: 14%
Nutrition
Share with me: Do you get your meat at the grocery store, from a meat share, or another way? What's your favorite breakfast that has a lot of protein? What did you think of this cheeseburger frittata?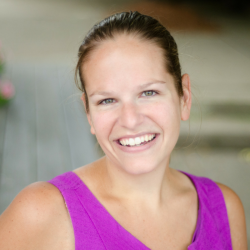 Latest posts by Chrissy Carroll
(see all)