Salads don't have to be boring – in fact, they can be creative, nutritious, and downright delectable! This easy cheesesteak salad is a great example. It's a perfect twist on the traditional Philly sandwich, with all the classic flavors – but a bigger batch of veggies. With all the meaty, cheesy deliciousness, you can be sure this salad will satisfy even the heartiest appetites.
Disclosure: This post is sponsored by the Northeast Beef Promotion Initiative, a subcontractor to the Beef Checkoff. As always, all opinions are my own.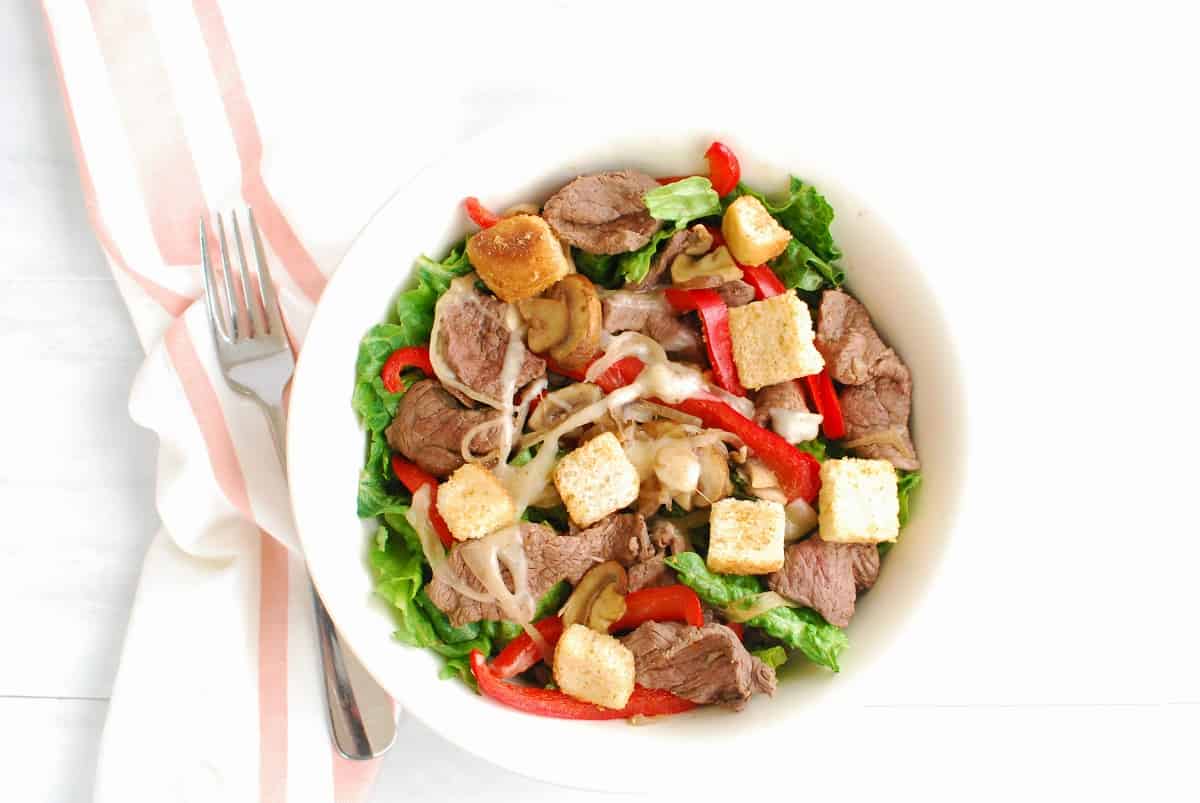 Ingredients
Here's a photo of everything you'll need to make this recipe, along with selected ingredient notes.
Top sirloin steak – While cheesesteak sandwiches are traditionally made with ribeye, I prefer using top sirloin in this salad. Top sirloin is a lean cut of beef (meaning it has less than 10 grams of fat in a 3-ounce cooked serving) and contains ten essential nutrients like protein, B-vitamins, iron and zinc. If you're on a budget right now and are trying to save money on your beef purchases, though, feel free to look for lean ground beef instead – it's still a great option for this recipe and is a cost-effective choice.
Romaine lettuce – I like romaine for the crisp bite it adds to this salad. Green leaf lettuce would also be a great choice.
Provolone cheese – Provolone is my favorite cheese for cheesesteaks, but you could also use white American, or even cheddar or Swiss if that's what you've got on hand.
In addition to the salad ingredients pictured above, you'll need a dressing. I went with a homemade variety, but you could definitely use any of your favorite store-bought dressings.
If you want to make your own dressing, here's what you'll need for the easy Worcestershire vinaigrette.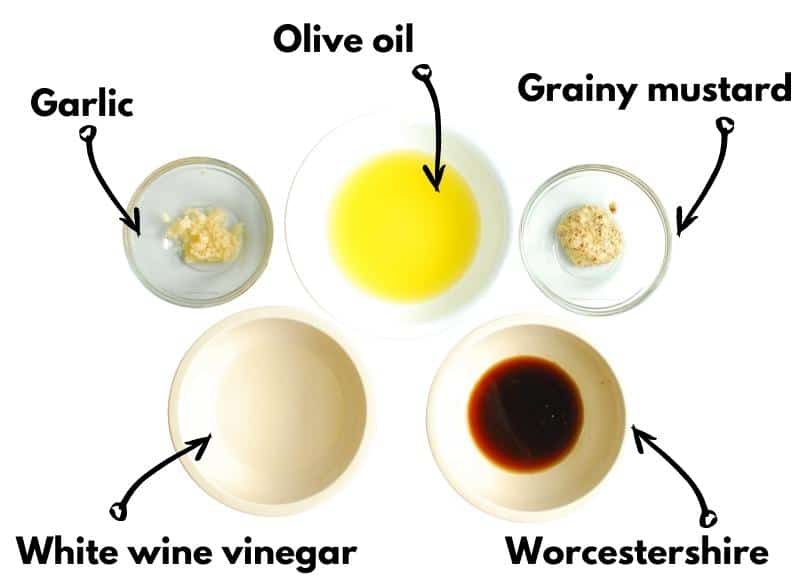 Step by Step Instructions
You'll find full recipe instructions and amounts in the recipe card at the bottom of the post, but here's a helpful overview with photos.
Start by getting all your veggies chopped and your steak sliced thinly. To slice your steak, here are two helpful tips to get a thin slice:
Ensure that your knife is very sharp, as this will allow you to easily slice through the meat.
Pop the steak in the freezer for an hour before you plan to slice it. This makes it easier to slice thinly.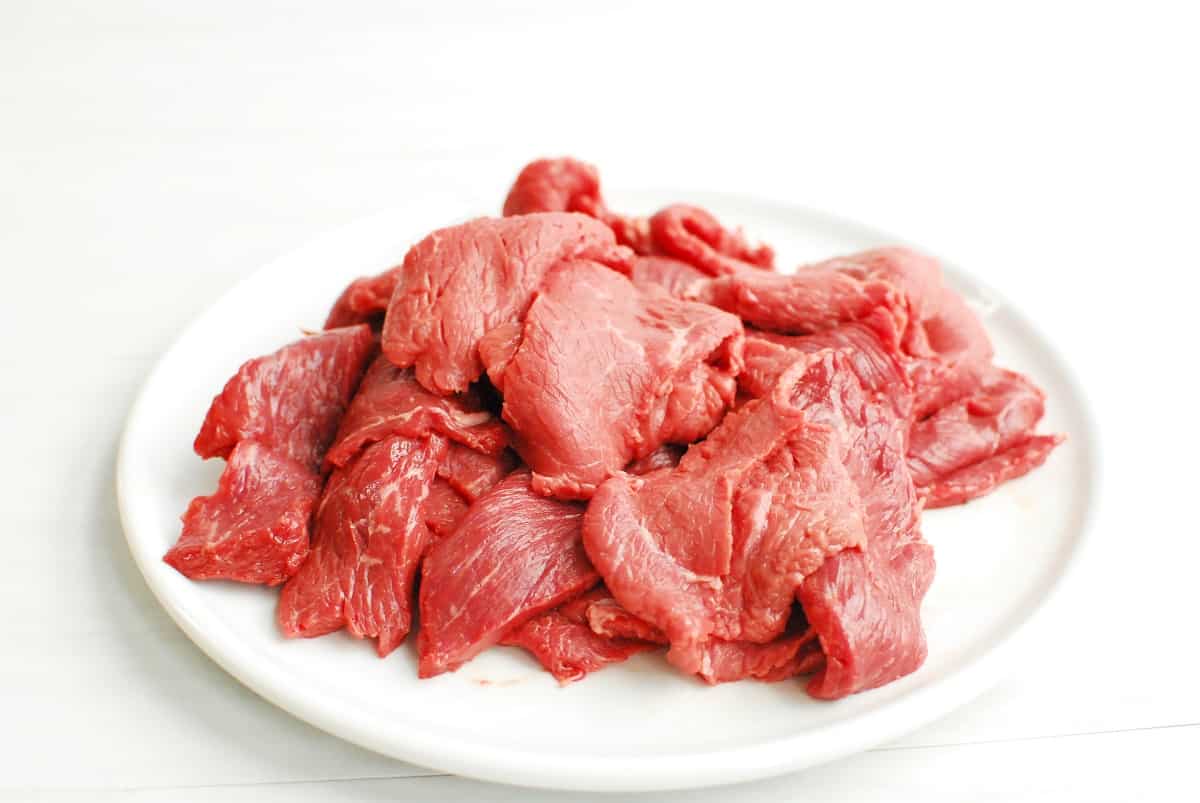 Next, prepare the dressing if you plan to make it on your own. Just combine all the dressing ingredients in a mason jar and give it a good shake. If you plan to use store bought, just skip this step!
Now it's time to prepare the cheesesteak ingredients. Heat some olive oil in a skillet and add your onions, peppers, and mushrooms. Sauté these for about five minutes until they start to get tender.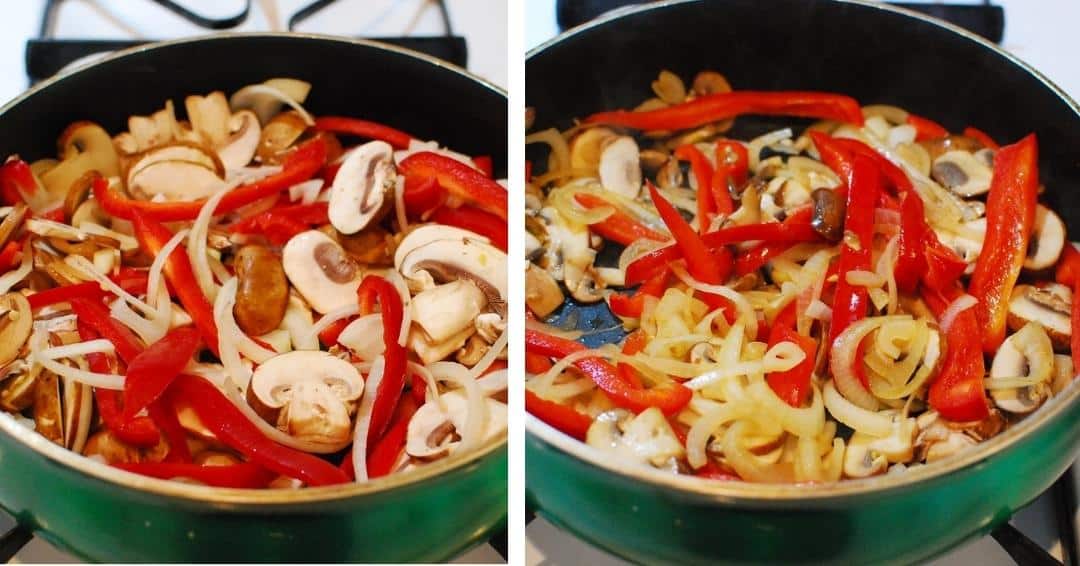 Season the beef with a little salt and pepper, and add that to the skillet. The key is to cook it until it's just finished, and avoid overcooking it. It should only take a few minutes if sliced thin.
Once that's done, pop the provolone over the top and remove from heat. Let it sit for a few minutes so the provolone gets a little melty on top. Nothing like ooey gooey cheese, am I right?!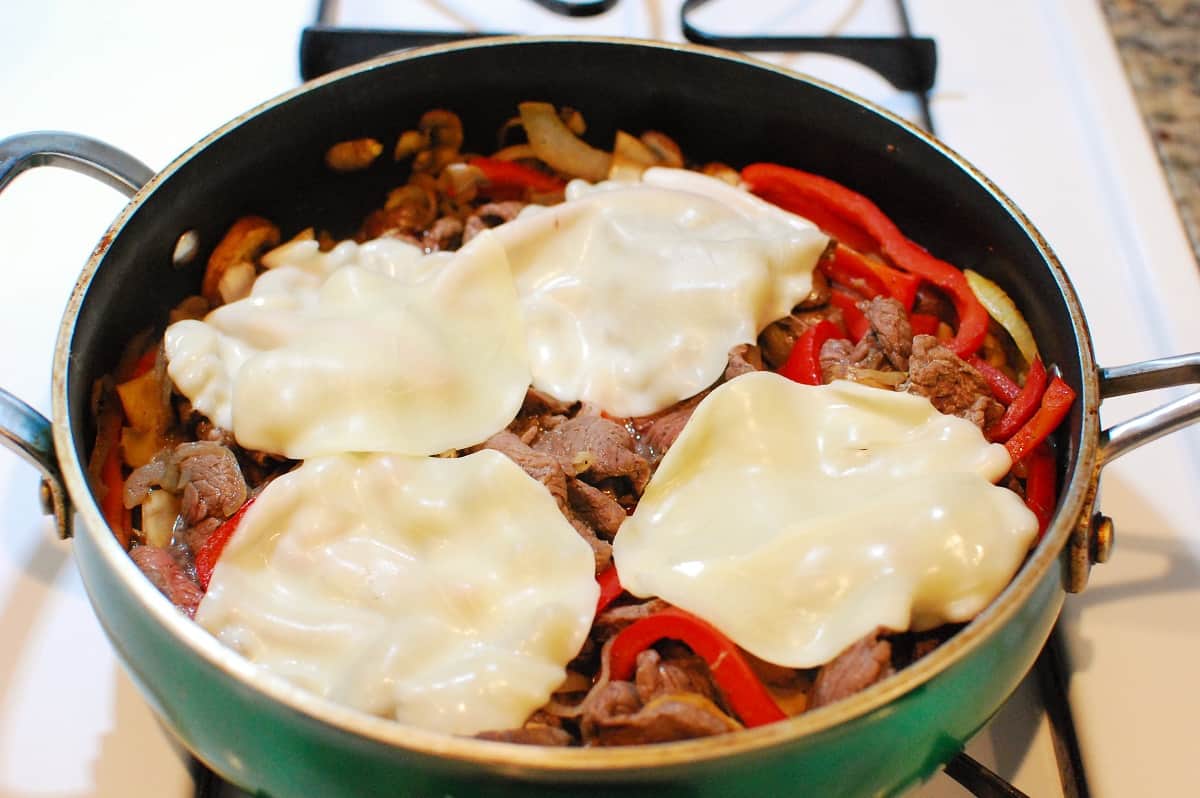 Portion out your lettuce and add the steak mixture to the top. Throw a few croutons on top, add your dressing, and boom – dinner is done!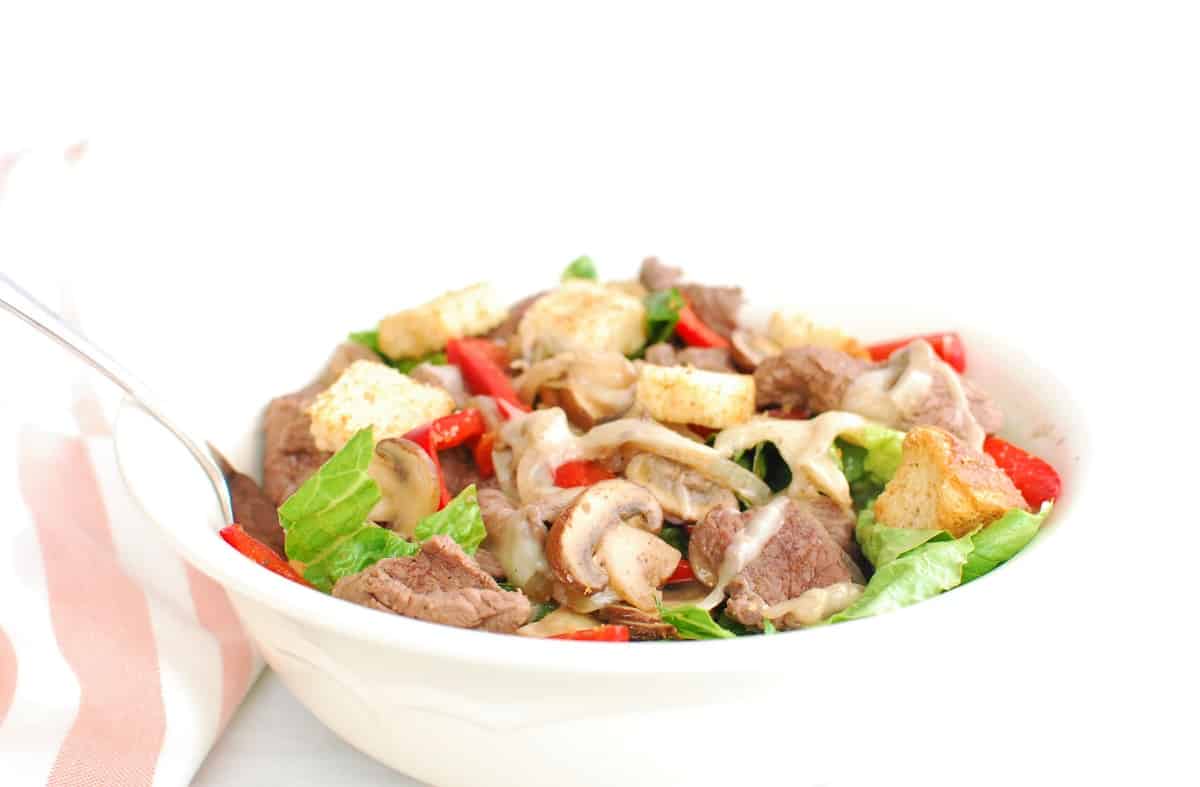 Recipe FAQ
Here are some common questions that may come up as you prepare this recipe:
Can you grill steak for a salad instead of sauté it?
Sure! If it's warm out and you're ready to break out the grill, feel free to grill the steak, onions, peppers, and mushrooms – then add those to your salad when done. You can cook the steak whole (and then slice it afterwards) and you can cook the vegetables in a grill basket.
Can you use leftover steak for a cheesesteak salad?
Yes! If you have some leftover cooked steak that you need to use up, feel free to chop it up and use that in place of the fresh top sirloin. Add it to the veggie mixture until it's just heated through; it'll require less cooking time than raw steak.
What kind of dressing is best for a cheesesteak salad?
Most vinaigrettes, honey mustard, or creamy parmesan dressings are good choices. A homemade Worcestershire dressing is also a nice choice; it offers the perfect tanginess to accompany the cheesesteak flavors.
How do you know when thinly sliced steak is cooked through?
The best way to determine doneness is with a meat thermometer. The easiest way to do this with thinly sliced steak is to layer several pieces together tightly, and insert the thermometer into the center. Or, you can wrap pieces of thinly sliced steak tightly around the thermometer. The steak is cooked through when it reaches 145 degrees F. Note that thinly sliced steak cooks very quickly; do not overcook it.
Nutrition Benefits
As a dietitian, I love recipes that put a nutritious spin on some classic comfort food. Is there anything wrong with eating a regular cheesesteak sandwich? No, of course not! They're delish. But sometimes, it's nice to have alternatives that allow us to get in more veggies and nutrients, and that's exactly what this dish provides.
Here's why I'm a fan of this salad recipe:
Perfectly portioned: The proper portion for lean beef is around a 3-oz cooked serving. According to the USDA, cooked top sirloin is about 80% of it's raw weight – so the 16 ounces of raw meat in this recipe translates to about 12.8 ounces of cooked meat. Divided into four servings, that's 3.2 ounces each – a great portion size! For a helpful reference, a 3-oz serving of lean beef is about the size of a deck of cards.
Provides protein: This salad has 35 grams of protein per serving, which helps support muscle repair and recovery. This is key for active folks who work out regularly.
Packed with veggies: Lettuce, onions, peppers, and mushrooms…yes please! All of these provide various vitamins, minerals, and phytochemicals. Most people do not eat enough produce each day, so this salad is an easy way to get you on your way to meeting the recommendations.
Provides key nutrients: As mentioned earlier, top sirloin is a good source of ten essential nutrients. This salad also provides calcium from the cheese, vitamin C from the peppers, and potassium from several ingredients.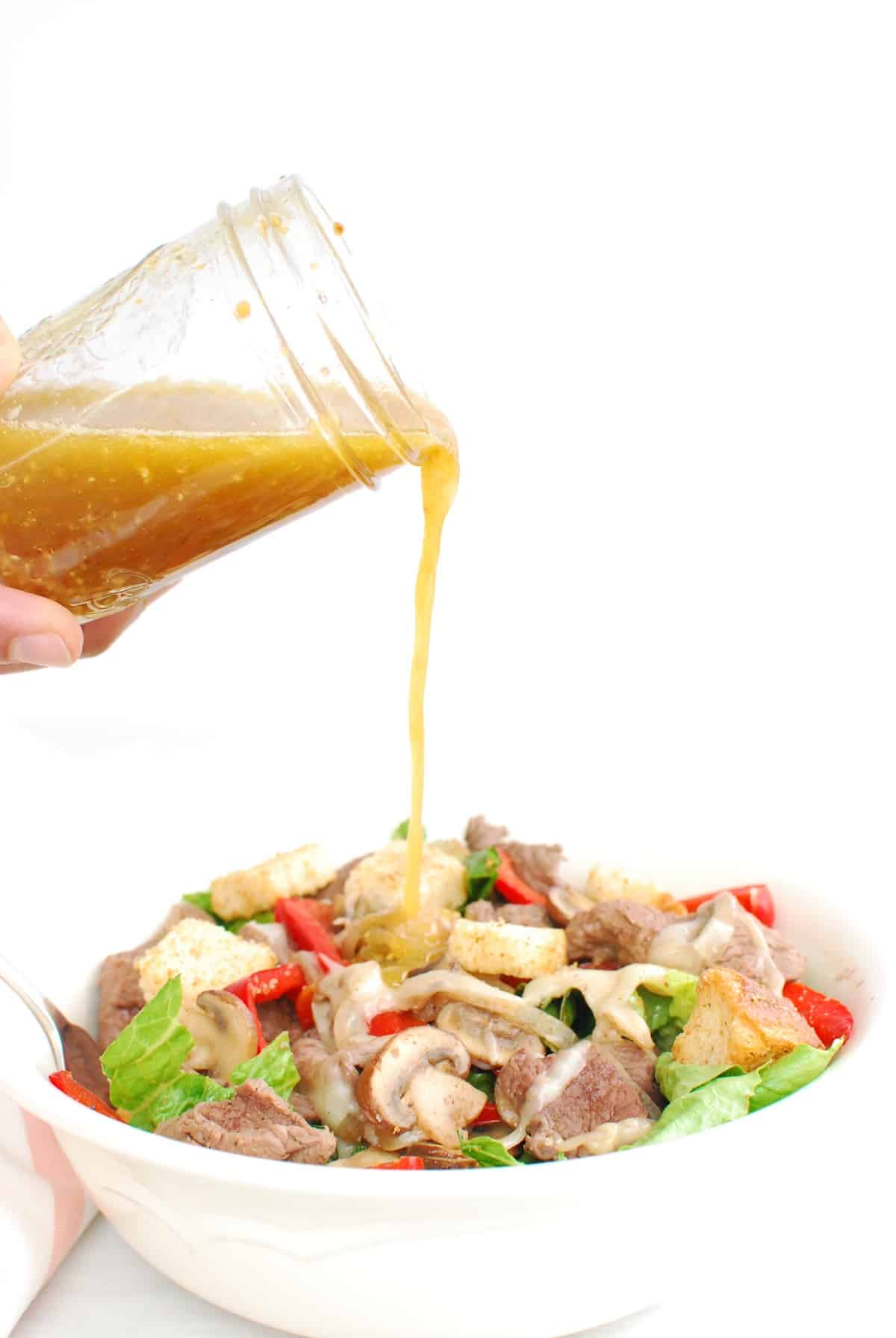 More Beef Dinner Recipes
Looking for more dinner recipes that feature beef? Try one of these delicious dishes:
I hope you enjoy this cheesesteak salad as much as I do! If you get a chance to try it, feel free to leave a recipe rating or comment below. And don't forget to the Northeast Beef website for more recipe inspiration, nutrition info, cooking tips and more!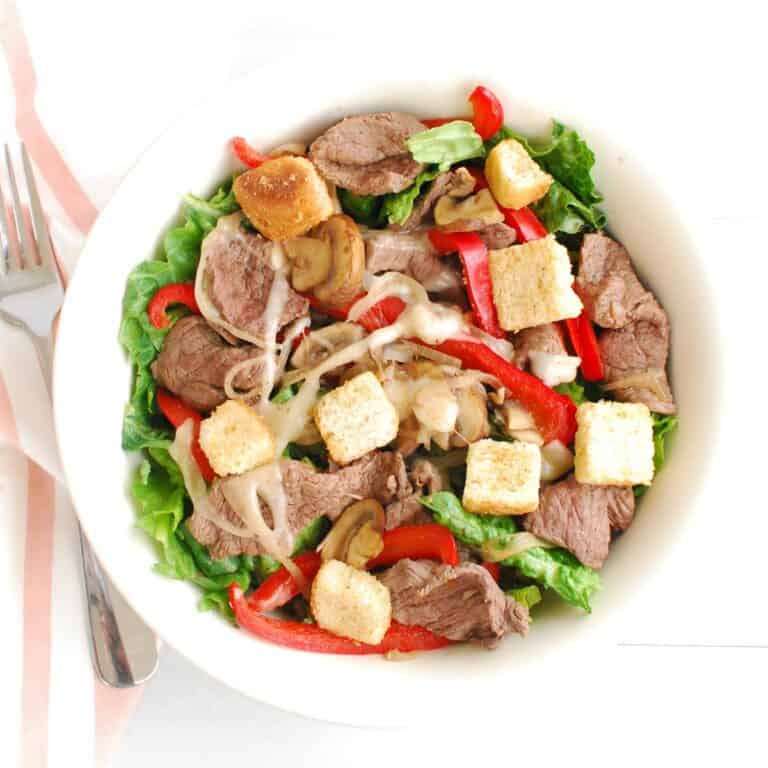 Cheesesteak Salad
This cheesesteak salad is a perfect twist on the traditional Philly sandwich, with all the classic flavors but a bigger batch of veggies!
Ingredients
For the dressing (optional; can use store-bought):
4

tbsp

olive oil

2

tbsp

white wine vinegar

2

tbsp

Worcestershire sauce

1

tbsp

grainy mustard

1

tsp

minced garlic
For the salad:
1

tbsp

olive oil

1

medium yellow onion, thinly sliced

1

large red bell pepper, thinly sliced

8

oz

baby bella mushrooms, sliced

1

lb

top sirloin steak, thinly sliced

¼

tsp

salt

¼

tsp

pepper

4

slices

provolone cheese

10

ounces

romaine lettuce

1

cup

croutons
Instructions
If preparing the homemade dressing, start by combining the olive oil, vinegar, soy sauce, Worcestershire sauce, mustard, and garlic in a small mason jar. Shake well to combine and set aside for now. (You can use any store-bought dressing you prefer in place of the homemade dressing).

In a large sauté pan or skillet, heat one tablespoon of olive oil over medium heat. Add the onion, pepper, and mushrooms. Cook for about 5-6 minutes, until the vegetables are starting to get tender.

Increase the heat to medium-high. Season the thinly sliced sirloin steak with salt and pepper, and add it to the pan with the veggies. Cook for another 3-4 minutes, stirring occasionally, until the steak is cooked through (it has reached 145 degrees F with a meat thermometer).

Add the provolone cheese on top of the steak and veggie mixture, and remove from heat. Let sit for a few minutes until the cheese melts.

Portion out the lettuce into four servings, and divide the steak mixture between them. Add the croutons on top and drizzle on the dressing. Enjoy!
Notes
Feel free to use lean ground beef instead of top sirloin steak if you prefer. If using ground beef, cook until browned and until the beef has reached 165 degrees F.
If you like things extra cheesy, feel free to add a few extra slices of provolone.
Because the dressing uses Worcestershire which has sodium in it, I find it doesn't need added salt. However, if you find it needs seasoning, feel free to add a little salt and pepper to the dressing.
If using store-bought dressing, most vinaigrettes and creamy parmesan dressings work well.
Nutrition analysis (approximate per serving, includes dressing): 483 calories, 30 g fat, 8.5 g saturated fat, 710 mg sodium, 18 g carbohydrate, 4 g fiber, 6.5 g sugar, 35 g protein, Vitamin D: 1%, Calcium: 19%, Iron: 23%, Potassium: 21%, Vitamin C: 66%, Zinc: 56%
Nutrition
Share: What's your favorite kind of salad? If you tried this recipe, what did you think?
Feel free to pin this post to save for later.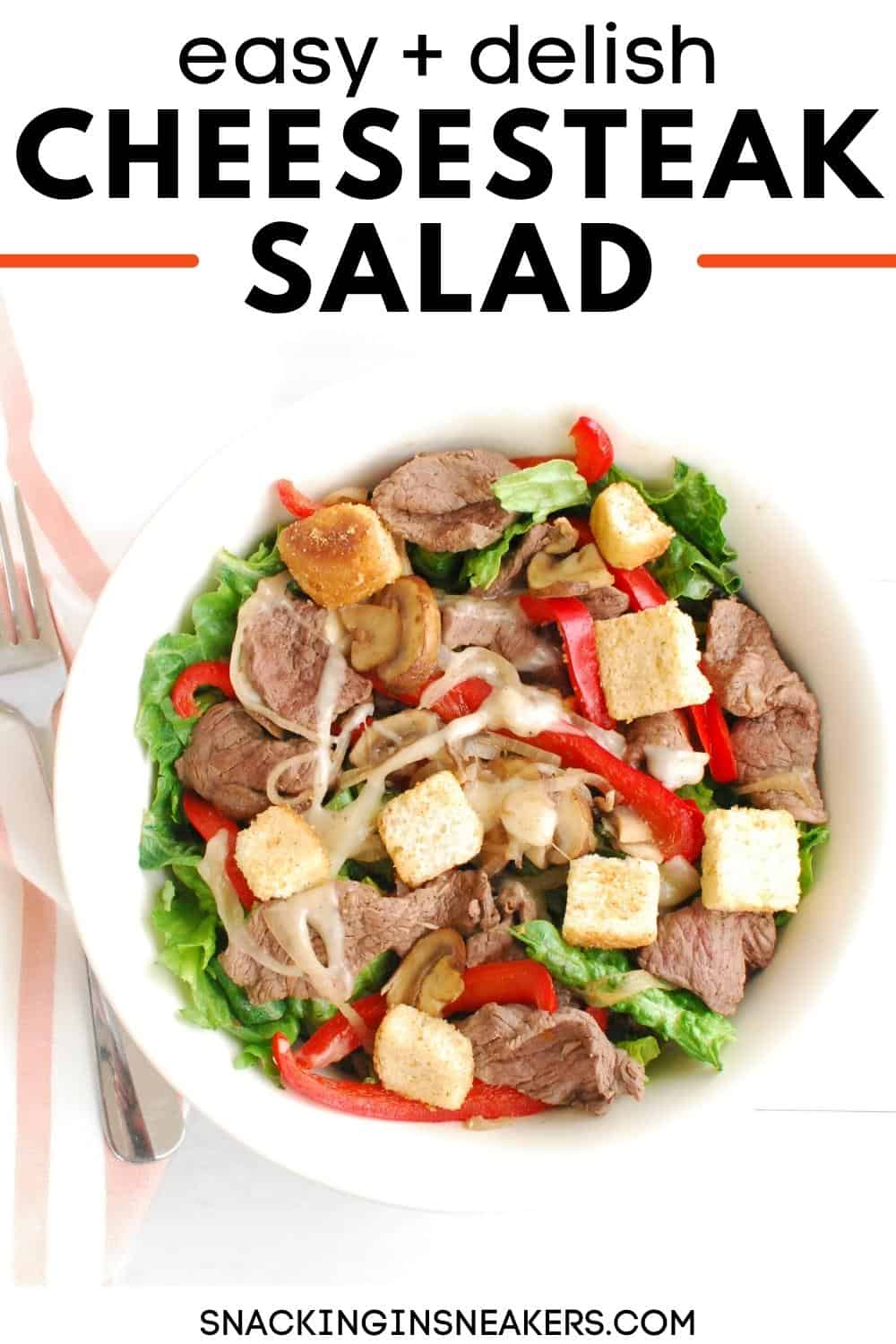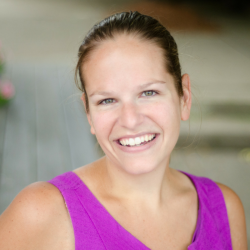 Latest posts by Chrissy Carroll
(see all)