Need a festive holiday appetizer?  Try this cranberry jalapeno dip!  It's a little sweet, a little spicy, and a whole lotta delicious.  Whether you're planning a holiday get together with family or you just want to enjoy a fun festive snack at home on the weekend, you'll love this delicious recipe.
Note:  This recipe was originally posted in 2017 and has been updated in 2022.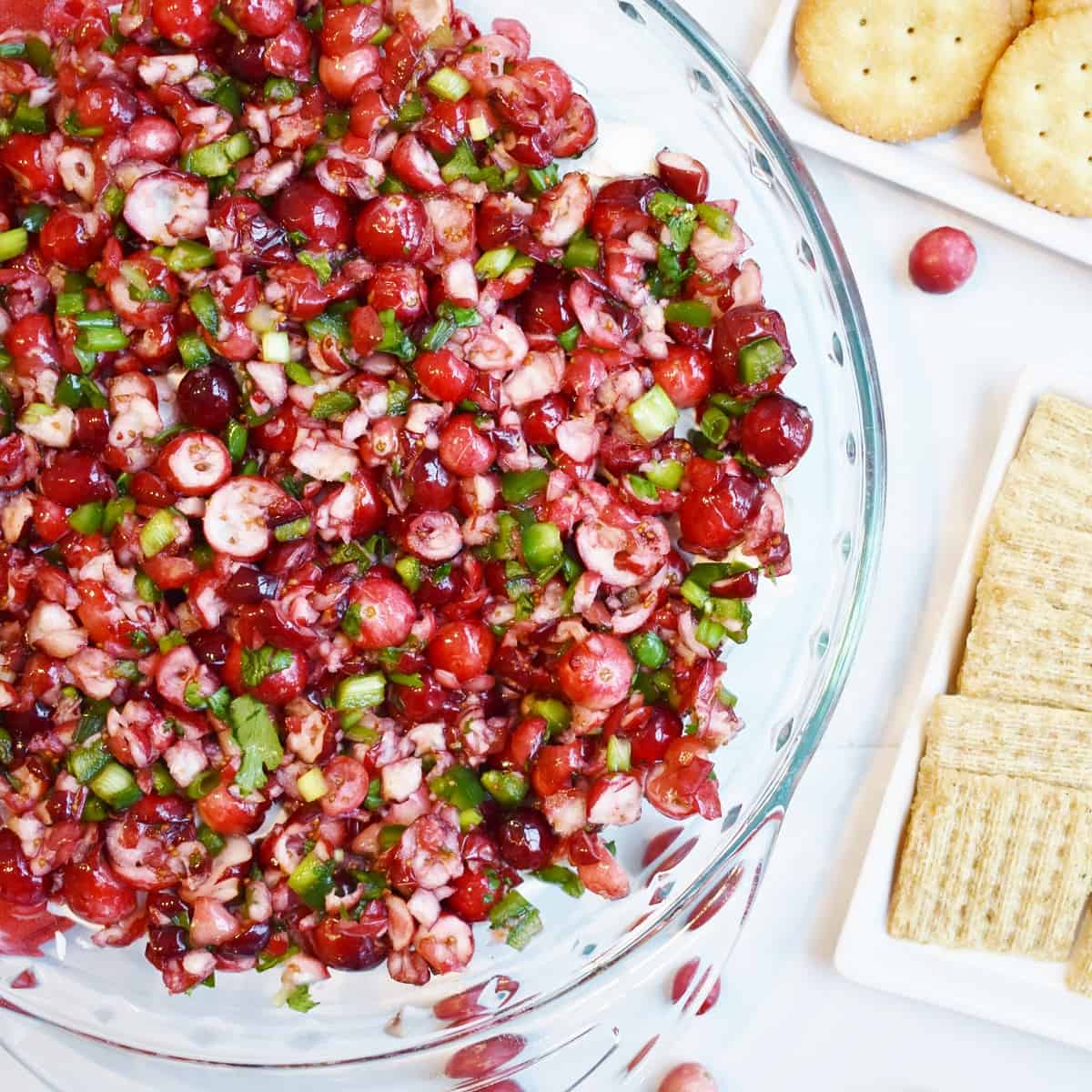 Why eat cranberries?
Cranberries are quite nutritious.  Whole cranberries are a good source of fiber for digestive health, and contain Vitamin C to support your body's immune system. 
Plus, they also contain high levels of beneficial components like phenolic compounds, anthocyanin, and flavonoids. These may have numerous benefits in the body.
For example, some research suggests that cranberries may help with gut health by preventing over colonization of bad bacteria (source). They also may improve heart health through impacts on blood pressure and inflammation (source).
Of course, all of this is still emerging and not finite, but is definitely another possible reason to include more fresh cranberries in your meals and snacks!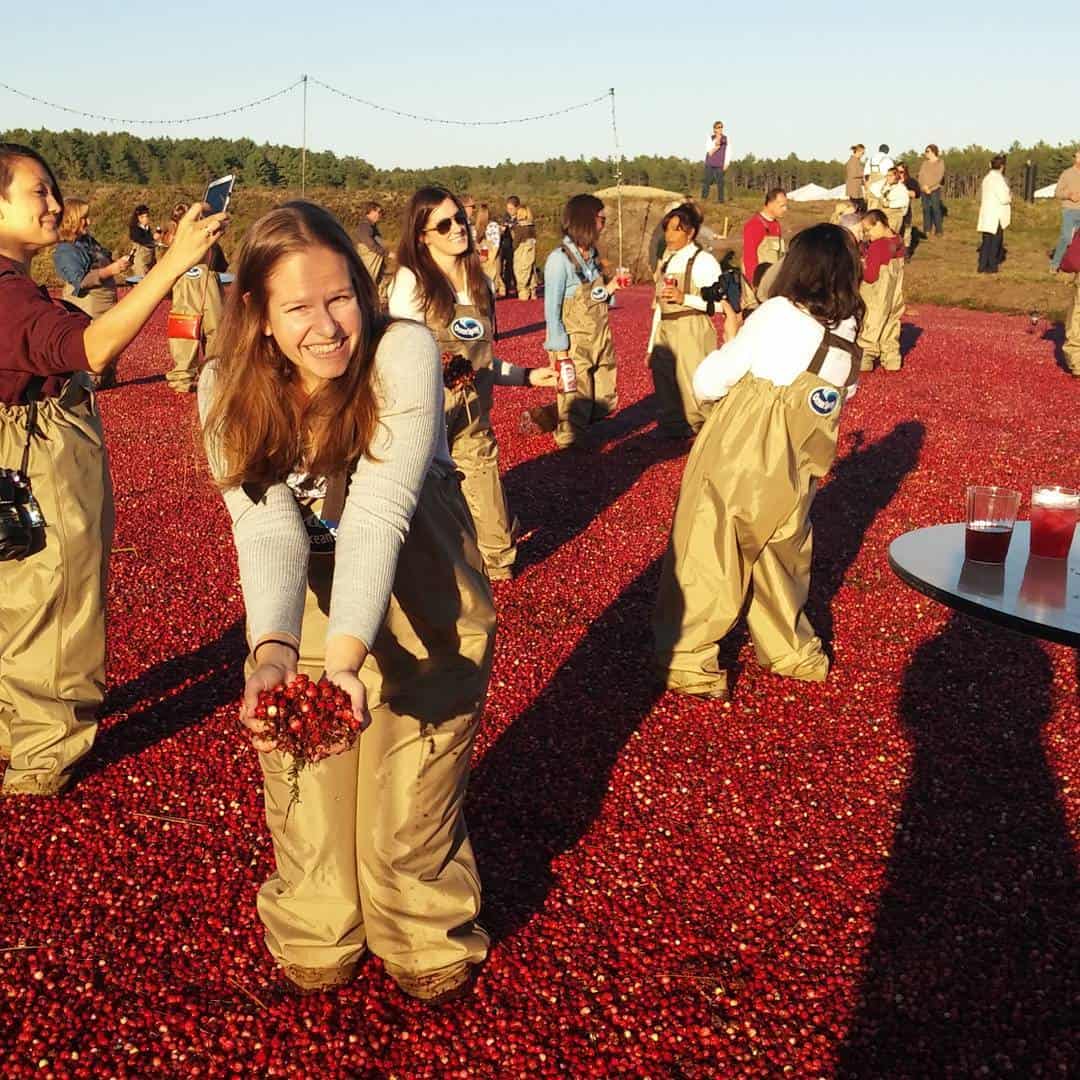 Ingredients
Here's everything you'll need to make this recipe, along with selected ingredient notes: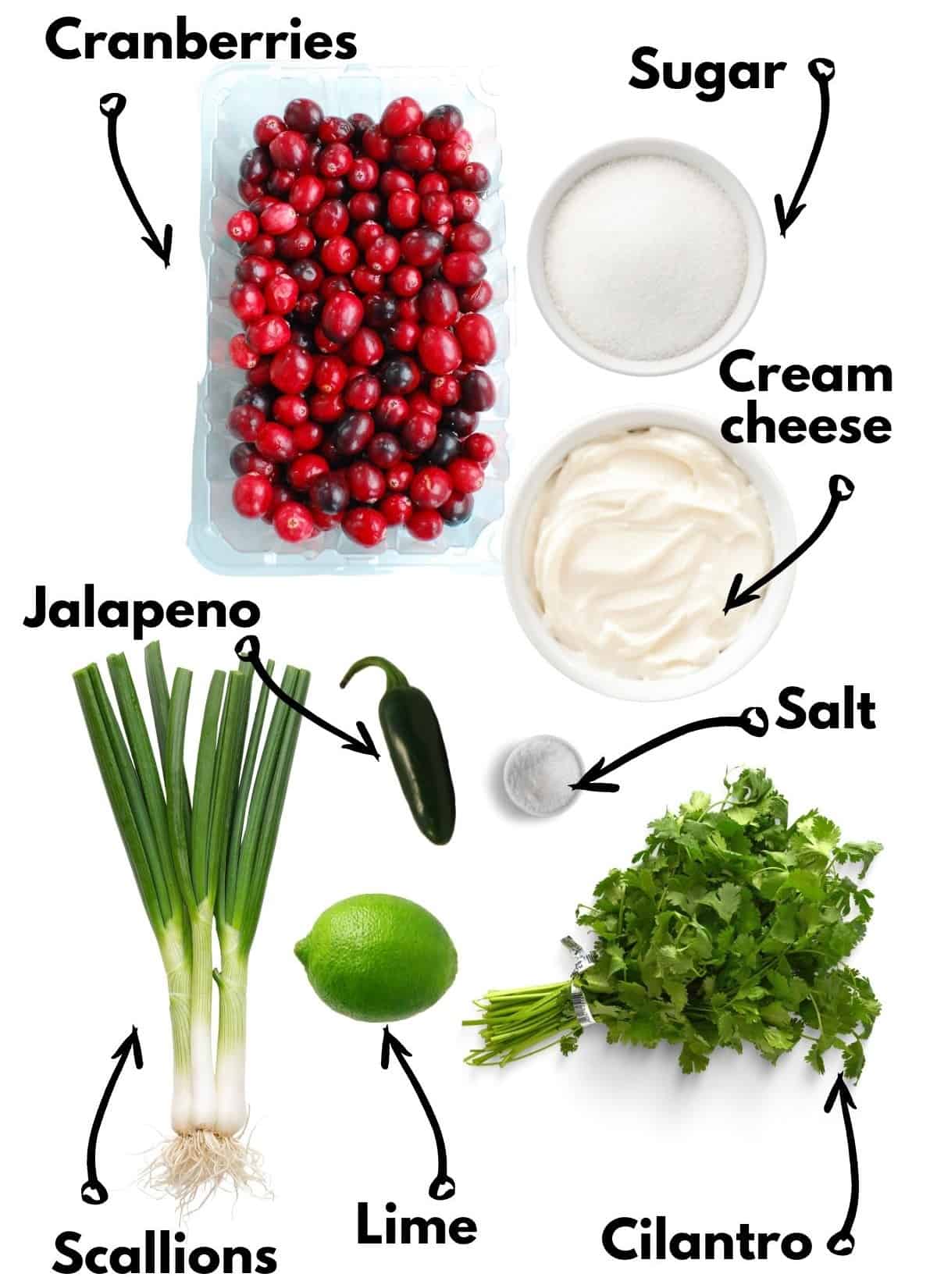 Fresh cranberries – While you can get away with using thawed frozen cranberries if that's all you have, this is one of the few recipes where I really think fresh works best. Fresh berries are firmer and hold a little crunch to them, which adds a nice textural element to the dish.
Jalapenos – If you prefer a spicier dip, you can use a habanero instead.
Sugar – Most jalapeno cranberry dip recipes are quite high in sugar, but I think too much sugar prevents the cranberry flavor from shining through. I developed this one to be a bit lower in sugar than traditional recipes (half cup instead of a whole cup).
Cream Cheese – You can use any plain cream cheese. I prefer using a whipped cream cheese, as it's fluffier and easier to spread (and also a bit lower in calories per tablespoon since it has air whipped into it). You could also use Neufchâtel cream cheese (aka lower fat cream cheese) in this recipe too. 
Additional ingredients: Lime, salt, scallions, cilantro
Instructions
You'll find the full recipe amount and instructions in the recipe card at the bottom of the page, but here's a helpful overview with tips.
Start by chopping up the cranberries. This is done easily in a food processor by pulsing the mixture. The key is to chop the cranberries a bit without pureeing them. This dip is best when there is still considerable texture of the chopped fruit. I recommend hitting the pulse button once, then if you still see whole berries, it it again. That is typically enough.
Next, take the mixture and mix it with the jalapenos, scallions, cilantro, lime, sugar, and salt.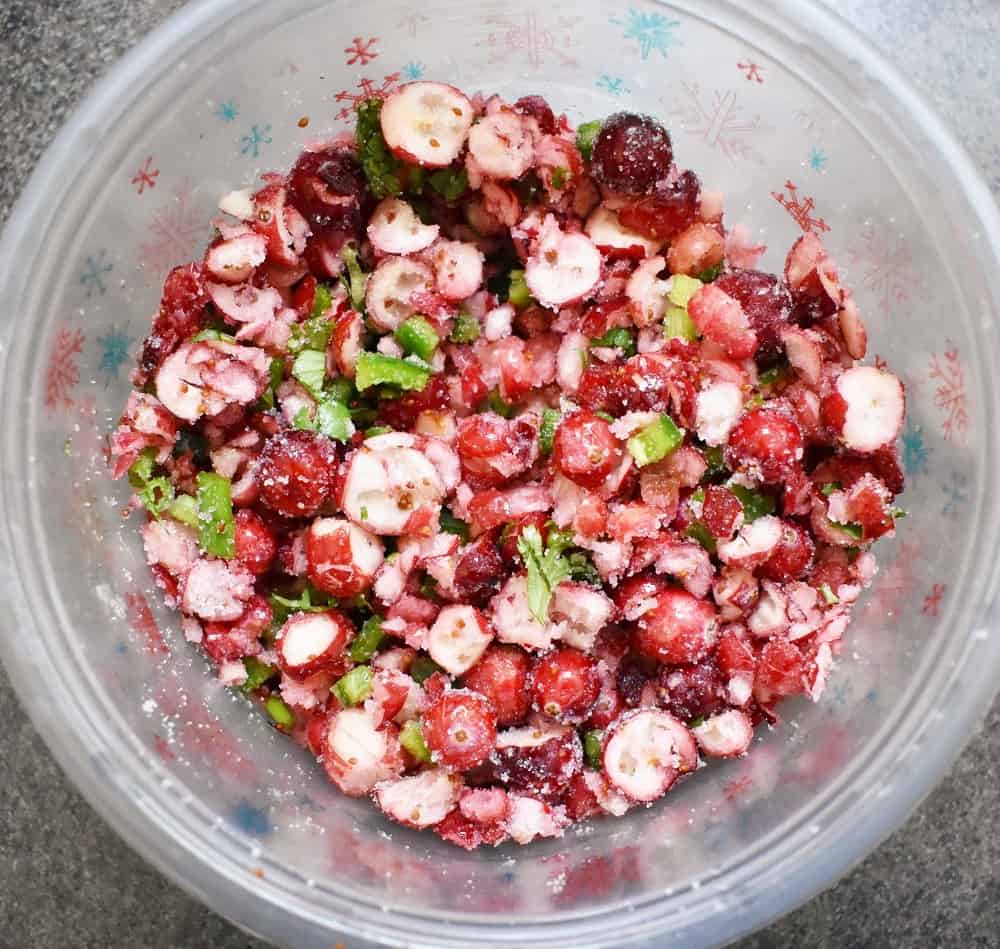 Let that sit in the fridge for at least a half hour.
When you're ready to prepare the dish for serving, take a pie plate or another shallow dish, and spread the cream cheese over the bottom. If you're using a regular (non-whipped) block of cream cheese, I recommend letting it sit out for about 30 minutes first to make it easier to spread. Whipped cream cheese will spread easily directly from the fridge.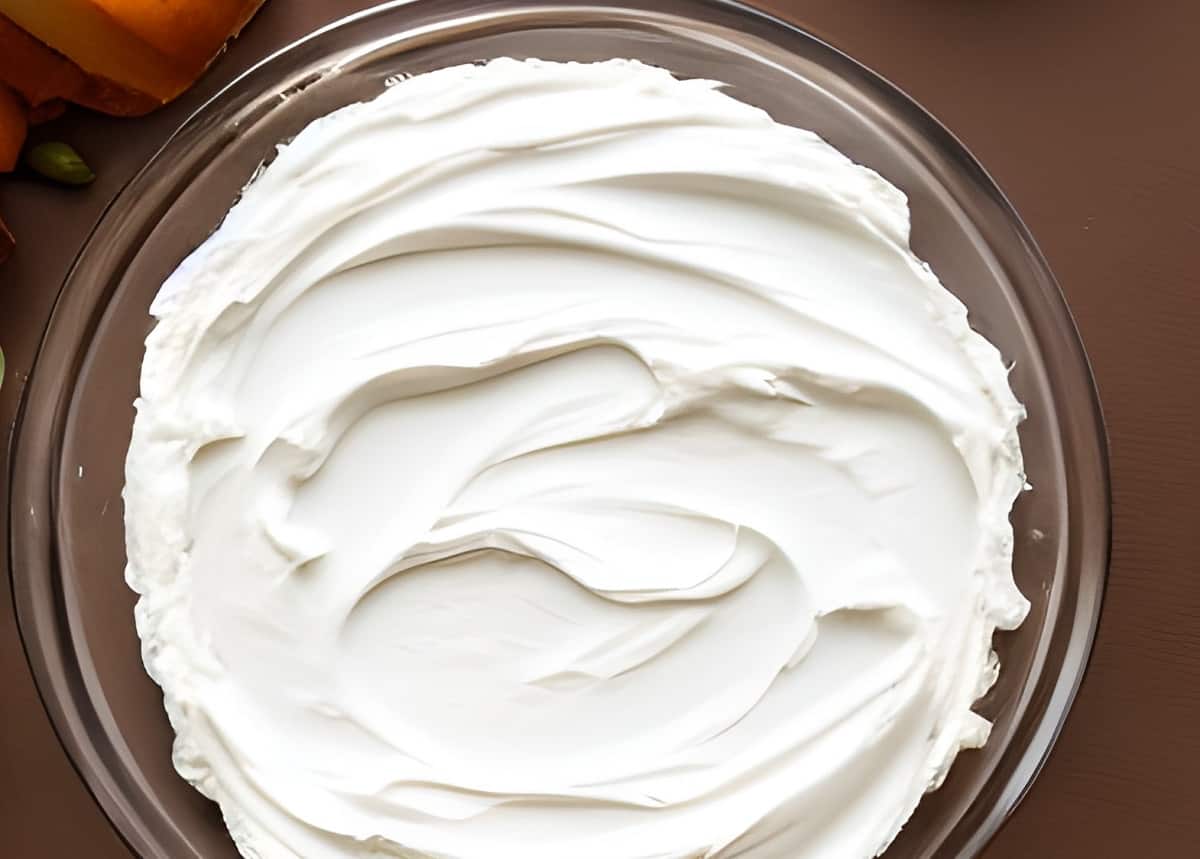 Now take your cranberry mixture and strain it in a fine mesh sieve. You want to get rid of as much liquid as possible.
Dump the strained cranberry mixture over the cream cheese. Spread it on crackers and be transported to festive holiday delight!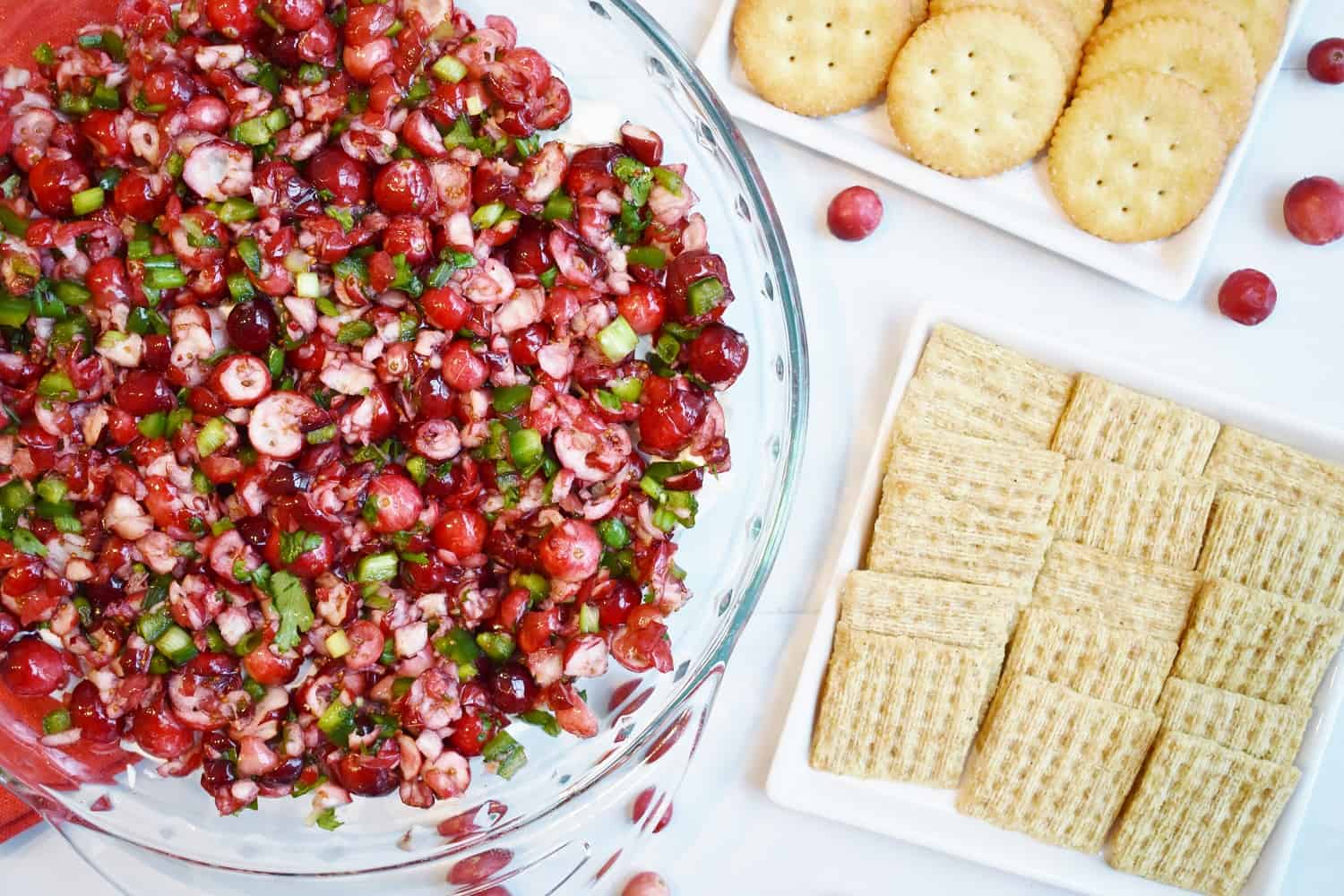 Recipe FAQ
Here are some common questions that may come up as you prepare this recipe:
What should you serve with cranberry dip?
This recipe pairs best with crackers (whole grain or buttery style!) or crostini.
Can you make a dairy free version?
Yes. To make a dairy free cranberry dip, simply use dairy free cream cheese instead of regular cream cheese.
Can you make cranberry dip without a food processor?
Yes. Simply chop the cranberries by hand with a chef's knife. It's a little more time consuming but definitely feasible.
More cranberry recipes
Looking for more ways to utilize fresh cranberries? Try one of these delicious ideas: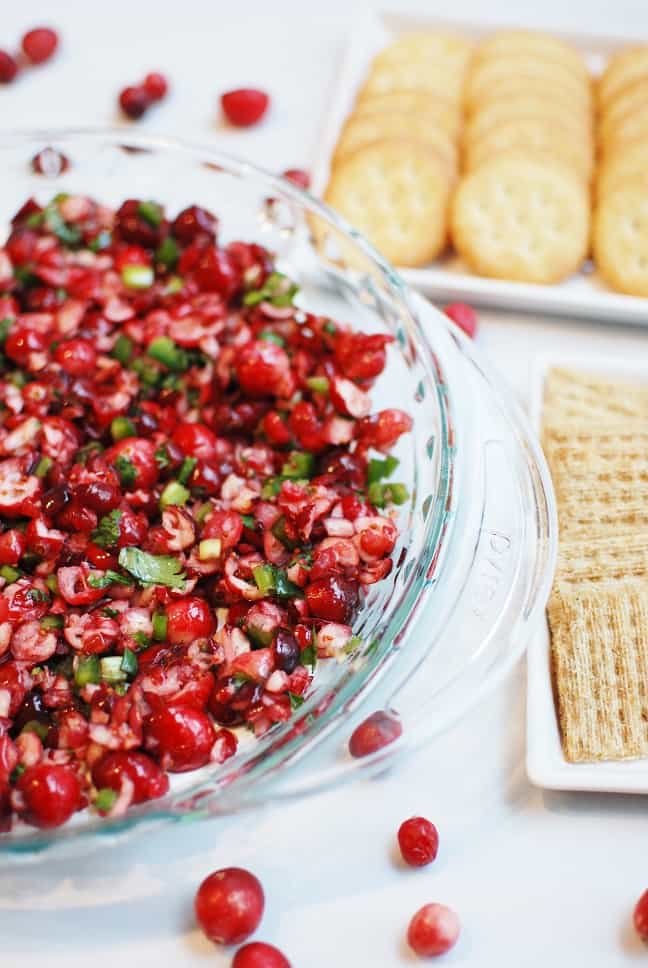 Ready to get cooking?  I hope you enjoy this easy cranberry jalapeno cream cheese dip recipe!  It's perfect for all your holiday parties and get togethers this season.  The festive red cranberries, green scallions & jalapenos, and white cream cheese just scream Christmas. 
Enjoy and happy holidays!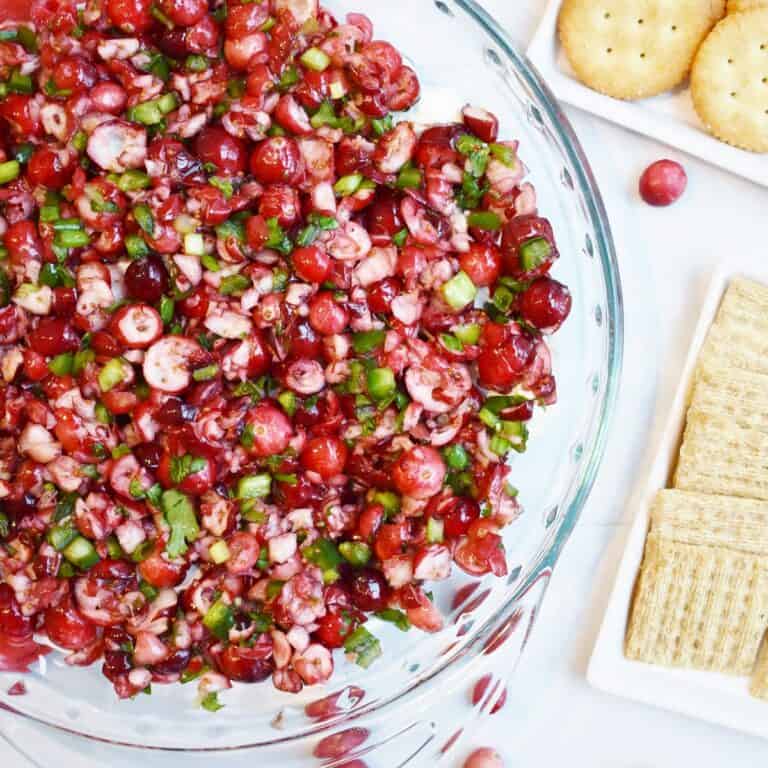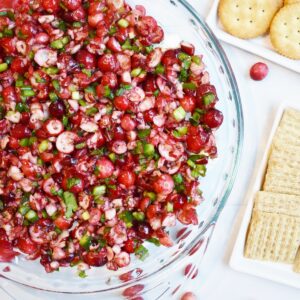 Cranberry Jalapeno Dip
This cranberry jalapeno dip is a festive holiday appetizer for Thanksgiving or Christmas!
Ingredients
12

ounces

fresh cranberries

(one regular size bag)

2

jalapenos, finely chopped

4

scallions, chopped

2

tbsp

cilantro, chopped

½

cup

sugar

1

lime, juiced

⅛

tsp

salt

14

ounces

cream cheese

(whipped, regular, or light)
Instructions
Add cranberries to a food processor and pulse once. If after once pulse there are still a lot of whole cranberries, pulse once more. Your goal is for most of the cranberries to be cut but you don't want to puree them.

Pour cranberries in a bowl and mix with jalepenos, scallions, cilantro, sugar, lime juice and salt. Let sit in the fridge for at least 30 minutes (that's the minimum; longer is fine).


When you're ready to complete the dish, spread cream cheese into a pie plate.

Remove cranberry mixture from the fridge and place in a fine sieve. Let as much juice drain from it as possible.


Top cream cheese with cranberry mixture. Serve with crackers and enjoy!
Notes
Nutrition Analysis (approximate per serving; doesn't include crackers):
120 calories, 7 g fat, 4.5 g sat fat, 117 mg sodium, 12 g carbohydrate, 1.5 g fiber, 9 g sugar, 1 g protein
Nutrition
Share with me:  What's your favorite way to use cranberries? If you tried this dip, what did you think?
Feel free to pin this post to save for later!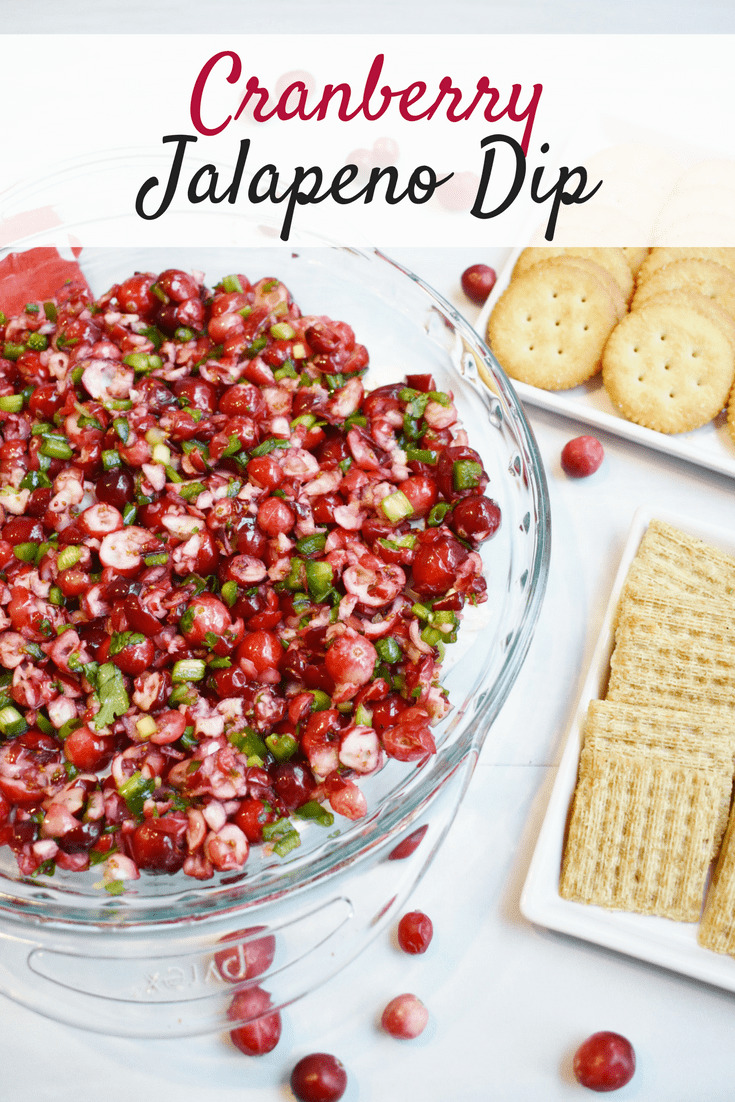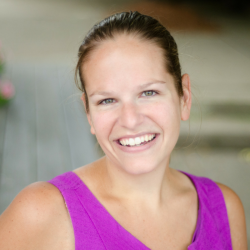 Latest posts by Chrissy Carroll
(see all)