Last month, I hosted an in-person sports nutrition dinner – definitely one of the coolest things I've done as part of my business!
This "Eat to Peak" dinner event gathered leading running and triathlon coaches in Northeast, along with some running influencers, to enjoy a delicious meal and delve into sports nutrition. Of course, we chatted about some of the common endurance nutrition questions in the field and reviewed the basics of everyday eating and fueling. But I also got to share helpful information on our sponsor's foods – watermelon, beef, and dairy – and how they fit into an athlete's diet!
What about you? Are you curious about how those foods can help fuel your fitness goals? Want to learn more about basic sports nutrition info? Need some guidance on fueling during exercise?
If so, keep reading, my friends! Here's a virtual version of the dinner that I wish you could have attended! (Complete with photos so you can feel like you were right alondside us!). 🙂
Disclosure: The dinner event was sponsored by the National Watermelon Promotion Board, the New England Dairy & Food Council, and the Northeast Beef Promotion Initiative, a subcontractor to the Beef Checkoff. As always, all opinions are my own.
Sports Nutrition Refresher
The evening started with a little refresher on some of the basic sports nutrition concepts for athletes. Here's a summary of what we talked about regarding pre-, during, and post-exercise nutrition.
Pre-Exercise Meal Guidelines:
It's wise to eat 1 to 4 hours before long endurance workouts. The specific time frame depends on what you enjoy eating, your normal long run schedule, and your digestive system.
The pre-exercise meal should…
Include carbohydrate and some protein (eggs, nut butter, lean meat, dairy)
Avoid too much fat or fiber
Include fluids
Be easily digestible
Some examples of good pre-workout meals include all of these (alongside water or another beverage):
Bagel with cream cheese
Cereal, milk, fruit
Quinoa with a poached egg or two
Smoothies with fruit & yogurt
Oatmeal with raisins
PB & honey sandwich
During Exercise Guidelines:
During exercise, you want to focus on the "big 3" – hydration, electrolytes, and fuel.
Hydration
There's no hard and fast rule on exactly how much to drink while working out. The best advice I can give is to weigh yourself before and after a run in conditions similar to those you'll be racing in. If you've lost less than 2% of your body weight, you're probably hydrating just fine. If you lost more than 2-3%, you probably want to pay a little more attention to hydration during your runs.
Above all, defer to signs of thirst (dry mouth, feeling thirsty) and overdrinking (sloshing, nausea, etc.) to guide you. (Need more hydration tips? Check out this post all about hydration for athletes.)
Electrolytes
For exercise less than an hour, plain 'ol water is just fine. If you're out there for more than an hour, you'll want to aim for electrolytes along with that water.
Sodium is most important electrolyte to consider during endurance workouts. Generally, you'll want to aim for 500 to 700 mg sodium per liter of fluid consumed during training and racing, either through a beverage or food item. Some athletes may need to increase this if they're a heavy salt sweater in hot weather conditions.
Fuel
For exercise over 1:15, you'll want to also start adding in some fuel. Fuel should generally be quickly digestible carbohydrates.
Aim for around 30-60 grams of carbs per hour. (For perspective, a gel has around 25 grams and a running stroopwaffel has around 21 grams).
Your choice of fuel – whether that's a gel, banana, sports drink, etc – is exactly that: your choice. There's no "right" answer to exactly what you should use. It depends on palatability, ease of use, energy levels during training, and gastrointestinal comfort. All of them can work well, and all have their own pros/cons!
Practice fueling during training to see what works best for you.
Recovery fueling:
After a very intense workout, a long run/ride, a race, or a day when you are training twice in one day, aim to take carbohydrate and protein within 30-60 minutes of your workout. This will help replenish muscle glycogen stores and start the muscle repair process.
Examples of good post-workout food includes:
Chocolate milk
Smoothies
Beef, veggie & rice bowl
Turkey sandwich with fruit
Burrito
Fruit & greek yogurt
After shorter easy workouts, you don't necessarily need recovery food unless you won't be eating for several hours. In that case, aim for small carbohydrate and protein snack.
Beef, Watermelon, and Dairy in the Athlete's Diet
After we got the basics covered, it was time to delve into some interesting info about our sponsors' foods, and how they can fit into a healthy diet! Here's some helpful information related to each one:
Watermelon
Watermelon is a great option for athletes! It's got healthy carbohydrates (learn more about carbs for runners here), is great for hydration, packs in potassium, and even has phytonutrients like lycopene.
One of the unique things about watermelon for sports nutrition is that it can be useful in all three phases of fueling – pre, during, and post.
For example, on an everyday basis or in your pre-workout meal, watermelon can help you stay hydrated leading up to the event and top off your energy stores.
During the event, watermelon provides easily absorbed sugar to help fuel your workout. One study found that watermelon puree led to the same exercise performance as a standard sports drink. (You may want to adjust with some brown rice syrup and some salt for an ideal homemade sports drink, like in this recipe.)
And after a workout, you can use watermelon as your carbohydrate source to help replenish glycogen stores and the potassium lost in sweat. (Of course, you also want to pair that with some protein.) I personally like mine sprinkled with a little salt to replenish sodium too!
Beef
There's a lot of misconceptions out there about beef and nutrition. Studies often look at extremes – but in reality, there's a great middle ground where you can enjoy beef as part of a nutritious diet. And it contains essential nutrients that help active folks go further when it comes to fitness and health!
For example, lean beef is an excellent calorie-controlled way to get protein in the day. Long course and elite athletes have higher protein needs, and athletes who are trying to lose weight during training may also want to increase their protein intake to help preserve muscle mass. A 3-ounce cooked serving of cooked lean beef provides 25 grams of high-quality protein.
And even though the Average American generally gets enough protein each day, the diet is usually "back-loaded" – only getting a little at breakfast, some at lunch, and a lot at dinner. Enjoying portion-controlled servings of beef as part of an overall balanced diet – including in breakfast sometimes, like in my breakfast burger! – can help athletes get enough spaced throughout the day.
In addition, a 3-ounce portion of lean beef is an excellent source of Vitamin B12, involved in energy metabolism and brain function, and zinc, which helps maintain a healthy immune system. It's also a good source of iron, which is key for transporting oxygen to your muscles.
Dairy
Dairy products are an underrated as part of an athlete's diet! Many provide a great balance of carbs & protein for recovery. Remember, after a tough workout or when you have two-a-days, it's helpful to have a recovery meal within 30-60 minutes.
You want mostly carbs, along with some protein after an endurance workout. The protein helps stimulate muscle repair and recovery, while the carbs will restock those muscles with energy.
Sometimes it can be really tough to get down food at that point, especially if the workout was very intense. Anyone else finish a really tough brick workout and just not want to eat?! I've been there, and in those cases a tall glass of chocolate milk or a smoothie made with Greek yogurt can be super helpful.
In that recovery phase in particular – whether after strength or endurance workouts – it's also important to consider the quality of the protein. One of the proteins in dairy (whey) is a very high-quality protein. Dairy products are also one of the best sources of L-leucine in our diet, which is a branched chain amino acid that is thought to impact muscle protein synthesis after a workout. (You can read more about L-leucine benefits and sources here.)
Lastly, some dairy products are fortified with Vitamin D, which many of us athletes in the Northeast tend to fall short on in the winter months!
I hope this made you feel like you were at the dinner, learning alongside us. If you ever have any sports nutrition questions – whether general or specific to the partners I'm so proud to work with – don't hesitate to let me know!
Share: Did you learn anything new in this post? Do you have any other sports nutrition questions?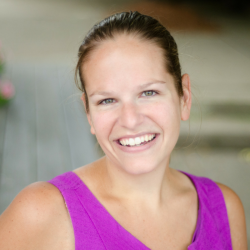 Latest posts by Chrissy Carroll
(see all)