Snack time is about to get a whole lot more exciting with these delicious ranch kale chips! This veggie-packed snack is sure to be loved by both kids and adults alike.
How to make kale chips
Kale chips are super simple to make on their own – essentially, you just toss chopped kale (the regular kind, not baby kale) in olive oil, then bake it in the oven.
You can either buy a big bag of pre-chopped kale (super convenient) or you can buy a big bunch of kale. If you buy the big bunch, don't forget to remove the hard stems.
When you bake them, the leaves will crisp up. They'll be thinner than a chip, but still delicious. The texture is somewhat similar to those seaweed snack sheets if you're familiar with those!
Within that basic preparation, there are lots of different ways to add seasonings and flavor. My personal favorite is with ranch seasoning!
For this I use those packets of Hidden Valley ranch dressing and seasoning mix. You'll just add the seasoning in when you toss the kale with the olive oil.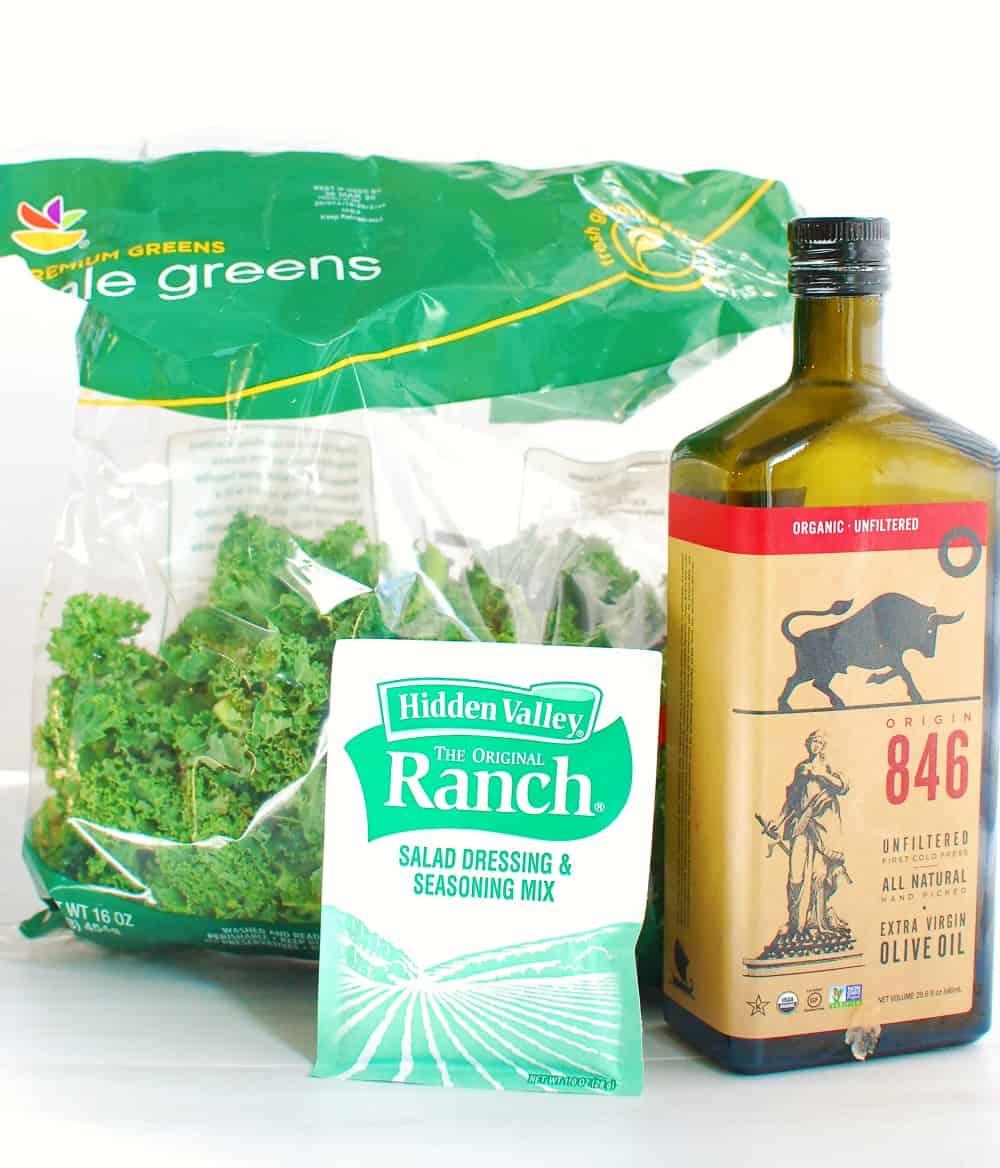 The result is a crispy, seasoned leafy green that is addictive to snack on!
Seriously. I maaaay have eaten a whole pan of these for lunch today alongside a box of Frosted mini wheats. Checkin' off some of my fiber needs for the day, haha.
Nutrition benefits
There are so many things I love about this recipe, especially for active women!
First off, it's filling. I don't know about you, but with certain snacks, I'm craving something else 30 minutes later. Not with this one! The fats from the olive oil and the fiber in the kale help you stay satiated longer.
It also helps meet your veggie servings for the day, and with that, you're getting a good dose of your daily vitamins and minerals. One serving of this recipe (half the pan) packs in almost an entire day's worth of your daily Vitamin C needs, essential for a healthy immune system. It also provides 60% of your daily Vitamin A needs, and more than a day's worth of Vitamin K.
And lastly, green leafy veggies contain many different phytochemicals! For example, they contain lutein and zeaxanthin which may help support eye health.
What to do with the rest of the ranch mix
Don't toss the rest of that packet of ranch seasoning mix when you're done making these kale chips! Put it in a ziptop bag and store it in the refrigerator until you're ready to use the rest. Here are some other healthy ways to use it:
Use it when baking other vegetables like green beans or zucchini
Make breakfast potatoes seasoned with it
Add it to a skillet meal made with ground beef, carrots, onions, cauliflower rice, and cheese (so good)
Use it to season a crockpot pot roast
Season a pot of mashed cauliflower or mashed potatoes
Sprinkle it onto stovetop-popped popcorn
Make savory ranch roasted almonds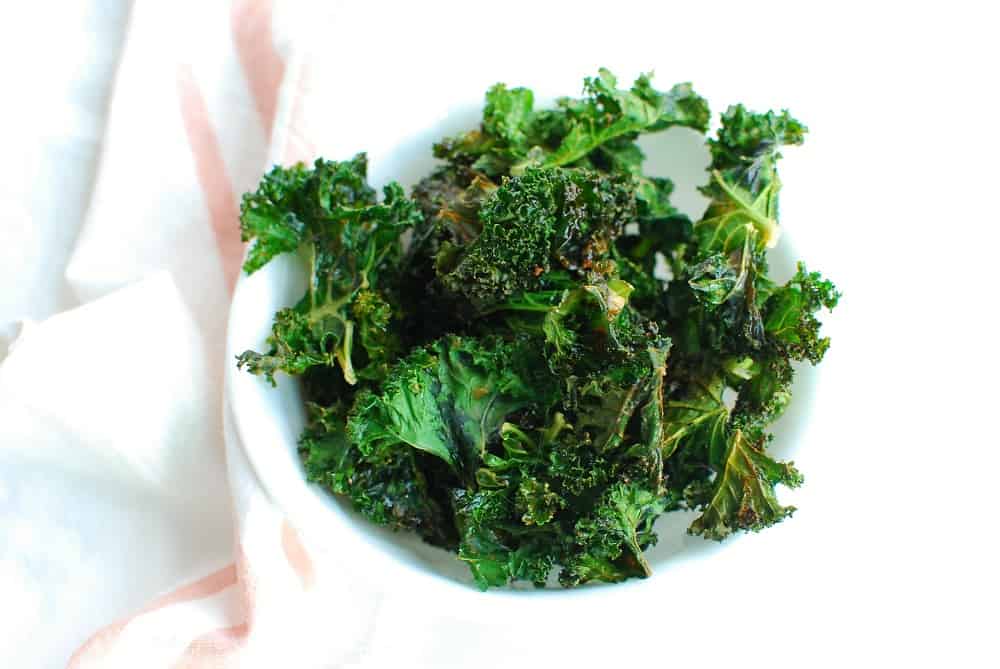 Other kale chip seasoning ideas
If you make these and love them, try one of these other creative kale chip ideas. Just use the standard blend of 6 cups kale and 2 tablespoons olive oil used in the recipe below, but sub in any of these seasonings instead of ranch:
Sriracha Lime: 2 teaspoons lime juice, 1 tablespoon sriracha, 1/4 teaspoon salt
Salt and Garlic: 1/4 teaspoon salt and 1/2 teaspoon garlic powder
Seasoned Salt: 1/2 teaspoon seasoned salt
Cajun: 2 teaspoons Cajun seasoning and 1/4 teaspoon salt
"Crab" Style: 1 teaspoon Old Bay, 1/8 teaspoon cayenne, 1 teaspoon lemon zest
Taco: 2 teaspoons taco seasoning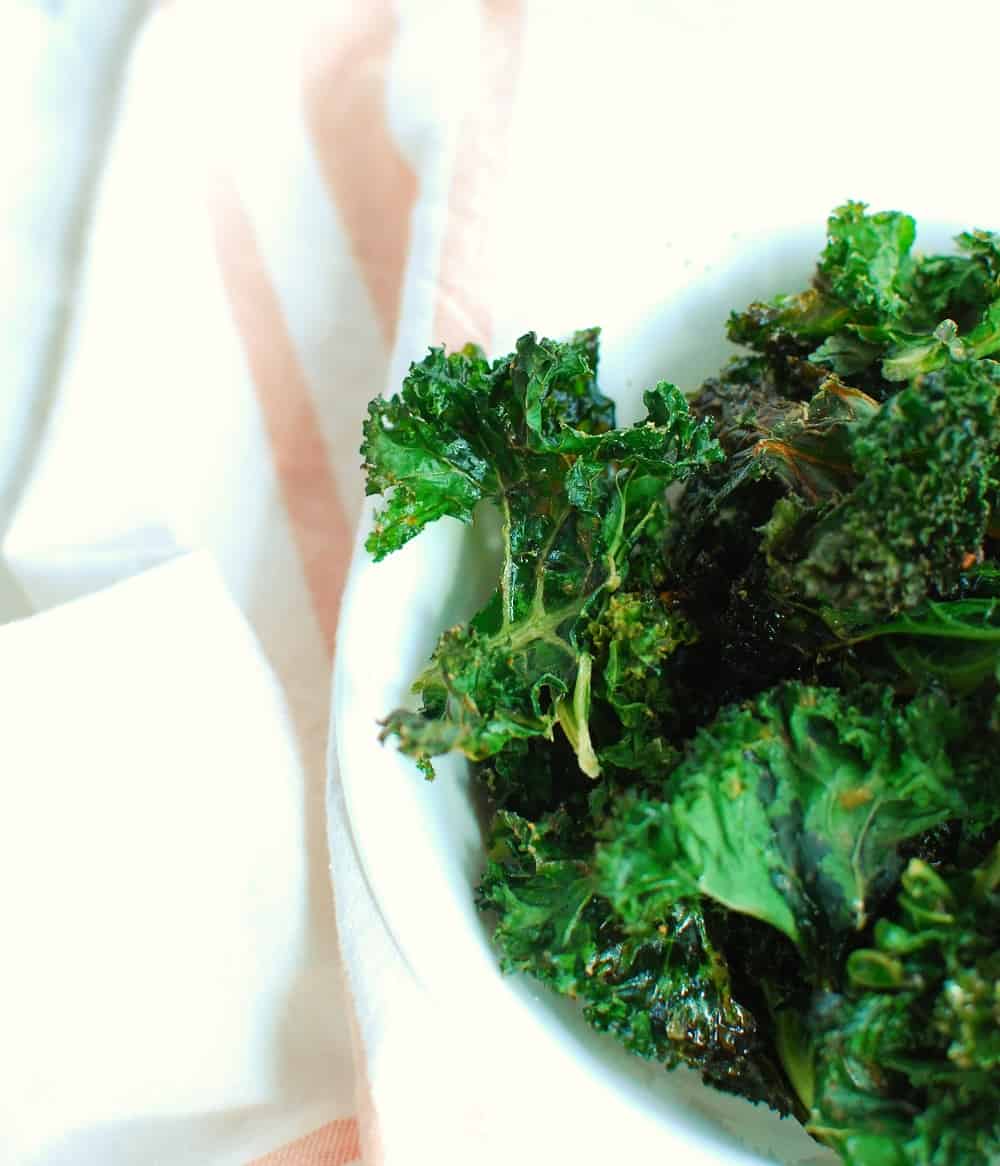 I hope you enjoy these ranch kale chips as much as I did! My kiddo is also a big fan, so I hope yours is equally interested in this tasty veggie snack. If you get a chance to try them, I'd love for you to leave a recipe rating or comment below.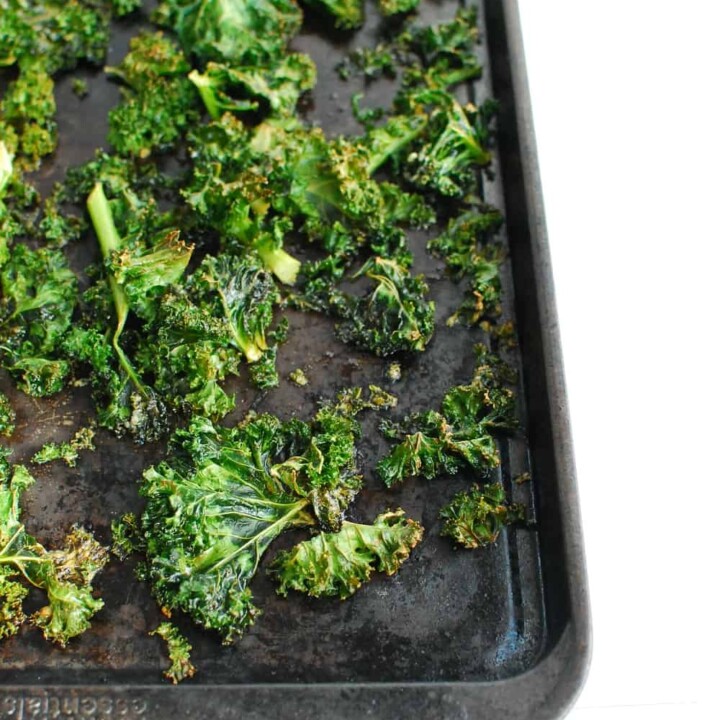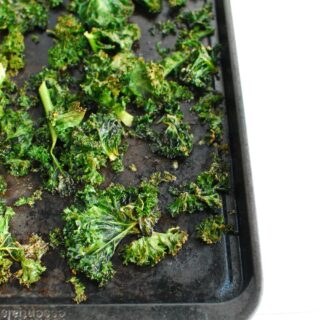 Ranch Kale Chips
These ranch kale chips are a delicious healthy savory snack! They'll be a fan favorite for everyone in your house.
Ingredients
6

cups

raw kale, roughly chopped

(any hard stalks removed)

2

tbsp

olive oil

2

tsp

ranch seasoning

(or 3 tsp if you want more ranch flavor)
Instructions
Preheat the oven to 300 degrees F.

In a large bowl, toss the kale with the olive oil and ranch seasoning. Pour onto a baking sheet.

Bake for 18 to 25 minutes, or until the kale is crisp. Enjoy!
Notes
This recipe makes two servings - half the pan each.
Nutrition analysis (per serving):  161 calories, 14.5 g fat, 2 g saturated fat, 270 mg sodium, 7 g carbohydrate, 2.5 g fiber, 2 g protein, Vitamin A: 61%, Vitamin C: 98%, Calcium: 16%, Iron: 6%
Nutrition
Share: What's your favorite way to season kale chips?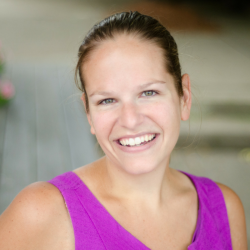 Latest posts by Chrissy Carroll
(see all)