How many calories does a pound of muscle burn each day? I'll tell you the quick answer now: it's 5 to 7 calories, which is probably far less than most people think.
But don't throw out strength training just yet! Let's back up a little and break down this concept…
Muscle Calories vs Fat Calories
You've probably heard a lot of fitness trainers make the statement that "Muscle burns more calories than fat."
While this is technically true, the degree of difference is so often distorted by mass media that it drives me crazy. I can't tell you how many times I've seen a magazine, book, or internet article state that a pound of muscle burns an extra 50 calories per day at rest.
And as you can see above, that is flat out wrong.
When people ask the question "how many calories does a pound of muscle burn", as fitness trainers and dietitians we should be answering that with accurate information: The truth is that an extra pound of muscle will burn about 5 to 7 calories while an extra pound of fat will burn about 2 calories.
[Tweet "How many calories does a pound of muscle burn? Less than you may think!"]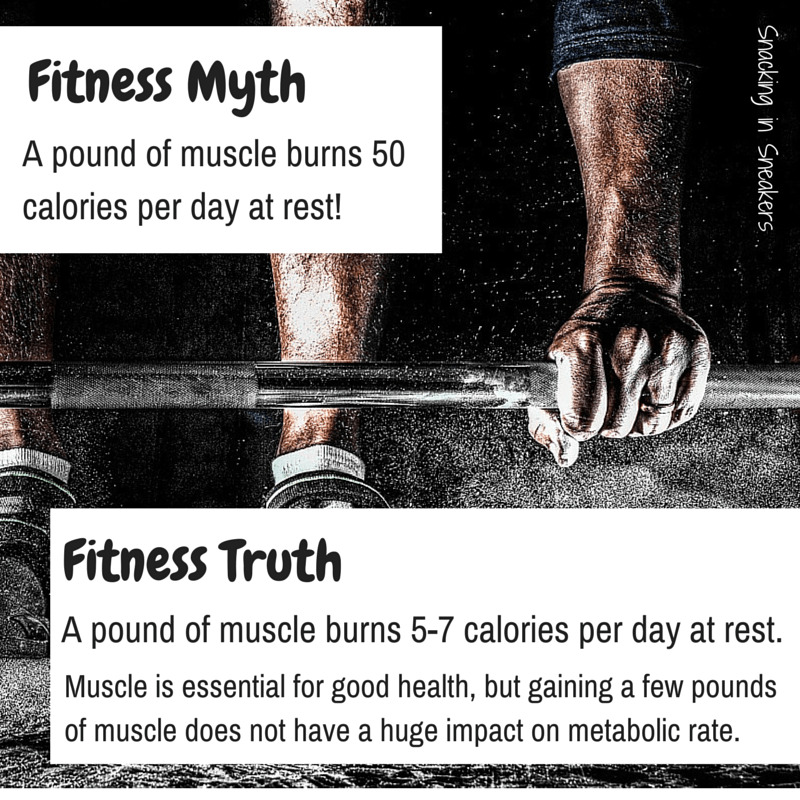 The Science Behind Muscle Calorie Burn
From the American Journal of Clinical Nutrition (1)…
"Every 10-kg difference in lean mass translates to a difference in energy expenditure of ≈100 kcal/d, assuming a constant rate of protein turnover. In considering the magnitude of energy imbalances leading to obesity, it is reasonable to view the situation over long periods of time, because obesity often develops over months and even years. A difference in energy expenditure of 100 kcal/d translates to ≈4.7 kg fat mass/y."
In the quote above, they talk about putting on 10 kg – aka 22 pounds! – of muscle mass to burn an additional 100 calories per day. Let me tell you, putting on 22 pounds of pure muscle is not an easy feat for any strength-training athlete.
So the message here is that yes, gaining muscle mass can help your metabolism slightly, but you are not going to see any major changes in metabolism with muscle gain until you've gained around 5-10 pounds of additional muscle. And even then you're only looking at an additional 25 to 70 calories per day.
Now of course, that doesn't mean it's not worthwhile to work towards building more muscle. On the contrary, it's very important to incorporate strength training and muscle building activities into your routine.
3 reasons to build more muscle:
1) Any additional boost to your metabolic rate is certainly beneficial – even if it's small.
If we're talking about 5 additional pounds of muscle mass burning 25-35 extra calories per day, that equates to about 3 pounds of fat mass lost over the year (if all other things considered stayed equal).
In addition, the rates of calorie burn I've mentioned for muscle mass do assume a constant rate of protein turnover. Very active individuals will be challenging their muscles more often leading to a presumably greater rate of protein turnover – so there is the possibility for an additional impact on metabolic rate for those who are very active (though I'm not sure how much of an impact that would be).
2) Losing fat and gaining muscle often results in a more toned look.
You've all heard "muscle weighs more than fat." That's a confusing statement, because a pound of muscle weighs the same as a pound of fat (think the pound of feathers vs bricks theory). But muscle is denser and takes up less space than fat – so that pound of muscle will look leaner on your body than that pound of fat.
Why does this matter? It means if you gain muscle mass and lose fat mass, you will end up with a more toned looking physique, even if the number on the scale doesn't change.
3) Research shows that increased muscle mass leads to better insulin sensitivity.
This means that your body is able to better process the sugar in your bloodstream that comes from the breakdown of carbohydrates. It also means a reduced risk of diabetes. For example, an epidemiological study looking at over 13,000 people found that for every 10% increase in skeletal muscle mass, there was an 11% reduced risk of insulin resistance and a 12% reduced risk of pre-diabetes or diabetes (2).
The bottom line: Small muscle mass gains don't greatly affect your resting metabolic rate, but are certainly beneficial – both health-wise and aesthetically.
Share with me: Have you ever been asked the question "how many calories does a pound of muscle burn?" Were you familiar with this data, or had you heard the 50 calorie myth before? What other fitness myths do you hear often?
References:
1) Wolfe RR. The underappreciated role of muscle in health and disease. Am J Clin Nutr. 2006 Sep;84(3):475-82.
2) Srikanthan P, Karlamangla AS. Relative muscle mass is inversely associated with insulin resistance and prediabetes. Findings from the third National Health and Nutrition Examination Survey. J Clin Endocrinol Metab. 2011 Sep;96(9):2898-903.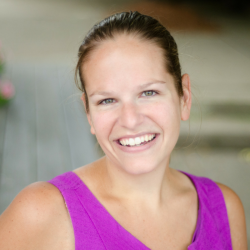 Latest posts by Chrissy Carroll
(see all)