I think I dropped the f bomb about 10 times yesterday before 9am. Not to anyone, but just out of frustration. This is how the day started (I promise, there's a point to this rambling):
Tried to access my health care account online to see a) how close we were to hitting our out of pocket max, and b) what labs were covered
Online account got locked because I could not remember what password was used
Got the account unlocked, to then find out that our out of pocket max was raised as of July 1st from $4000 per family to over $13,000. So instead of being within about $500 of meeting it, we are now thousands away.
Couldn't find the lab in the online system, so tried to call the doctor's office to verify that their lab was covered by my health care. Even though they are open, their phone lines are off.
I call back an hour later when the phone lines are on, and get into a hold que, only for the call to be dropped 10 minutes later.
Decide to work on another task until I can get through to the doctor, so I call my car insurance company since my registration renewal lists an insurance stamp requirement this year.
Car insurance company tells me that the registration is erroneously listed to two names, because back when it was financed, I had a co-signer. Even though the car has been paid off for more than 5 years, it hasn't been fixed.  They say they don't think my registration renewal will go through because of it.
Call the RMV to get this fixed. The number listed on the renewal form leads me to a message that says "This call is out of your service area."  Google to find you need to call a different number if you're calling from a phone with an out of state area code. (What genius came up with this…)  Call the number and can't get through to anyone at the time I called.
All this while I hadn't eaten anything since I was fasting for the labs I was supposed to get drawn. So of course, I was hangry, frustrated, and just plain stressed out by the end of this two hour mess.
Now in the grand scheme, was my morning anything to get worked up about? No, there are far worse things in the world. And writing it all out actually makes me feel a little silly that I got as frazzled as I did. But who wants to start their day with frustration like that, you know?   I decided to step back for a second and do some writing – and what better topic that how to reduce stress!
Stress is one of those things that is all about your perception and reaction to situations. I'll give you an example – I don't think I've ever seen my husband stressed out. He always has one of those "worrying about it doesn't change anything" attitudes. I'm envious, because the littlest things will make me tense up!
Case in point:
Terry's grasp on a stressful situation: A few months ago, his car broke down on the side of the road on the way to work. He calmly calls me and asks to jump it, and waited patiently for me to get there. Jumped the car, gave me a kiss and thank you, and headed off to work.
My grasp on a stressful situation: About a year before that, my car broke down on the side of the road. I called him screaming and freaking out, like somehow he should've known my car would break down and been right next to me to fix it. I felt like the rest of the day was ruined.
I've gotten better since then, I swear. But I still have to work at it daily. If you're like me and you fall prey to getting stressed out over situations – some of which you probably can't control – focus on what you can do to a) reduce that stress, and b) manage that stress. Here are some tips related to both…
How to Reduce Stress – 11 tips!
Reduce activities or responsibilities. If you have too many things on your plate, it's easy to get overwhelmed. Consider giving up things that aren't as important to you. If you're overwhelmed by essential responsibilities, ask for support from others to help.
Learn to say no. Whether it's parties, volunteer opportunities, or work-related issues – if there are things that you don't want to do and you don't have to do them, learn to say no to them.
Budget better. This applies to both time and money, two of the big things that almost everyone feels like they don't have enough of. Budget better when it comes to both of these, and you may find your stress level decreasing.
Disengage in negative relationships. Do you ever have that friend or family member that complains about everything every time you see them? You know how it can put you in a bad mood too? Stop engaging with them as much.
Actively create a positive perception. This is probably the toughest, but if you work on consistently trying to have a positive outlook, searching for the best in people, and practicing gratitude – you may find yourself less stressed out by situations that previously bothered you.
Exercise. Exercise is by far my personal favorite stress management technique. And research supports this – studies show exercise improves stress, anxiety, and depression. Consider trying different types to see what helps you most. While I may enjoy a solo long run to process my thoughts, someone else might enjoy a Zumba class with friends, taking their anger out on a boxing bag, or getting in touch with their mind and body at yoga.
Get enough sleep. I don't know about you, but I am certainly way more cranky and on edge if I haven't gotten enough sleep. Sleep helps you feel refreshed each day, and also helps your brain to process the events of the day.
Consider mindful practices that help you to relax. Progressive muscle relaxation, where you gradually tense than relax muscles throughout your body, works for many people. Meditation (whether silent or guided) might be a good tool for you. Visualization of positive outcomes is a tool that is particularly relevant for athletes.
Work/play balance. Everyone needs some realm of balance between their responsibilities and having fun. The optimal breakdown depends on your personality and personal situation, but remember to incorporate a social life and/or hobbies into your otherwise busy schedule. A get-together with the girls might be just what you need to put you in a better mood.
Laughter. In one of the textbooks I used to use when I taught at the college, there was a statistic that children laugh something like 100 to 200 times per day, while adults only laugh about 15 times per day. If you're having a stressful day, head on over to youtube and find a few funny videos to watch. I'm a fan of standup comedy when I need a boost.
Declutter. If I'm experiencing stress, having a messy desk seems to make everything worse. I function much better in a clean environment. Plus, the act of cleaning and organizing itself seems very cathartic to me, so it's a perfect activity to do when experiencing stress.
Share with me:  How do you handle stress?  Do you have my personality or my husband's?  What are your best stress management techniques?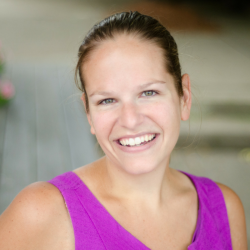 Latest posts by Chrissy Carroll
(see all)