Get ready for some super satisfying comfort food with this recipe for oxtail and grits! Oxtail is slowly braised on the stovetop, creating tender meat and a flavorful stew. It's then spooned over creamy, buttery grits for an absolutely delicious dinner.
Disclosure: This post is sponsored by the Northeast Beef Promotion Initiative, a subcontractor to the Beef Checkoff. As always, all opinions are my own.
What is oxtail?
Oxtail is aptly named; it is quite literally the tail of cattle. Because oxtail contains a high proportion of bone and cartilage with surrounding meat, it needs to be cooked low and slow. This tenderizes the meat, and also allows the bone, fat, and cartilage to add deep rich flavors to the rest of the dish.
While many people have cooked with oxtail for centuries, lately quite a few chefs and culinary experts have taken a renewed interest in this cut of beef. First, with the focus on sustainability (especially this month with Earth Day!), it's nice to know how to cook with all the different cuts of the animal.
Though as an aside, very little of any cow goes to waste. While certain cuts (like beef tongue or beef heart) may not be utilized as frequently here in the United States, they may be exported to other areas where they are consumed more regularly. And other parts of the cow are used in unexpected ways, like gelatin from the bones and hide that's used to make gummy bears and marshmallows.
But back to oxtail! Perhaps even more important to me is the amazing flavor that you can develop when cooking oxtail. Just wait until you taste how rich and savory the meat is combined with the reduced braising liquid (which becomes stew-like) in this recipe.
Ingredients

You'll find a full list of ingredients and amounts in the recipe card at the bottom of this post, but here's a quick overview of what you'll need and some helpful notes about some of the ingredients: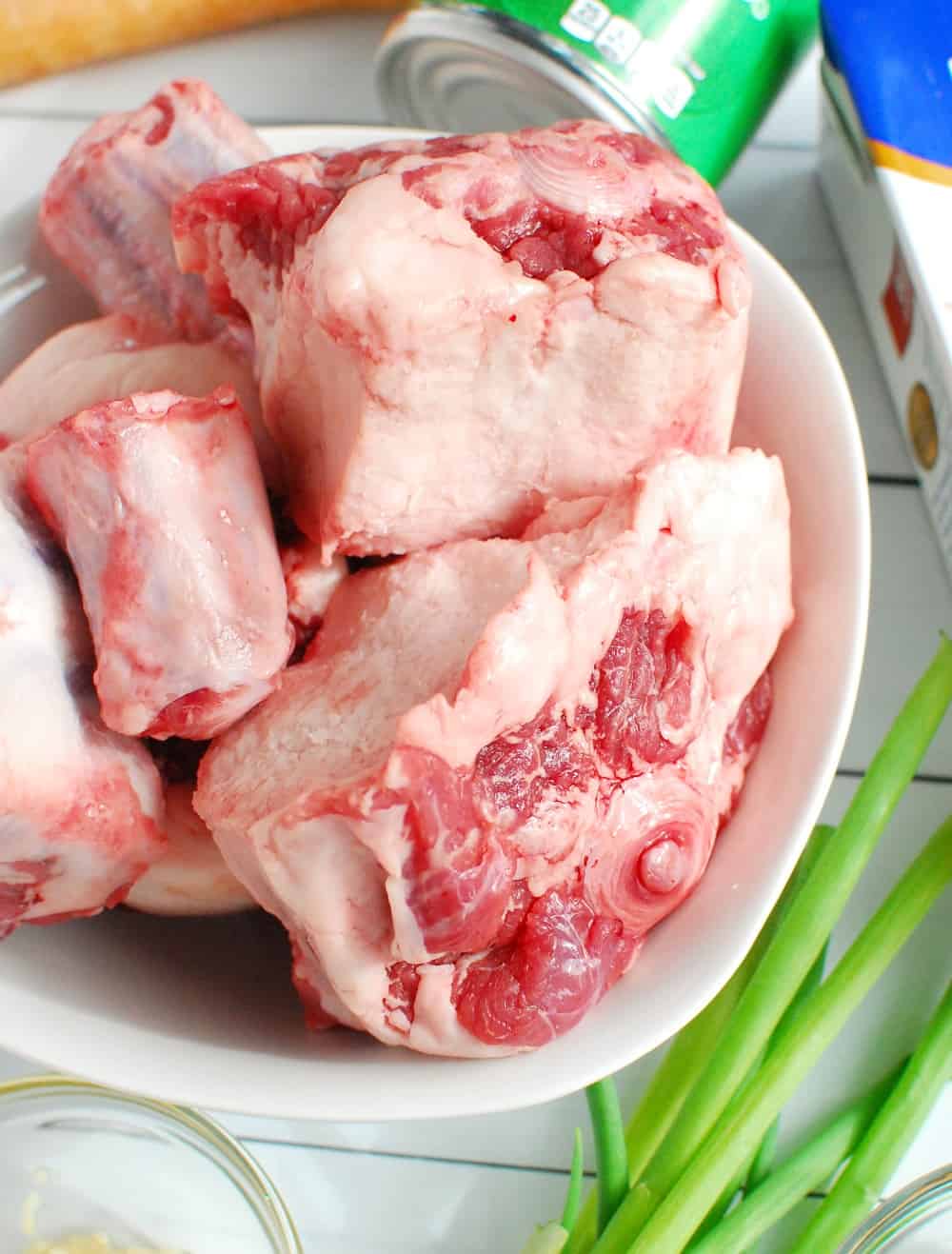 Olive oil – This is used to sear the oxtail, which helps start the initial flavor development.
Oxtail – Obviously, our star of the show here!
Onions
Carrots
Habanero pepper – This adds a subtle heat to the dish. One small orange habanero was perfect for me, and I did not think this tasted overly spicy – it was mild to me. You can increase the peppers if you prefer a spicy dish. You can also use scotch bonnet peppers here, or a couple jalapenos. Or leave them out altogether if you're nervous about the heat. It's flexible.
Garlic
Brown sugar – It might sound odd to add brown sugar to a meat recipe, but it helps balance the flavors.
Worcestershire sauce
Cinnamon
Cloves – I know, cinnamon and cloves sound like an odd choice in a beef dish. But there is something about them in here that works incredibly well, especially against the backdrop of rich beef flavor and the heat of the habanero.
Black Pepper
Tomato paste
Diced tomatoes
Beef broth
Scallions
Everything above is what will be used to braise the oxtail. You'll also make some grits to go with this. For those grits, you'll need:
Grits – I like quick grits, because well – they're quick! 😉 But feel free to use regular grits instead.
Milk – For this recipe, I like using half milk and half water for the liquid to cook the grits. But you can use all water instead if you'd prefer.
Salt
Butter
Step by Step Instructions
Start with your mise en place – that French culinary term that means "putting everything in it's place." In other words, get all your veggies chopped, get your seasonings measured out, and have all your ingredients ready to go. It makes the rest of the recipe move much faster.
One important tip while you're chopping those veggies – keep in mind that habaneros are very spicy, so be careful when mincing them. Do not touch the minced pepper and then touch your eyes. Some people wear gloves when cutting them; I just make sure to mince them without physically touching the pepper itself.
Once everything is ready to roll, you're going to start by heating some olive oil in a pot, then searing the oxtail on each side. You want to sear it for a couple minutes per side, so that it's completely browned all the way around. Use some tongs to remove the meat and put it on a plate for now.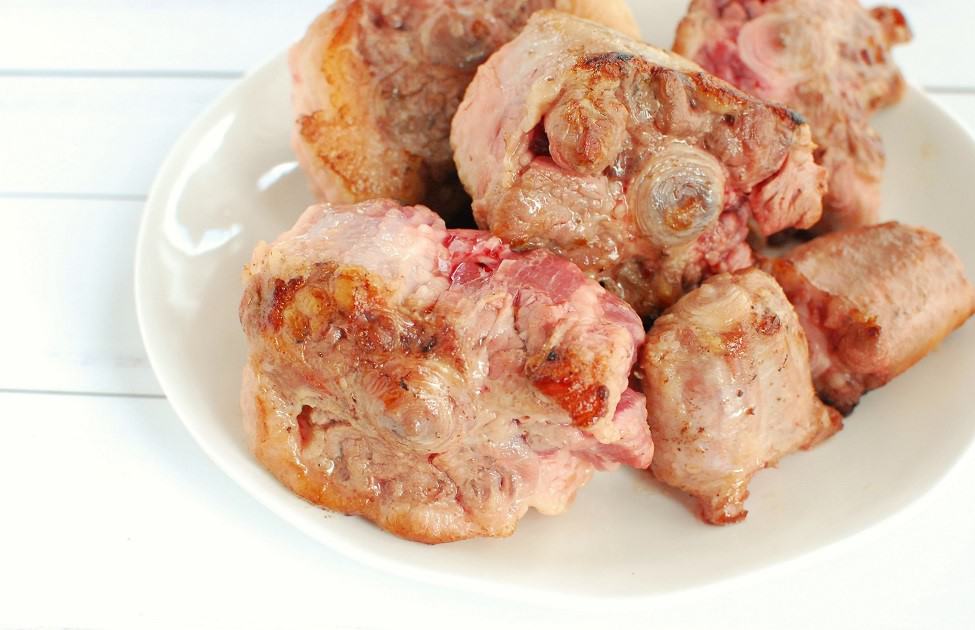 Next, add your carrots, onions, and pepper to the pot. Let these cook for about 5 minutes, until they start to soften up.
Now it's time to add your seasonings – the garlic, brown sugar, Worcestershire, cinnamon, cloves, and pepper. Give everything a good stir and let it cook for a minute until nice and fragrant.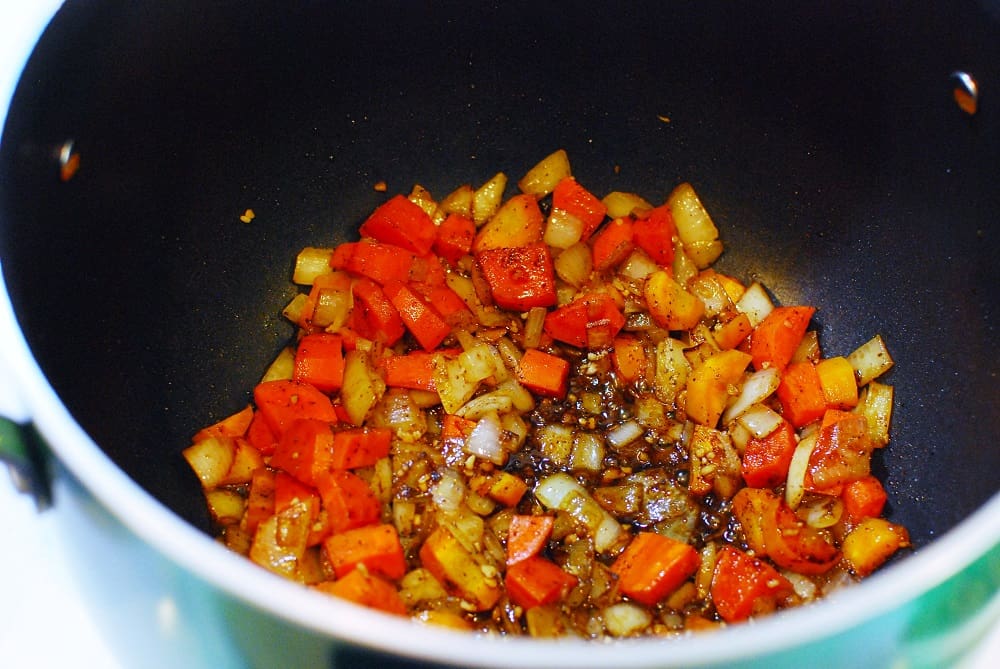 Mix in the tomato paste and diced tomatoes, then go ahead and add your oxtail back to the pot along with the beef broth. It'll look like a lot of liquid at first (as you see in the photo below), but we'll reduce this down in a bit.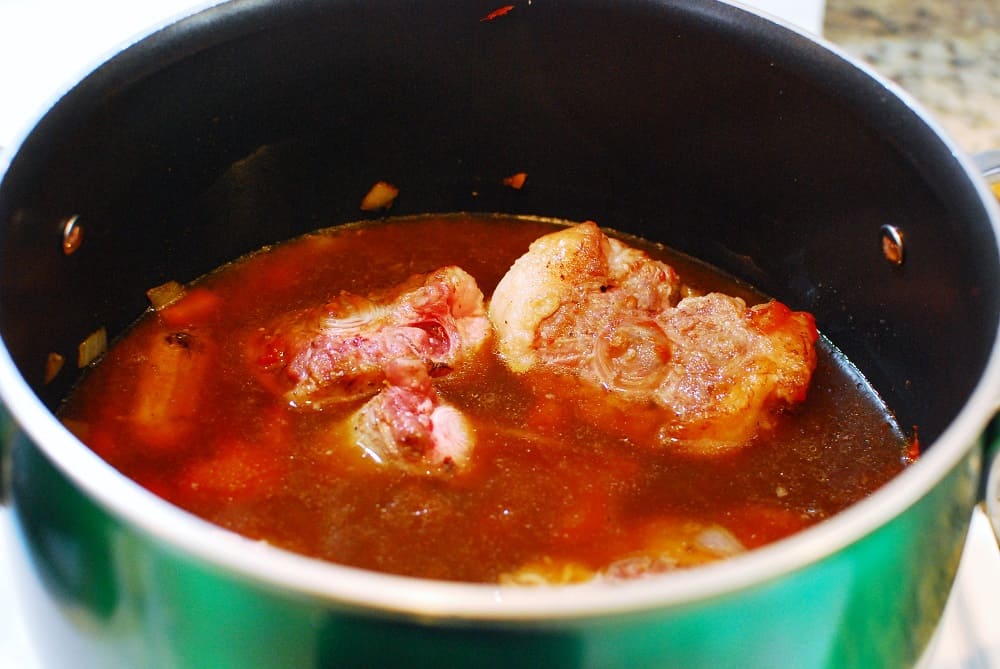 Cover up the pot and simmer it for 2 ¼ hours, then remove the cover and keep simmering for another hour. The initial covered time helps the oxtail start to get tender, while the last hour lets you reduce the liquid down while continuing to cook the meat. The result is fall-off-the-bone tender meat in a thick and delicious stew. You can see how much it changes from before cooking to after: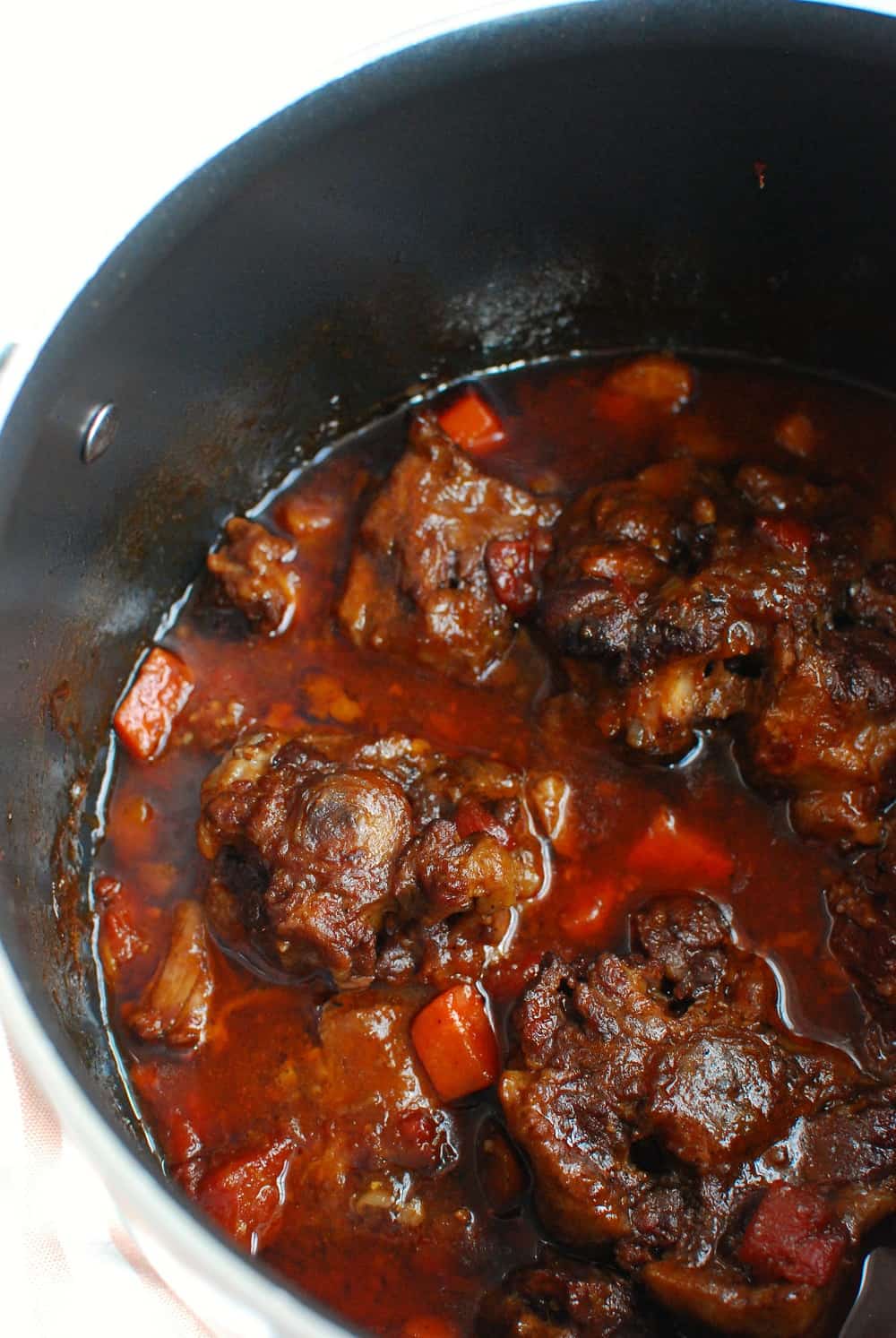 When the oxtail is almost done, go ahead and make your grits. You want them to be creamy, like this: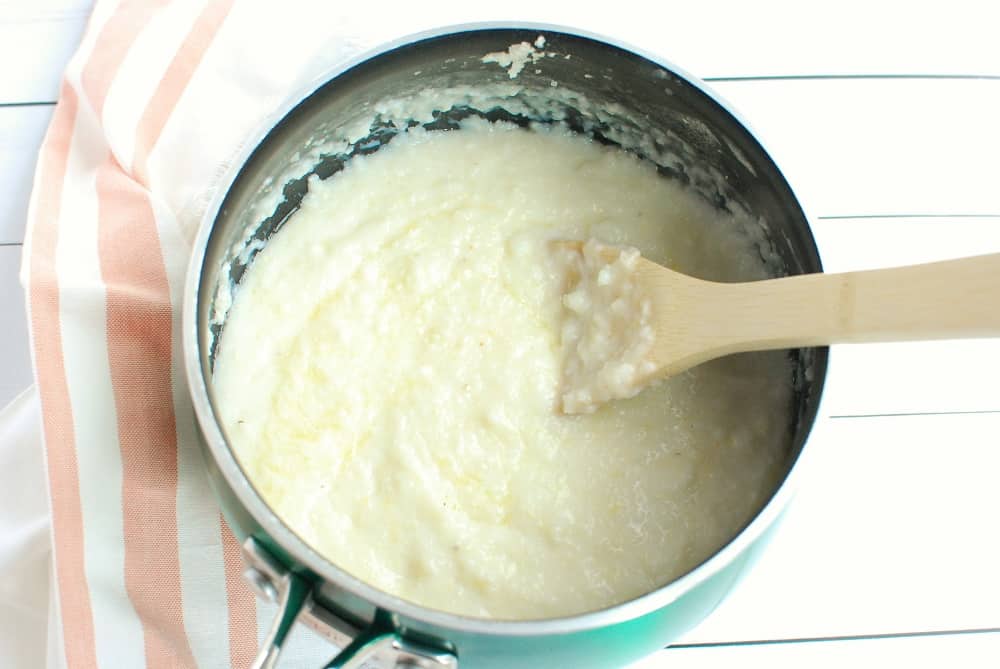 Now just scoop some of those grits in a bowl and ladle on a piece of oxtail with some of the stew. You're going to love it!
Recipe FAQ
Here are some common questions that may come up as you're preparing this dish:
Where can I find oxtail? Oxtail can be a bit tougher find at the grocery store compared to other cuts of beef – after all, each cow produces numerous types of steak and roasts, but there's only one tail. Try calling your grocery store ahead of time, as they can likely put in a special order for you, or let you know when there is some in stock. You may also have luck visiting your local butcher or a local farm that sells directly to consumers.
Should I trim the fat on the oxtail before cooking? This is a personal decision. I prefer leaving the fat on while cooking, as it helps with the overall flavor, and then just trim it off before eating. If this makes the stew portion too oily for you, cool it first then skim the fat off the top before serving. Or, if you'd prefer, simply trim the fat prior to cooking.
Is there a substitute for oxtail if I can't find any? Sure – if you can't find oxtail, beef shanks work very well in this recipe.
Is this a nutritious meal? I think this is a comfort food that packs in some good nutrition! It's got a nice balance of fat, carbohydrates, and protein to keep you full for hours. You'll get some veggies with the carrots, onions, and tomatoes. And a serving of this recipe supplies 25% of your daily iron needs (key for athletes, as iron is involved in transporting oxygen in your blood to your muscles).
I hope you enjoy this recipe! My husband and I love it; it is definitely a comfort food meal for us. If you get a chance to try it, please feel free to leave a recipe rating or comment below.
PS – Looking for more beef comfort food recipes? Try my BBQ ground beef stuffed sweet potatoes or steak and mango chili.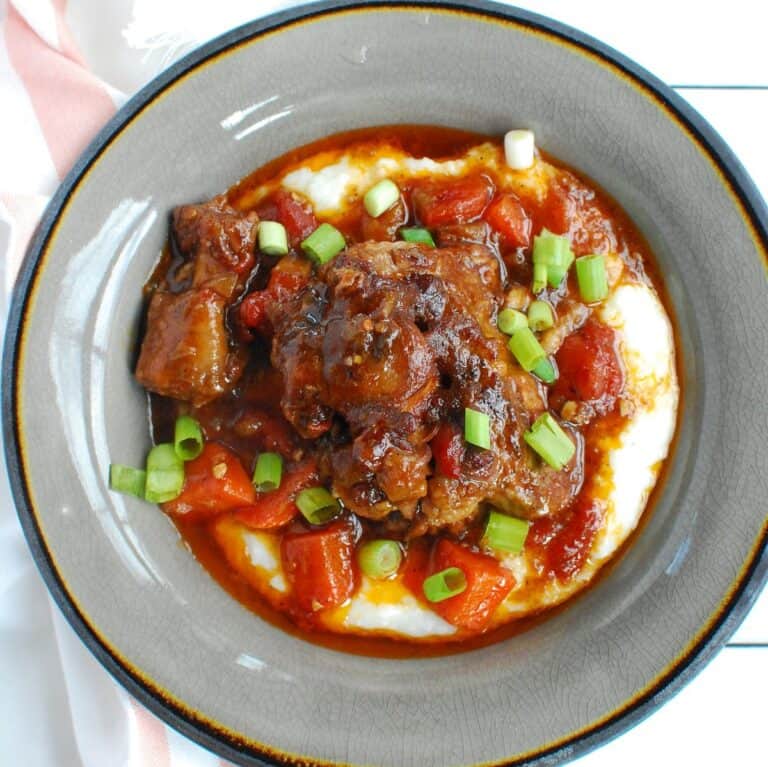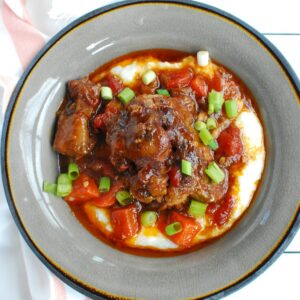 Slow Braised Oxtail and Grits
Get ready for some super satisfying comfort food with this recipe for oxtail and grits!  Oxtails are slowly braised creating a flavorful stew that's spooned over creamy, buttery grits.
Ingredients
For the braised oxtail:
1

tbsp

olive oil

2 ¾

lb

oxtail

1

medium onion, diced

2

large carrots, peeled and chopped

1

habanero pepper, minced

2

tsp

minced garlic

2

tbsp

brown sugar

1

tbsp

Worcestershire sauce

¼

tsp

ground cinnamon

¼

tsp

ground cloves

½

tsp

ground black pepper

1

tbsp

tomato paste

14 ½

ounce

can diced tomatoes

4

cups

reduced-sodium beef broth

4

scallions, chopped
For the grits:
2

cups

water

2

cups

milk

⅛

tsp

salt

1

cup

quick grits

(or regular grits)

2

tbsp

butter
Instructions
Heat the olive oil in a large pot over medium heat. Place the oxtail in the pot, searing on each side for 2-3 minutes each, until all sides are browned. Use tongs to remove the oxtail and set aside on a plate for now, leaving any drippings in the pot.

Add the onion, carrots, and habanero. Reduce heat to medium-low and cook for 5 minutes, until the vegetables start to get tender.

Add the garlic, brown sugar, Worcestershire, cinnamon, cloves, and pepper. Cook for one minute, stirring well.

Add the tomato paste and diced tomatoes, giving everything a good stir. Return the oxtail to the pot, and add the beef broth.

Bring to a boil, then reduce heat to low and simmer, covered, for 2 hours and 15 minutes. Remove the cover and continue simmering another 1 hour, until the liquid has reduced by at least half forming a lovely stew-like consistency. (If necessary or desired, let cool then skim any fat off the top*.)

When the oxtail is nearing completion, prepare the grits.* Combine the water, milk, and salt in a medium-sized pot and bring to a simmer over medium-low heat. Stir in the grits, mixing well so they do not clump. Cover and continue cooking, stirring occasionally, approximately 5-7 minutes total for quick grits (or 15-20 minutes for regular grits), until the grits are creamy. Turn off the heat and stir in the butter until fully melted and mixed in.

Serve the braised oxtail with some of the stew over the grits. Garnish with scallions. Enjoy!
Notes
If desired, trim the fat from the oxtail prior to cooking. I prefer leaving it on, as it adds flavor to the braising liquid, and then trim it before eating. If the reduced braising liquid is too oily, let it cool first, then skim the fat off the top prior to serving.
Quick grits and regular grits generally have the same 4:1 ratio of liquid:grits. If using instant grits, the ratio may be different. Always check the package for the correct ratio of liquid to grits, and defer to the package directions if they differ from mine.
Nutrition analysis (approximate per serving; assumes fat trimmed from meat prior to eating; estimates may vary based on amount of meat vs. bone in the oxtail you purchase): 449 calories, 15.5 g fat, 3.5 g saturated fat, 705 mg sodium, 46 g carbohydrate, 5 g fiber, 17 g sugar, 31 g protein, Vitamin D: 6%, Calcium: 13%, Iron: 25%, Potassium: 17%
Nutrition
Share: Have you cooked with oxtail before? What's your favorite dish to make with it?
Please feel free to pin this post to refer to later and share with others.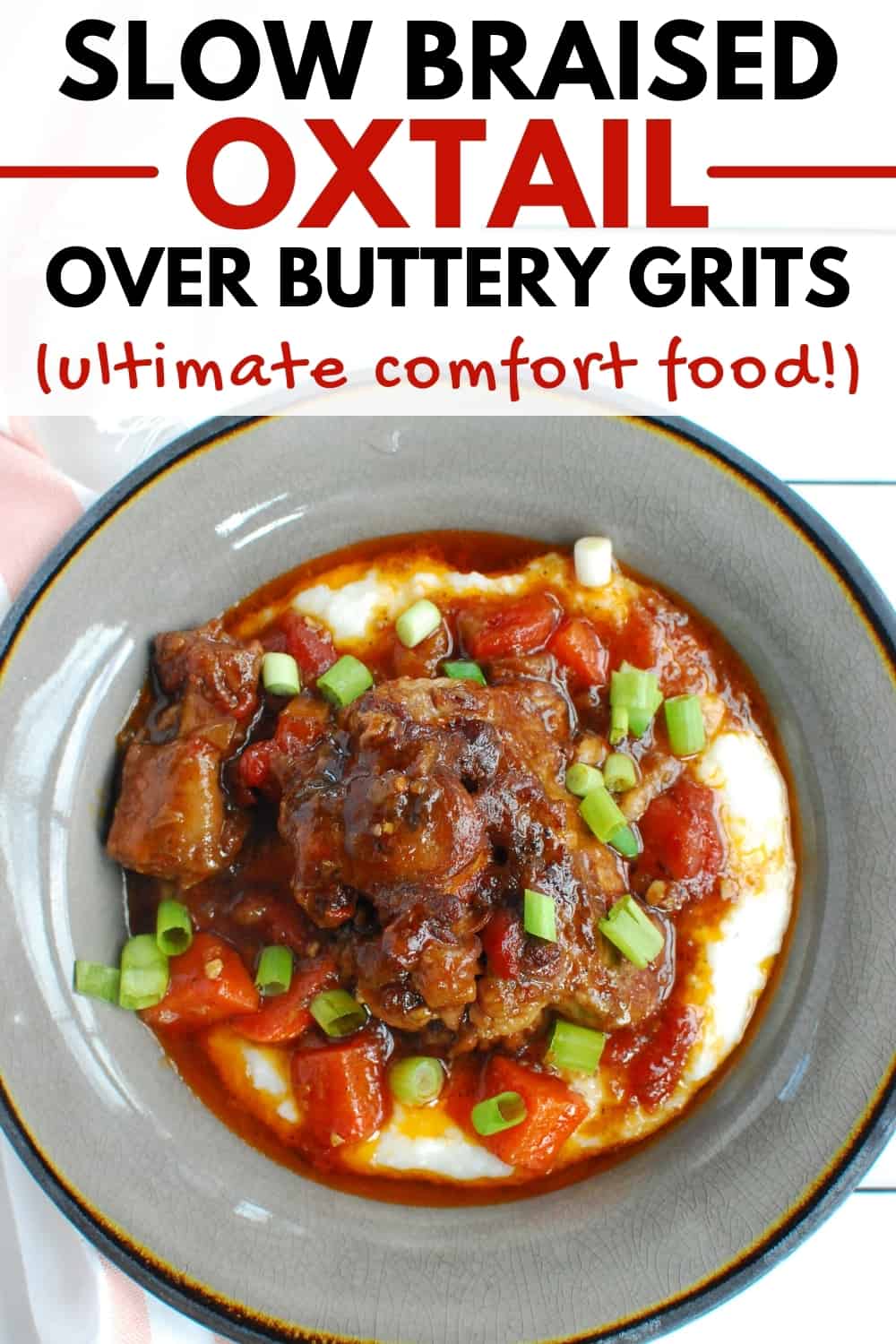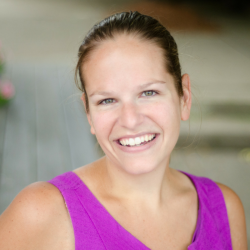 Latest posts by Chrissy Carroll
(see all)