Thinking about setting a fitness goal that will help improve your cardiovascular health, promote a healthy weight, and just make you feel awesome? Consider running 2 miles a day!
In reality, for many people this goal will turn out to be most days – not necessarily every day – and that's completely fine. But there are some major benefits to starting a running habit (whether that's a 3 day a week goal, or a potential running streak). Find out more about them below, along with ways to start running and how to keep up with your goals.
Disclaimer: This post is for informational purposes only. Consult your doctor prior to beginning any new exercise program.
Benefits of Running 2 Miles a Day
Wondering why you should run in general? Check out these benefits!
1. Burns calories.
The specific number of calories burned depends on your weight. If you want a very quick calculation, you can use about 100 calories per mile – but this can be somewhat inaccurate depending on your weight.
For example, according to Harvard Medical School, here are the calorie burns for individuals running 2 miles at a 12 minutes/mile, based on weight:
125-pound individual – 192 calories
155-pound individual – 238 calories
284-pound individual – 284 calories
Interestingly, calorie counts don't change massively per mile with speed. Instead, you just finish the runs faster. For example, if that 125-pound individual sped up to run 9 minute miles (rather than 12 minute miles), their calorie burn would be around 198 calories rather than 192 – not a major difference. However, they'd finish those two miles in 18 minutes instead of 24 minutes.
2. May help you lose weight.
One of the biggest questions I've seen on this topic is "Can you lose weight by running 2 miles a day?" And the simple answer is yes!
Of course, that doesn't take into account a whole host of other confounding factors, like your eating habits, sleep, other activity, etc. But if all else stays the same, running two miles a day should help promote weight loss thanks to the calories burned (as shown above).
For example, if you were a 155-pound person running 2 miles every day for a month, that would total 7,140 calories. If we assume a pound equals 3500 calories, that would lead to a weight loss of about two pounds in a month.
(Now, just to clarify – there are some issues with the "3500 calories = a pound" math, because it doesn't take into account long term shifts in metabolism as you lose weight and drops in calorie burn while exercising with weight loss. But it's a good estimate at the beginning of weight loss goals).
3. Improves cardiovascular health.
By this point, you're probably familiar with the fact that exercise – specifically cardiovascular exercises like running, jump roping, or Zumba – is associated with improved heart health.
There was a 2019 systematic review that looked specifically at running, and found that running led to a…
27% lower risk of all cause mortality
30% lower risk of cardiovascular mortality
23% lower risk of cancer mortality
4. Builds willpower.
Just like we need to train our muscles to workout, we also need to build our willpower in order to create sustainable habits. There are days when it's going to be chilly out, and it's going to feel like a hurdle to get out of bed, bundle up, and pound the pavement. But if you create a daily goal – like running 2 miles a day – your mind immediately wants to stick with that goal when you've created some momentum.
5. Improves anxiety/depression.
Exercise is a natural anxiety reliever, and some research shows it benefits people with depression as well. Exercise affects hormones in the body, including endorphins, that may affect mood. In addition, there's the simplistic anecdotal explanation of feeling good thanks to releasing pent-up energy via physical activity.
(As an aside, this doesn't mean running 2 miles a day will completely relieve severe anxiety or depression. If you struggle with these, see a doctor for a treatment plan that works for you. Exercise may be part of that plan to help relieve symptoms.)
How to Start Running 2 Miles a Day
At this point you know that running regularly can benefit your health – but it might feel a little overwhelming to get started! Here's how you might approach running 2 miles a day as someone new to jogging: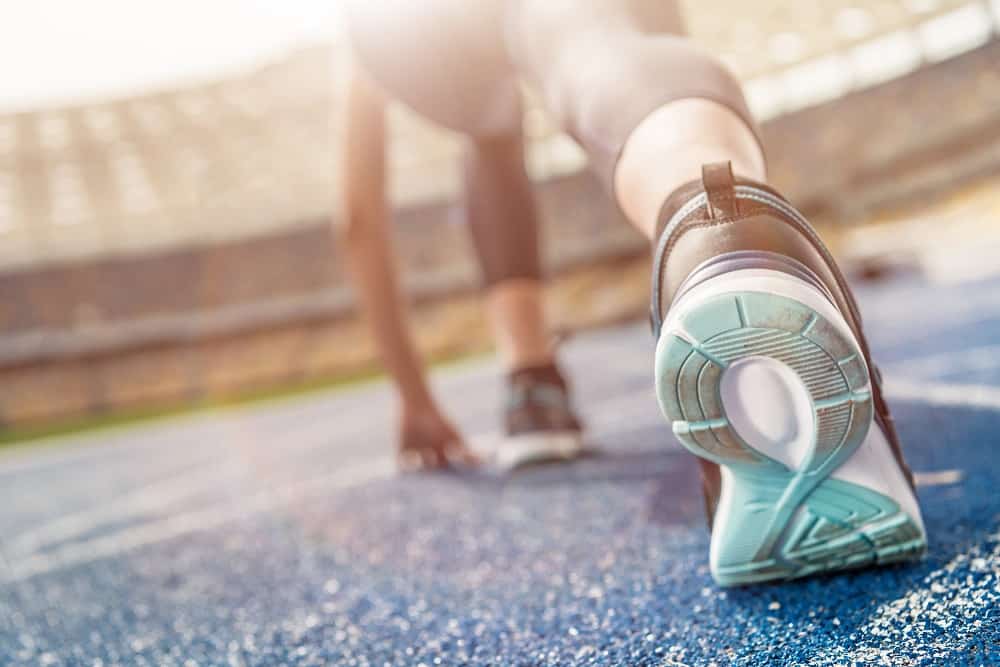 Use a run/walk strategy as needed.
If you're not used to running, it's probably going to be tough to do 2 miles straight. No problem! The most important part is simply to be moving your body, whether that's running or walking.
I recommend starting with a run/walk strategy, like we use in our beginner 5K training plan. Try jogging 2 minutes and walking 3-4 minutes to start. Repeat that until you've completed your 2 mile run. As your fitness level improves, you can increase the amount of time running and decrease the amount of time walking.
(Of course, if you already run regularly but are simply trying out a run streak with daily 2 mile runs – then you can hop right into comfortably paced consistent running.)
Don't feel pressured to do daily runs if you're not ready.
Some people love setting a goal for daily runs specifically because of the way it builds momentum and will power. But if your fitness level isn't there yet, or if you're worried that a daily goal sets you up for failure, that's completely fine! Ask yourself what would be a good goal to start with. Maybe 3 days a week is right for you right now.
Keep a comfortable pace.
Keep in mind that most of your daily runs (around 80% or more) should be comfortable, easy runs. This applies to experienced runners too!
You can certainly work some faster intervals into some runs, or do longer runs on some days, if you are an experienced runner. But if you are planning to start a daily run streak, you want most of your 2 mile runs to be comfortable so they don't tax the body.
Strengthen and stretch.
If you are able to build in a few days a week of some body weight exercises – like lunges, squats, planks, push ups, bridges, and bird dogs – this will help round out your training. Strength exercises not only improve running stride, but also can help prevent injury.
Similarly, set aside a few minutes to stretch regularly. If you're running daily, you may end up with some tight muscles. Stretching after a run or doing a bed time yoga routine can be super valuable for keeping you limber.
Listen to your body.
While a streak is great to keep up, remember to listen to your body. If you're injured or you just mentally need a day off, that's completely OK. Most of the benefits from running – like improved cardiovascular health or reduced anxiety – don't require daily runs.
Tips for Keeping Up with a Running Habit
It can be overwhelming thinking about starting any new habit – especially one like this where you want to potentially do something daily. Here are some tips to help keep you on track:
Track your progress on a calendar.
There's a story I heard at a conference about creating good habits, and it stuck in my head. One night, an aspiring comic asked Jerry Seinfeld about how to become better. Seinfeld told him that the key was to write a joke every day. And even more so, he gave him a specific strategy to use – to get a giant wall calendar and put an X on each day that he did that.
After a few days, those Xs become a chain. And then it becomes about not breaking the chain. That's how a good habit can be created.
The same concept can be applied to just about any habit you want to start – including running twice a day. Start tracking it on a calendar (whether that's a big wall calendar, a dry erase calendar, or a personal planner) – and try to avoid breaking the chain.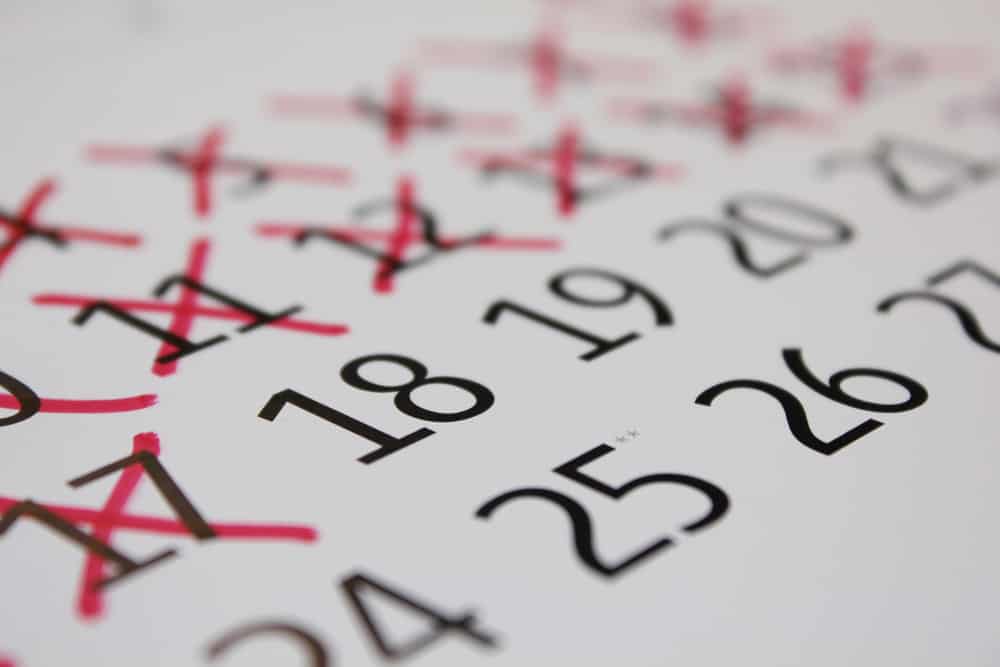 Plan ahead.
Take some time on Sundays to look at your week ahead. What work commitments do you have? What nights do your kids have sports? What personal events are coming up next weekend?
By getting an outline of your week, you can decide where to fit your runs in each day. Some people prefer getting up early in the morning and knocking it out right away. Others prefer fitting it in at lunch time, or varying the time of day based on their schedule. See what works for you.
Reward yourself.
Let's say you want to set a goal of doing a daily run streak for a month. Giving yourself a reward at the end of that month can be great motivation to stick with your goal! Will you treat yourself to new workout clothes? Get a massage? Go on a weekend away? Figure out what will help inspire you to stick with it.
There you have it – all the benefits, tips & tricks you need to know when it comes to running 2 miles a day! If you have any questions, don't hesitate to leave them in the comments.
Share with me: Have you ever tried running 2 miles a day over time to create a run streak?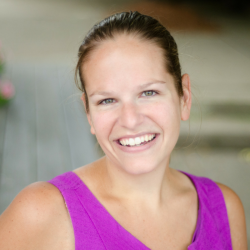 Latest posts by Chrissy Carroll
(see all)