If you want to start the day off right, try this spirulina smoothie bowl recipe! Spirulina is a type of blue-green algae with health-promoting qualities. When mixed with other nutrient-dense ingredients in this tasty smoothie bowl, it creates a perfect meal to dig into after a morning workout.
Disclosure: This post was sponsored by NOW®. As always, all opinions are my own.
Ingredients
Here's a helpful picture with an overview of the ingredients you'll need for this recipe: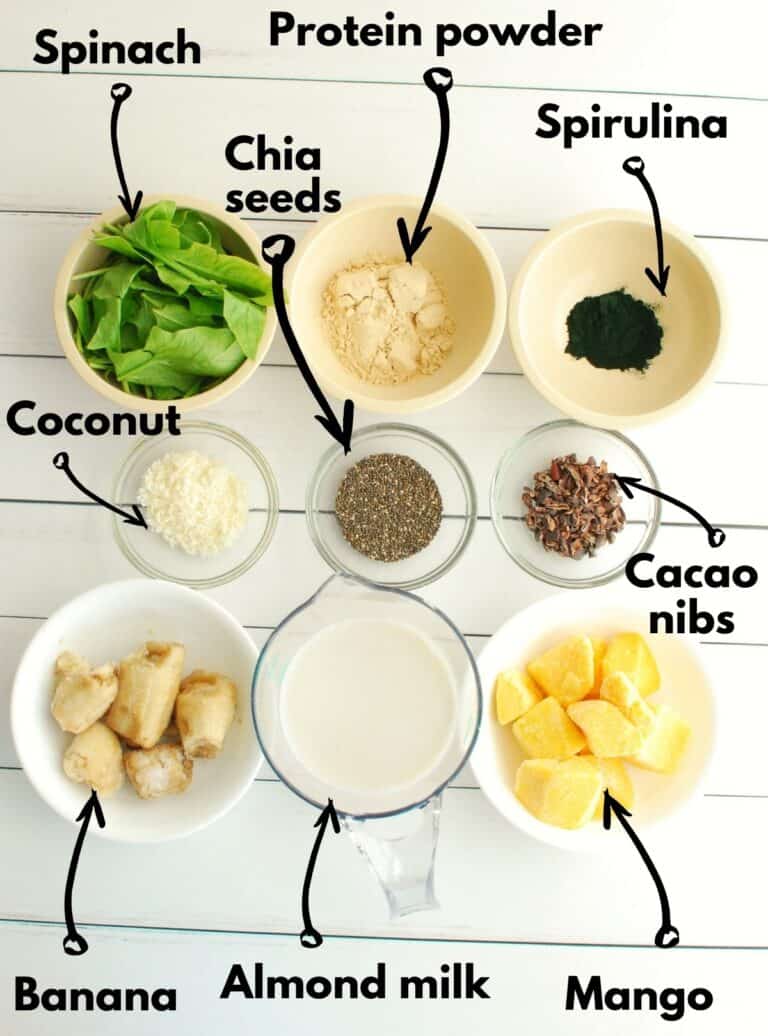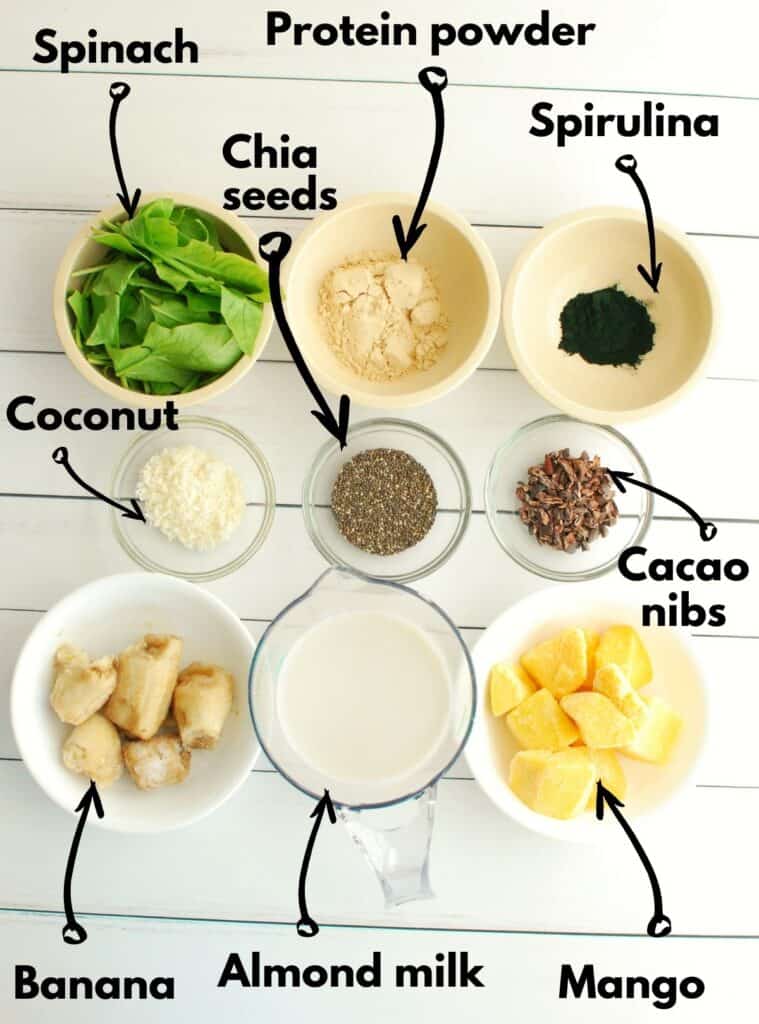 And some helpful notes about a few of these ingredients:
Spirulina – If you've never used this powder before, don't be intimidated! It comes as a green powder, and blends well with the other flavors in this smoothie.  Spirulina is a natural source of certain vitamins, minerals, and phytonutrients.  While green powders aren't a substitute for meeting your veggie needs each day, they do offer an easy way to add an extra boost of nutrition to a recipe.
Protein powder – Any vanilla protein powder will do!  If you want to keep this a fully plant-based recipe, you can use a plant-protein complex, like I included in the recipe.  Otherwise, you can feel free to use a vanilla whey protein powder.  (If you'd prefer skipping over the powder, you can also add plain Greek yogurt instead.)
Chia seeds – Cha-cha-cha-chia! These little seeds have omega-three fatty acids and fiber, and add a satisfying crunch to your bowl.
Cacao nibs – Cacao nibs are a raw, unprocessed form of chocolate with an intense and delicious taste. Like chia seeds, these also add a little bit of texture and crunch to the smoothie bowl.
If you're wondering where to buy some of these ingredients, you'll definitely want to check out NOW®.  I got my protein powder, spirulina, chia seeds, coconut, and cacao nibs all from them.  The products are always high-quality and taste delicious.  Want to grab some ingredients for yourself?  Use code CHRISSY for 20% off your order at nowfoods.com!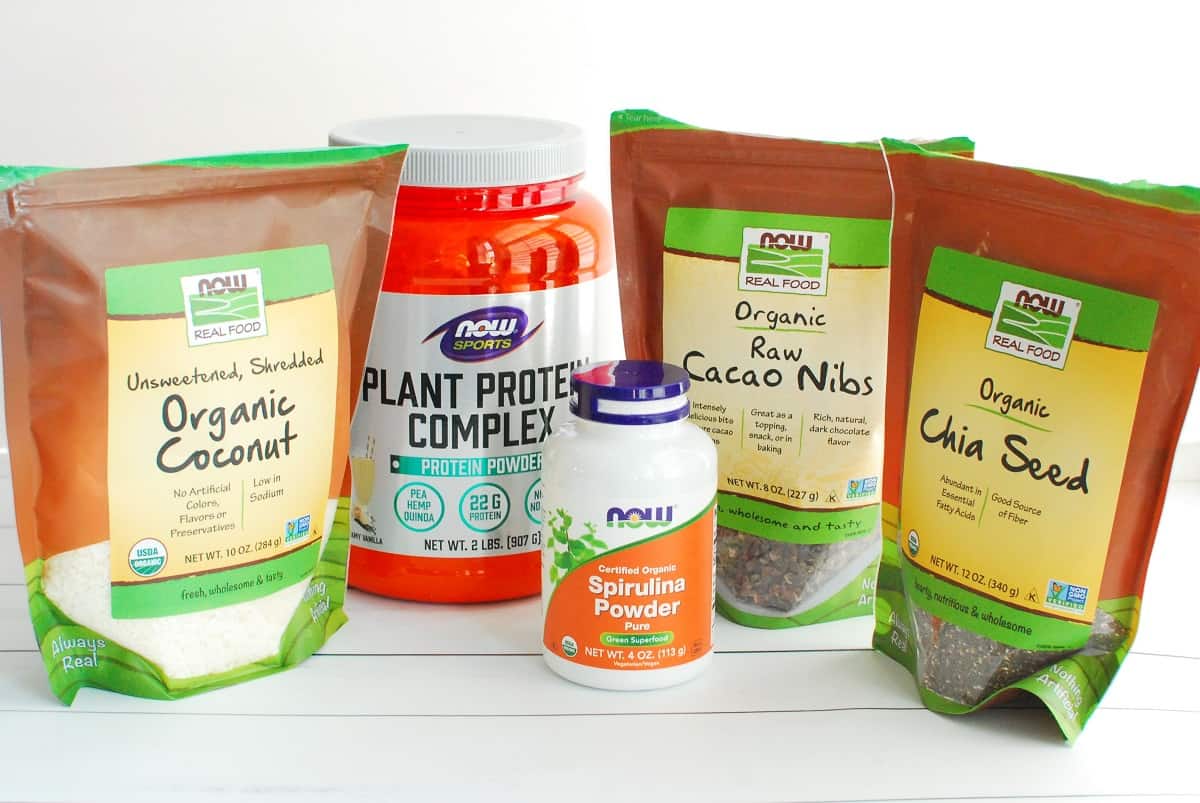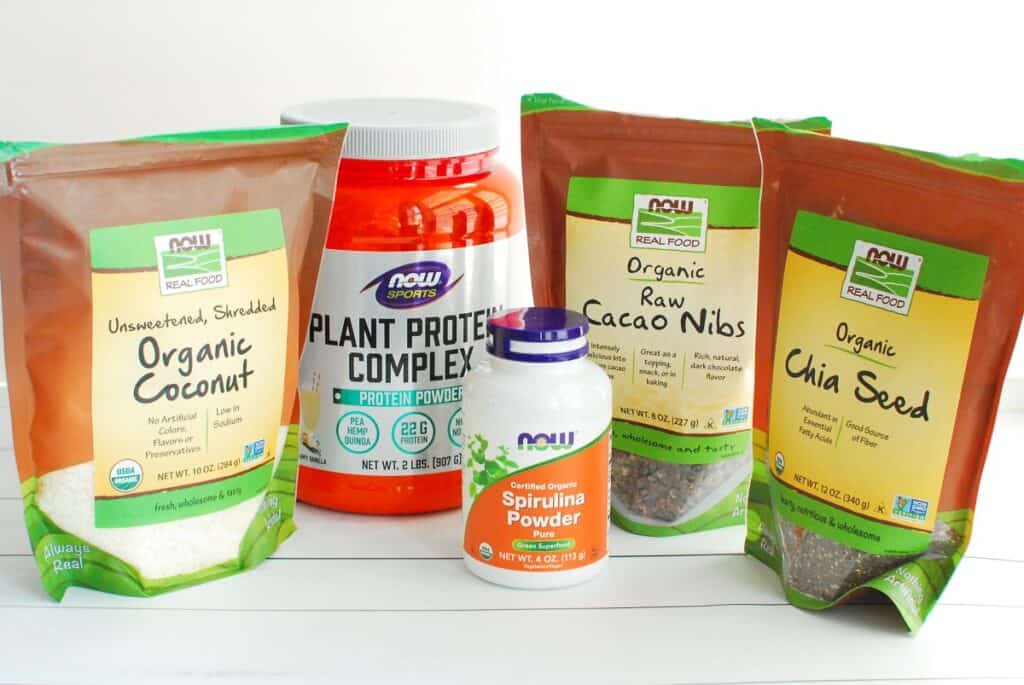 Step by Step Instructions
You'll find full recipe amounts and instructions in the recipe card below, but here's a helpful overview. This smoothie bowl is incredibly easy to make, but does require a little prep ahead of time.
You'll want to make sure that you've got both frozen bananas and frozen mango ready to go. I love to buy browning bananas on clearance at the supermarket, then chop 'em up and freeze them so they're always on-hand for smoothies. For the mango, you can either buy fresh and cut it up to freeze, or just buy frozen (you'd be surprised at the awesome variety of frozen fruit on the market these days)!
When you've got everything ready to go, all you need to do is add all the ingredients (except your toppings) to a blender. I like using a smaller blender cup (less space on the countertop = win), but you can certainly use a standard size blender too.
Now go ahead and blend it up!
Depending on your blender quality and the exact proportion of ingredients used, you may find you need to add a little extra unsweetened almond milk. Add this one tablespoon at a time, then try to blend again. The goal with a smoothie bowl is the keep the mixture pretty thick so it's a spoonable texture. As such, you don't want to add too much extra liquid – otherwise it'll end up as a thinner drinkable smoothie instead of that luscious, thick bowl.
Pour the mixture into the bowl and then add your toppings – in this case, I've used chia seeds, coconut, and cacao nibs. Dig in and enjoy!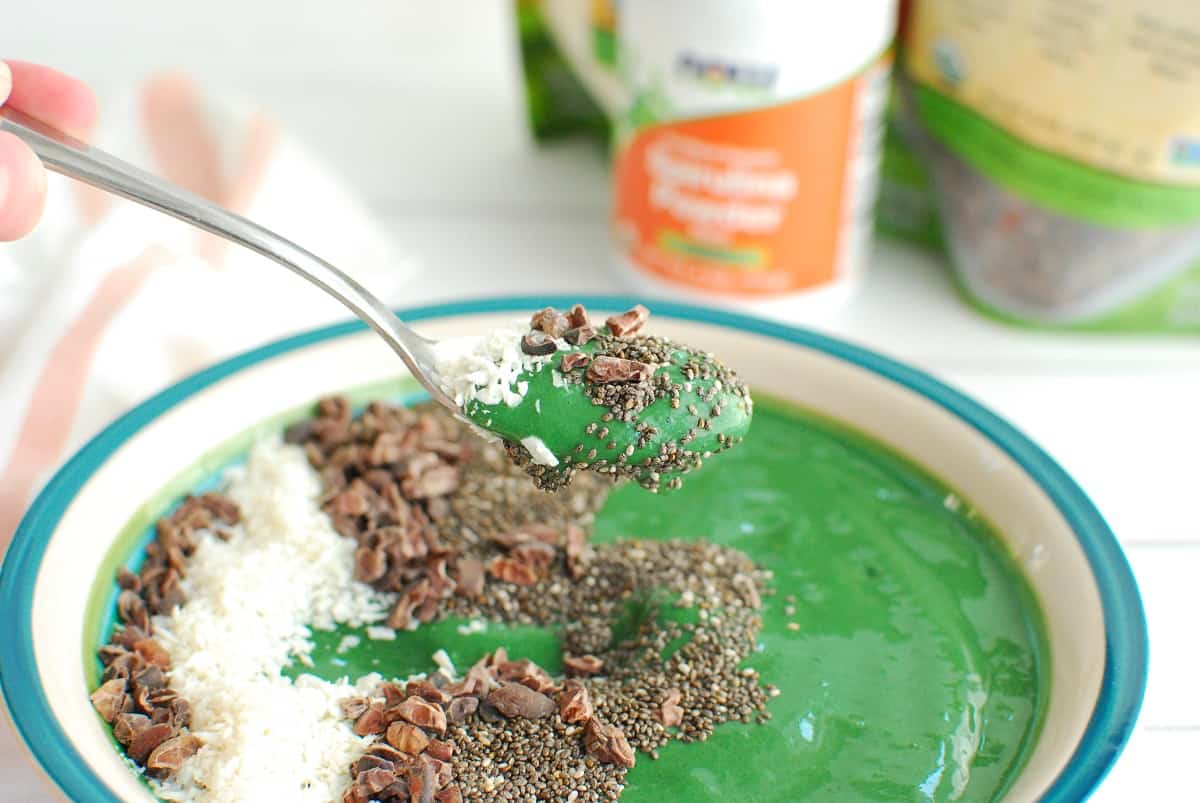 Recipe FAQ
Here are some common questions that may come up as you prepare this recipe:
What substitute for almond milk can be used in a smoothie bowl?
You can use regular dairy milk, unsweetened coconut milk (the kind in the carton, not the can), plain oat milk, or cashew milk.
Is there a substitute for cacao nibs?
If you don't have cacao nibs on hand, dark chocolate chips make a great substitute.
What toppings can you put on a smoothie bowl?
This recipe calls for chia seeds, coconut, and cacao nibs. But there are lots of other toppings you can use too. Consider adding sliced banana, fresh raspberries, wild blueberries, granola, slivered almonds, pecans, walnuts, nut butter, or even a drizzle of honey.
Is spirulina safe?
For most people, spirulina powder can be a safe and nutritious addition to the diet!  If you are pregnant or nursing, are on blood thinners, have an autoimmune condition, have PKU, or have any other medical condition you're concerned about, be sure to check with your doctor prior to taking spirulina.
Does spirulina contain toxins?
The spirulina processed by NOW® is done so with a commitment to quality, and they state on their website that every batch of their algae and seaweed raw materials are tested for raw metals and microbial contamination.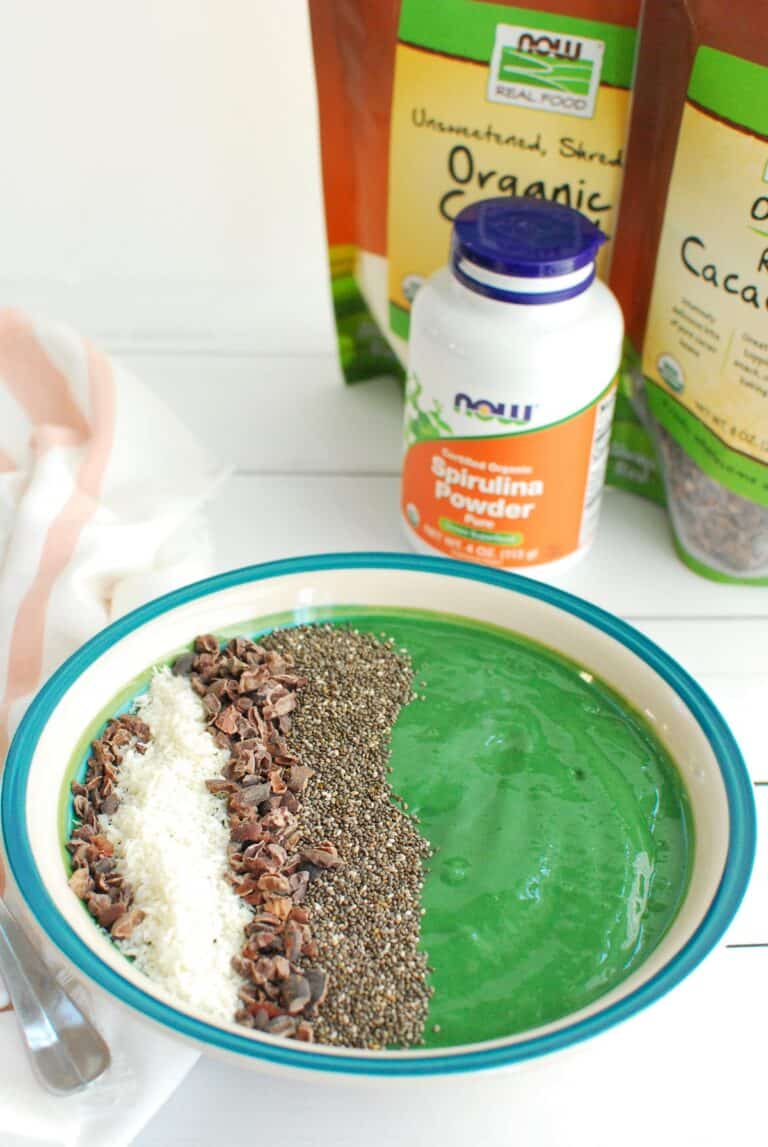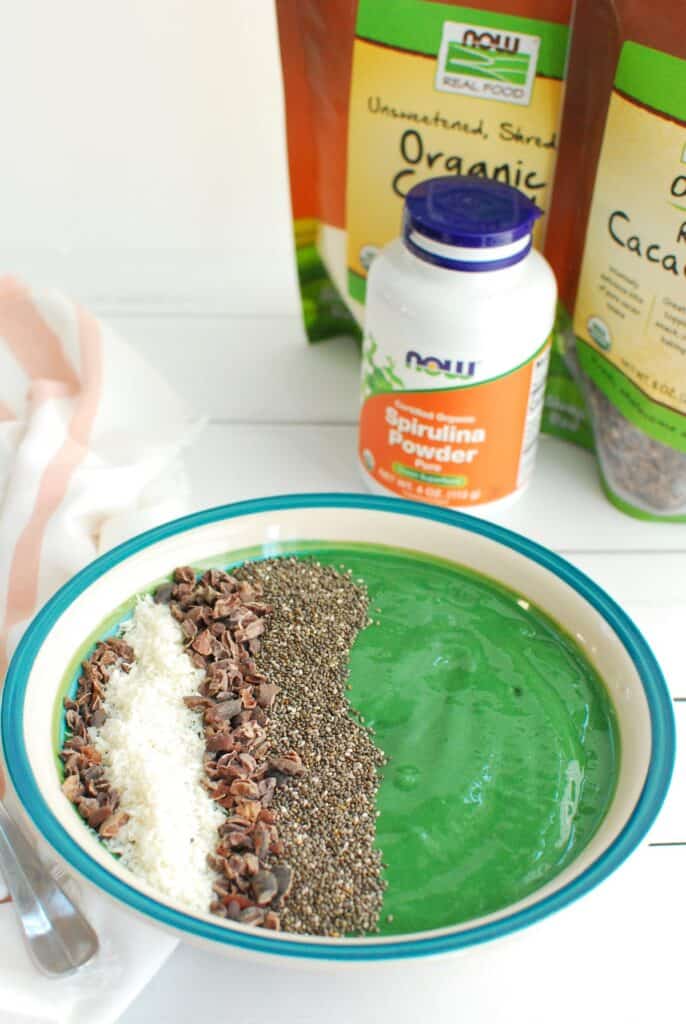 Nutrition Benefits
This spirulina smoothie bowl is a great option after a morning workout.  It's rich in healthy carbs to restock that stored energy in your muscles, and also has protein to support recovery from exercise.  But that's not all – this smoothie is packed with other nutrients to support health and performance:
Vitamin C – You'll get more than a day's worth of your daily value for Vitamin C in this bowl, which plays a role in collagen synthesis and supports immune health.
Iron – Since iron is involved in the development of healthy blood cells that carry oxygen to your muscles, it's absolutely essential for active folks to get enough of it – and this smoothie bowl is an excellent source. As a bonus, the Vitamin C in this smoothie actually helps your body better absorb the plant-based iron in this smoothie.
Potassium – This electrolyte is lost in small amounts in sweat, and is involved in muscle and nerve contractions. This smoothie bowl clocks in at 28% of your daily potassium needs.
Magnesium – As I've mentioned before in my post about magnesium for runners, this mineral is involved in many processes in the body (including energy production) and may be involved in exercise recovery or muscular health. This smoothie bowl provides about 30% of your daily needs.
I hope you enjoy this spirulina smoothie bowl recipe.  If you get a chance to try it, I'd love for you to leave a recipe rating or comment below.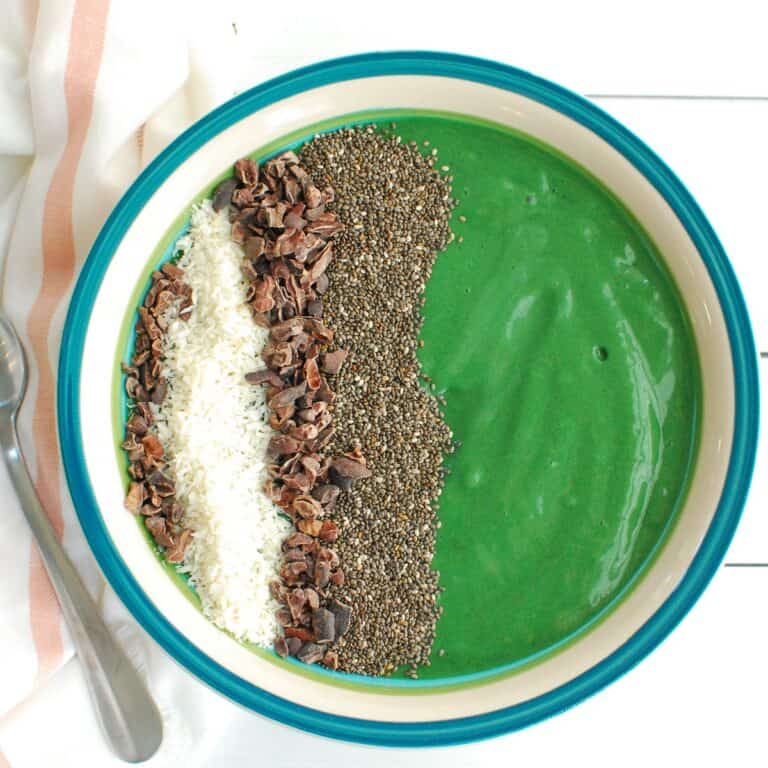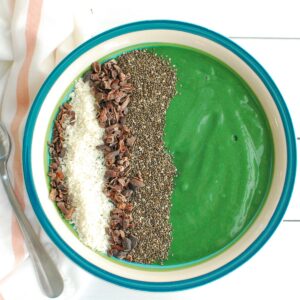 Spirulina Smoothie Bowl
Start your morning right with this delicious and nutritious spirulina smoothie bowl!
Ingredients
For the smoothie bowl:
1

frozen banana

1

cup

frozen mango

1

cup

raw spinach

1

tsp

NOW® spirulina powder

½

scoop

NOW® Vanilla Plant Protein Complex

¾

cup

plain unsweetened almond milk*
For the toppings:
1

tbsp

chia seeds

1

tbsp

unsweetened coconut

1

tbsp

cacao nibs
Instructions
In a large blender cup or full-size blender, combine the banana, mango, spinach, spirulina powder, protein powder, and almond milk. Blend until smooth (it should be thick and creamy).

Pour the smoothie into a bowl and top with chia seeds, coconut, and cacao nibs. Grab a spoon and enjoy!
Notes
*Depending on the strength of your blender and the size of your banana, you may need slightly more almond milk. If you notice the blender getting stuck, add one tablespoon of extra almond milk at a time and blend again. Do not add too much extra, or it will be more of a drinkable smoothie rather than a spoonable smoothie bowl.
This recipe makes 1-2 servings, depending on hunger level and personal preferences. The nutrition analysis below is for the entire recipe.
Nutrition analysis (approximate for the entire recipe): 498 calories, 15 g fat, 7 g saturated fat, 375 mg sodium, 78 g carbohydrate, 16 g fiber, 48 g sugar, 19.5 g protein, Vitamin D: 9%, Calcium: 37%, Iron: 46%, Potassium: 28%
Nutrition
Share:  Have you ever used spirulina before?  What's your favorite smoothie bowl toppings?  If you tried this recipe, what did you think?
PS – Feel free to pin this to save for later!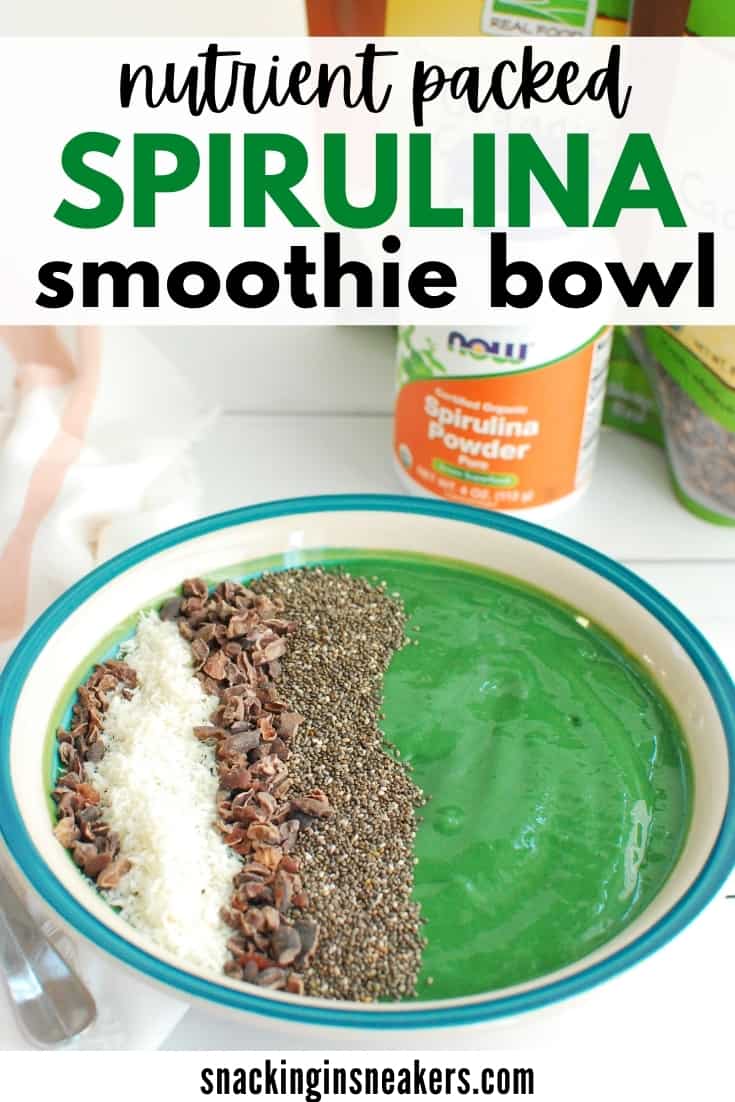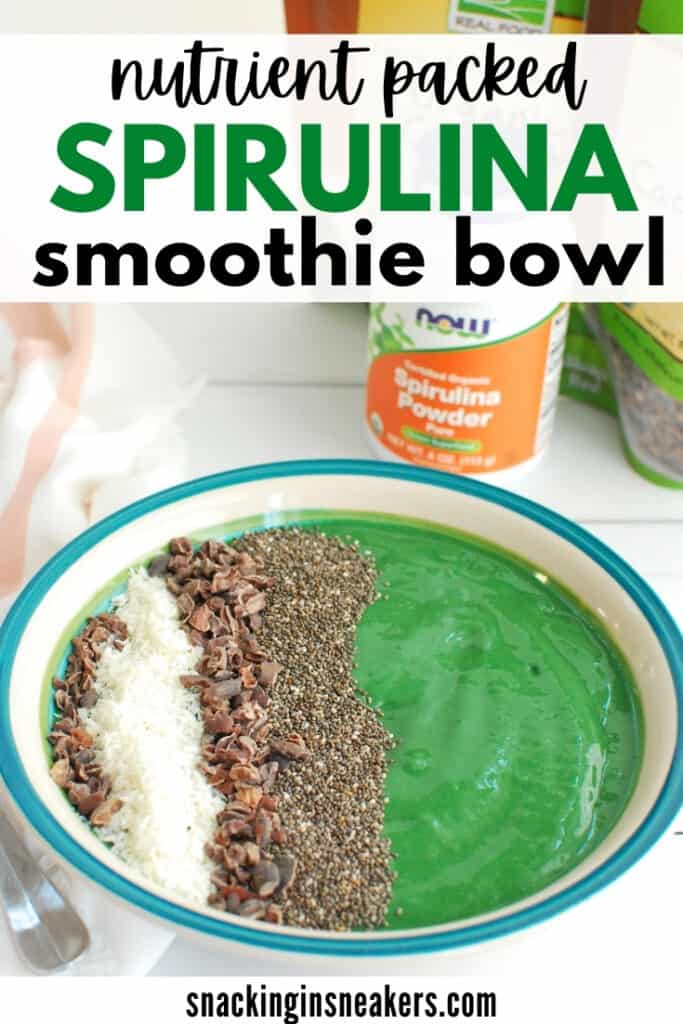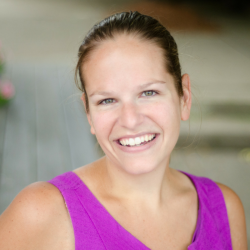 Latest posts by Chrissy Carroll
(see all)