We've been getting tons of corn the last few weeks in our CSA, and I love this quintessential summer veggie because there is so much you can do with it. We've used it in a white chicken chili, I've added it to grits with tomatoes and chile peppers, I've mixed it with beans and tomatoes and seasonings to eat as a 'dip' with tortilla chips, and we've just eaten it straight up on the cob.
I was searching for something new to do with it recently since I love experimenting in the kitchen. Pinterest my standby when I need new ideas – I just type the ingredient in the pinterest search box and see what delicious pictures pop up! One of the first things that came up was corn fritters, and since I'd never made them, I thought it would be fun to experiment with developing a recipe.
I found two recipes that looked delicious – Sweet Potato Corn Cakes from Budget Bytes and Corn Fritters from Table for Two – and then kind of combined them and modified them to make it my own version. I cut out any eggs and dairy since I can't currently have those while breastfeeding, plus eliminating those makes this a great vegan option for friends who I know are following a vegan meal plan.
I love this recipe because it's a bit indulgent given that it's pan-fried in a little bit of oil (or you can brush with oil and bake them instead), but it's also packed with nutritious plant-based ingredients. You've got sweet potatoes which are loaded with Vitamin A and corn to provide some fiber – along with green onions, cilantro, and seasonings for lots of flavor. The topping is made with aquafaba, the liquid from a can of beans, which sounds strange but comes out to be quite delicious.
I like these served with a nice fresh side salad of lettuce, cucumbers, and tomatoes – all of which are also in season and available right now!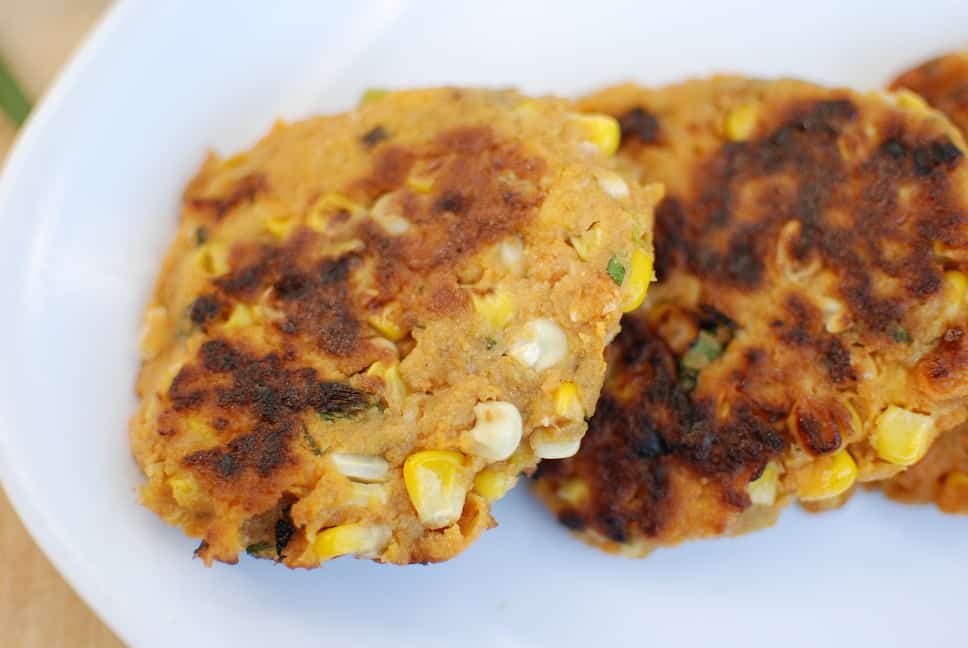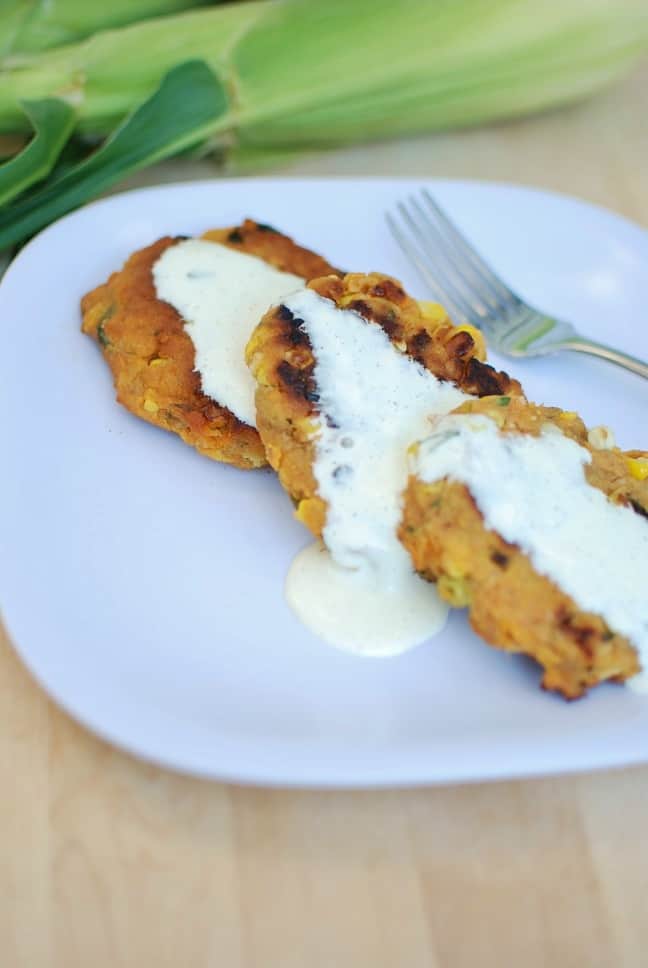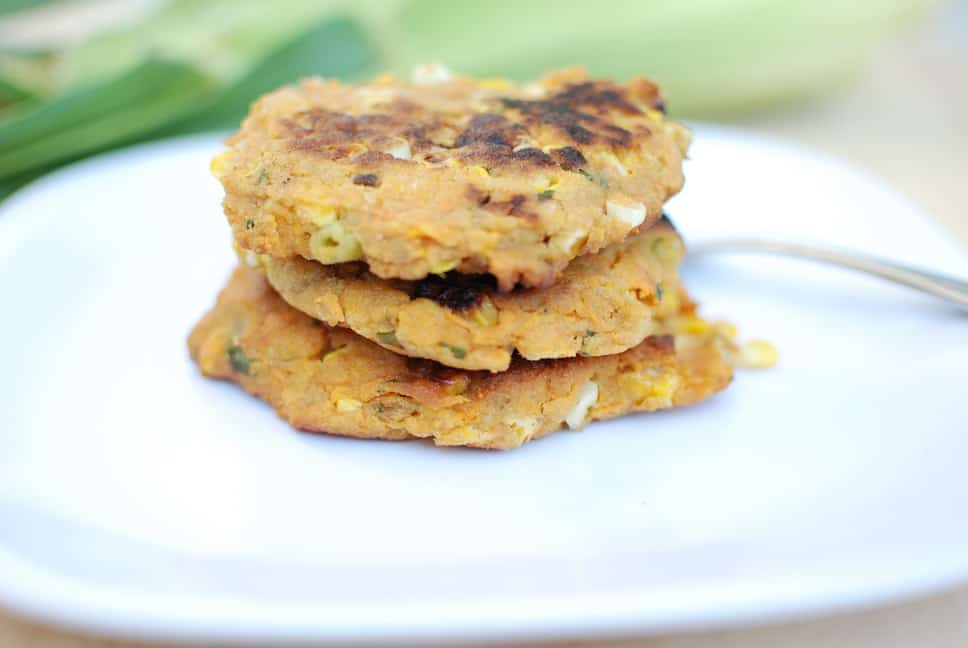 Sweet Potato and Corn Fritters with Aquafaba Aioli
Makes 10 fritters / Serving Size = 2 to 3 fritters per person
Vegan Friendly, Dairy Free, Egg Free
Ingredients:
Fritters:
2 medium sweet potatoes
2 ears of corn, remove corn from cob
2 green onions, chopped
Small handful of cilantro, chopped
1/2 cup yellow cornmeal
1/4 cup flour
1/4 cup almond milk (or regular milk if you don't have any dietary limitations)
1.5 tsp cumin
1/4 to 1/2 tsp salt (to taste)
Few shakes of cayenne (to taste)
¼ cup oil, divided in two
Aquafaba Aioli
1/3 cup liquid from a can of chickpeas, white beans, or cannellini beans (I admittedly don't usually measure this and just use whatever liquid is in there. Put the beans in a tupperware to use another time!)
1 tsp apple cider vinegar
1 tsp spicy brown mustard
Pinch of salt
Approximately 1/2 to 3/4 cup oil
Few cloves of garlic, minced
Small handful of cilantro, chopped
Directions:
Poke a few holes in the sweet potatoes with a fork and place them in a bowl. Cover with a wet paper towel and place in the microwave for 6-10 minutes (depending on the size of the potatoes and strength of your microwave). Remove when sweet potatoes are tender and let cool.
While potatoes are cooking, whip up your aquafaba aioli. Place liquid from beans, vinegar, mustard, and pinch of salt in a cup that fits your immersion blender (or a regular blender would work fine too – just more to clean up!). Blend, and then add in oil at a trickling pace while continuing to blend. Add as much oil as you need to get a creamy dressing-like consistency (but thinner than mayo). Stir in garlic and cilantro and set aside in the fridge.
Combine corn, green onions, cilantro, cornmeal, flour, almond milk, cumin, salt, and cayenne in a mixing bowl. Add flesh from sweet potatoes. Mix until combined.
To pan fry: Add 1/8 cup oil to a frying pan at medium heat. When oil is hot, shape the sweet potato and corn mixture into patties and place in the pan. I recommend working in two batches – don't overcrowd the pan. Cook for approximately 2-4 minutes on each side, until golden brown. Remove and place on a plate lined with paper towels to absorb excess oil. Place remaining oil in pan and cook second batch.

If you'd prefer to bake to save on calories, simply brush with a little oil and bake at 400 F until the top and bottom are a bit crisp.

Top sweet potato and corn fritters with your aquafaba aioi and enjoy!
Nutrition Analysis (approximate per fritter – does not include aioli*)
129 calories, 6 g fat, 1 g sat fat, 74 mg sodium, 17 g carbohydrate, 2 g fiber, 2 g protein
Vitamin A: 90%, Vitamin C: 11%, Calcium: 2%, Iron:3%
*I didn't add up the aioli nutrition facts since it varies based on how much oil you add in for the consistency you desire, as well as the fact that I have yet to see a nutrition analysis on just the liquid in the can of beans. I think it's safe to assume that a tablespoon would be similar to a tablespoon of mayo – about 90 calories. Therefore, each fritter plus a tablespoon of aioli would be about 220 calories.
Share with me: What's your favorite way to use corn? Have you ever made corn fritters before? If you tried this recipe, what did you think?!