Macronutrients, or "macros" for short, have gained more interest in recent years with the introduction of food tracking software. But what are macronutrients?
Macronutrients are three categories of nutrients that provide energy to the body – carbohydrates, proteins, and fats. As the name implies, you need them in large amounts and they are an essential part of your diet. These are different than micronutrients (like vitamins and minerals), which don't provide energy and are needed in much smaller amounts.
Let's breakdown some key facts about macronutrients, and why each is so important to your body.
Disclaimer: This post was written and reviewed by Chrissy Carroll, MPH, RD. It is for informational purposes only and should not be construed as medical advice. For any nutrition questions, consult a doctor or dietitian.
This post was originally published in 2015; it has been updated in June 2021.
Carbohydrates
What are carbohydrates?
Carbohydrates are made up of sugars, either in single, short, or long chains, and are the body's main source of energy. They generally provide 4 calories per gram (though fiber provides less than this).
Types of carbohydrates
There are two broad categories of carbohydrates:
1. Simple carbohydrates
These are also called simple sugars. This category includes the sugar that's added to food (like when you bake cookies), as well as naturally occurring sugars in foods like fruit.
Simple carbohydrates include both monosaccharides (one sugar molecule) and disaccharides (two sugar molecules). These are:
glucose (single sugar molecule)
fructose (single sugar molecule)
galactose (single sugar molecule)
sucrose (two sugar molecules – glucose and fructose)
lactose (two sugar molecules – glucose and galactose)
maltose (two sugar molecules – glucose and glucose)
When looking at ingredient labels, you may see these names, or you may see other names for sugars. For example, all these words mean sugar:
Cane sugar
Cane juice concentrate
Corn syrup
Dextrose
High fructose corn syrup
Raw sugar
Brown sugar
Coconut sugar
Date sugar
You don't have to avoid simple carbohydrates, but you should choose nutrient-dense options when possible. For example, while fruit does contain naturally occurring sugar, it also comes packaged with fiber (which helps slow the blood sugar response) as well as vitamins, minerals, and phytochemicals (health-promoting nutrients in plant foods).
On the flip side, the simple sugars in foods like soda, fruit drinks, candies, and cookies should be limited. That said, it's completely OK to enjoy these foods from time to time! A balanced diet is always one that includes moderation.
2. Complex carbohydrates
These carbs are made from several linked chains of sugar molecules, and often take your body longer to digest than simple carbs. Complex carbohydrates include starches and fiber.
Starches are long chains that your body can digest. Starches are most commonly found in grains, beans, and certain vegetables. For example, bread and potatoes are starch-heavy foods, and your body can break down these starches for quick energy.
Fiber, on the other hand, is not able to be digested (though it may be partially broken down by gut bacteria). There are two types of fiber:
Soluble fiber dissolves in water, and creates a gel-like substance as it goes moves through the digestive system. The microbiome in your colon feed on some of this fiber, helping support those "good bacteria". This type of fiber has been linked to lower cholesterol levels, improved cardiovascular health, and supporting a healthy microbiome.
Insoluble fiber is a type of undigestible carbohydrate the provides roughage, helping with stool formation by increasing bulk. In other words, it can help keep you regular! (source)
Fiber can be found in foods like whole grains, beans, fruits, vegetables, and nuts/seeds.
Simple vs. complex carbs – which are better?
While it's often said that complex carbohydrates are healthier than simple carbohydrates, this is not always correct. For example, grapes are primarily made up of simple carbohydrates and white bread is primarily made up of starch – but I'd certainly argue that grapes provide more nutritional value than white bread (hello, resveratrol!).
Instead of thinking about whether something is simple or complex, think about whether it contains fiber and/or other nutrients. This will help guide you towards choose nutrient-rich carb choices like:
Fruits
Vegetables
Dairy
Beans
Lentils
Whole grains
Protein
What is protein?
The protein in the foods we eat are made up of 20 different amino acids – 9 of which are essential, meaning that we need to eat them as our body cannot make them.
Protein is a macronutrient used primarily for structure – it's necessary for building muscle and repairing tissue in the body, as well as other uses like immune function.
In certain scenarios, protein is used for energy, though the body prefers using carbohydrates and fat for this purpose (as you don't want to break down proteins in your body just for energy).
Protein provides 4 calories per gram.
Types of protein
Protein can come from animal or plant-based sources. It's wise to get a variety of protein sources in your diet.
Animal-based protein:
Chicken
Fish
Beef
Pork
Lamb
Eggs
Milk
Greek yogurt
Plant-based protein:
Tofu
Edamame
Quinoa
Seitan
Soy milk
Nuts
Seeds
Lentils
Beans
Whole grains (like oatmeal)
Green peas
In addition to the natural food sources, there are also protein powders made from either animal or plant sources. For example, whey protein powder is a common supplement that's used for athletes. Hemp or pea protein powders are often marketed towards the plant-based crowd.
Animal vs. plant protein: which is better?
There's no one protein that is the "best" – however, there is a difference in the amino acid profile between animal and plant proteins.
Animal-based sources contain all of the essential amino acids, while plant-based sources often lack one or more. That said, it is possible to combine different plant-based proteins over the course of the day to ensure your body gets all the necessary amino acids.
In the post-workout time frame though, it's smart to eat an animal-based protein if you are open to it, since it usually has a more well-balanced amino acid profile. For example, many plant proteins fall short in leucine, a key amino acid that is essential to exercise recovery. (Read more in this article about whey protein vs. plant protein).
These post-workout snacks could be whole foods, like greek yogurt with fruit and granola, or could incorporate a powder, like a smoothie with added whey protein powder.
In addition, some athletes may find it difficult to consume only plant-based proteins, as some come with a high fiber content as well. Fiber is definitely good for the body – as discussed above! – but it does make you feel full. This can be a challenge for athletes with high protein needs that are trying to meet their needs from plant-based sources alone.
This information is not to dissuade anyone from becoming a vegan runner or athlete. If that's your preference, it's 100% possible to eat a healthy diet – just takes a little more planning!
Instead, this hopefully reassures those of you eating animal-based products that they can fit into a balanced diet, and can even have some benefits.
Fat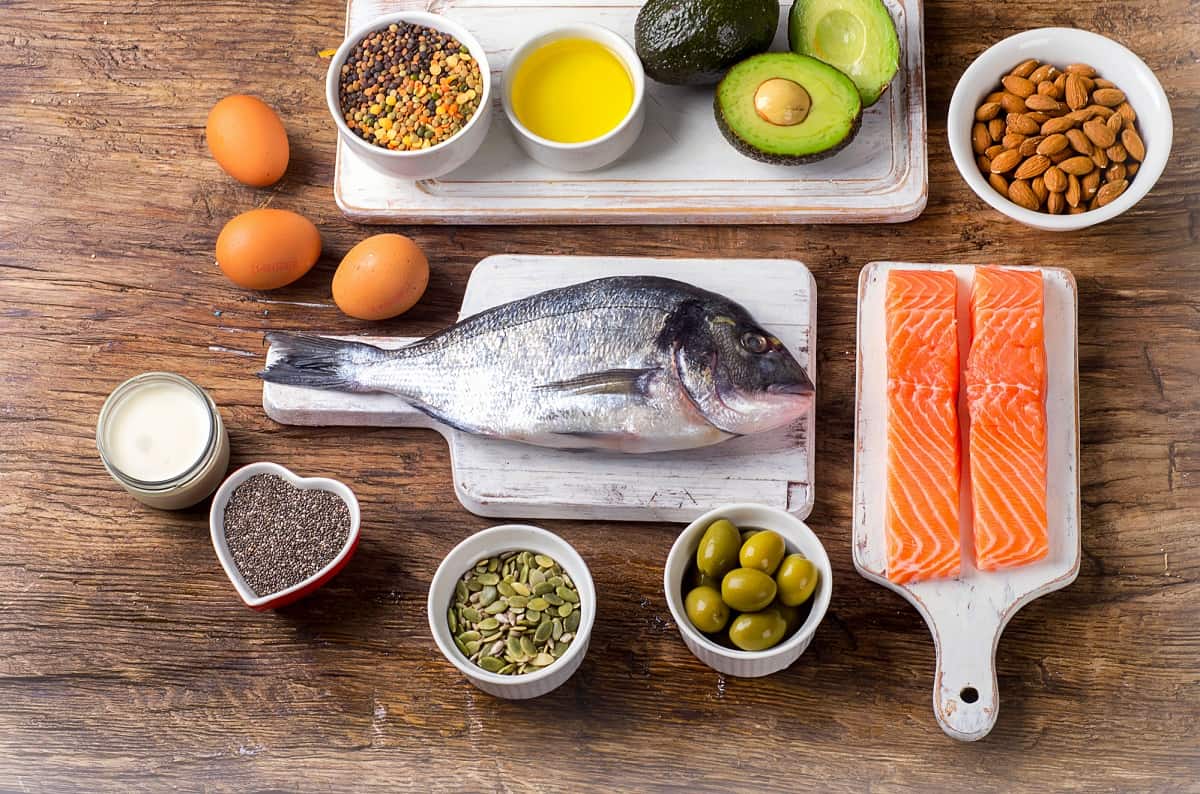 What is fat?
Fats are a macronutrient with many roles in the body, including satiety (helping you feel full and satisfied after meals), energy production (especially during low-intensity exercise), supporting brain health, helping form structures of cells and the nervous system, hormonal regulation, and absorption of certain vitamins (source).
Fat is the most concentrated form of energy, providing 9 calories per gram.
In the 1990's, fat garnered a bad reputation. However, we know now that fat is actually essential to the body, and not all fats are created equal.
Types of fat
Monounsaturated fats: From a chemical standpoint, these fats contain one double bond in their structure, and are typically liquid at room temperature. According to the AHA, monounsaturated fats are thought to improve heart health by reducing bad cholesterol. They also may provide nutrients that help cells.
Good sources of monounsaturated fats include olive oil, avocados, and nuts.
Polyunsaturated fats: These fats contain two or more double bonds, which can create a variety of different shapes. Polyunsaturated fats include several types, including omega-3 fatty acids. Omega-3 fats are particularly important, as they're involved in heart health, cognitive health, and also possibly reducing inflammation.
The best source of omega-3 fats is fish, which contain key types called DHA and EPA. There are also omega-3s in plant foods like walnuts and flaxseed, however these are rich in another type called ALA. ALA can be converted to EPA/DHA in the body, but the process is relatively inefficient.
Saturated Fats: Saturated fats contain no double bonds; the carbon atoms are all single-bonded to hydrogens (aka completely "saturated"). They are typically solid at room temperature.
While saturated fat may not be quite as harmful as once perceived, too much may increase LDL (bad) cholesterol. Common sources of saturated fat in the diet include fattier cuts of meat, full-fat dairy, coconut oil, and eggs.
Trans Fat: Trans fats are created when food processing techniques add extra hydrogen onto a fat molecule. Trans fats are by far the most harmful to heart health, acting as a double edged sword that increases LDL (bad) cholesterol and reduces HDL (good) cholesterol (source).
In years past, trans fats were often found in foods like margarine, canned biscuits, french fries, microwave popcorn, and baked goods. However, the FDA has since restricted the use of trans fats. Manufacturers were required to remove them no later than January 2020.
What is the right macro ratio?
There is no one exact macro ratio that a person must eat. There are general ranges, though, that are often used as a baseline for a healthy population, which are:
45-65% of calories from carbohydrate
10-35% of calories from protein
20-35% of calories from fat
A person's macros can depend on many factors, including their health status, activity level, and medical conditions.
For example:
Someone dealing with fat malabsorption from a gastrointestinal problem may fare better on a low fat diet to minimize symptoms.
People with epilepsy are often placed on a ketogenic diet to help control seizures. This diet consists of very low carbohydrate intake (5-10%), very high fat intake (70-75%), and moderate protein intake (20-25%).
Some individuals with type II diabetes may need carbohydrates towards the lower end of the range to properly control blood sugar (though this is very individualized).
Athletes may need carbohydrates towards the upper end of the range, or perhaps even more in the week leading up to a big event.
The point being: there is not a perfect macro ratio that works across the board. If you're a generally healthy person, the ranges provided above are a good place to start. But you should talk about this topic with your doctor or dietitian before making any major changes in your diet.
Should you track macros?
There is no need for most people to aggressively track macronutrients, unless you find it helpful for your goals.
For example, some gym-goers who are attempting to build muscle mass may find it helpful to track macronutrients to ensure they are getting enough protein.
Similarly, endurance athletes may find it helpful to check if they're meeting carbohydrate recommendations for restocking muscle glycogen (aka the carbs stored in our muscles that are used for energy).
If you believe it would be helpful, consider meeting with a dietitian to figure out the right ranges for you, and then utilizing a website like MyFitnessPal or Cronometer to track.
Regardless of your goals, you should not worry about macronutrient tracking if it causes stress or becomes a fixation. In that case, just focus on eating nutrient-dense foods most of the time, and enjoying portion-controlled treats when you're craving one. This will free up some head space, save time on tracking, and relieve stress.
Good luck!
Share: Do you have any questions about macronutrients?
Feel free to pin this to share with others!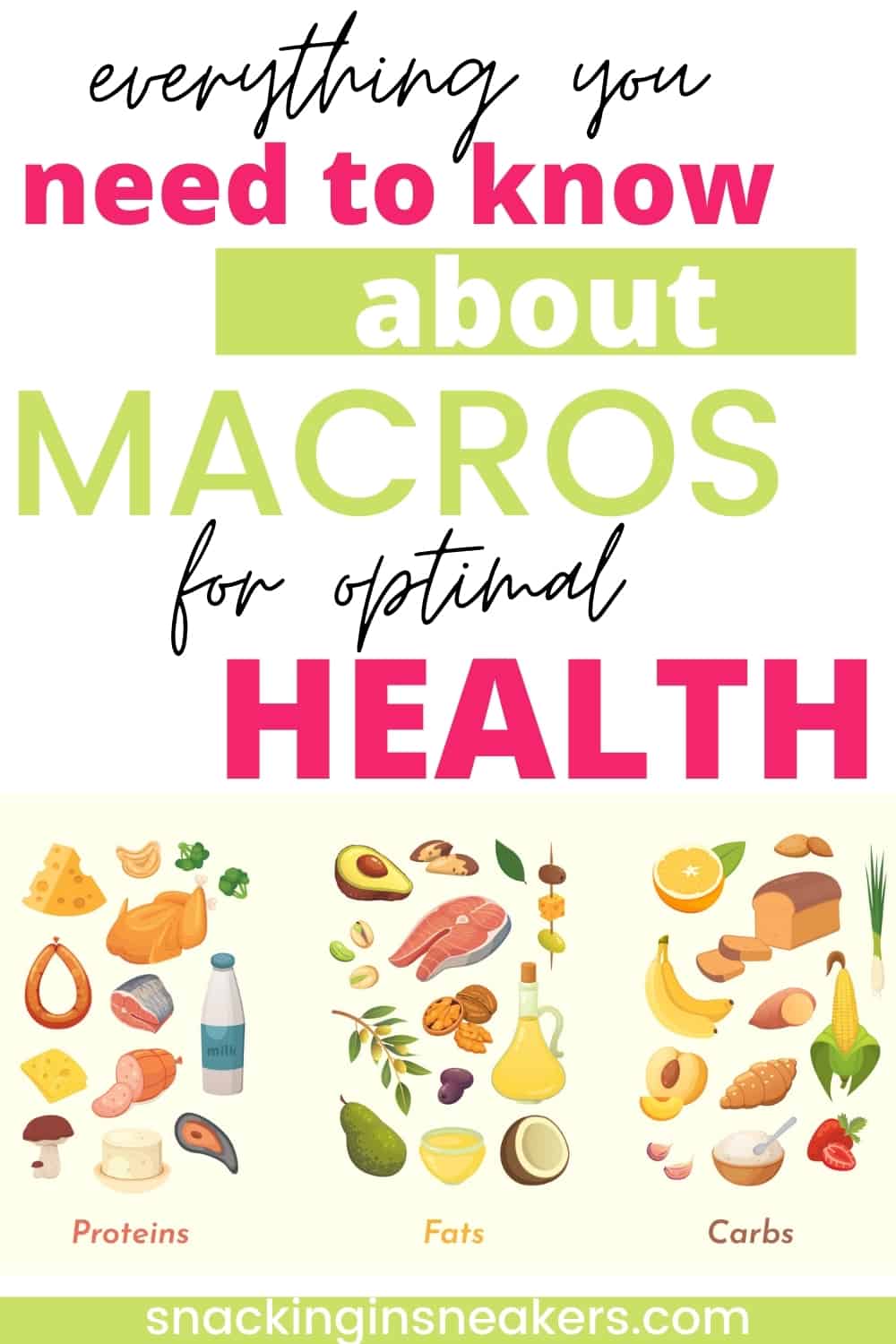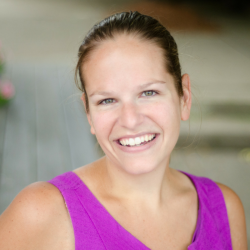 Latest posts by Chrissy Carroll
(see all)