Achilles tendonitis is a relatively common injury among cyclists. It can be very painful and make it difficult to ride your bike- whether it's for training or during a race. Plus, it'll make it hard to effectively cross-train with walking, running, and weight lifting too.
In this blog post, we will discuss what Achilles tendonitis is, why cyclists get it, injury prevention tips, and how to manage the condition if you already have it.
Disclaimer: This post was written by JayDee Vykoukal, Doctor of Physical Therapy. It has been reviewed by Chrissy Carroll, MPH, USAT Level I Triathlon Coach, ACSM cPT. This post is for informational purposes only and does not constitute medical advice. Please consult a physician for any medical concerns.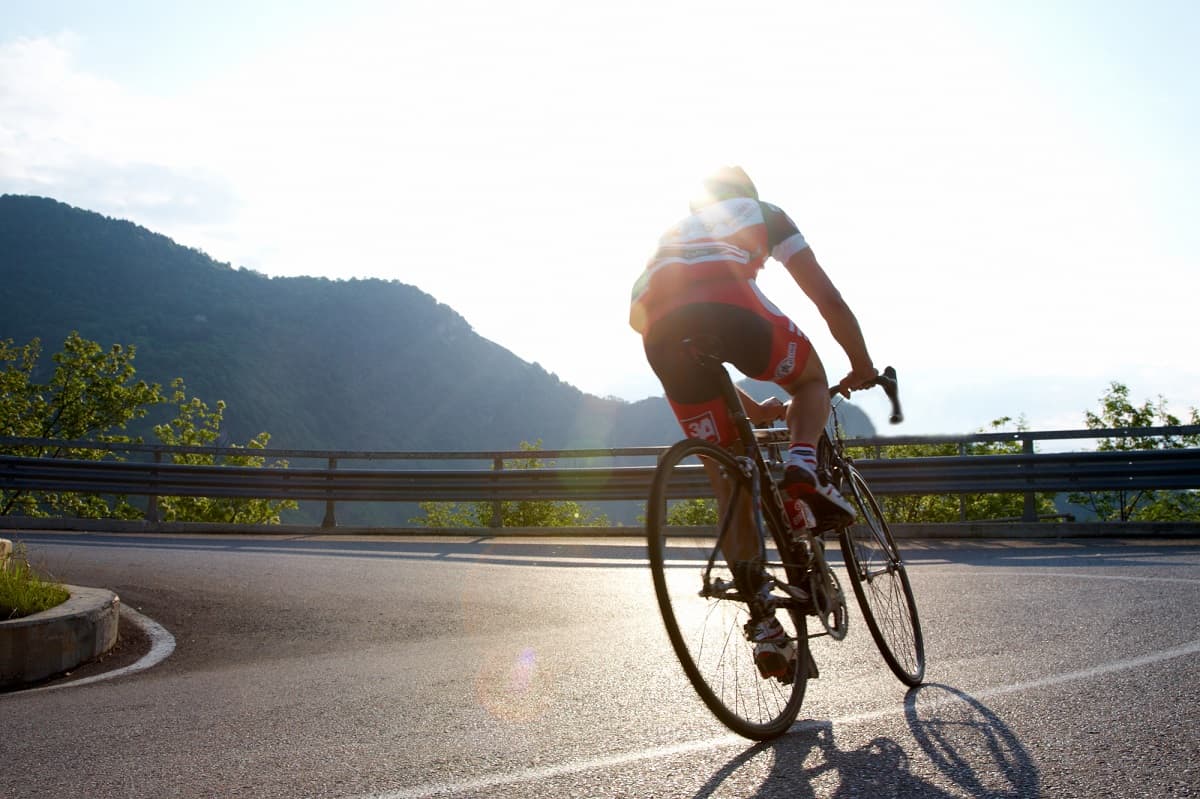 What is Achilles Tendonitis?
Achilles tendonitis is the inflammation of the Achilles tendon. The Achilles tendon is the large rope like tendon located in the back of your leg that attaches your calf muscle to your heel bone.
There are two types of Achilles tendonitis: insertional and non-insertional.
Insertional Achilles tendonitis occurs when inflammation affects the lower part of the tendon directly where it attaches to the heel bone.
Non-insertional Achilles tendonitis occurs when the inflammation is found higher up on the Achilles tendon- somewhere between the heel and the start of the calf muscle itself.
Tendonitis vs Tendinosis
When dealing with pain from the Achilles, it's important to understand the difference between the terms tendonitis and tendinosis.
Achilles tendonitis is a condition marked by inflammation of the Achilles tendon. The suffix "-itis" denotes inflammation.
Achilles tendinosis, on the other hand, is a chronic degenerative condition characterized by the deterioration of collagen fibers in the Achilles tendon. The suffix "-osis" denotes a degenerative condition. In athletes, it can be more common than tendonitis– often characterized by a palpable hard lump in the Achilles tendon.
While both conditions result in pain in the Achilles tendon, they are different injuries and require different treatments. It's best to talk to a doctor and physical therapist if you're dealing with Achilles pain to get personalized treatment recommendations.
Symptoms
The most common symptom of Achilles tendonitis is a pain in the back of your leg near your heel. This pain may be mild at first and only noticeable when you exercise. As the condition progresses, the pain may become more constant and even occur when you're not active.
Other symptoms include:
Stiffness at the ankle with dorsiflexion (moving the toes toward the shin)
Tenderness in the heel or along the tendon and into the calf muscle itself
Swelling near the heel or along the tendon
Pain with plantarflexion (pointing the toes or pushing off)
Symptoms that are present are often worse first thing in the morning or after a workout.
Prevalence of Achilles Tendonitis in Cyclists
According to a survey study published in 2021, approximately 10% of cyclists complain of Achilles tendonitis pain at any given moment. This includes both amateur and professional cyclists.
While 10% was the average, this number increased significantly with cyclists that raced (25%) or primarily rode on mountain bikes (60%).
Other interesting facts:
There is a higher risk of developing Achilles tendonitis in cyclists that are either underweight or overweight.
In this particular study, the average length of time spent dealing with pain from this injury was only 7 days- which is excellent news!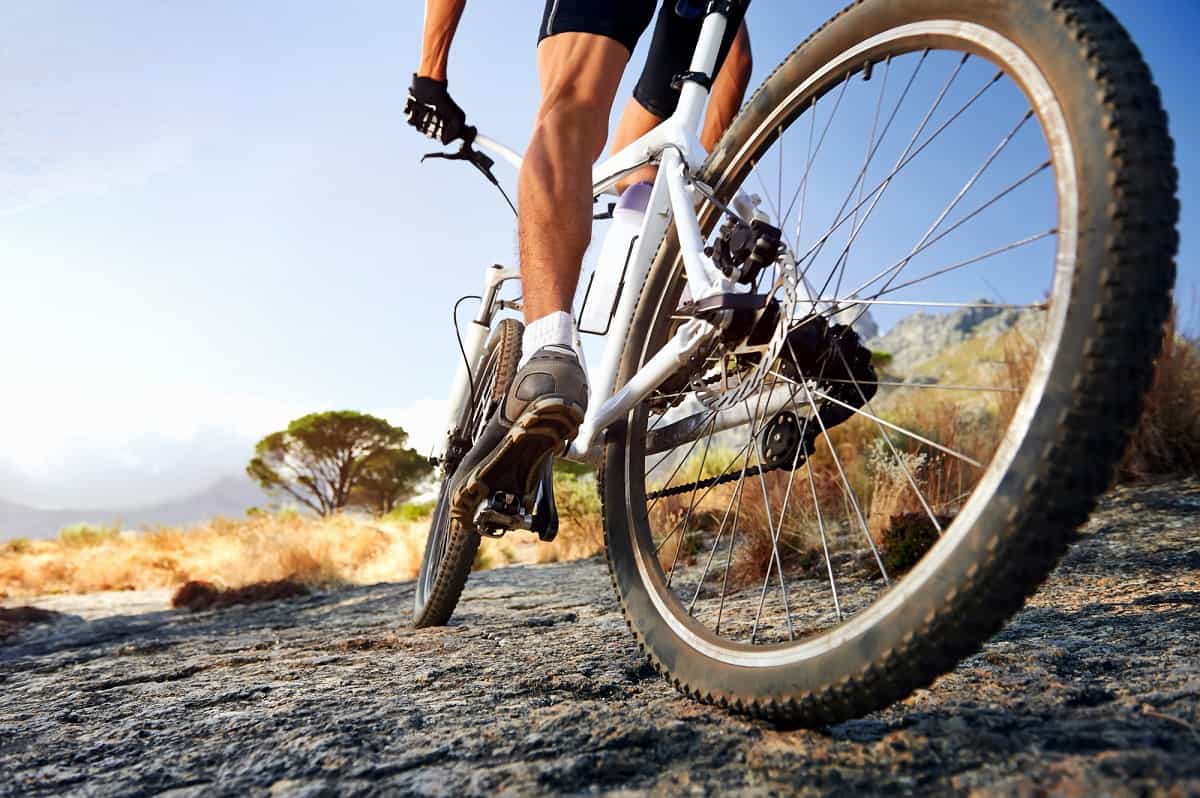 Why Do Cyclists Develop Achilles Tendonitis?
There are several reasons why cyclists might develop Achilles tendonitis. These include, but are not limited to, the following:
Overuse: This is the most common cause of Achilles tendonitis. When you overuse your Achilles tendon, it can become inflamed and irritated. While cycling is relatively low impact, it does require a lot of power and endurance to sustain speed or climb hills. Each time you put weight through the ball of your foot to push the pedals downward, this can put stress on your Achilles tendon. If you don't give your body enough time to recover, or lack adequate strength or endurance, you can develop Achilles tendonitis.
Poor Bike Fit: If your bike isn't properly fitted, it can put a strain on your Achilles tendon. This is especially true if your saddle is too low or too high, which can cause you to pedal with excessive angling of the heel or toes. It can also occur with improper cleat placement on the pedal. These can cause the Achilles tendon to become overworked and inflamed.
Imbalances: Imbalances in muscle strength, muscle activation, or overall alignment (due to posture or genetics) can also lead to Achilles tendonitis. All of the muscles in the foot, lower leg, upper leg, and core must work in coordination to optimize lower body mechanics and prevent unnecessary strain on the calf muscles and tendon.
Muscle or Joint Stiffness: If your calf muscles or the ankle joint are too tight, they can put a lot of pressure on the Achilles tendon. This can cause the tendon to become inflamed and irritated.
A Sudden Change in Activity Level: If you suddenly increase the intensity or duration of your cycling workouts (or any type of activity), it can put strain on the Achilles tendon. This is why it's important to gradually build-up to a new activity level in any training plan.
Additional risk factors
In addition to the cycling-specific concerns above, there are several risk factors that can increase your chances of developing Achilles tendonitis, including:
Age – studies show that middle-aged men that participate in explosive exercise on the weekends are most likely to develop tendonitis or a tendon rupture. If you frequently participate in other fitness routines that involve this type of movement, it could be a concern.
Being a male – men are more likely than women to develop Achilles tendonitis
Having a job that involves repetitive motions or standing for long periods
Participating in sports that involve running or jumping
Having certain medical conditions, such as diabetes, rheumatoid arthritis, gout, or psoriasis, or other autoimmune conditions that cause body inflammation and compromise tissue health
Taking certain medications, such as steroids, that impact tissue health
Larger body – Weight can sometimes contribute by putting additional strain on local tissues, particularly in the feet and ankle where the impact of the body's weight is initially sustained.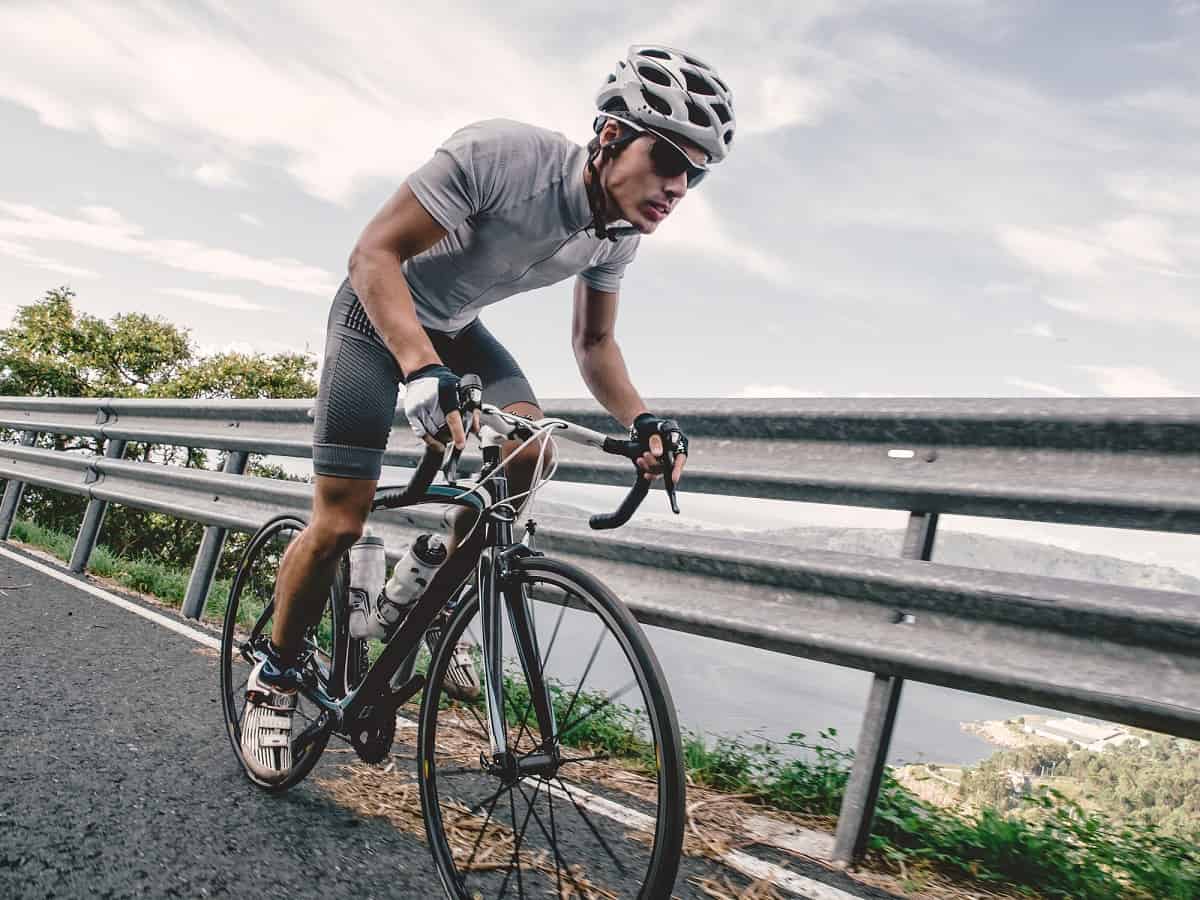 Tips for Preventing Achilles Tendonitis
There are several things you can do to prevent Achilles tendonitis. Let's review some of your top options:
Stretching: Regularly stretching your calf muscles and Achilles tendon is a great way to prevent injury. Be sure to stretch after rides, and give yourself time to warm up and cool down during your ride.
Strengthening (general): Participating in full-body workouts that encourage balance is important for preventing injuries. This should include regular strength training for the upper body, back, core, and hips. Additionally, incorporate moves that challenge your balance (i.e. single leg stance) and functional moves (i.e. squats, lunges, etc.).
Strengthening (focused): Strong muscles of the lower leg help support the tendons and prevent injury. Make sure to incorporate exercises that target the calf muscles, foot, and ankle into your workout routine (see examples below).
Progress Gradually: Increase your workout intensity and duration gradually. Stay tuned in to your body so that you know when to slow down or modify as needed.
Bike Fit: Make sure your bike is properly fitted to avoid putting unnecessary strain on your Achilles tendon. For example, recent research suggests your seat should be at a height that puts that knee around 33 to 43 degrees of flexion (bend) at the bottom dead-center of the pedal cycle (though individual differences in physiology may require slight adjustments here). A professional bike fitting can be highly valuable if you're struggling with finding the right set up!
Check your cleats:  Your cleats should be positioned so that the ball of your foot is over the pedal axle (though, again, some individuals may need slight adjustments for optimal comfort). If you're dealing with Achilles tendonitis, some cyclists may benefit from moving the cleat slightly back. In addition, some athletes may benefit from insoles in the cleat to prevent excessive pronation during the ride which could strain the tendon.
Get supportive shoes: It's important to have supportive shoes when participating in any type of exercise, including walking around on a daily basis. Look for shoes with good arch support and cushioning for your everyday activities.
Don't Forget Your Form with Other Activities: Proper form is important when participating in other activities as well, not just cycling.
Cross-Training: Don't just ride your bike- mix things up with other forms of exercise like swimming or weight-lifting. This can help prevent overuse injuries like Achilles tendonitis.
Take Time to Recover: Rest is important for preventing all types of injuries, including Achilles tendonitis. Be sure to include regular rest days in your training, as your body needs time to recoup between workouts.
Be kind to your body: Lifestyle choices like diet, sleep, and stress can lead to inflammation in the body which may delay healing. Do your best to eat a balanced diet, get plenty of sleep, stay hydrated, and manage stress to help prevent injury.
The best news of all? These tips will help prevent a variety of injuries that you might encounter. Adequate stretching, strengthening, cross-training, rest, and healthy habits are all simply part of living a thriving and relatively pain-free life. (Because not all pain is bad or avoidable, right?!!)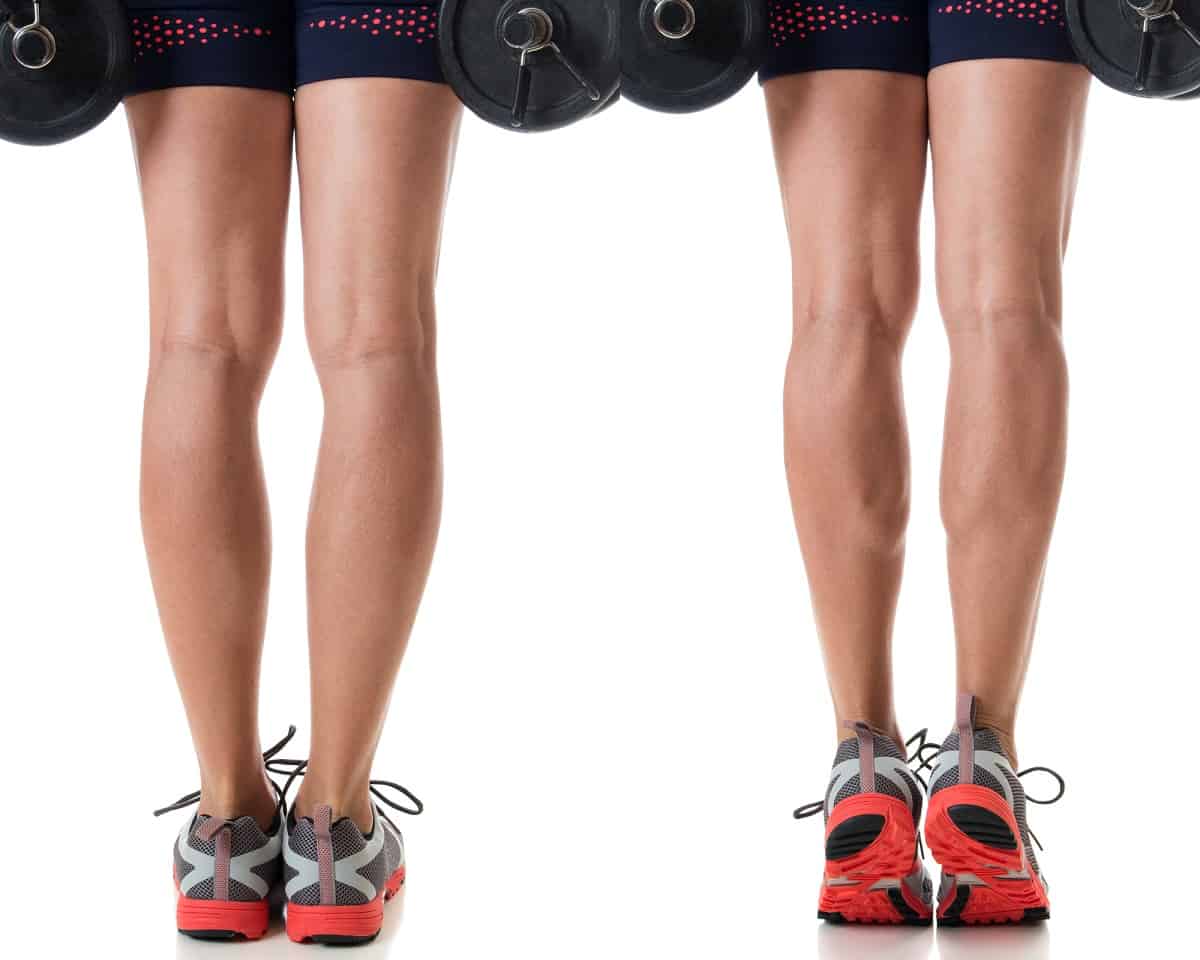 Already in Pain? Tips for Managing It
If you're already dealing with Achilles tendonitis, don't worry- there are things you can do to manage the pain and get back to your normal activity level as soon as possible. Here are a few tips to get started:
Consider RICE temporarily if needed:  RICE is an acronym for rest, ice, compression, and elevation. This method has historically been used to treat acute injuries like Achilles tendonitis. RICE can be used in the first few days after experiencing pain if you need help managing it – but don't use RICE long term. Too much resting and icing reduces blood flow and actually delays healing.
Anti-inflammatory Medications: Ask your doctor if it's appropriate to use any over-the-counter medications like ibuprofen or naproxen to help reduce pain and inflammation for short-term use. (Do not use medications without asking your doctor).
Stretching and Strengthening Exercises: As mentioned before, stretching and strengthening exercises can help prevent Achilles tendonitis. They can also help treat it. Movement encourages blood flow to the tissue and helps with repair.
Get Professional Help: Talk to your doctor, particularly a physical therapist to get personalized advice. They can help you determine the underlying cause of your pain and provide you with education and specific exercises that are right for you.
In severe cases, other methods of treatment may need to be considered with your doctor – like wearing a boot to temporarily prevent motion of the Achilles, corticosteroid injections for short-term pain relief, or surgery.
No matter what treatment method you choose, be sure to talk to your doctor and/or physical therapist before beginning any new exercises or treatments.
What Exercises Should I Do?
Whether you're a cyclist or any other type of athlete, the following exercises can help you gain an upper hand. The following exercises progress from easiest to hardest- so start at the beginning and progress as tolerated.
Standing calf stretch. Put your hands on a wall and extend one leg behind you. Keeping the heel of your back foot on the ground, lean into the wall until you feel a stretch in your calf muscle. Hold for 30 seconds and repeat with the other leg for 2 to 3 sets total.
Seated Achilles tendon stretch. Sit with both legs extended in front of you and lean forward, keeping your back straight. Place a strap or towel around the ball of your foot and pull back gently until you feel a stretch in your Achilles tendon. Hold for 30 seconds and repeat with the other leg.
Resisted plantar flexion. Sit with both legs extended in front of you and loop a resistance band around the ball of your foot. Keeping your leg straight, point your toes away from you and resist the band as it tries to pull your foot back to the starting position. Do 15 repetitions on each leg for 2 to 3 sets.
Eccentric calf raises. Stand on the edge of a step with your heels hanging off the edge. Slowly lower your heels below the level of the step, then raise your heel as high as you can without pain or wobbling. Do 15 repetitions- progressing to single-leg raises as tolerated.
Functional moves to add when you're ready:
Single leg balance reach. Stand on one leg with your arms extended in front of you and the opposite leg lifted behind you. Keeping your back straight, reach forward with your arms as far as you can. Return to the starting position and repeat on the other side.
Lunges. Step forward with one leg and lower your body until your back knee is close to the ground. Keep your front knee directly over your ankle, push off with your back leg and return to the starting position. Repeat on the other side- alternating for 10 reps on each side and 2 to 3 sets.
Step-ups. Place your foot on a step or box and push off with your other foot to lift yourself up. Step back down with the same leg you started with and repeat on the other side for 10 reps and 2 to 3 sets.
The Bottom Line
Sustaining any type of injury while cycling can be frustrating. It can make you feel like all the progress you've made is being lost and you will land back at square one. However, the occasional injury is often part of living an active lifestyle. By understanding the causes, how to prevent the onset, and how to manage symptoms of Achilles tendonitis, you can get back to your normal cycling routine as soon as possible with confidence.
Latest posts by JayDee Vykoukal
(see all)