Beat the heat with this delicious, hydrating cucumber watermelon smoothie!
Picture this: It's a hot day outside and you've just come in from a tough run. You're thirsty and want to replenish some of those fluid losses. All the sudden, a handsome butler walks out holding this watermelon cucumber smoothie.
OK, maybe the handsome butler is a bit of stretch. 😉 But you can whip this up for yourself after a run in just a few short minutes, and it is such a refreshing way to hydrate.
It is also ridiculously easy to make. Seriously, you only need three ingredients: watermelon, cucumber, and lime (plus a little water).
[Tweet "Beat the heat with a refreshing watermelon cucumber smoothie!"]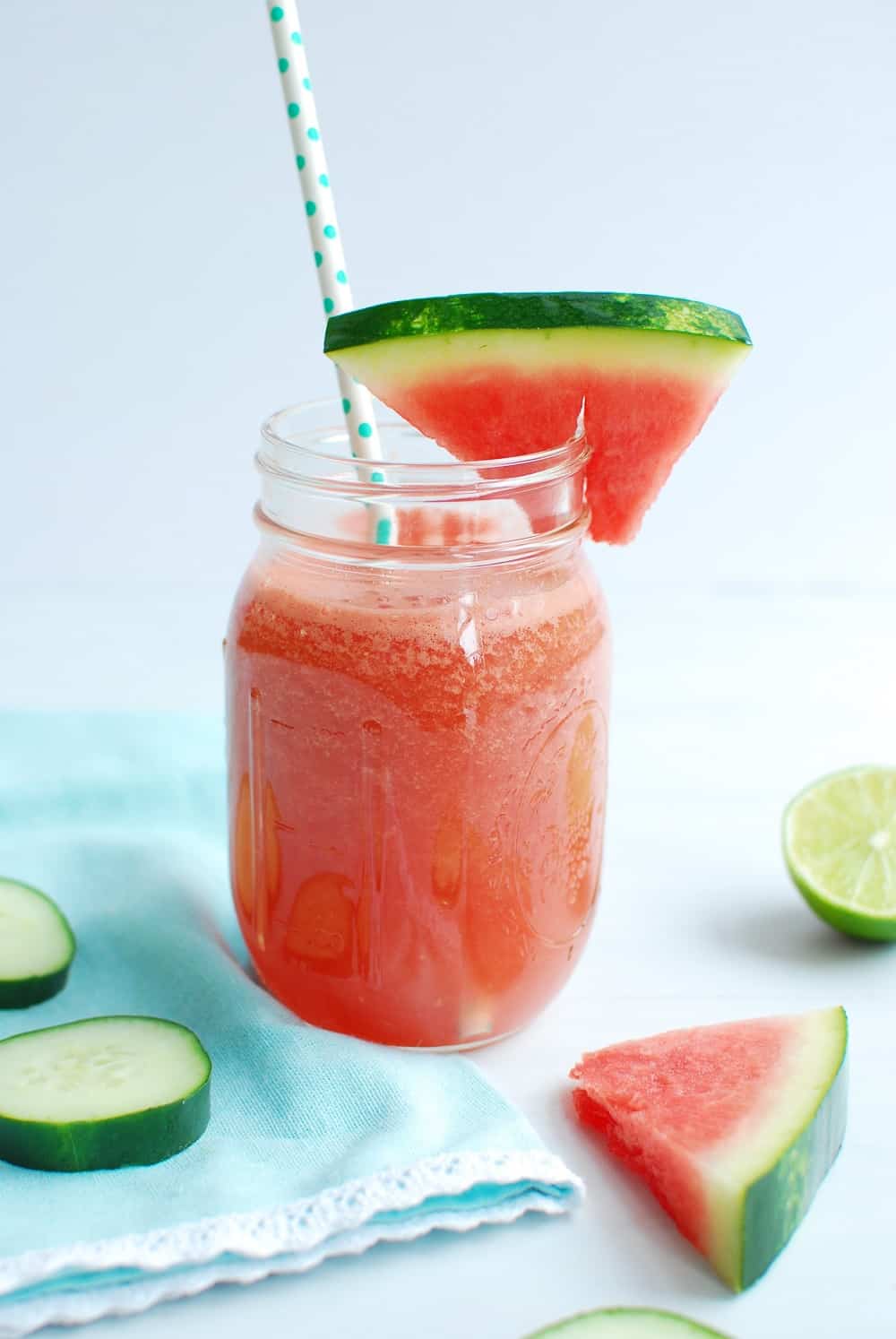 The most difficult step is just remembering to keep some frozen watermelon on hand. You can make this recipe with fresh too, but I promise it comes out better if you go through the extra step of freezing some. What I've started doing is just chopping up a big watermelon for snacking each week this summer, and putting about a quarter to half of it in the freezer for smoothies. That way it's always on hand when you need it!
If we're being nit-picky, it might be more accurate to say this is a slushie than a smoothie. I think of smoothies as creamier, usually thanks to either frozen bananas or yogurts or dairy, whereas slushies are a bit icier. But then again, it's fruit and veggies all blended up together in drink form, so smoothie seemed fitting as a name.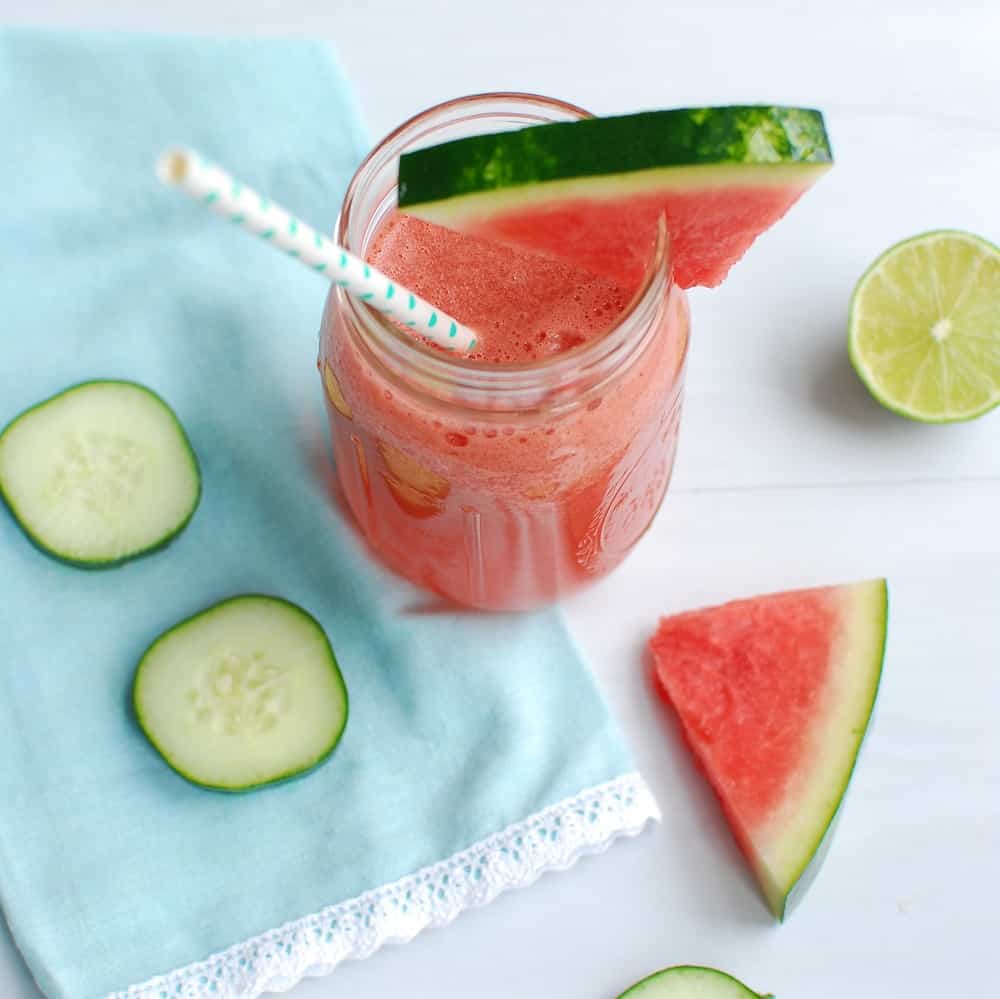 Whether you want to call it a slushie or a smoothie, you'll definitely want to try out this recipe. Some of my favorite highlights of this recipe:
No added sugar – it all comes naturally in the fruit
Just 63 calories – a great addition to your normal meals or snacks
Excellent source of Vitamin C – helpful for immunity
Super hydrating – great for replacing sweat losses after a workout
Icy cold – perfect on a hot day!
Be sure to print or pin this recipe so you can try it the next time you've got watermelon on hand! And follow along on the blog this month, as I'll be sharing a new smoothie recipe every Friday.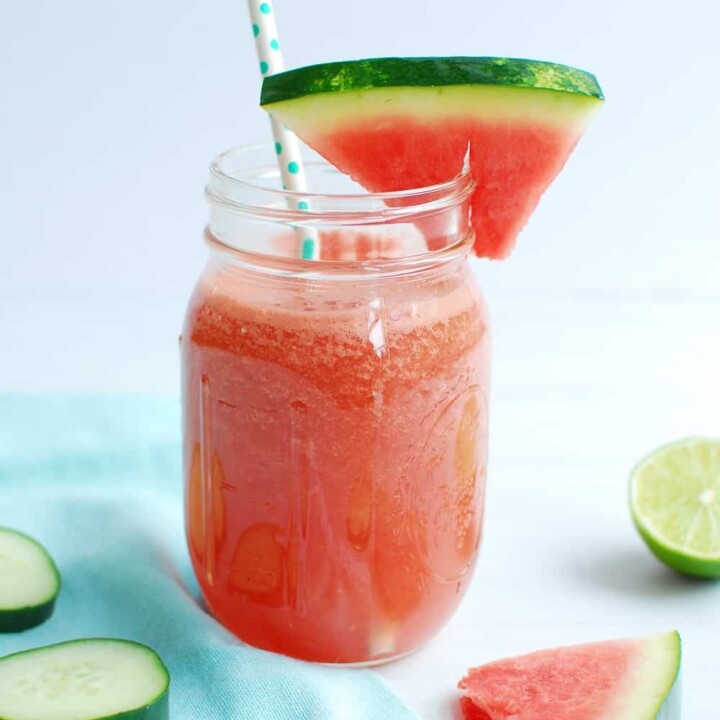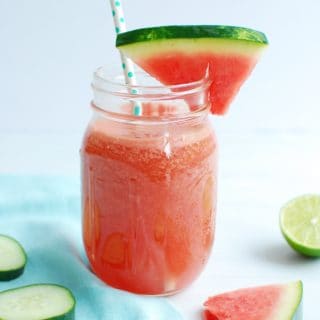 Cucumber Watermelon Smoothie
Beat the heat with this delicious, hydrating cucumber watermelon smoothie!
Ingredients
1

cup

watermelon

frozen

½

cup

cucumber

sliced

½

lime

juiced

¾

cup

water
Instructions
Place all ingredients in a blender and blend until well combined. Enjoy!
Notes
Notes:
Use as much water as you need to achieve the right texture. I recommend 3/4 cup if you're using frozen watermelon. If you prefer more of a spoonable texture, use 1/2 cup. If you prefer a very thin smoothie, use 1 cup.
You can also use fresh watermelon for this recipe, but the texture is better with frozen. If using fresh watermelon, cut the water down to 1/2 cup and throw in a few ice cubes.
Nutrition analysis (approximate):
63 calories, 0.5 g fat, 3 mg sodium, 16 g carbohydrate, 2 g fiber, 11 g sugar, 1.5 g protein, Vitamin A: 18%, Vitamin C: 40%, Calcium: 3%, Iron: 4%
Nutrition
Share with me: Have you ever made a cucumber watermelon smoothie? What's your favorite summer smoothie recipe?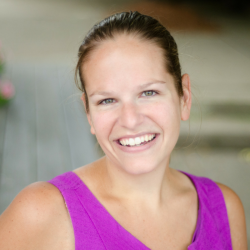 Latest posts by Chrissy Carroll
(see all)