Summer is on the horizon, and that means it's time for barbecues and backyard parties. If you're looking for something tasty to make for these occasions, you'll want to try this Greek yogurt macaroni salad. Packed with fresh veggies, quinoa macaroni, and a Greek yogurt dressing, this side dish has a nutritional edge compared to the standard picnic favorite – but tastes just as delicious!
Disclosure: This post was sponsored by NOW®. As always, all opinions are my own.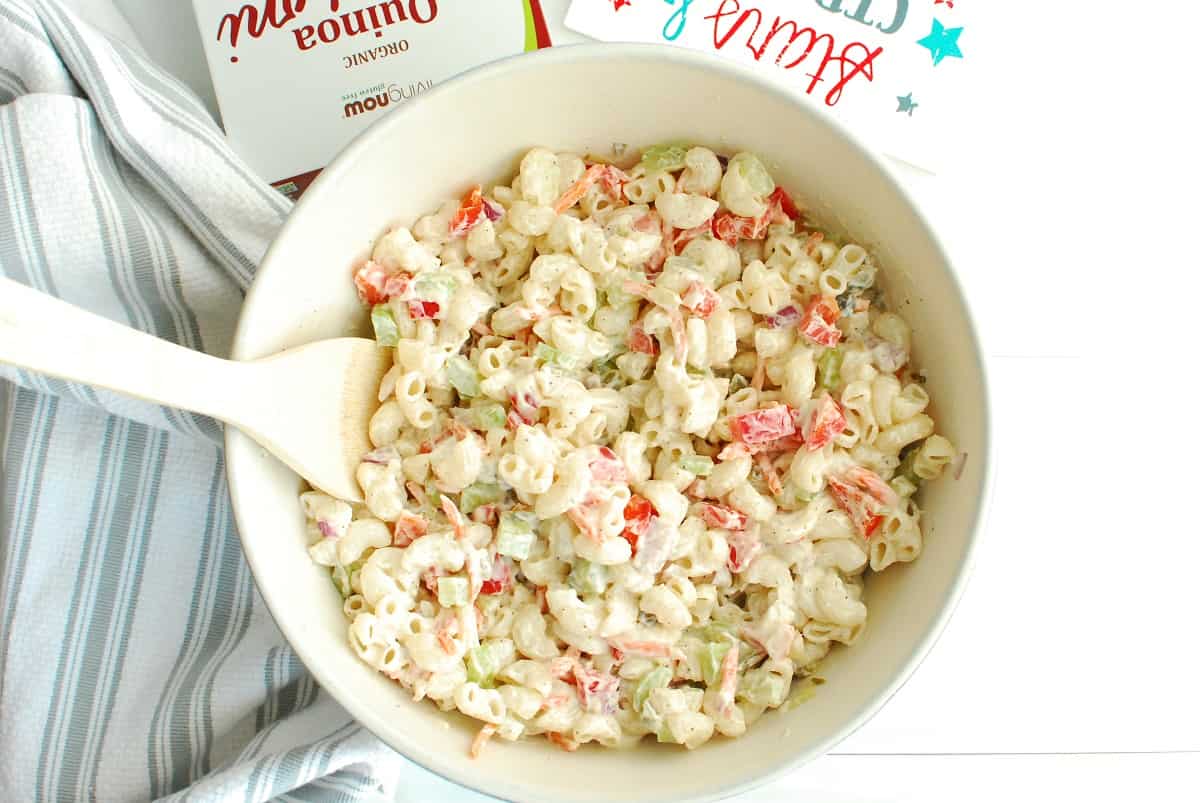 Ingredient Notes
Here's a photo of all the ingredients you'll need, along with selected ingredient notes: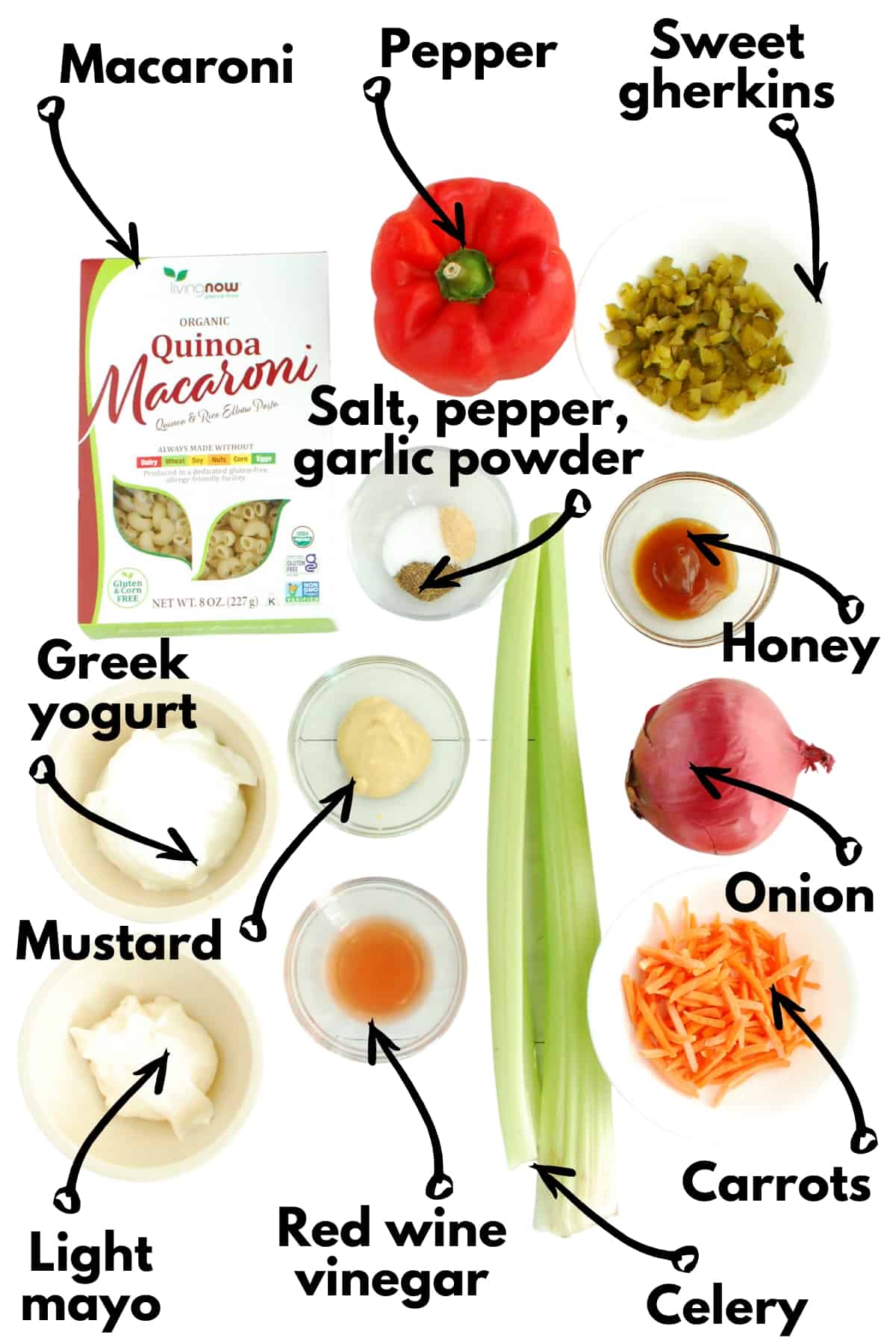 Living NOW® Gluten-Free Organic Quinoa Macaroni – I love this macaroni that's made with quinoa, rice, and amaranth. It's perfect if you need to follow a gluten-free diet. And while no one in my family requires a gluten-free diet, I actually prefer the texture and taste of this pasta compared to traditional macaroni for this recipe. You can purchase it from NOW Foods website, and you can actually save 20% off your order with code CHRISSY!
Greek Yogurt – Instead of going heavy on the mayonnaise, in this recipe we'll use mostly Greek yogurt with a little bit of light mayo. This creates a higher-protein dressing that still has the creaminess you're used to.
NOW® Manuka Honey – We'll use a small amount of this to balance out the tang from the Greek yogurt and vinegar in the recipe. Feel free to adjust to taste as you see fit! You can also use any honey you have on hand, but I think you'll love the robust flavor this variety offers.
Sweet Gherkins – These yummy sweet pickles offer a delightful crunch and tang to the recipe. You can feel free to substitute these with any pickle variety you have on hand, or use cucumbers, or even pickle relish. This recipe is very forgiving if you need to mix it up!
Light mayo – I like using this because it adds creaminess with less calories and fat, but you can also just use regular mayonnaise if you prefer!
Instructions
This recipe is so easy to make! You'll find the full recipe amounts and instructions in the recipe card below, but here's a helpful overview with photos and tips.
Start by cooking your macaroni according to package directions. Drain it and set it aside in a bowl.
Add all the chopped veggies to the bowl with the macaroni – the celery, red bell pepper, carrots, pickles, and red onion.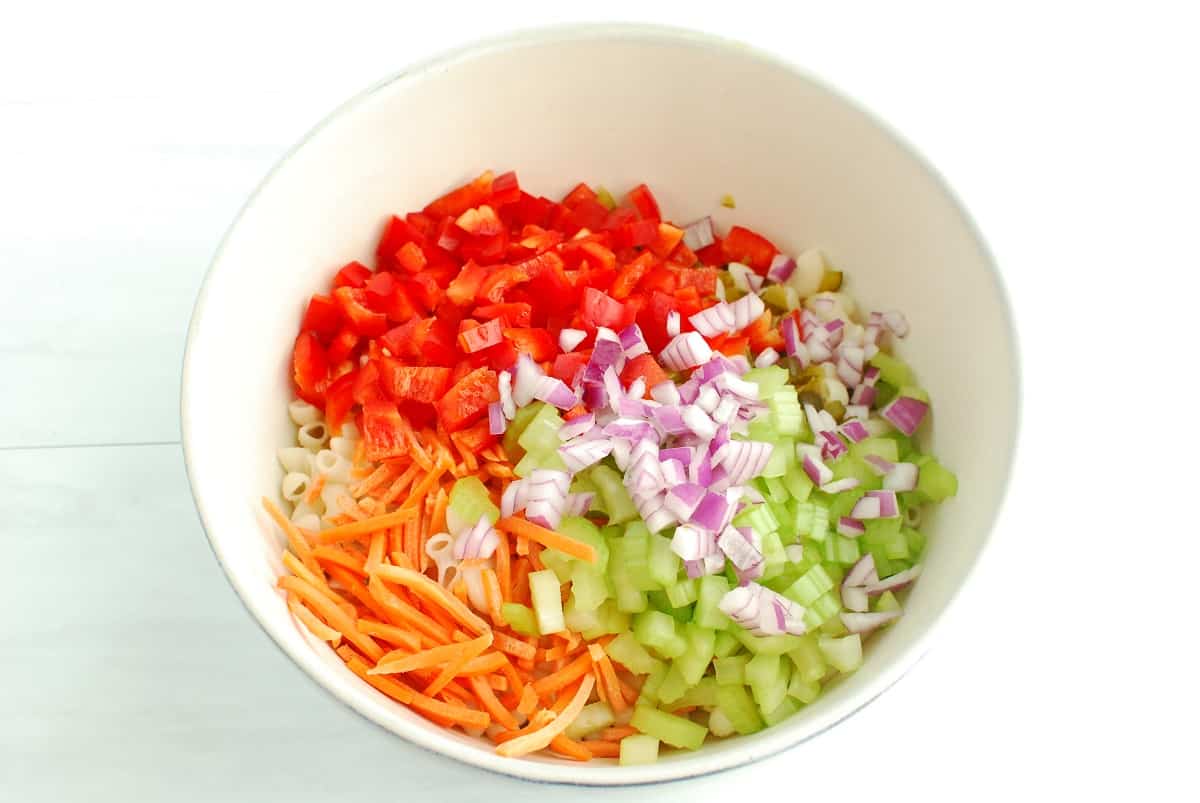 Give everything a good stir.
In another bowl, whisk together the yogurt, mayo, vinegar, honey, mustard, salt, pepper, and garlic powder. The dressing should be nice and creamy.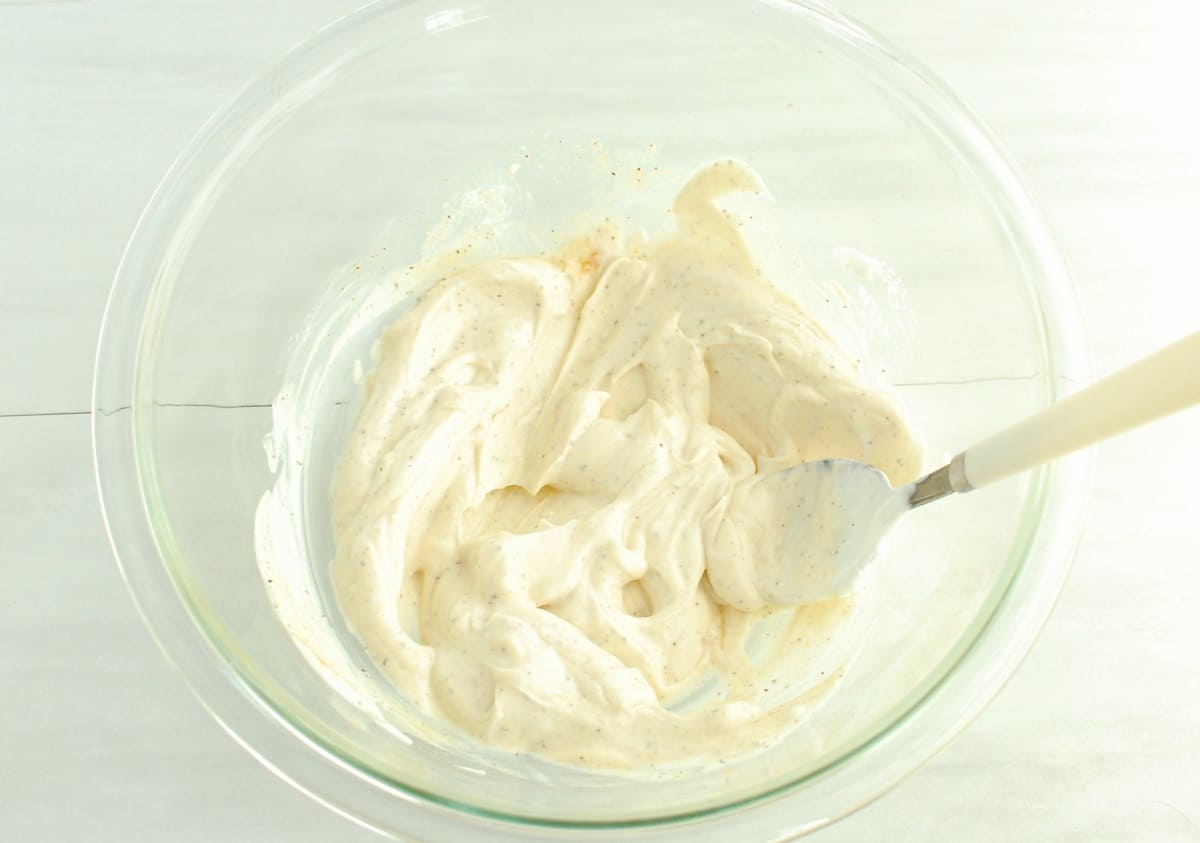 Pour the dressing over the macaroni salad mixture, and stir everything together until the dressing is coating all the ingredients.
While you can scoop out a serving right now, this tastes best after chilling in the fridge for an hour! I like to serve this with BBQ chicken breasts on the grill, or air fryer chicken drumsticks if it's not a great day for grilling.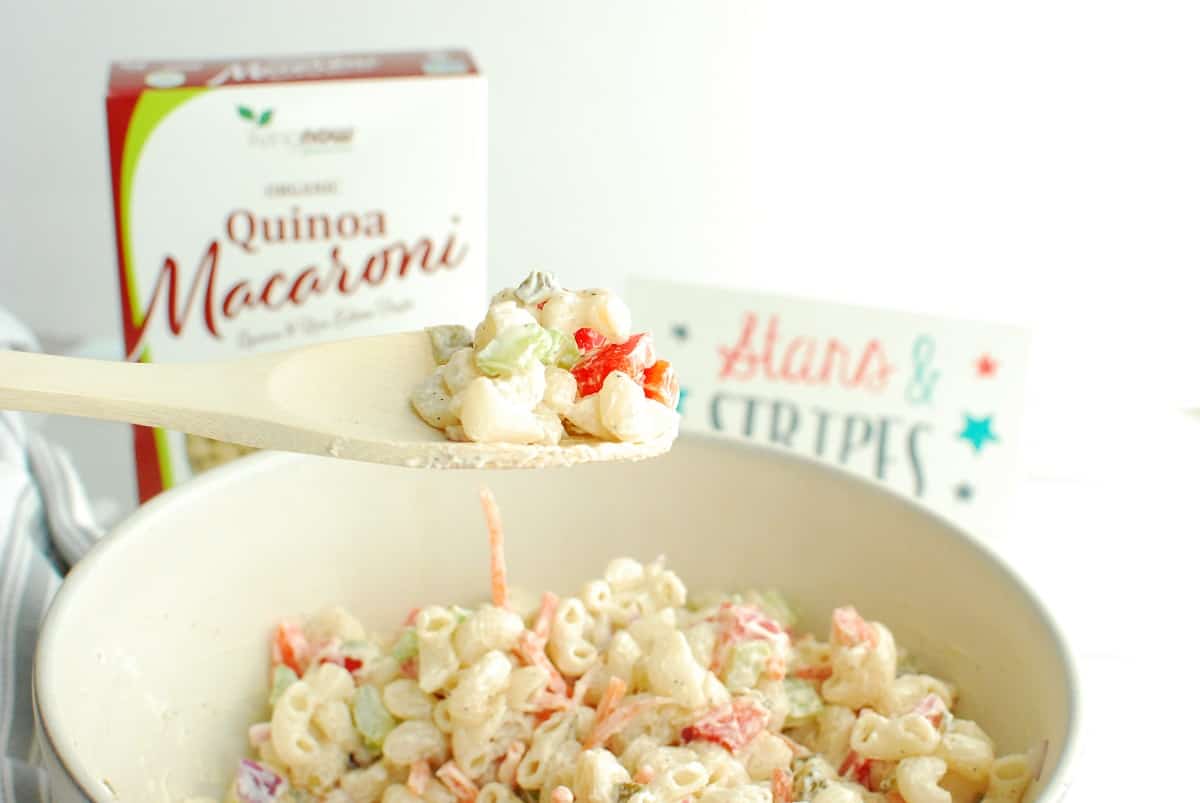 Recipe FAQ
Here are some common questions that may come up as you're preparing this recipe:
How should you store Greek yogurt macaroni salad?
It's best to store the salad and dressing separately until you're ready to enjoy. Each of these can be stored for up to 4 days in the refrigerator, and you can then dress it when serving (this keeps it creamy!).

If you store the fully prepared salad with dressing already tossed into it, you can store in the fridge for the same length of tie (up to 4 days). If the salad has dried out after storing, add a spoonful of yogurt, a spoonful of light mayo, and a splash of milk, and mix it up again. This will help revive the creamy texture.
Can you freeze Greek yogurt macaroni salad?
Because yogurt and fresh vegetables change texture after freezing and thawing, it's not recommended to freeze this recipe.
Can I add other vegetables or ingredients to macaroni salad?
Yes! Macaroni salad is quite versatile, and you can customize it to your liking. For example, you could add chopped cherry tomatoes and broccoli florets to the salad, or you could incorporate proteins like chopped chicken, ham, or shrimp.
Can you use regular yogurt instead of Greek yogurt for macaroni salad?
Greek yogurt has a thicker texture and higher protein content compared to regular yogurt, so it's recommended that you use Greek yogurt for the base of the dressing.
Nutrition Benefits
This recipe is a great side dish for active women! Here are a few highlights – one serving…
Provides healthy carbs to help fuel your workouts
Supplies 18 percent of your daily iron needs (a mineral involved in transporting oxygen to the muscles)
Provides 7 grams of protein, key for muscle health (combine this side with a protein-rich main dish like grilled chicken, shrimp, or tofu to create a full meal)
Supplies 29% of your daily Vitamin C needs, involved in supporting different structures in the body as well as immune health
More Summer Recipes
If you're looking for more delicious summer recipes, be sure to give one of these a try:
I hope you enjoy this easy summer side dish! It's a favorite in our house. If you get a chance to try this Greek yogurt macaroni salad, feel free to leave a recipe rating or comment below.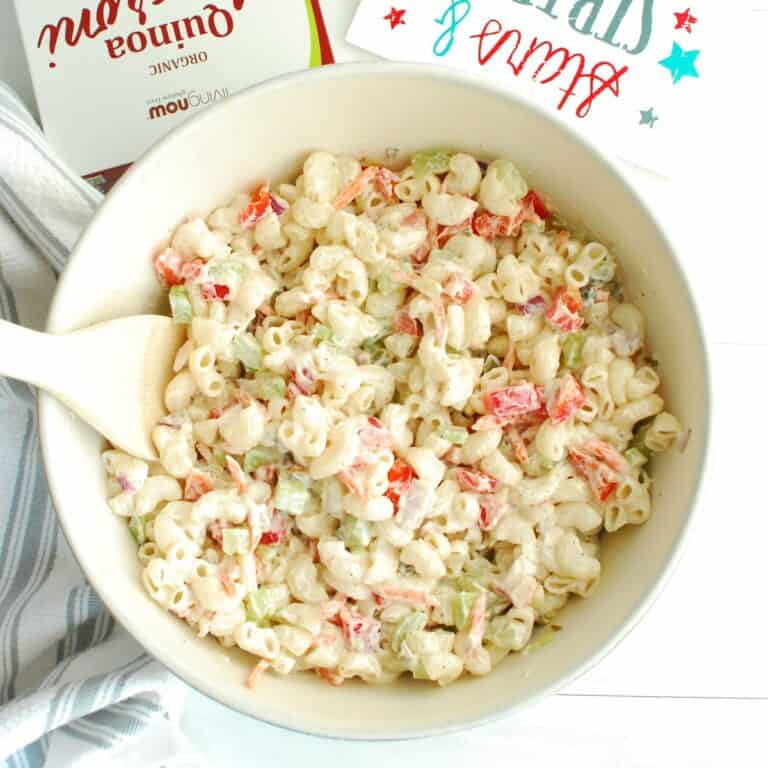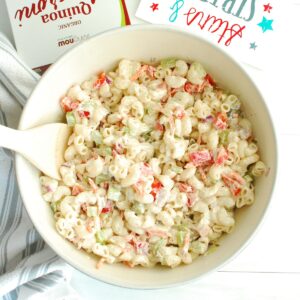 Greek Yogurt Macaroni Salad
This Greek yogurt macaroni salad is a more nutritious version of the classic picnic dish!
Ingredients
For the macaroni salad:
8

oz

Living NOW® Gluten-Free Organic Quinoa Macaroni

(dry)

2

stalks celery, diced

¾

cup

diced red bell pepper

½

cup

shredded carrots

⅓

cup

finely diced sweet gherkins pickles

⅓

cup

finely diced red onion
For the dressing:
¾

cup

plain nonfat Greek yogurt

¼

cup

light mayonnaise

1 ½

tbsp

red wine vinegar

2

tsp

NOW® Manuka Honey

2

tsp

Dijon mustard

¼

tsp

salt

¼

tsp

pepper

⅛

tsp

garlic powder
Instructions
Prepare the macaroni according to package instructions. Drain when done.

Meanwhile, add the pepper, celery, pickles, red onion, and carrots to a large bowl. Add the cooked macaroni.

In a medium bowl, combine the dressing ingredients: Greek yogurt, light mayo, red wine vinegar, honey, mustard, salt, pepper, and garlic powder. Whisk until well combined.

Pour the dressing over the macaroni mixture and toss well until evenly coated. Refrigerate for an hour until chilled.* Enjoy!
Notes
*This recipe is best enjoyed the day you make it. If you leave the salad in the fridge overnight or for several days, it can dry out. You can make it in advance, but if so, store the macaroni salad and the dressing separately until ready to serve, then toss it all together.
If you are on a gluten-free diet, double check to ensure that the pickles and light mayo are gluten free. They almost always are, but it's worth confirming.
This makes six large side-dish servings of approximately 1 cup each.
Nutrition analysis (approximate per serving):
209 calories, 3 g fat, 0 g saturated fat, 275 mg sodium, 39 g carbohydrate, 2.5 g fiber, 6.5 g sugar, 4 g added sugar, 7 g protein, Vitamin D: 0%, Calcium: 5%, Iron: 18%, Potassium: 4%, Vitamin C: 29%
Nutrition
Share: What's your favorite summer side dish? If you tried this recipe, what did you think?
Feel free to pin this post to save for later!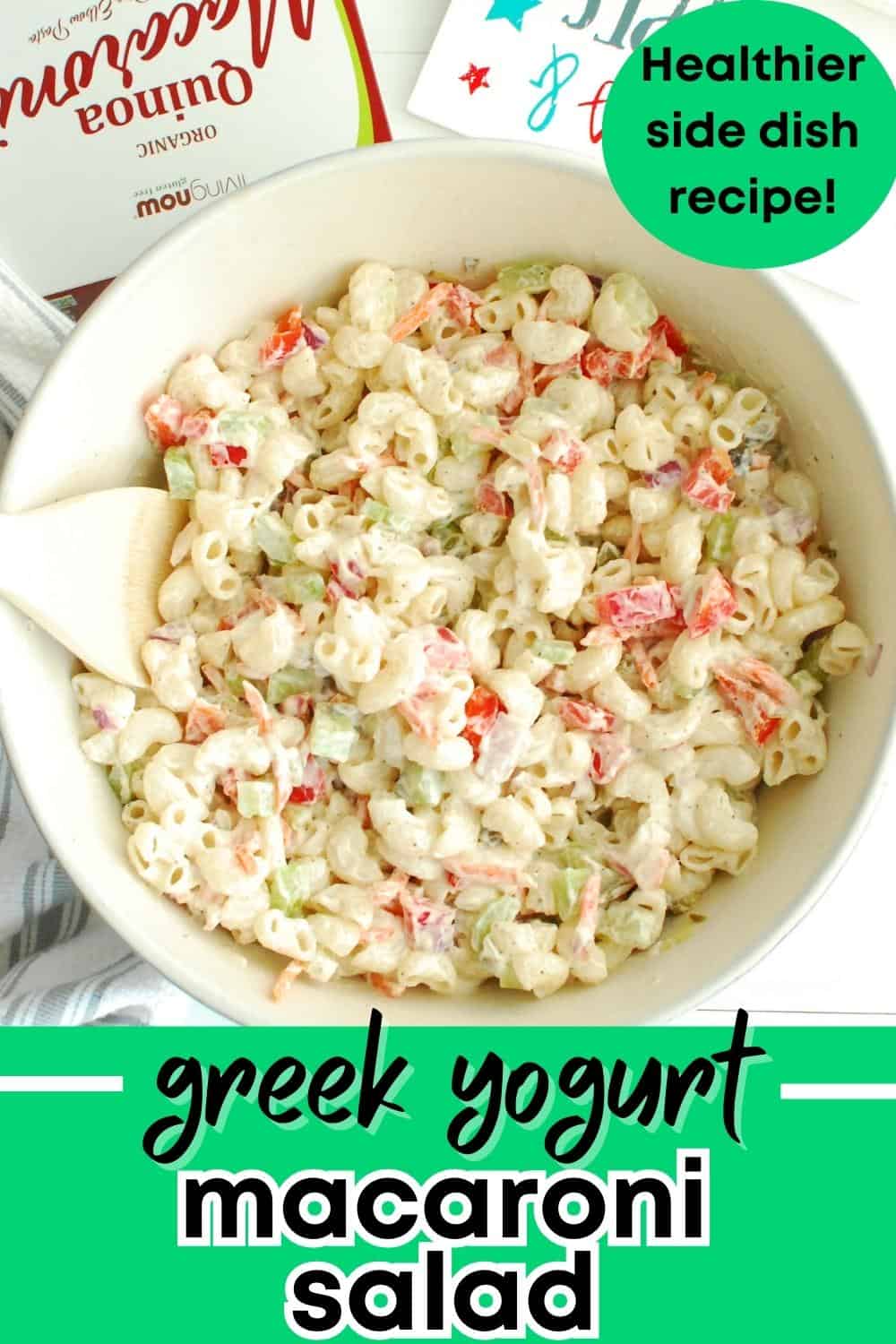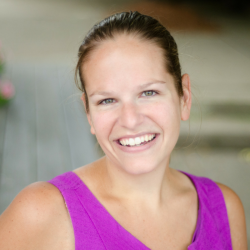 Latest posts by Chrissy Carroll
(see all)