These delicious low calorie pancakes are perfect when you're craving a stack of pancakes but are looking for something a little healthier than your standard recipe. They're quick to make from scratch and clock in at only 215 calories per serving (or just 71 calories per pancake!). Need some good topping ideas? You'll find them in this post too!
Calorie counting – yay or nay?
I am not at all the kind of RD that advises everyone to count calories all day every day. However, I have had clients that love tracking numbers – it's the Type A athlete in a lot of them 😉 – and I know a lot of other folks find success in tracking their food intake for weight loss. Heck, when I am trying to lose a few pounds, I always go back to calorie counting because it works for me.
Because of that, I think it's helpful to share those numbers for those who might be interested!
If that's not your thing, or you think calories are useless – that's cool too. These pancakes are still delicious, haha.
I personally love these because:
They fit into a calorie-controlled breakfast – and despite their carby nature, I still find them quite satisfying and filling. This recipe makes around 6 small pancakes which clock in at about 71 calories each, so a serving of three will run you 215 calories.
They get a step up nutritionally from many homemade recipes, because they're made with whole wheat flour and oats (rather than refined flour).
And for all you athletes who are looking for a tasty recovery meal? Enjoy 'em topped with fruit alongside a glass of milk for a perfect carb & protein blend after a long run or ride.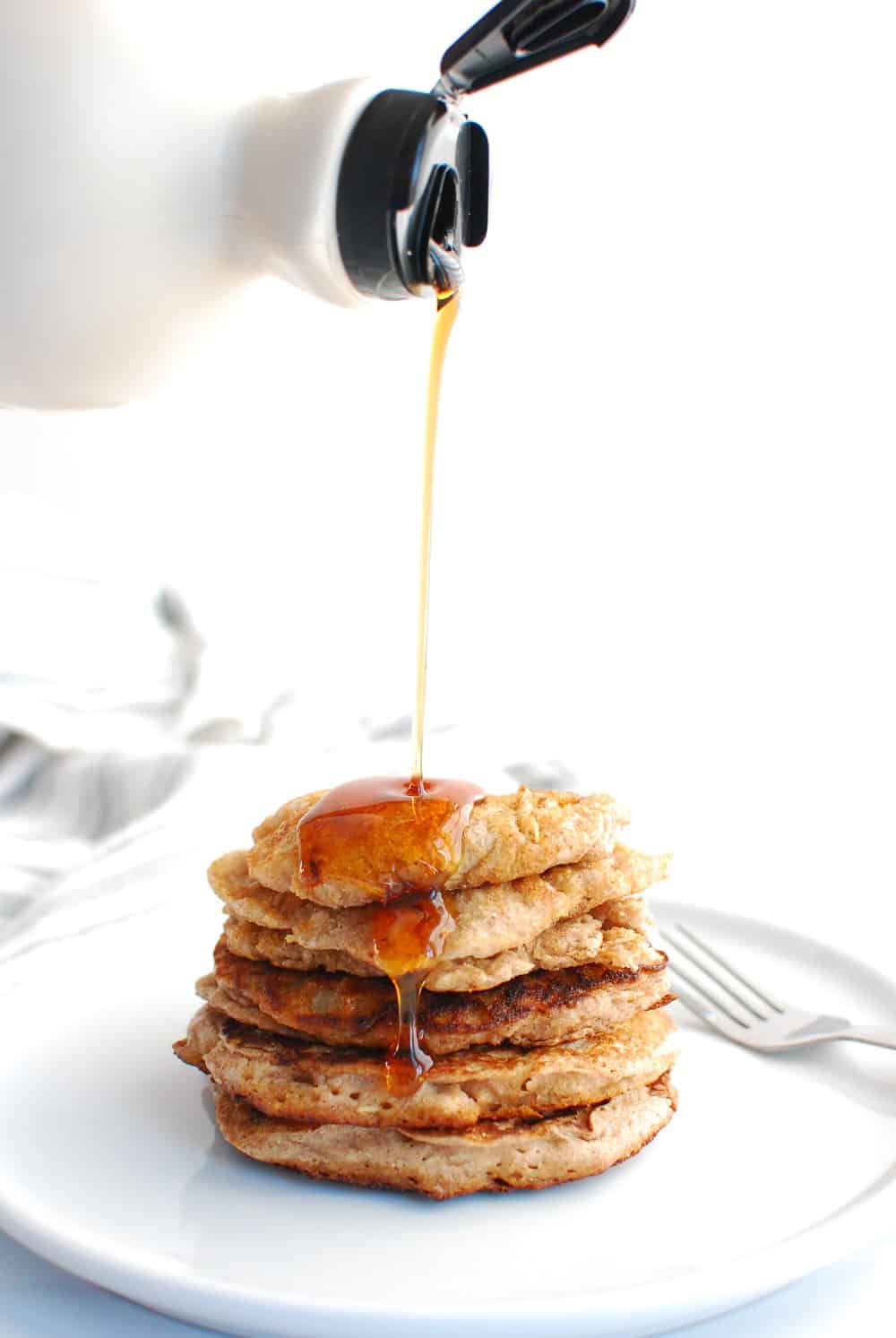 How to make low cal pancakes
These are simple to make – you'll just need some ingredients that are probably already hanging around your kitchen:
Banana
Milk
Apple cider vinegar
Cinnamon
Vanilla
Whole wheat flour
Rolled oats
Salt
Baking Powder
Butter
You'll combine all the ingredients for the batter, which is everything listed here except the butter. Mix it until just combined – you don't want to over mix the batter or it can get a little tough.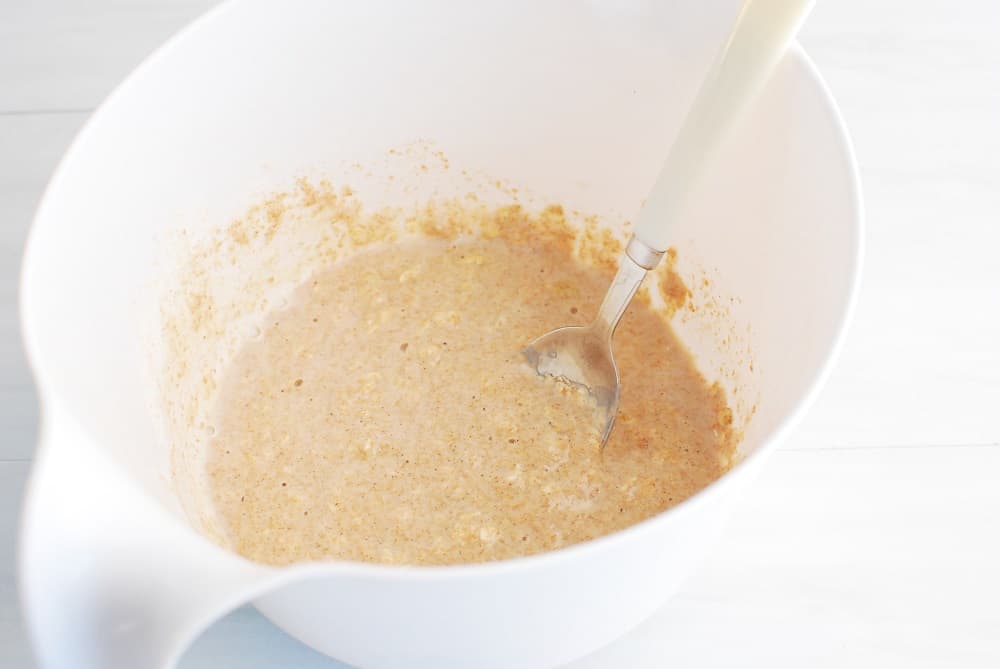 Next, heat the butter in the skillet while you let the pancake batter rest for a few minutes. Then pour the batter into the skillet forming a few small pancakes. Wait until they're nice and bubbly, then flip 'em, finish cooking, and enjoy!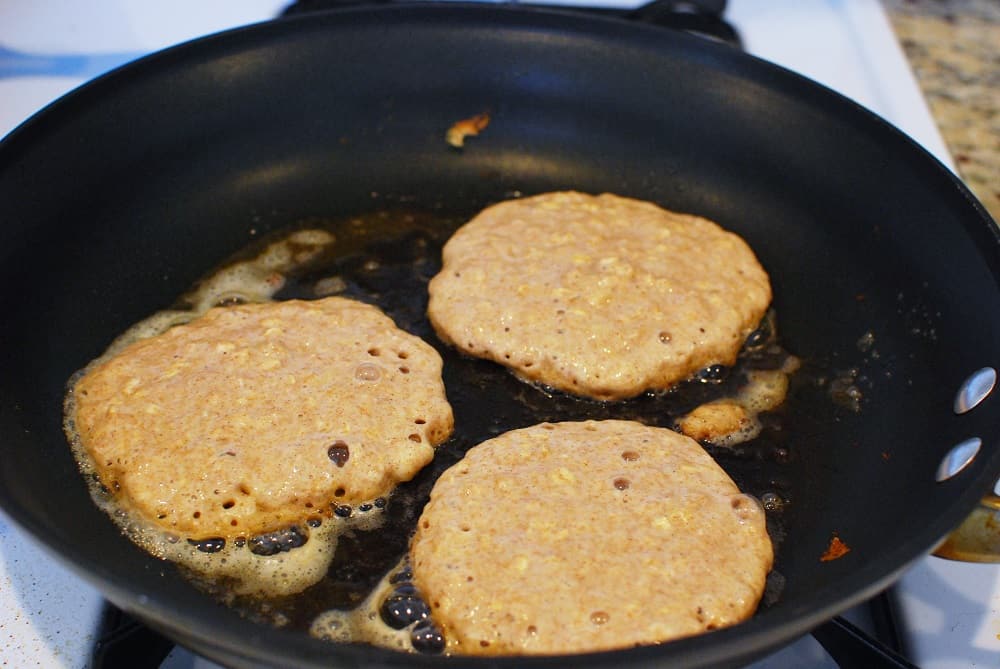 Now, if you want to cut the calorie count even further, you can eliminate the butter and use a quick shot of nonstick cooking spray. That will actually reduce the calories to just 165 per serving. But I find that butter adds that rich flavor to the outside of the pancake, so I like to use it.
Pancake toppings
You can top these low cal pancakes with whatever you like – I'm sharing some of my favorite ideas below! I haven't factored the toppings into the calorie counts, but all these ideas below between 15 to 150 calories – making your total pancake breakfast top out at 230 to 385 calories.
Pure maple syrup: Obviously, pure maple syrup is always a classic. Adding a tablespoon of pure maple syrup to your pancakes will add about 50 calories.
Warmed berries: I love popping frozen berries in the microwave or on the stove, and heating them up until they're warm and they start to release their juices. Then dump it all over your pancakes – so good! A full cup of mixed berries is approximately 80 calories.
Greek yogurt: If you want to add a protein boost to your pancakes, try smothering them in half a cup of flavored Greek yogurt. Depending on the brand, this only adds around 100 extra calories.
Nut butter: Peanut butter, almond butter, cashew butter…any of them will taste awesome over pancakes! Lately I've been all about NOW Foods Salted Caramel Cashew Butter (disclosure – client). That stuff is insanely good and drizzles over pancakes perfectly. One tablespoon of nut butter will clock in around 80-95 calories, depending on the type.
Sautéed apples: Warm ½ tbsp of butter in a skillet and add a sliced apple and a few shakes of cinnamon. This will add about 150 calories (or 75 if you split the apples).
Pineapple Greek yogurt "ice cream": Blend a cup of frozen pineapple with 1-2 tbsp plain Greek yogurt in a food processor or blender. Serve over your pancakes! This adds about 100 calories.
Lemon ricotta: Mix 1/4 cup of part skim ricotta cheese with 1 tbsp powered sugar, the juice from a lemon, and 1 tsp lemon zest. This will add around 125 calories.
Lakanto Maple Flavored Syrup: I generally prefer to just go for smaller amounts of the real stuff, but if you are trying to avoid too many carbs in your topping – you can try this stuff. It's sweetened with monk fruit and erythritol, so a 2 tbsp serving is just 15 calories.
Strawberry chia seed jam: I always tend to have this on hand in June when fresh strawberries are in season by me. Add a few spoonfuls of strawberry chia jam to your pancakes for around 75 calories.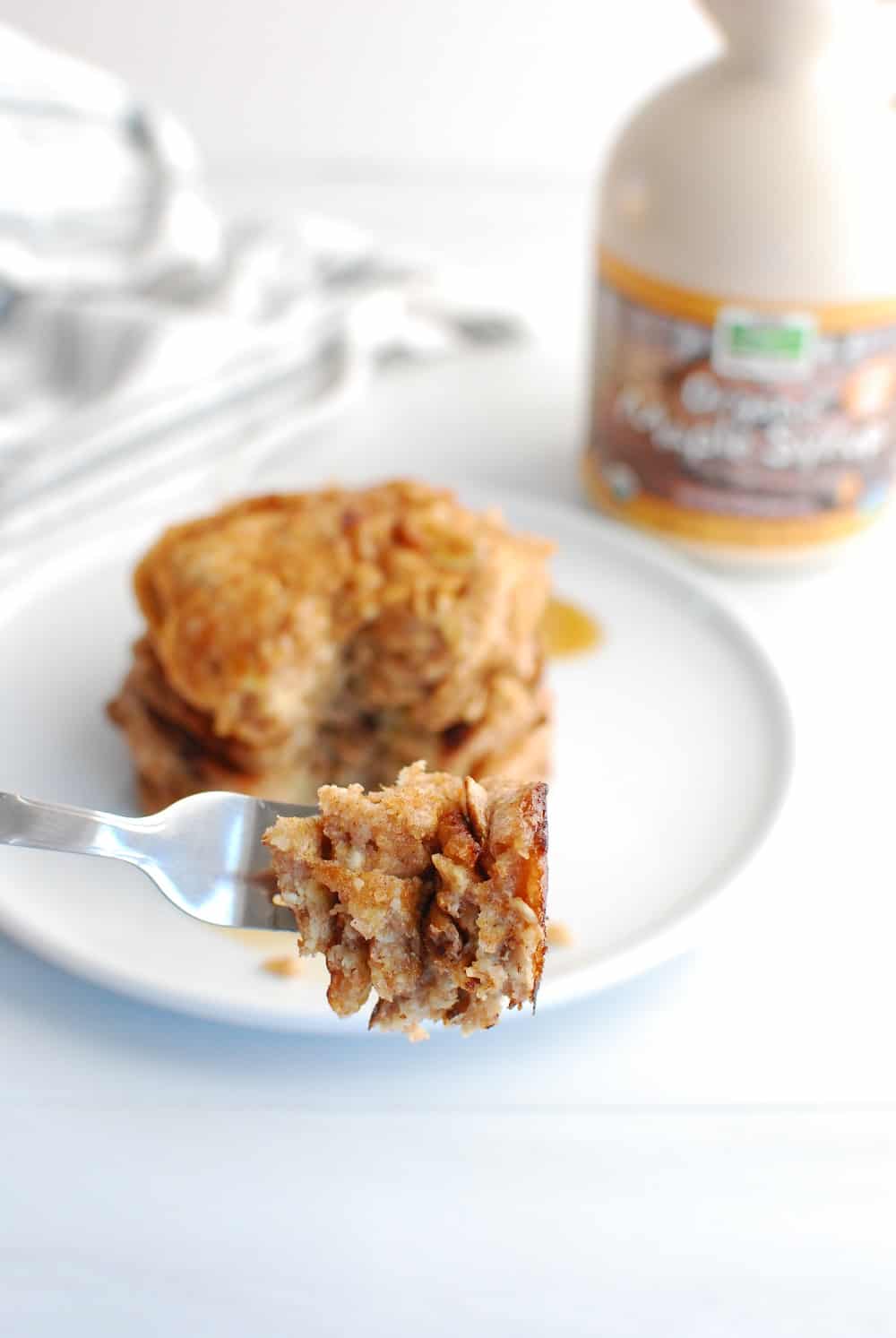 Dietary modifications:
This recipe is already egg free and soy free, which makes it a great option for anyone with those allergies. If you need some adjustments to fit other allergies or dietary needs, here are some ideas:
Gluten free – Be sure to use certified gluten free oats, and substitute a gluten free flour blend for the whole wheat flour.
Dairy free / vegan – Swap the 1% milk for almond milk (I've made it both ways and they're equally good!) and use oil for cooking rather than butter.
Need more pancake recipes?
It's clear I love pancakes based on the number of blog recipes I've got for them. 🙂 Check out these other recipes for other flapjack inspiration:
I hope you enjoy these low calorie pancakes as much as I do! If you get a chance to try them, be sure to leave a recipe rating or comment.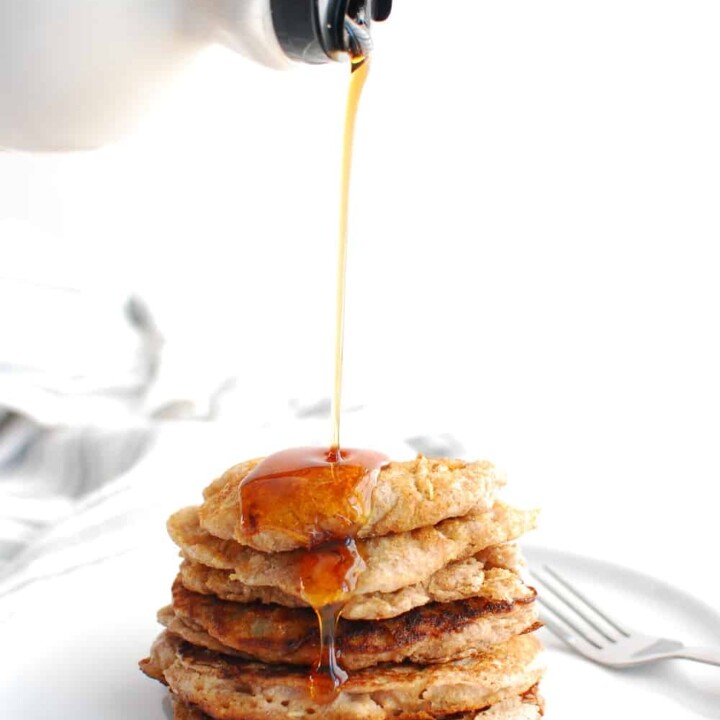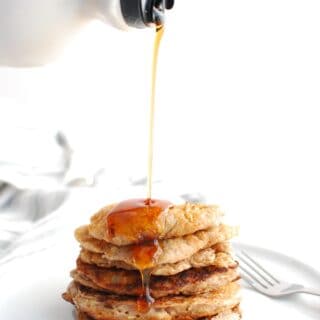 Low Calorie Pancakes
These delicious low calorie pancakes are quick and easy to make from scratch - and only 215 calories per serving!
Ingredients
1/2

small banana, mashed

1/2

cup

1% milk

(or milk alternative)

1/2

tsp

apple cider vinegar

1/4

tsp

cinnamon

1/2

tsp

vanilla

1/3

cup

whole wheat flour

1/4

cup

oats

Pinch

of salt

2

tsp

baking powder

1

tbsp

butter, divided in half
Instructions
Combine the mashed banana, milk, and apple cider vinegar in a mixing bowl. Let sit for a few minutes. Stir in the cinnamon and vanilla.

Add the whole wheat flour, oats, salt, and baking powder. Stir until combined.

Heat 1/2 tbsp butter in a large skillet. Add the pancake batter to form three small pancakes. Cook each for about 1-2 minutes per side. When this first batch is finished, heat the remaining 1/2 tbsp of butter and cook the remaining batter in a second batch.

Enjoy with your favorite toppings, like warmed berries, maple syrup, or nut butter.
Notes
Notes:
If the batter seems too thin, add a little more flour. If the batter seems too thick, add a little more milk.
This recipe makes two servings of approximately 3 small pancakes each (or 2 large pancakes each).
Nutrition analysis (per serving, does not include any toppings):
215 calories, 7.5 g fat, 4 g sat fat, 473 mg sodium, 32 g carbohydrate, 4 g fiber, 6.5 g sugar, 6.5 g protein, Vitamin A: 6%, Vitamin C: 4%, Calcium: 22%, Iron: 10%
Nutrition
Share: If you tried these low calorie pancakes, what did you think? What's your favorite pancake topping – are you traditional with maple syrup or do you get adventurous?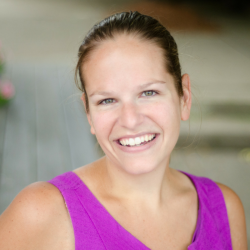 Latest posts by Chrissy Carroll
(see all)