If you need a delicious salsa to pair with chips or layer on some salmon or chicken, you'll definitely want to make this mango tomatillo salsa! It's a great combination of tangy tomatillos, spicy jalapenos, and sweet mango. Plus, with just a handful of ingredients, it's simple to make.
What are tomatillos?
Many people assume that tomatillos are just little green tomatoes, but this isn't the case. Tomatillos are actually a completely different plant.
The fruit itself is generally a bright green color, shaped like a small tomato, and covered in a papery husk. Sometimes the fruit can have a slightly sticky coating when you peel away the husk, but don't worry – this easily washes away with water.
I recommend roasting your tomatillos because it brings out their sweetness and increases the depth of flavor. You can also use them raw; just keep in mind the final product will be more acidic and tangier (some people may perceive the raw fruit as a bit bitter).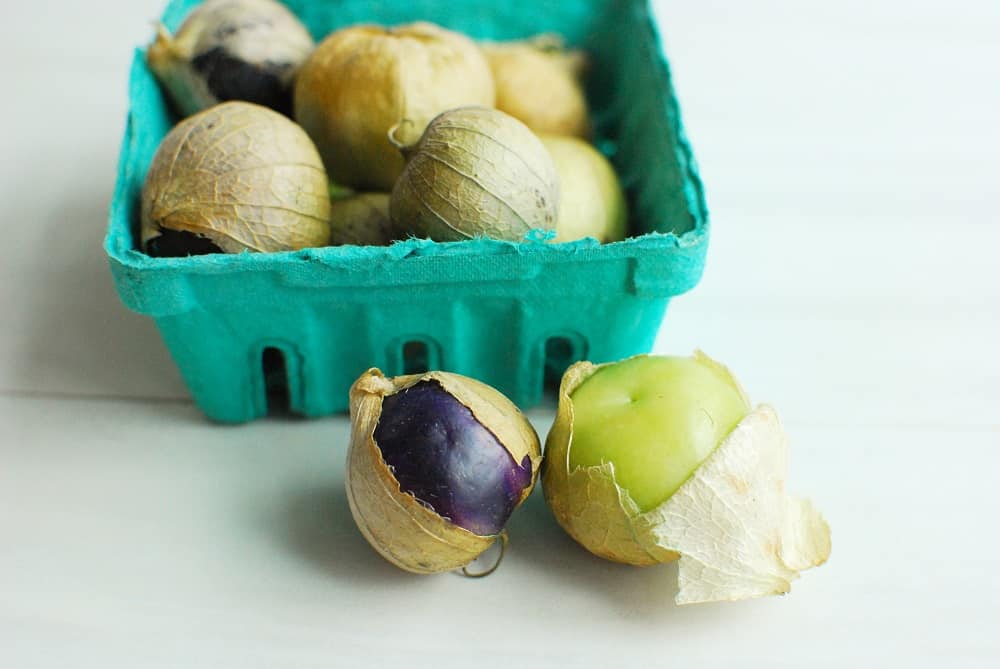 Green vs. purple tomatillos
I got inspired to make this recipe when the local farmers market hooked me up with a few free containers of tomatillos. Apparently there were a few stragglers left that weren't selling, and they know I can get creative in the kitchen.
When I looked closer, I was surprised to see there were not only the traditional green tomatillos like described above, but also purple tomatillos!
Purple tomatillos are similar to their green counterpart in size and their papery husk coating. Their flavor is a bit sweeter, but still with the classic citrusy undertones. Some people note an undertone of a plum or pear-like flavor.
The purple version is much more likely to be found raw in dishes compared to the green tomatillos, thanks to it's slight sweetness. In this case, though, I decided to roast 'em all to develop the flavor in the salsa more.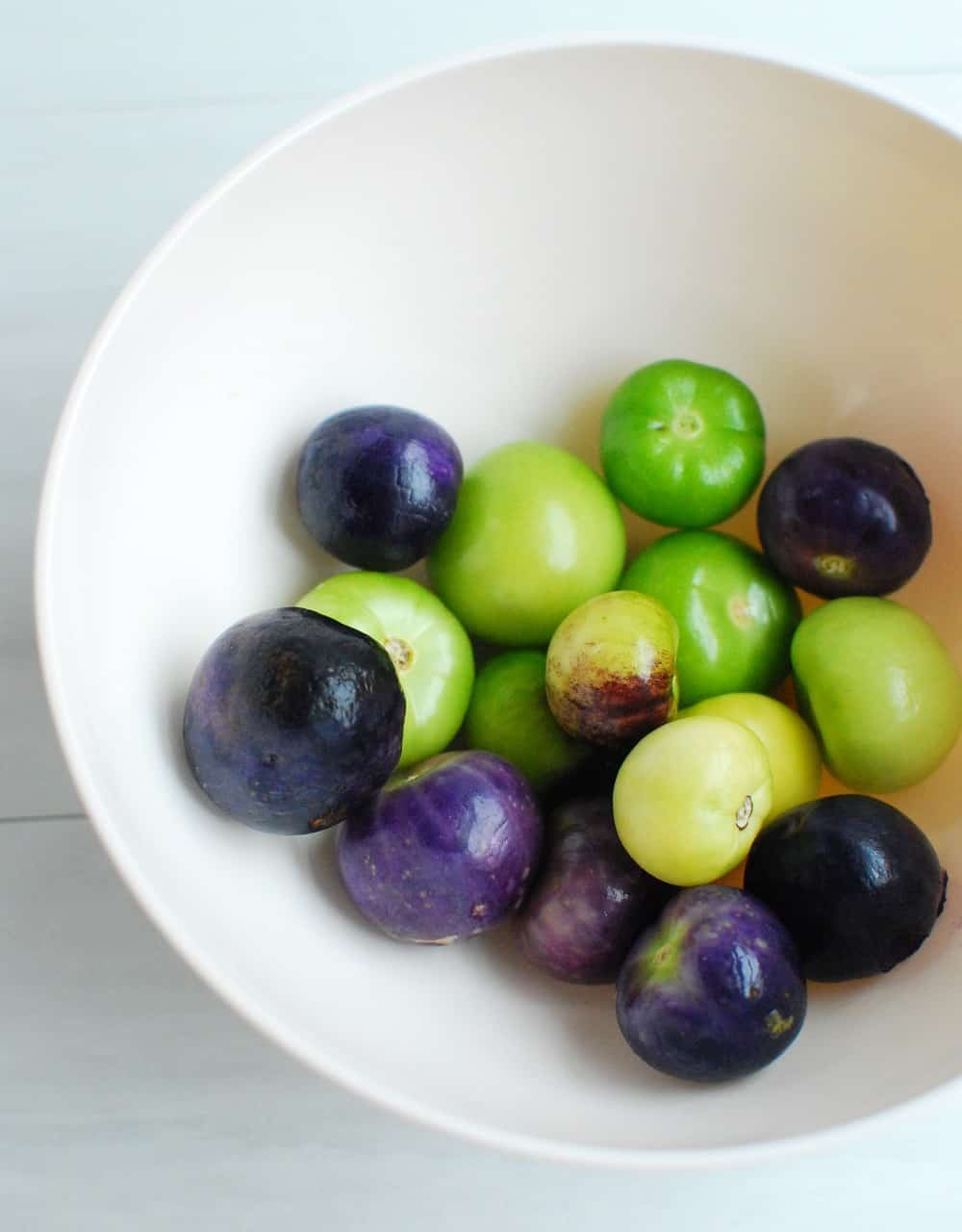 How to make salsa
Salsa is easy to make at home and very difficult to mess up. There are always adjustments you can make. For example, does it lack spice? Add another hot pepper or two. Does it need a better balance from the heat? Add more fruit. There are always little changes you can make.
Of course, with this recipe, you shouldn't need to adjust anything, because it's delicious!
Here's what you'll need (full ingredient amounts and instructions in the recipe card at the bottom):
Tomatillos (green, purple, or both!)
Jalapenos
Olive Oil
Red Onion
Cilantro
Lime
Salt
Mango
You'll start by removing the husks on your tomatillos and rinsing off the sticky coating. Then you'll toss those and your jalapenos with a little olive oil, and pop 'em in the oven to roast.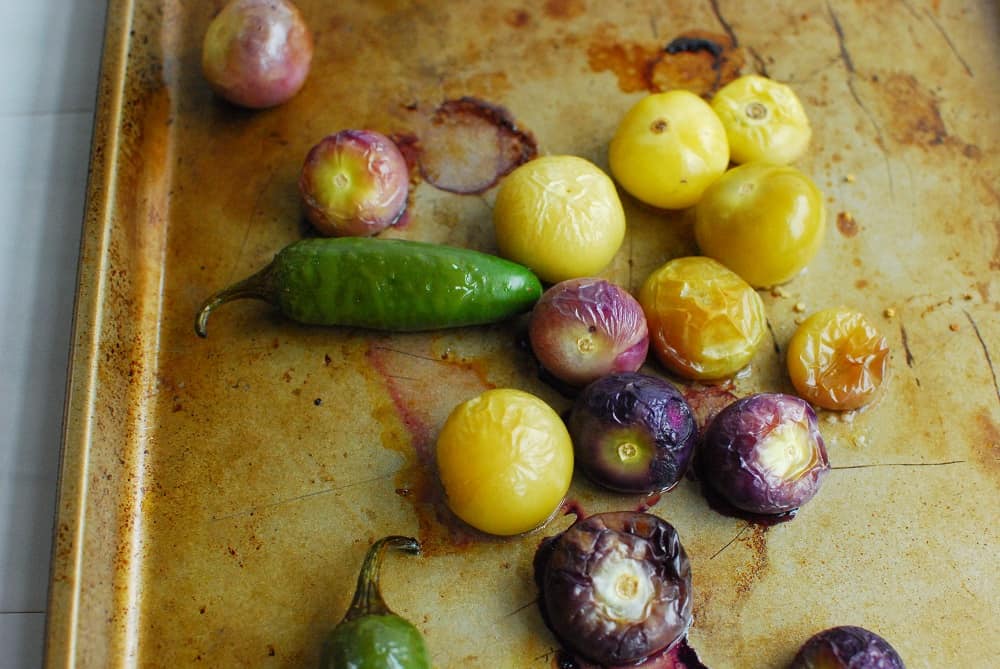 When the jalapenos are done, add them to a food processor with your onion and cilantro. You want to pulse that several times so it gets really finely chopped.
Then you'll add your tomatillos, lime juice, and salt, and pulse it a few more times until it's all the right texture.
Take that out, pour it in a bowl, and mix in your mango. Voila! Your homemade salsa is done.
Recipe FAQ
Here are some common questions that may come up as you prepare this recipe:
How long should you process this in the food processor? I would use the pulse function rather than the process function, and push it as many times as you need to get the right texture. I like to keep things a bit chunky, but you can certainly make it smoother if you prefer.
Is this spicy? It's got a manageable kick to it. If you want something less spicy, reduce it to just one jalapeno. If you want something more spicy, add another jalapeno, or sub in serrano peppers instead.
How should you store this? Store it in the refrigerator for up to 4-5 days. I would not recommend freezing it, as the texture is affected upon defrosting.
Is this salsa good for you? Definitely! It's made of vegetables and fruits, and offers a great way to pack additional nutrients into a snack or meal. For example, just 1/4 cup of this salsa packs in 40% of your daily Vitamin C needs, essential for immune health.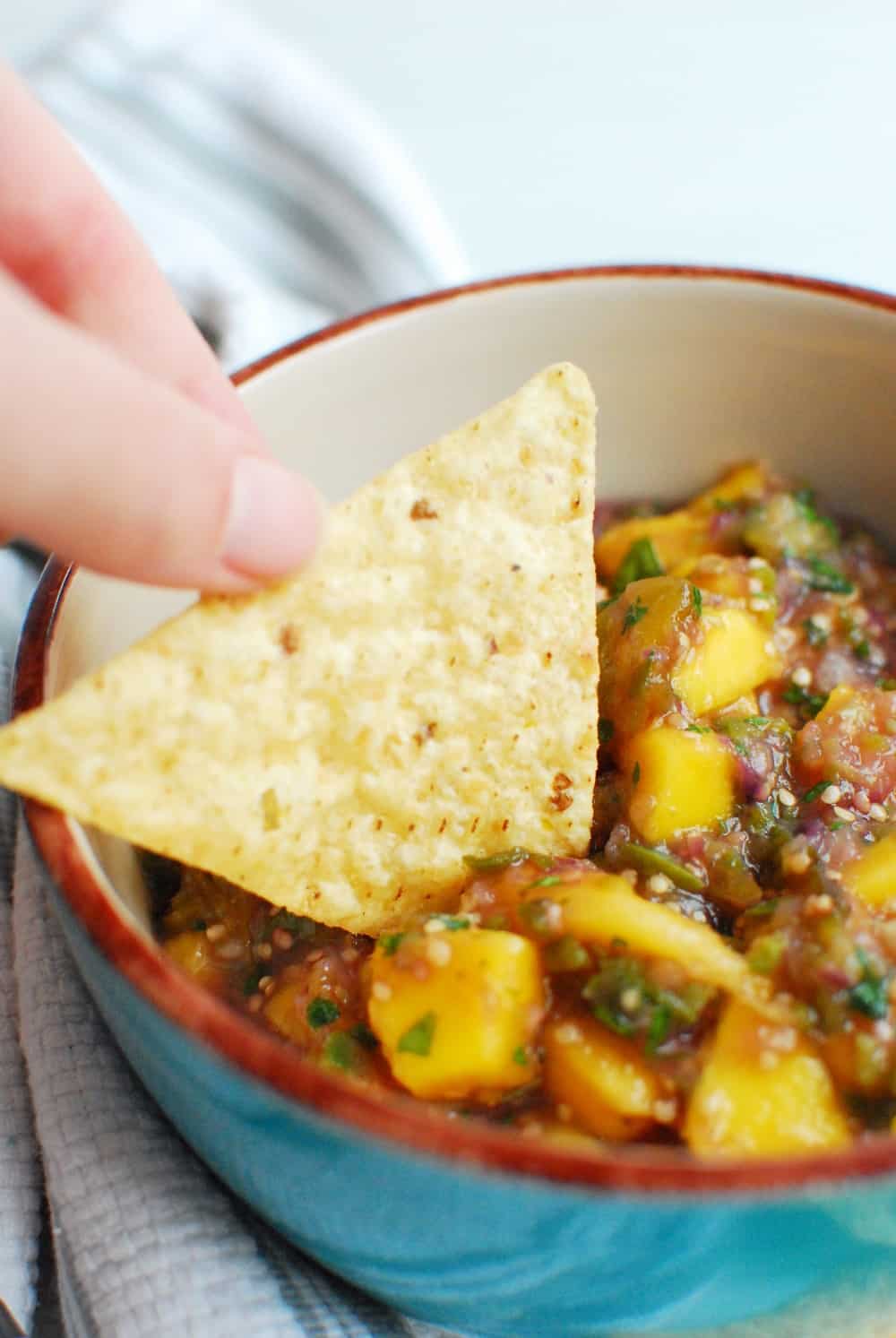 Serving Suggestions
I'm guessing most of us are going to be digging into this with some tortilla chips – but if you've got extra leftover and need some additional ideas, here's what I'd suggest:
Bake salmon in the oven and top it with this salsa. It's an amazing combination!
Add 1.5 to 2 pounds of chicken breasts to a crockpot, and all the mango tomatillo salsa from this recipe. Cook on high for 3-4 hours, or until the chicken reaches 165 degrees. Serve over rice, in a taco, in a burrito, on a salad, or whatever floats your boat.
Instead of regular salad dressing, top a tex-mex salad with this salsa! I love it on a salad with lettuce, tomatoes, corn, beans, cheddar, and some crushed tortilla chips.
Use it to top your favorite burger recipe, whether beef, turkey, or veggie burger. I like it on this simple two ingredient burger (I use my salsa instead of the one in the recipe).
Serve it over scallops or tossed with shrimp.
Mix it with roasted potatoes for a new "potato salad" that will knock your socks off.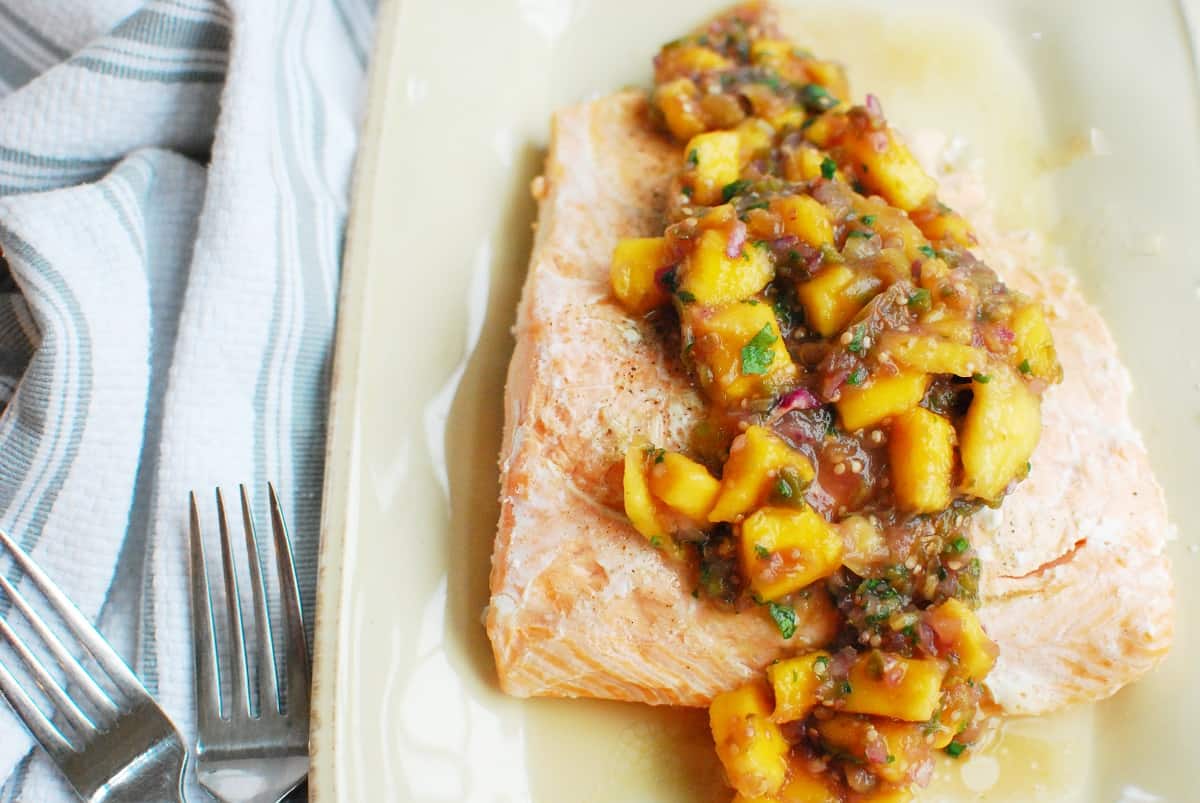 I hope you enjoy this mango tomatillo salsa! If you get a chance to try it, please feel free to leave a recipe rating or comment below. And if you're looking for more tomatillo recipes, be sure to try our tomato tomatillo salsa and our vegetarian quesadillas.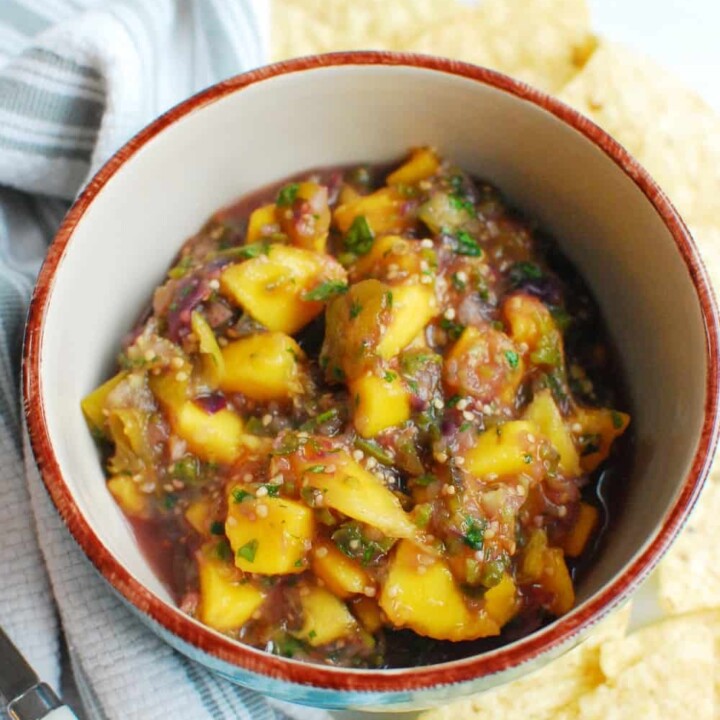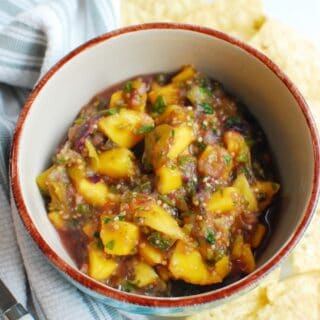 Mango Tomatillo Salsa
This mango tomatillo salsa is the perfect blend of spicy, sweet, and tangy!
Ingredients
1/2

pound

tomatillos

2

jalapenos

1/2

tbsp

olive oil

1/4

cup

red onion

1/4

cup

cilantro

1/2

lime, juiced

1/4

tsp

salt

1

ripe mango, chopped into small ½-inch pieces
Instructions
Preheat the oven to 400 degrees F.

Remove the husks from the tomatillos, rinse them, and dry. Place them on a baking sheet, along with the jalapenos. Drizzle these with the olive oil, tossing everything around on the pan to ensure they're evenly coated. Place in the oven and roast for 15 minutes.

When those are done, remove the stem from the jalapenos. Place the jalapenos, red onion, and cilantro in a small food processor bowl. Pulse several times until these are finely chopped.

Add the tomatillos, lime, and salt to the food processor bowl. Pulse a couple times until it reaches the desired texture.

Pour into a bowl and stir in the chopped mango. Enjoy now, or store in the fridge for up to 4-5 days.
Notes
This recipe makes about 2 cups of salsa. For the purposes of servings, we are assuming about 1/4 cup of salsa equals one serving.
Nutrition analysis (approximate per serving): 46 calories, 1.5 g fat, 75 mg sodium, 9 g carbohydrate, 1.5 g fiber, 7.5 g sugar, 0.5 g protein, Vitamin A: 11%, Vitamin C: 40%, Calcium: 1%, Iron: 2%, Vitamin D: 0%, Potassium: 5%
Nutrition
Don't forget to pin this post for later!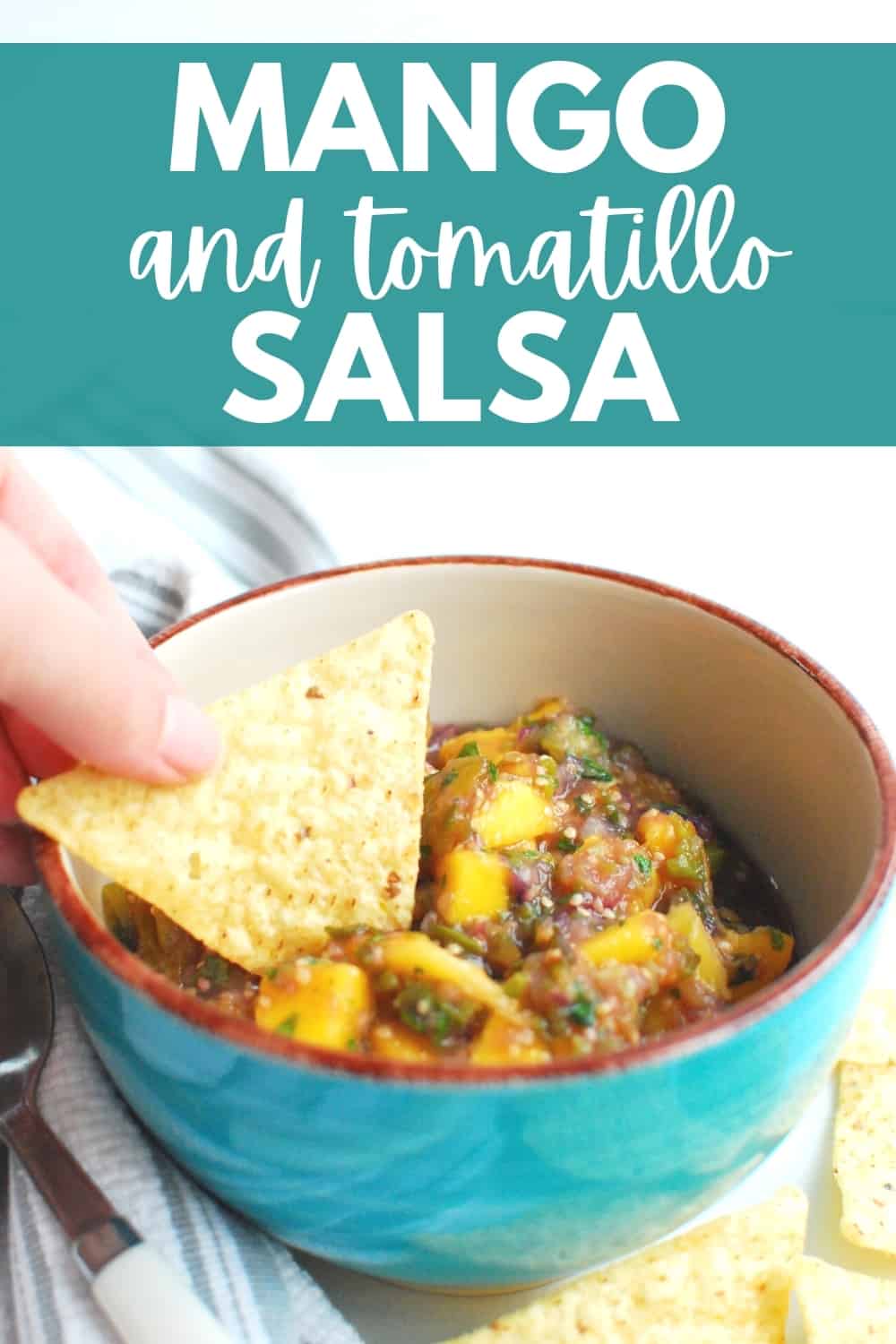 Share: What's your favorite way to use tomatillos? Have you ever cooked with purple tomatillos?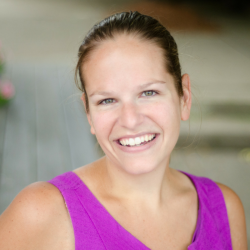 Latest posts by Chrissy Carroll
(see all)