These seasoned air fryer potato wedges make a delicious snack (perfect for Sunday football eats) – but can also double as a side dish for dinner or a perfect pairing with eggs for breakfast. A homemade spice blend adds the perfect amount of seasoning (and a little spiciness, if desired) to this recipe!
Ingredients
This recipe is very simple – even if you're not comfortable with your culinary skills, you'll have no problem making it!
Here's what you'll need:
Potatoes – For potato wedges, we want a relatively starchy potato. Russet or white potatoes are my go-to choices; either work well in this recipe.
Olive oil – This helps add a bit of flavor and richness, and also helps the spices stick to the potatoes.
Spices – For this recipe, you'll use garlic powder, chili powder, salt, paprika, onion powder, and cayenne. The amount for the cayenne is flexible based on your preferences. You can leave it out all together if you don't want the recipe to be spicy, or you can up the amount if you like a lot of heat.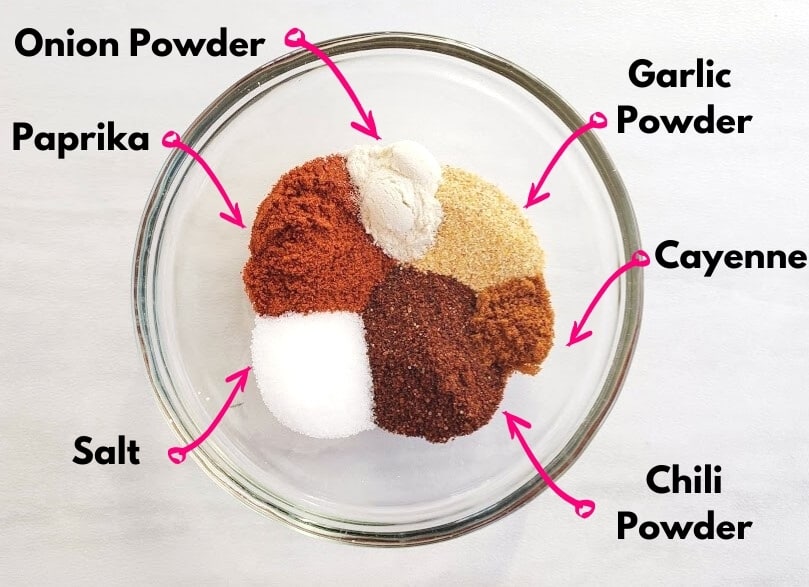 Instructions
To make these, you'll start by cutting your potatoes into wedges. The easiest way to do this is to just keep cutting lengthwise until they're the right size; usually this is about 8 wedges per potato.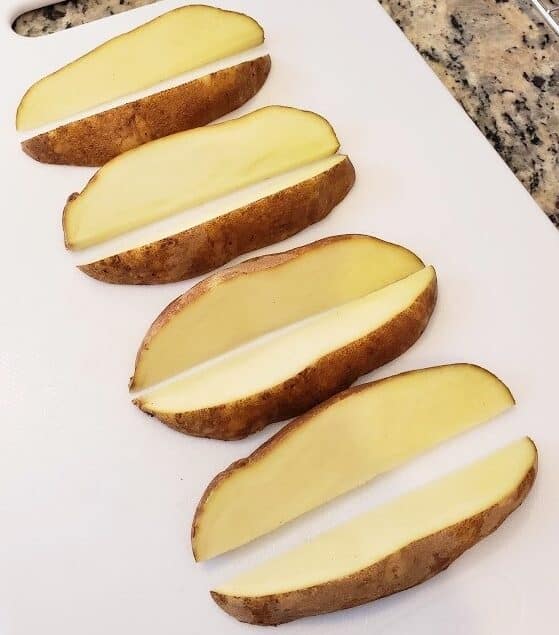 When I make standard baked potato wedges (i.e. not in the air fryer), I do use the trick of soaking the potatoes in cold water first, then drying them before tossing in oil and spices. Soaking helps release some of the starch, which allows the outside of the potato to crisp up better. However, because of the way the air fryer works with forced hot air – I find this unnecessary for these. They crisp up just fine sans soaking (yay for saving time)!
So once you've got your potatoes cut, you'll toss them in the oil and spices.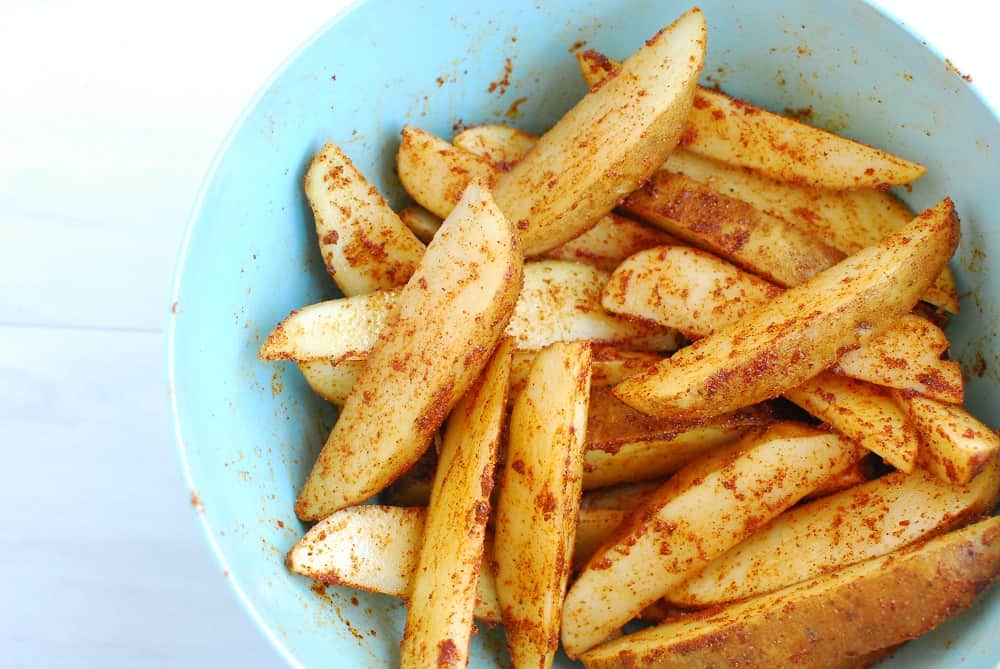 Last step is to air fry to perfection. Easy peasy!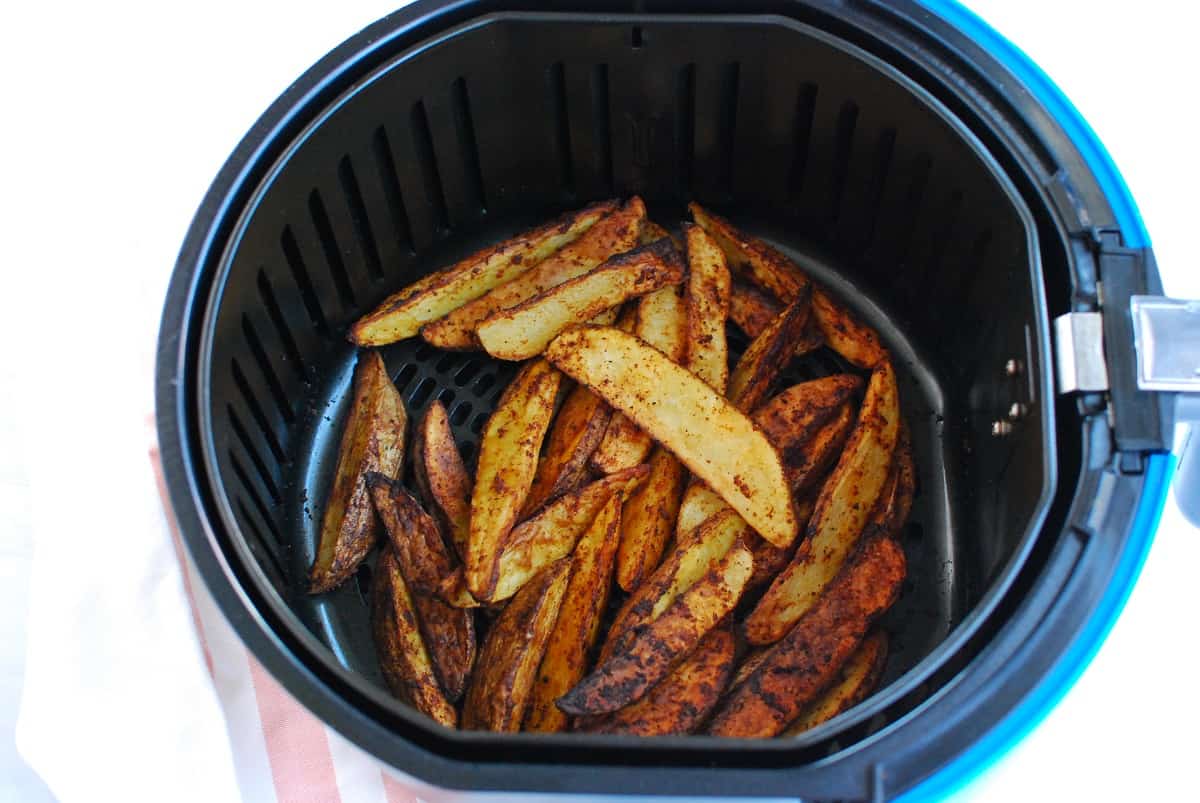 Recipe FAQ
Here are some common questions that may come up as you prepare this recipe:
Do you have to preheat your air fryer? Nope. I've never had an issue making these without preheating.
How should you store these? Store any leftovers in the refrigerator for up to 4 days. You can reheat in the microwave, air fryer, or oven. Note that reheating in the microwave is easiest but you'll lose the crispness on the outside.
Can you make air fryer potato wedges with no oil? You can, but they don't taste as good. 😉 The oil helps them crisp up best and also helps the spices stick. Plus, we use a very minimal one tablespoon of oil for the entire recipe.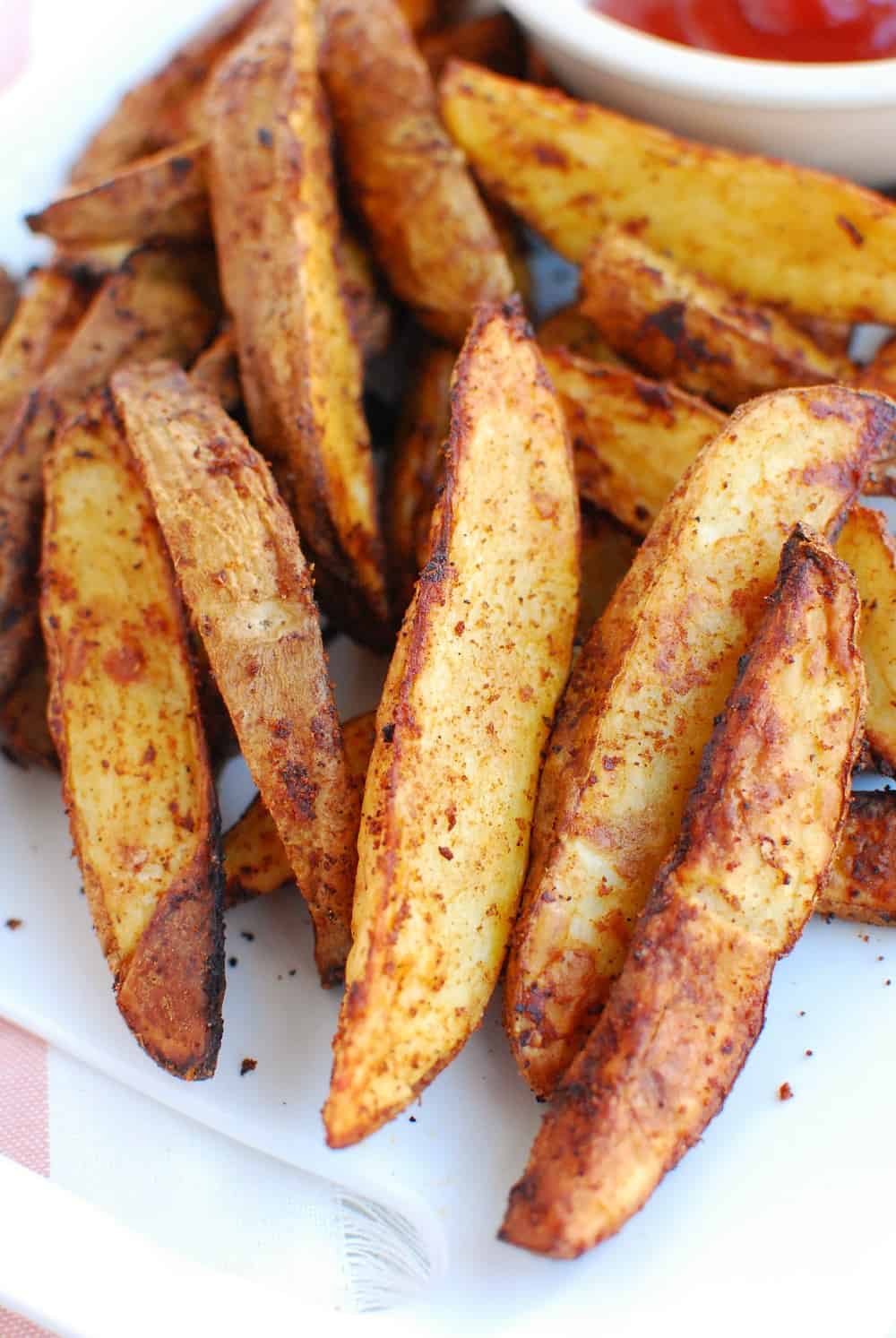 Nutrition Benefits
Some other recipes for potato wedges are traditionally fried, leading to high oil absorption. But since these are air fried with just olive oil and spices, they are actually a healthy side dish.
That's right y'all – potatoes are healthy. They've gotten a bad reputation over the last few years, but they have many redeeming qualities:
They've got fiber to support a healthy digestive system (and since we leave the skin on these, that helps increase the fiber).
Potatoes are an excellent source of potassium, which is key for heart and muscle contractions, as well as regulating blood pressure. Active folks also lose potassium in their sweat, so it's important to get enough in your daily diet.
They've also got Vitamin C – a fact that usually surprises people! One serving of these potato wedges packs in 37% of your daily Vitamin C needs, which is key for tissue health and immune support. (Plus, research has shown Vitamin C may be particularly important for athletes when it comes to cold prevention or duration).
Two words – healthy carbs. For active peeps, those healthy carbs are going to support your workouts (your muscles store carbohydrates to use for energy during intense exercise). And even if you're not active right now, it's still okay to eat carbs! Especially carbohydrates that contain other nutrients, like these potatoes.
If you're concerned about the glycemic index of potatoes (i.e how they affect blood sugar levels), here's a fun fact – cooling potatoes increases their resistant starch, which generally reduces the glycemic impact they have. So you could cook these ahead of time, cool them, then eat cold or reheat for a potentially lower impact on blood sugar (source).
How to Serve
Here are some ideas for how to serve these seasoned air fryer potato wedges:
Serve as-is on a platter with your favorite dipping sauce, like ketchup, garlic aioli, or ranch. These are great to snack on while watching a football game!
Pair these potatoes with scrambled eggs. Whenever I have leftovers of these potatoes, that's my go-to meal the next morning. Sometimes I'll add some avocado or sautéed greens in there too.
Whip up some of my black and blue breakfast burgers, and serve these potatoes as a side. This would be a great spread for a brunch with friends.
If you've got two air fryers (don't roll your eyes – I know some of you out there do, lol) – try making my air fryer beef roast and pairing it with these potato wedges. Add a side salad and you've got a pretty amazing dinner.
Try mixing the potato wedges with canned tuna, sautéed greens (like kale or spinach), a little olive oil, and some grainy mustard. This makes a great easy lunch option.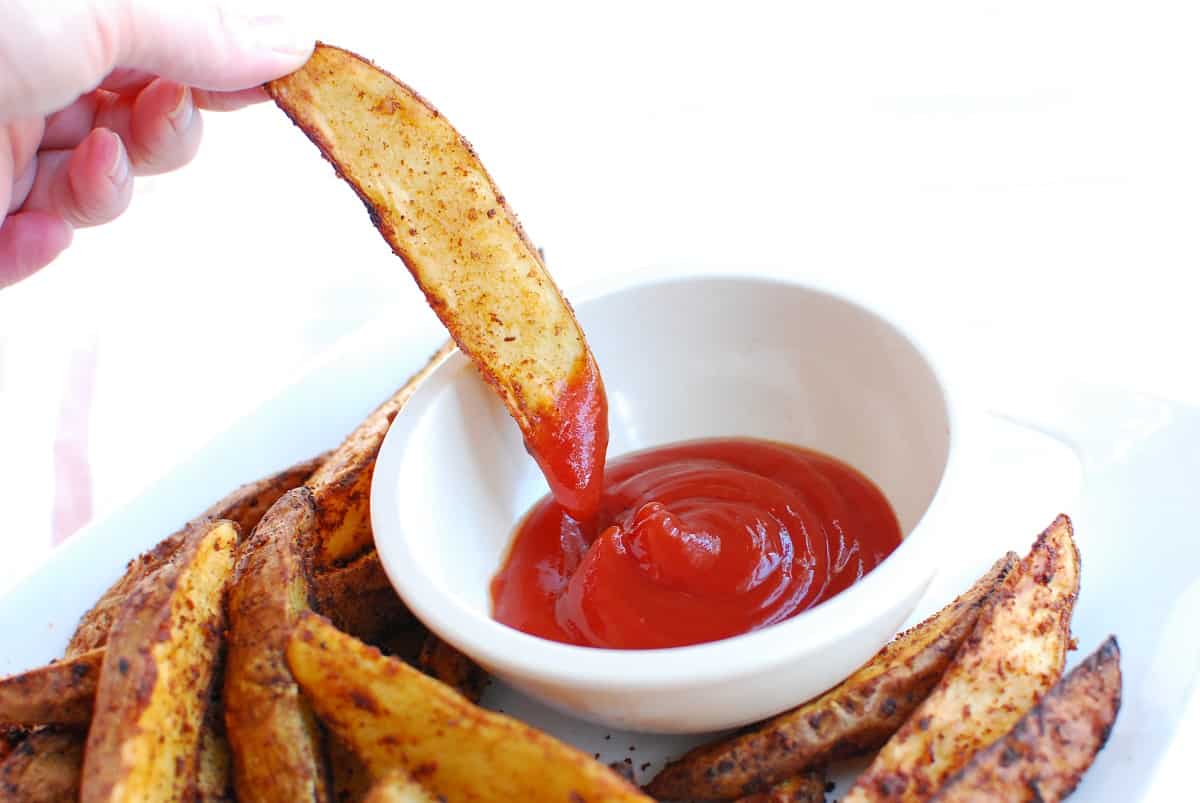 I hope you enjoy this recipe! If you get a chance to try it, please feel free to leave a recipe rating or comment below.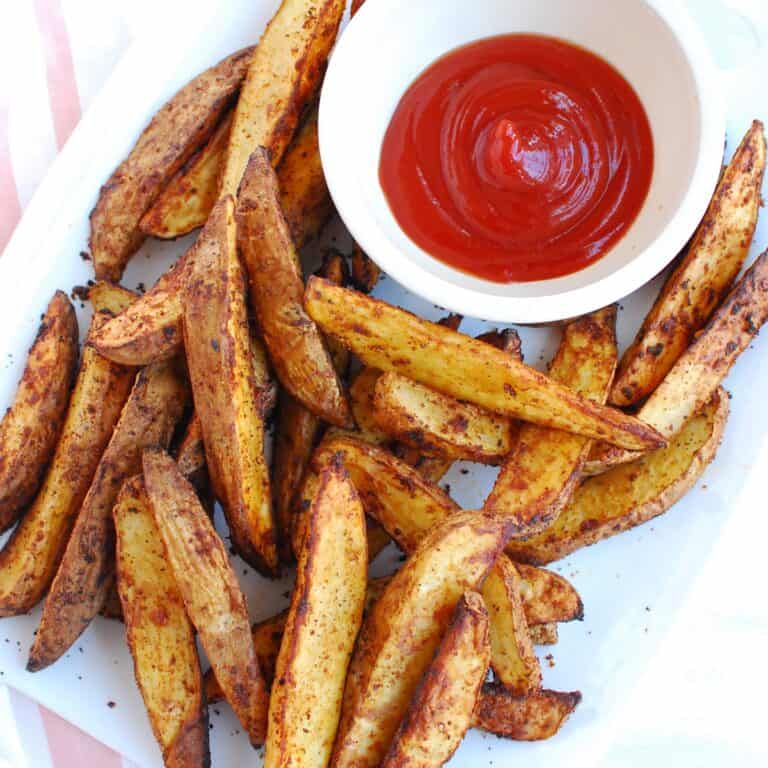 Seasoned Air Fryer Potato Wedges
These seasoned air fryer potato wedges cook up perfectly with a slightly crisp outside and tender interior!
Ingredients
1 1/2

lbs

potatoes

1

tsp

garlic powder

1

tsp

chili powder

1/2

tsp

salt

1/2

tsp

paprika

1/4

tsp

onion powder

1/8 to 1/4

tsp

cayenne pepper

(optional, depending on spice preference)

1

tbsp

olive oil
Instructions
Slice the potatoes into wedges. To do this, start by slicing each potato in half lengthwise. Then slice each piece lengthwise again, and then do the same thing once more to each remaining piece – this will give you 8 wedges from each potato. If any of the wedges look very large, just slice them in half again.

In a small bowl, combine all the spices – the garlic powder, chili powder, salt, paprika, onion powder, and cayenne.

Place the potato wedges in a large bowl. Drizzle the olive oil over them, then add the spice mixture. Toss well until all potatoes are coated fairly evenly.

Place the potatoes in your air fryer basket. Air fry at 400 degrees for 10 minutes.

Remove the basket and give it a few good shakes to flip them and mix them up.

Return to the air fryer at continue cooking at 400 for another 12-17 minutes, or until the potatoes are slightly crisp on the outside and soft and tender on the inside.

Let cool for a few minutes and enjoy!
Notes
I have a large air fryer and can easily accommodate this amount of potatoes in one batch. If working with a small air fryer, you may need to split into two batches.
Nutrition analysis (approximate per serving): 167 calories, 3.5 g fat, 0.5 g saturated fat, 325 mg sodium, 31 g carbohydrate, 4 g fiber, 1.5 g sugar, 4 g protein, Vitamin D: 0%, Calcium: 2%, Iron: 9%, Potassium: 16%, Vitamin C: 37%
Nutrition
Share: What's your favorite way to use potatoes? If you tried this recipe, what did you think?
Feel free to pin this post for later!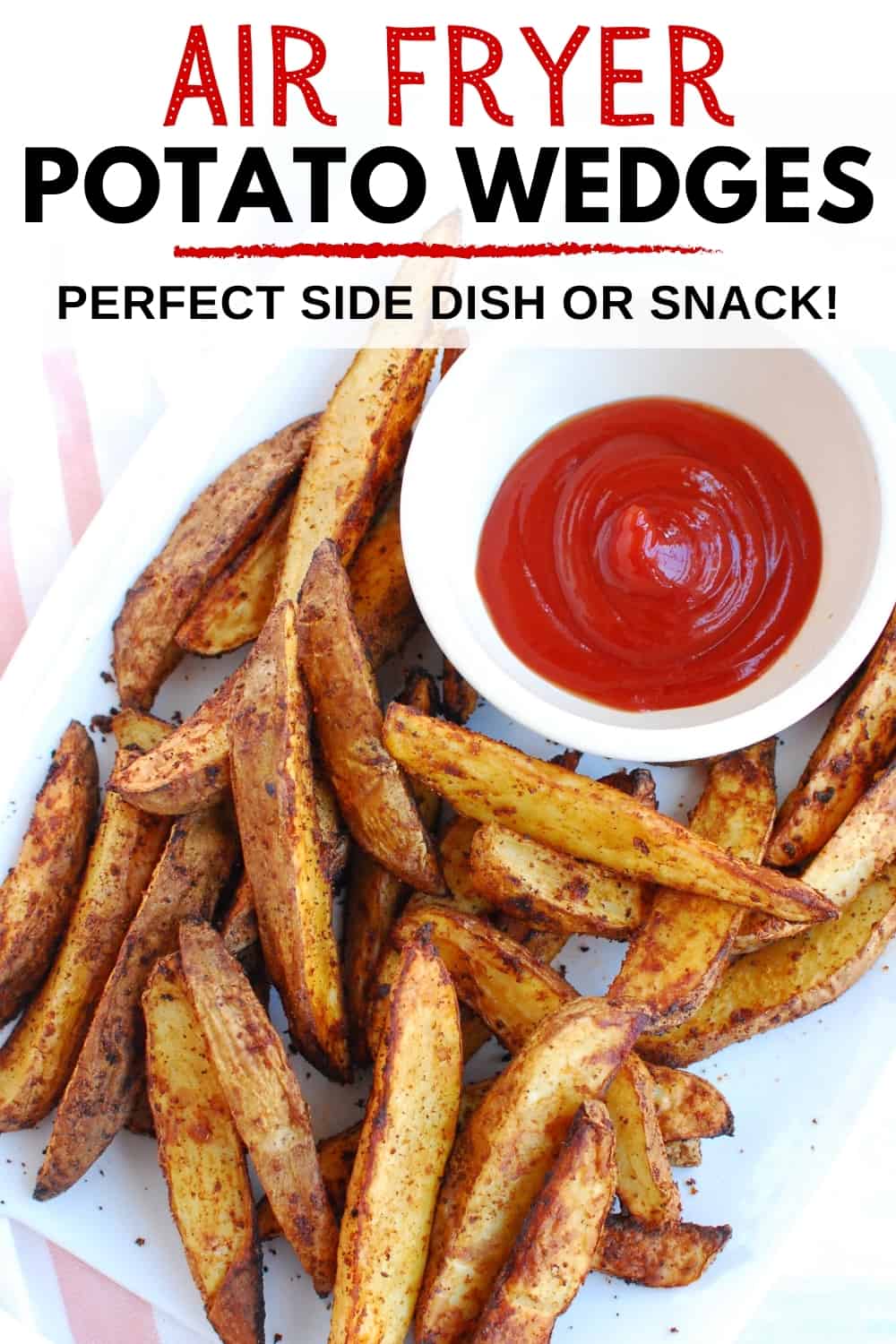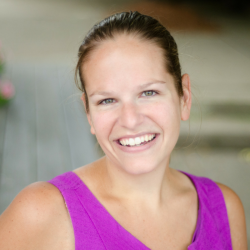 Latest posts by Chrissy Carroll
(see all)