Short on time, but looking for a balanced breakfast? Set aside a few minutes on the weekend to whip up these freezer-friendly meal prep breakfast sandwiches!
Disclosure: This is a sponsored blog post; while the views expressed here were genuinely mine, consideration was paid to me by Bays English Muffins to review this product.
I have fond memories of my mom making us English muffins for breakfast; the scent of that bread warming in the toaster; the warm melty butter all over it. I mean, can you say YUM?
These days I'm still an English muffin aficionado; you'll frequently find Bays English Muffins stocked in my fridge. But there's actually a lot more that you can do with English muffins outside of the usual buttery breakfast side dish.
Think of all possibilities – I mean, you could make…
(I always get a ton of great ideas from appetizers to dinners from Bays English Muffins Facebook Page, so definitely take a look there for inspiration).
And of course, you can also make these easy, freezer-friendly, meal prep breakfast sandwiches. Made with eggs, mushrooms, chives, and cheese, all loaded up on an English muffin, they are so tasty for an easy morning meal!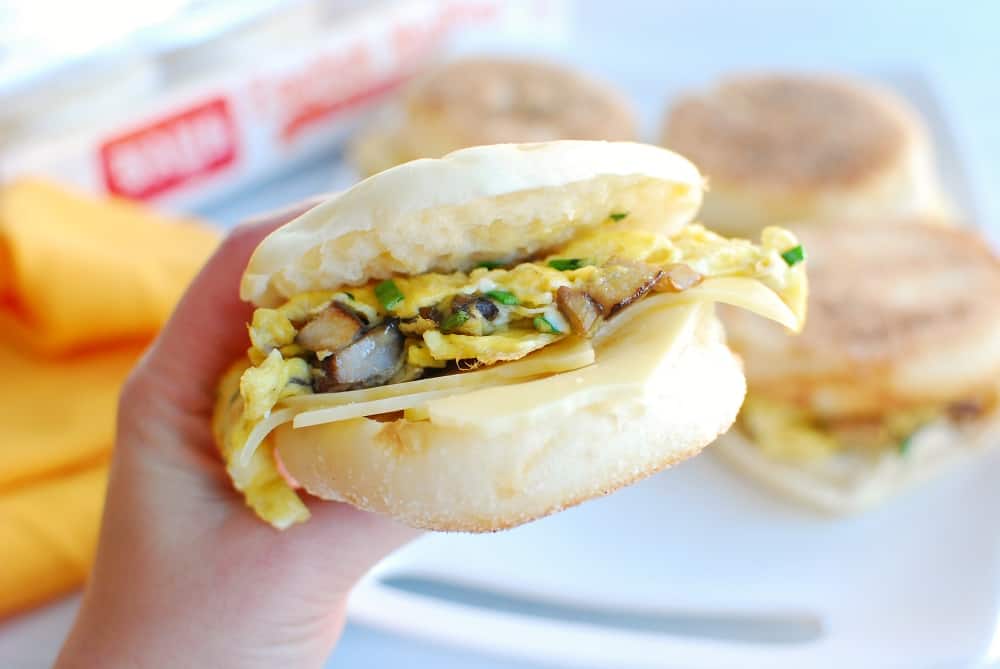 Why Make Meal Prep Breakfast Sandwiches?
I know y'all are probably as busy as I am. Many of you are juggling kids, work, household responsibilities, your fitness goals….and oh yeah, making sure everyone gets fed. Am I right?!
Meal prep dishes can be super convenient. The premise is simple: take some time on the weekend (or whatever day off you have) to make some meals ahead, and it'll lighten up stress during the week.
Not only does it make mealtimes easier, but it also makes it easier to stick with any nutrition goals you have. If you've got meals already made that fit your needs, you're less likely to turn to the snacky stuff when you're hungry.
Nutrition Info
These meal prep breakfast sandwiches clock in right around 400 calories – and have a great balance of energy-rich carbs, satiating fat, and muscle-supporting protein.
Most people get plenty of protein throughout the day, but fail to get a good amount at breakfast. Between the Bays English Muffin, the eggs, and the cheese, you've got just over 19 grams of protein in one sandwich.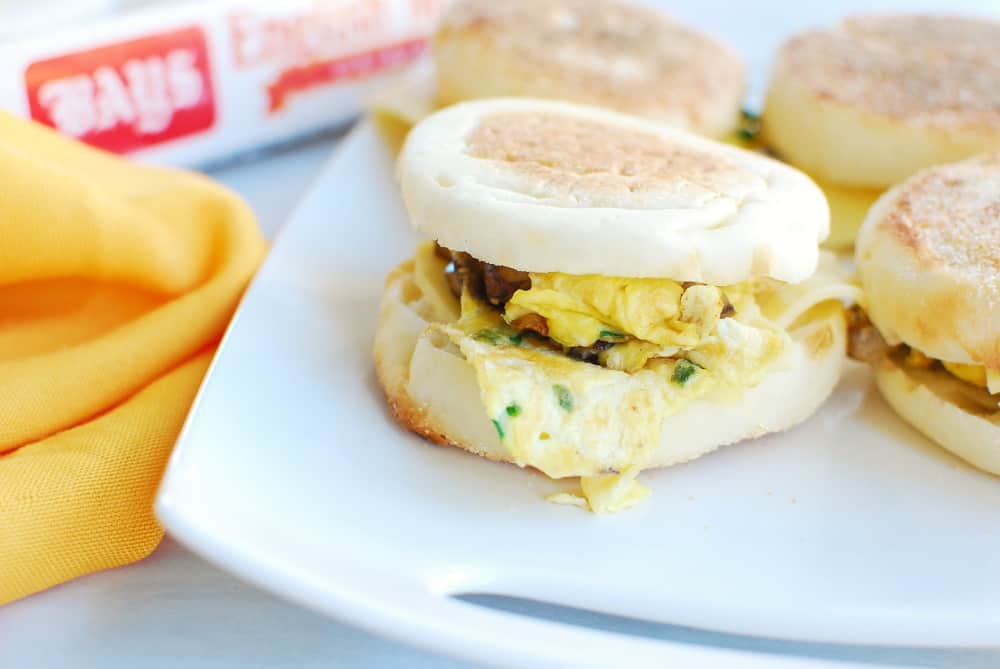 Breakfast Sandwich Recipe Tips
These sandwiches couldn't be any easier to make. You're just going to sauté up some mushrooms, scramble in some eggs and chives, and then pop it all on your English muffin. Easy peasy.
Seriously, check out this quick video that shows you just how easy it is to make them!
Now you can go ahead and eat them right after you make it, of course. You certainly don't have to save them for later.
But if you want to meal prep them ahead and freeze them, here are a few tips:
I recommend using Bays English Muffins for these sandwiches, because the quality holds up in the freezer really well.

Wrap up your sandwiches individually in plastic wrap, and then place 'em all in a gallon size freezer bag. This helps keep the quality better (less risk of freezer burn). It also helps hold everything together better (compared to just putting all of them in a big bag together where the filling might fall out or they might get stuck together).

When you're ready to eat one from the freezer, unwrap it completely and place it on a paper towel on a plate in the microwave. The paper towel will absorb any moisture as it heats up, and keeps the bottom from getting soggy.

Reheat in the microwave for 1-2 minutes. Start with one minute, and increase in 20 second intervals until everything is heated through. Doing it this way helps prevent it from overcooking when reheating.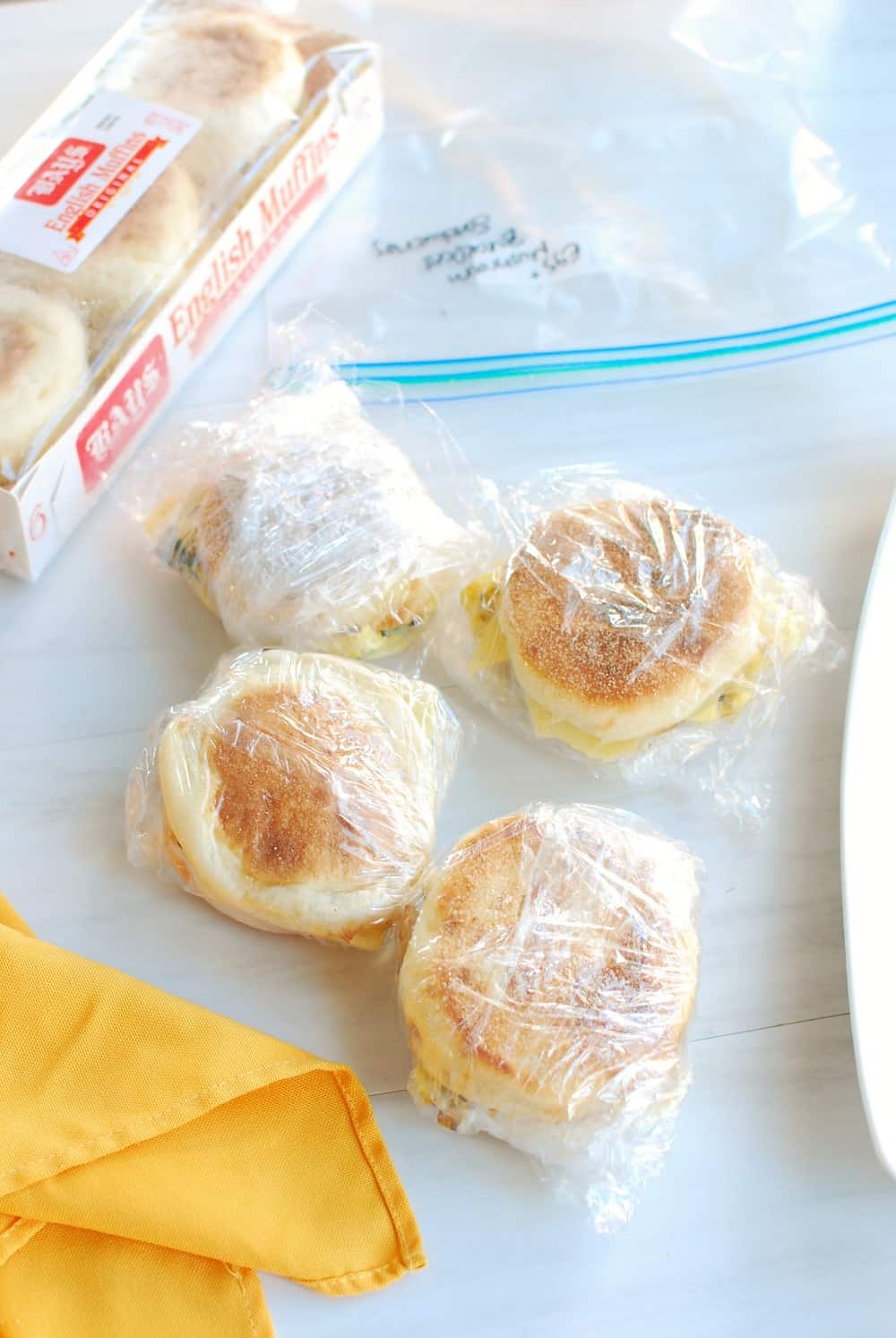 Where to Find Bays English Muffins
If you're looking for Bays English Muffins for this recipe, you can find them most major retailers. Up here in the Northeast, you can grab 'em at places like Stop & Shop, Shaw's, Price Chopper, and Roche Bros.
When you go to the store, skip over the regular bread section though. To keep these English muffins so fresh, they're actually kept refrigerated. You should be able to find them over by the dairy aisle, near the eggs and the milk.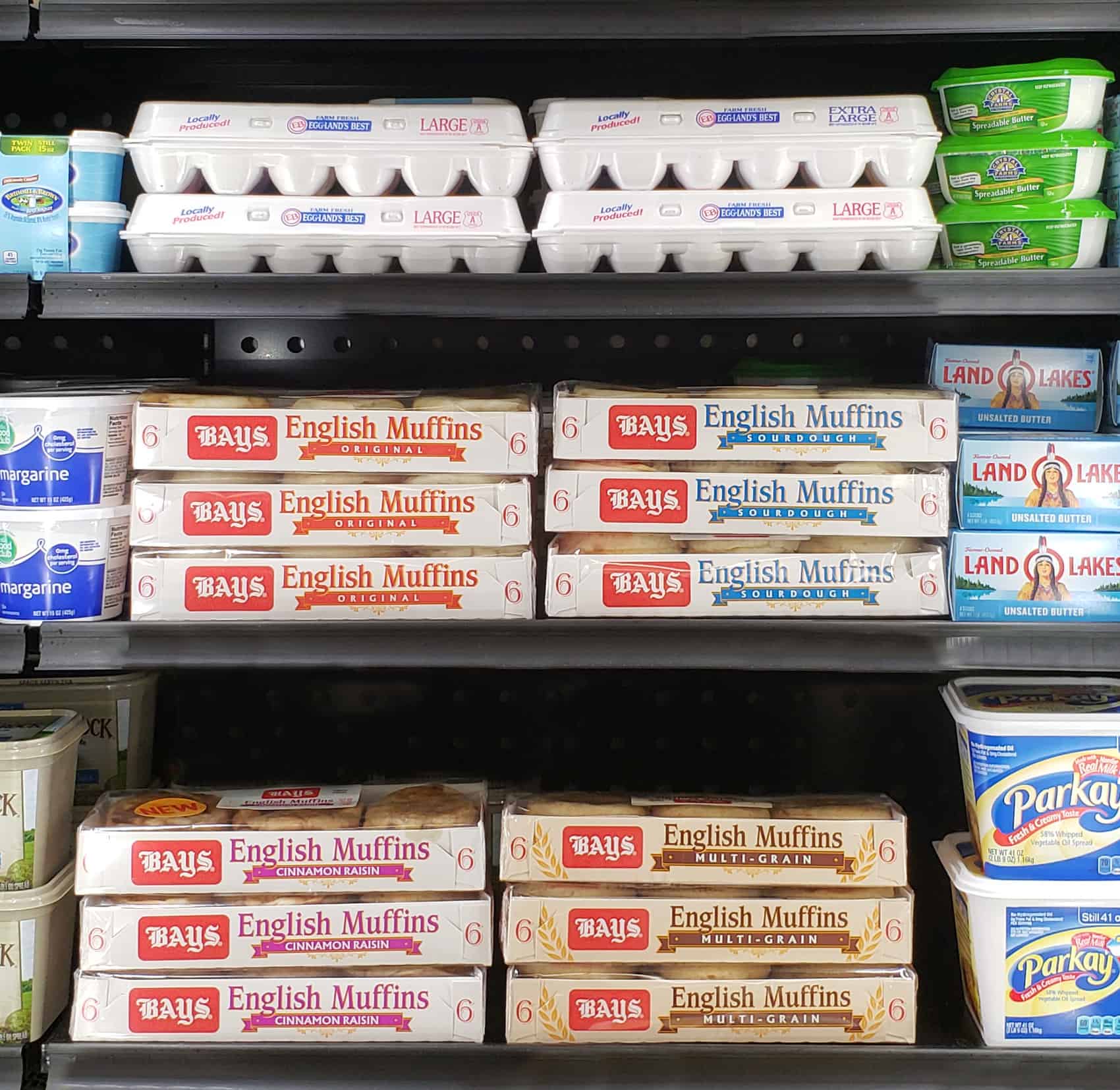 I hope you enjoy these egg, mushroom, & cheese meal prep breakfast sandwiches! Be sure to leave a recipe rating to let me know what you think. And don't forget to check out the Bays English Muffin website and Facebook page for more recipe inspiration.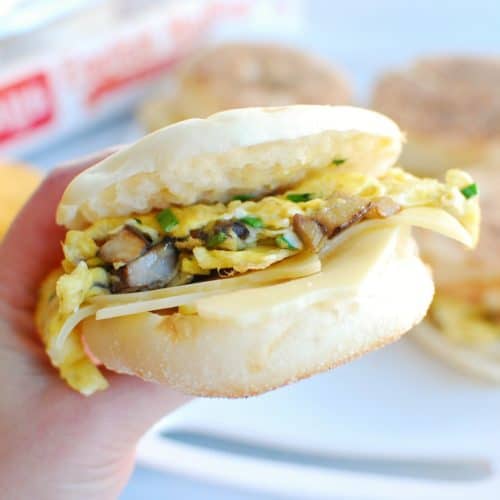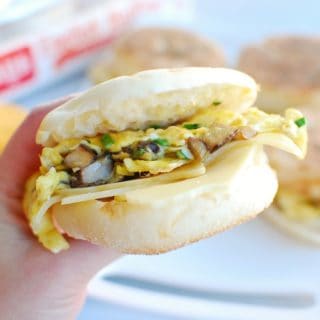 Freezer-Friendly Meal Prep Breakfast Sandwiches
These meal prep breakfast sandwiches are the best make ahead morning meal! Protein-rich eggs, savory swiss cheese, umami packed mushrooms – all on a delish English muffin.
Ingredients
3

tablespoons

butter, divided into 1 tbsp + 2 tbsp (optional)

divided into 1 tbsp + 2 tbsp (optional)

1

cup

chopped mushrooms

4

eggs, beaten

1

tablespoon

snipped chives

4

BAYS English Muffins, any variety, split

4

slices

Swiss cheese
Instructions
Heat medium skillet over medium heat; melt 1 tablespoon of the butter. Add mushrooms; cook 3 to 4 minutes or until almost tender, stirring occasionally.

Push mushrooms to side of skillet; add egg and chives. Cook 2 to 3 minutes or until egg is almost set, stirring occasionally. Blend with mushrooms; continue cooking until egg is set.

Toast English muffins; spread with remaining butter (toasting and butter are optional, but makes it taste so good!).

Top bottoms of muffins with egg mixture and cheese; cover with tops of muffins.

If enjoying now, go ahead and eat!

If meal prepping for later, wrap each sandwich in plastic wrap and then place all sandwiches in a gallon size freezer bag. To cook from frozen, unwrap and discard plastic wrap. Place on a paper-towel lined plate in the microwave for 1-2 minutes, or until heated through.
Notes
Notes:
If you'd like, you can substitute another cheese, like cheddar cheese, for swiss!
Nutrition Facts (approximate per sandwich):
399 calories, 23 g fat, 12.5 g sat fat, 716 mg sodium, 30 g carbohydrate, 1.5 g fiber, 3 g sugar, 19.5 g protein, Vitamin A: 15%, Vitamin C: 1%, Calcium: 31%, Iron: 14%
Nutrition
Share with me: Have you ever made meal prep breakfast sandwiches? What did you put in yours? If you tried this recipe, what did you think?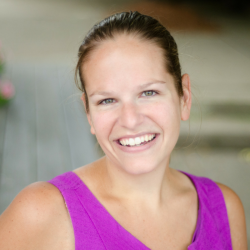 Latest posts by Chrissy Carroll
(see all)