The off-season may seem like it lasts forever for those of us Type A personalities that love getting ready for a race. But it gives runners much-needed time to recover from the stresses and pressures of a tough training season. It also provides an opportunity to take care of any injuries, work on full-body fitness, and achieve a little balance with other priorities in your live. Here are seven off-season training tips for runners that will have you feeling great once you reach the start of your season!
Note: This post was originally published in June 2019 and has been updated in September 2021.
Disclaimer: This post was written and reviewed by Chrissy Carroll, RRCA Running Coach and USAT Level I Triathlon Coach. The information is for informational purposes only and does not constitute individual training advise.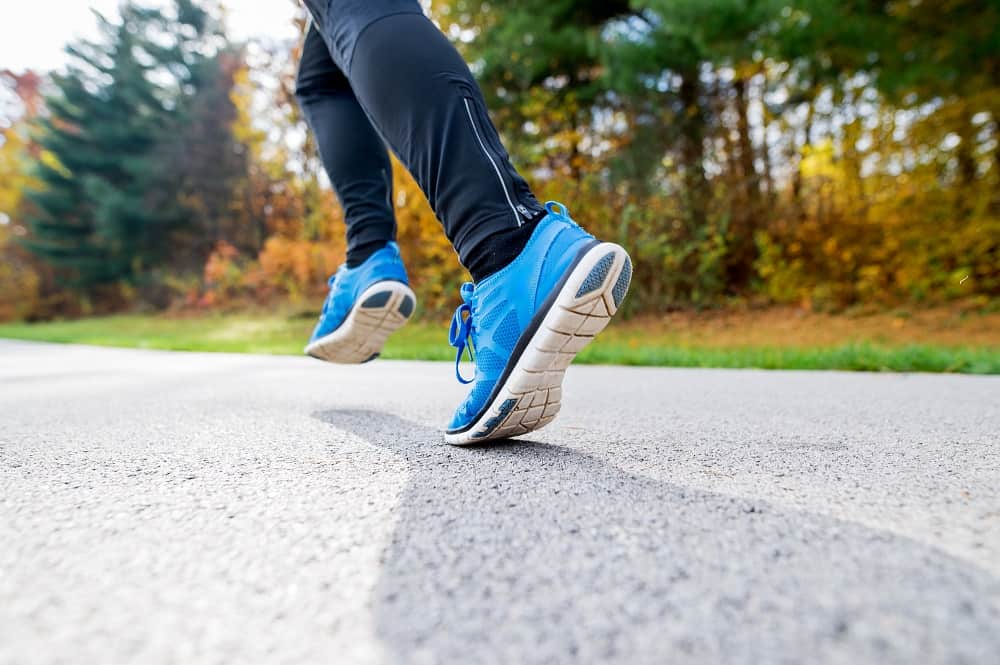 1. Take a little break.
When you transition from your last major race of the season into your off-season, take a little time off from running completely if that's what your body is craving. A week or two (or even more!) of relaxation and light movement may help you feel refreshed and rejuvenated.
2. Try something new.
During the in-season, runners are generally guided by the Rule of Specificity. In other words, you want to train specifically for the goal that you have. That means the large majority of workouts that a runner will do are – of course – runs.
You're probably not going to start taking acro-yoga a few times a week while getting ready for a big race, because a) fitting in that many extra workouts can be challenging, and b) a brand new unique activity could increase injury risk. (Of course, regular 'ol cross-training is certainly beneficial, but we're referring to a high level of activity in another discipline).
But in the off-season, you have more time and flexibility since you're not training for a specific race goal. That means you can be a little more experimental and creative with your off-season workouts. Try out some new activities to mix up the workout routine, such as cycling, kickboxing or – yes – even acro-yoga!
3. Switch up your runs.
Similarly to what was mentioned above about training specificity – you also see this by the types of runs reflecting your race day distance. 
For example, as you're getting closer to a big 10K event, you're likely doing some speed workouts to help you approximate race-day pace.
Similarly, if you are preparing for a long race, a lot of your training plan will focus on building endurance, like the weekly long runs that you would see in a marathon training plan.
If there's no race on the calendar for a few months, off-season gives you the time to try a new type of running workout. Maybe you've always been built for speed and want to try your hand at a few long, leisurely trail runs. Or maybe you've done mostly slow, comfortable paced runs – and want to test out a few fartlek workouts.
How does this play out on a weekly basis for most runners in the off-season?
For many recreational runners, the off-season will be a time of maintaining a comfortable base without much focus on speed. Usually, you might find yourself with a few easy runs each week and one longer (1-1.5 hour) conversational run on the weekend.
But again, this can and should be individualized, and some athletes do enjoy a little bit of the reverse, where there are some fun-focused (and not necessarily performance-focused) speed workouts done in the off-season.
The key is to keep the overall training intensity and load at a very reasonable level.
4. Focus on full body strength & conditioning.
The off-season is an ideal time to work toward achieving overall functional fitness and strengthening muscles.
During the peak of training, it can be difficult to fit in a solid 2-3 strength training sessions per week. But if you can swing 3 sessions in the off-season, did you know that you can help maintain those strength gains with just 1-2 sessions during your later trainings?
Plus, strength training is essential for injury prevention. For example, strengthening the frequently-weak muscles in the glutes, hips, and core can help you to maintain better pelvic alignment and overall running form during your run, thus reducing the risk of injury.
Using the off-season to focus on strength also gives you the ability to target the upper body (which sadly often gets ignored during the in-season for many people). Push-up challenge, anyone?!
(Feel free to check out our posts on resistance exercises for runners and beginner bodyweight exercises, both of which are great places to start if you are new to strength training.)
5. Find balance with other activities & goals.
In addition to being clear about your off-season fitness focus (e.g., increasing strength conditioning; building a better aerobic base), also consider setting up some goals related to life outside of running – whether they be personal or professional.
Do you want to read one new book each month? Sign up for an art class at night? Try out a few meditation practices every day before lunchtime?
Use this time away from a goal race as a tool for finding balance in your life.
(This self-care checklist is a great place to start if you're looking for some ideas to incorporate).
6. Keep an active lifestyle.
Some athletes end up so worn out by a heavy training cycle where they're trying to achieve the perfect time in a race, that they just want to veg out on the couch for a few months during the off-season.
But off-season doesn't mean that you should curl up and hibernate until your next race day. Staying active off-season can actually help you to stay motivated, feel energized, maintain aerobic fitness, and leave you more prepared for your next training cycle.
Incorporate off-season workouts like these that will help you stay active but don't feel stressful or overwhelming:
Runs without a physical goal attached – like a fun run with your kiddo, or a trail run to enjoy nature
Cycling
Yoga
Fitness classes
Walking (So underrated and such an excellent option! Check out this 30 day walking challenge for a fun, low-pressure way to move).
Jump roping
Taking a salsa or swing dance class with your significant other
Ice skating
Skiing
Snowshoeing
7. Focus on injury rehabilitation
While just about any coach would advise runners to not compete while injured (if the injury affects their stride), the reality is that some athletes decide to do so anyway. If that's you, no judgement – but please take the time to properly care for your body now!
Check in with your doctor about that nagging knee pain. See your physical therapist to finally address the hip instability. Get a good plan in place for how to fix these issues over the next few months, before you start training regularly again.
With proper time off and physical therapy, you maximize your chances of reducing future injury risk – and ensuring the best performance in future races.
Final Thoughts
As you can see, there's no hard-and-fast rule for what the off-season must look like for runners! For most athletes, though, pulling back on intense runs, continuing to maintain an aerobic base, building strength, and testing new activities are great options for a balanced few months. This should help you arrive at the start of your next training plan refreshed and ready to run!
Share: What are your off-season training tips for runners?
Feel free to pin this post to refer to later!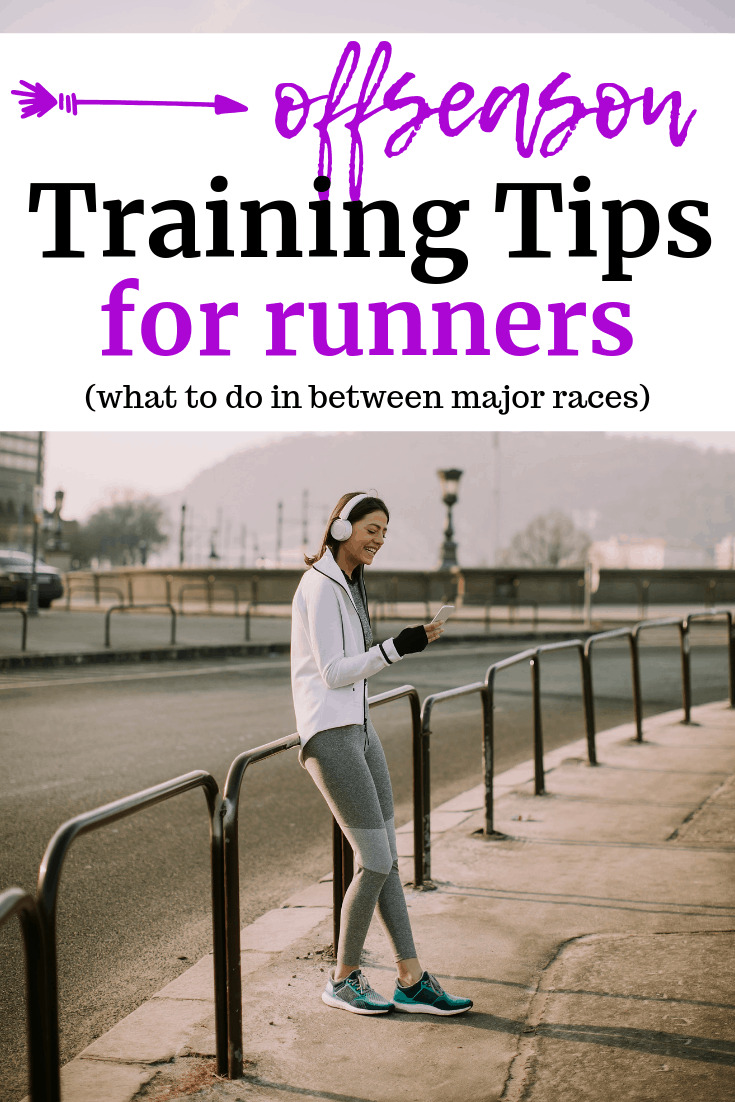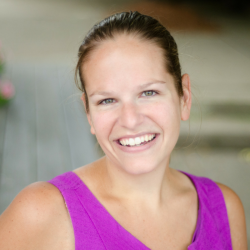 Latest posts by Chrissy Carroll
(see all)