If you need an easy side dish, try this recipe for roasted chioggia beets! Roasting beets brings out their natural sweetness, and turns them tender and delicious. These beets pair well with any main course, like chicken or steak, or you can add your roasted beets to a hearty salad. Plus, beets are great for helping active women fuel their fitness!
What are Chioggia beets?
Chioggia beets are an heirloom variety of beets that have concentric rings of white and red or pink when sliced. Because of the way they look when sliced, they're sometimes called candy cane beets, candy striped beets, or bulls eye beets.
They're named from their origins in Chioggia, Italy, a small town south of Venice.
These beets are some of my favorite to work with. In addition to their fun appearance, they're also a bit sweeter than conventional beets (though still definitely has the classic earthy undertones). Roasting them brings out their natural sweetness even more!
As a bonus, they don't bleed as much as regular beets, so there's less mess when chopping 'em up.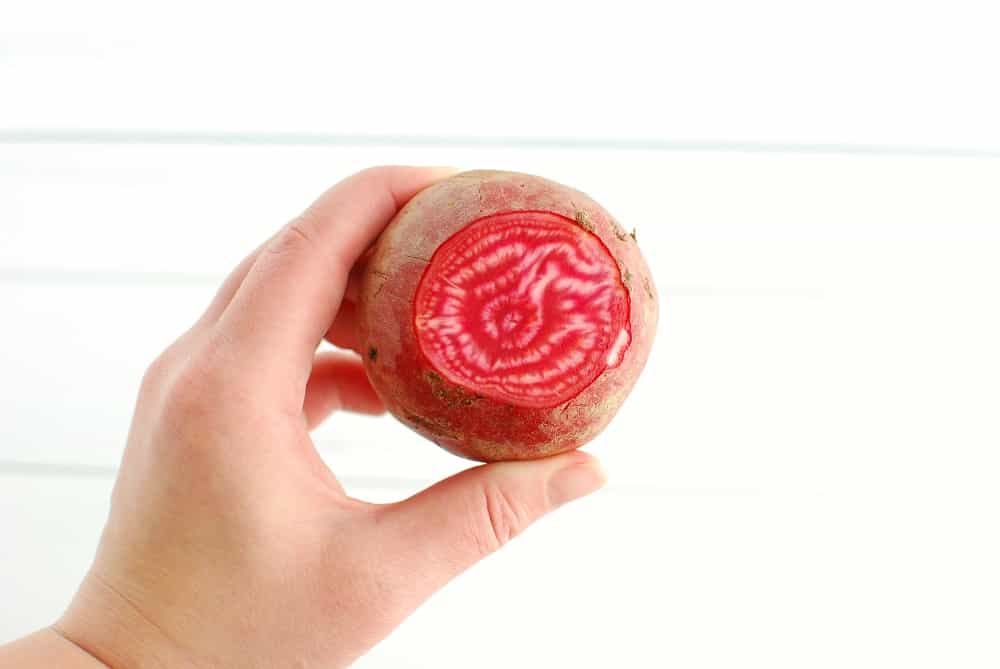 Step by Step Instructions
To make this dish, you only need a few simple ingredients. (You'll find full recipe amounts and instructions in the recipe card at the bottom of the post, but here's a helpful overview).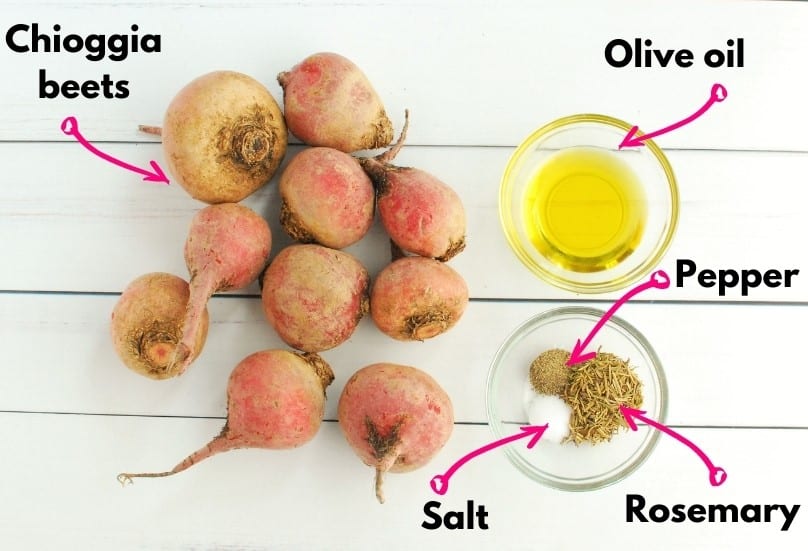 Chioggia beets
Olive oil
Seasonings – salt, pepper, rosemary
You're going to start by preparing your beets. Wash them to thoroughly to remove any dirt (using a vegetable brush is helpful for this). You don't have to peel them – the skin on the beets is thin and hardly noticeable once roasted.
Then, cut off both ends of the beet with a sharp knife. You want to chop your beets into ½-inch chunks. The easiest way I've found to do this is by slicing the beet in half lengthwise, then slicing each of those into half-moon shapes.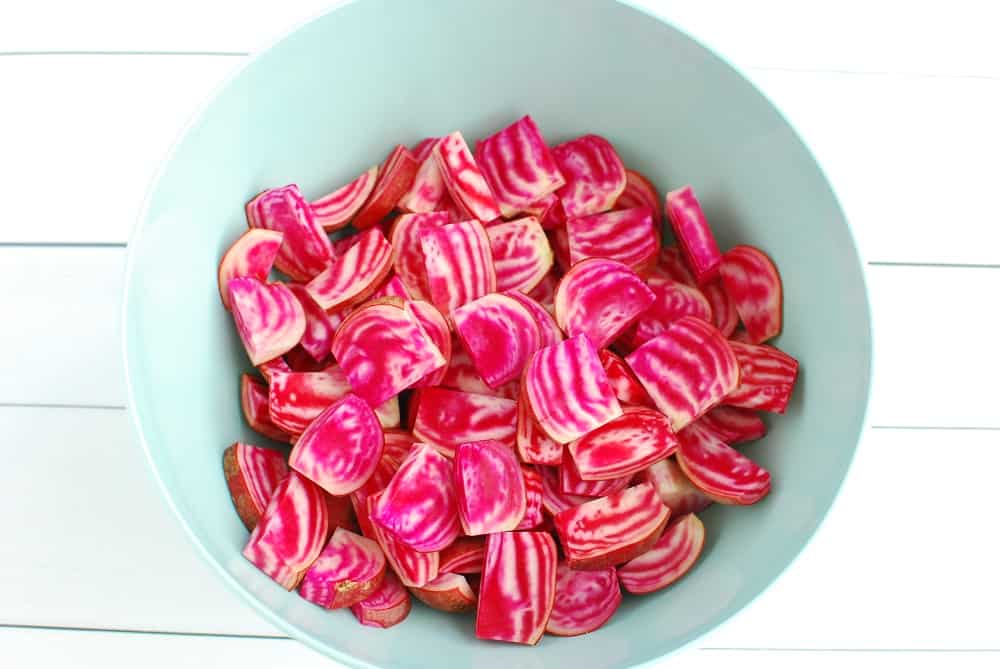 From there, toss the beets with your olive oil and seasonings. Be sure to toss well so everything is evenly coated in oil and spices, like this: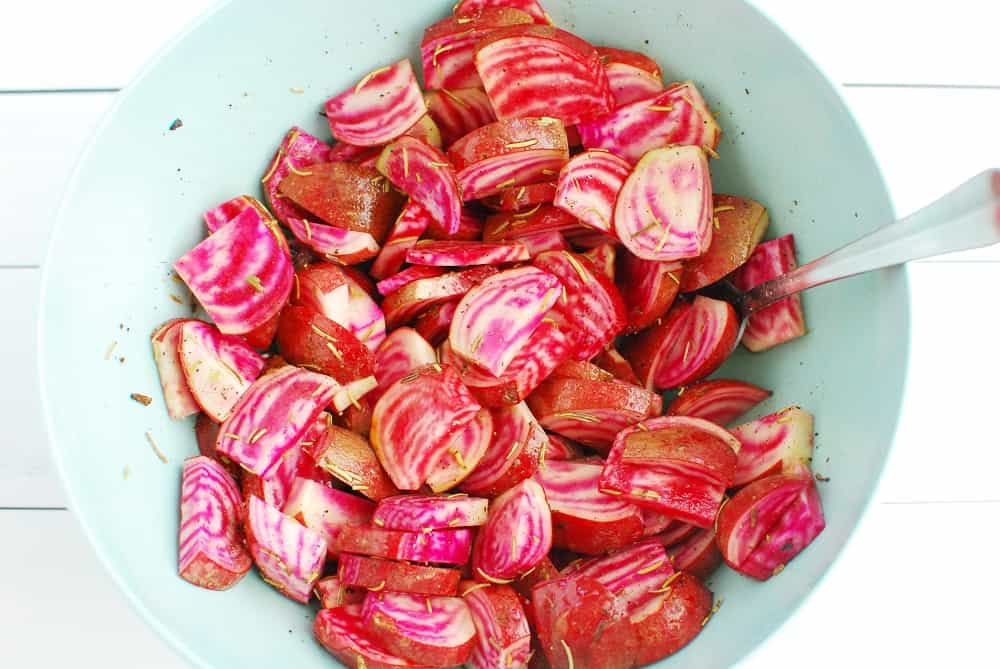 Next, spread them on a baking sheet in a single layer. Go ahead and roast those for about 35-40 minutes, and they'll be tender, sweet, and delicious. Note that the color changes a bit as they roast; they'll become a light golden color with more muted stripes – this is normal! They'll look like this when they're done: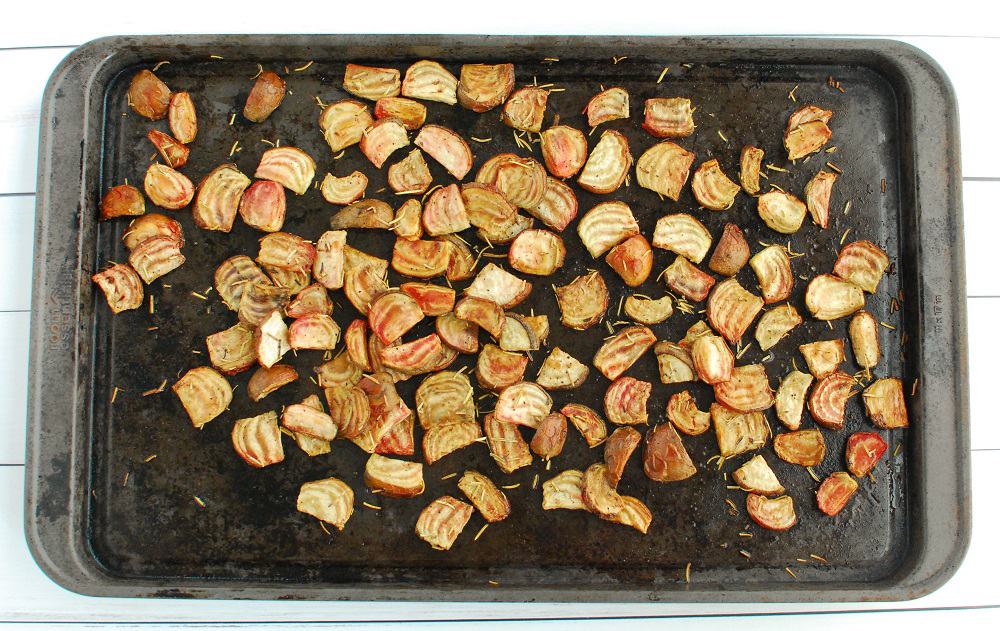 Recipe FAQ
As you prepare these roasted chioggia beets, here are some common questions that may arise:
How should I store roasted chioggia beets? Store them in a food storage container in the fridge for up to 4-5 days. When ready to eat, just reheat in the microwave.
Why are my beets not as tender? There are two common reasons this can happen. The first is if the beets are cut into larger chunks – in this case, they'll need more cooking time to soften. The second is if your oven temperature runs a bit low. Just let them cook for an extra 5-10 minutes, and this will likely solve the problem.
What can I do with the beet greens? If your beets came with greens, don't toss 'em! You can add beet greens to a smoothie, or cut them up and add them with other greens to a salad. Or sauté them – roughly chop the leaves then toss 'em in a pan with some olive oil along with salt, pepper, and garlic. When they start to wilt (about 5-8 minutes), pull them off heat and serve as a side dish.
Nutrition Benefits
Beets are one of my favorite foods to recommend to active women!
Beets are rich in dietary nitrates, which are converted to nitric oxide in the body. Nitric oxide is involved in the regulation of blood flow, which may impact exercise performance.
For example, a systematic review in Nutrients concluded that supplementation with beetroot juice can increase exercise efficiency, improve time to exhaustion at submaximal intensity, and improve performance.
Now of course, beet juice is a far more concentrated source of these nitrates, so we can't compare the two exactly. But eating beets regularly may have some benefits for athletes too.
Because of it's involvement with blood flow, research has postulated that regular dietary nitrates from veggies like beets and greens may help with blood pressure control and cardiovascular health.
In addition, beets also contain betalains, which are plant pigments that have been found to be protective against oxidative stress and inflammation.
Serving suggestions
Not sure what to do with these beets? Try one of these ideas:
I hope you enjoy this easy recipe! If you get a chance to try it, I'd love for you to leave a recipe rating or comment below.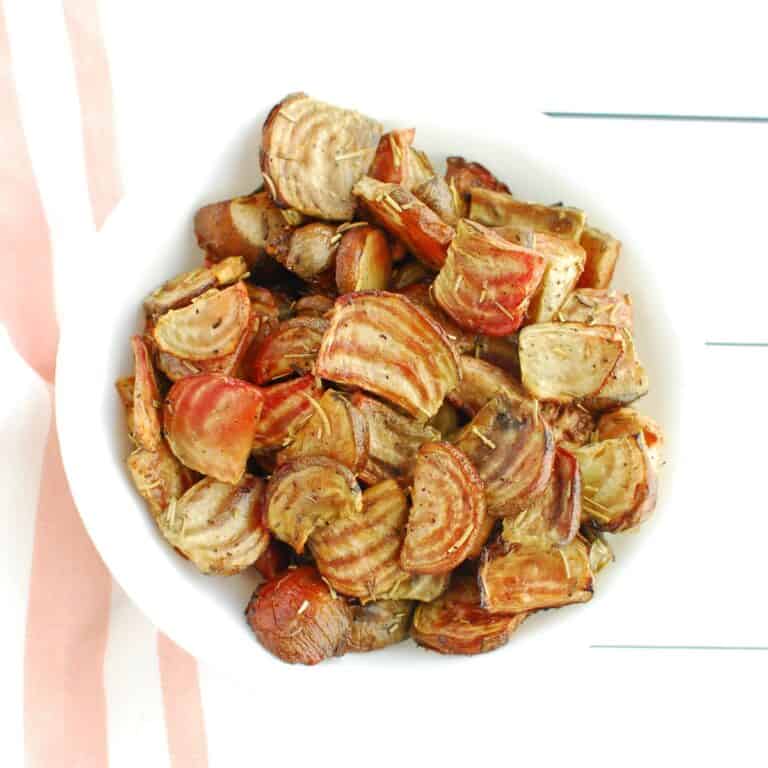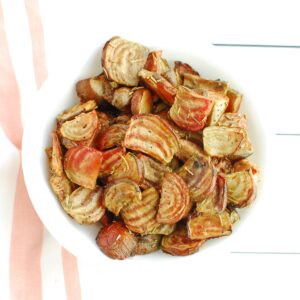 Roasted Chioggia Beets
These roasted chioggia beets are naturally sweet and make a great healthy side dish.
Ingredients
1 ½

lbs

Chioggia beets, chopped into ½-inch thick pieces

1

tbsp

olive oil

¼

tsp

salt

¼

tsp

pepper

2

tsp

dried rosemary
Instructions
Preheat the oven to 375 degrees F.

In a large bowl, add the chopped beets, olive oil, salt, pepper, and rosemary. Toss everything well to evenly coat the beets in the oil and seasonings.

Pour the beets onto a baking sheet and spread to a single layer. Bake at 375 degrees F for 35-40 minutes, stirring once halfway through, until the beets are tender. Enjoy!
Notes
You don't need to peel the beets; the skin is edible and hardly noticeable after roasting. Just scrub them well with a vegetable brush under running water prior to chopping.
Nutrition analysis (approximate per serving): 105 calories, 4 g fat, 0.5 g saturated fat, 280 mg sodium, 16.5 g carbohydrate, 5 g fiber, 11.5 g sugar, 3 g protein, Vitamin D: 0%, Calcium: 3%, Iron: 9%, Potassium: 12%
Nutrition
Share: What's your favorite kind of roasted veggie? If you tried this recipe, what did you think?
Please pin this post to share with others!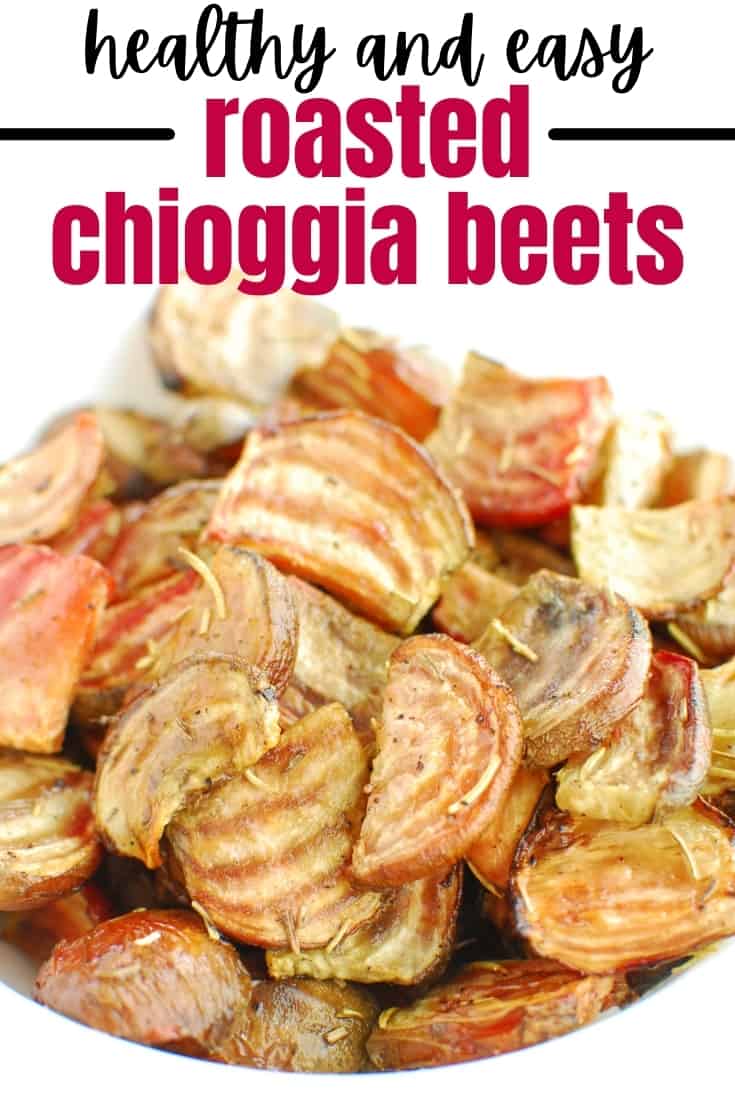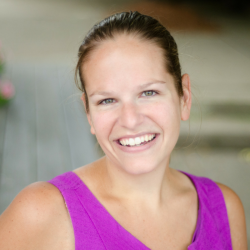 Latest posts by Chrissy Carroll
(see all)