If you've got some extra blueberries on hand, why not try creating your own homemade blueberry chia jam? This healthy spread is packed with antioxidants, provides gut-friendly fiber, and has less added sugar than traditional grocery store jams. It's the perfect addition to your morning toast, yogurt parfait, or oatmeal.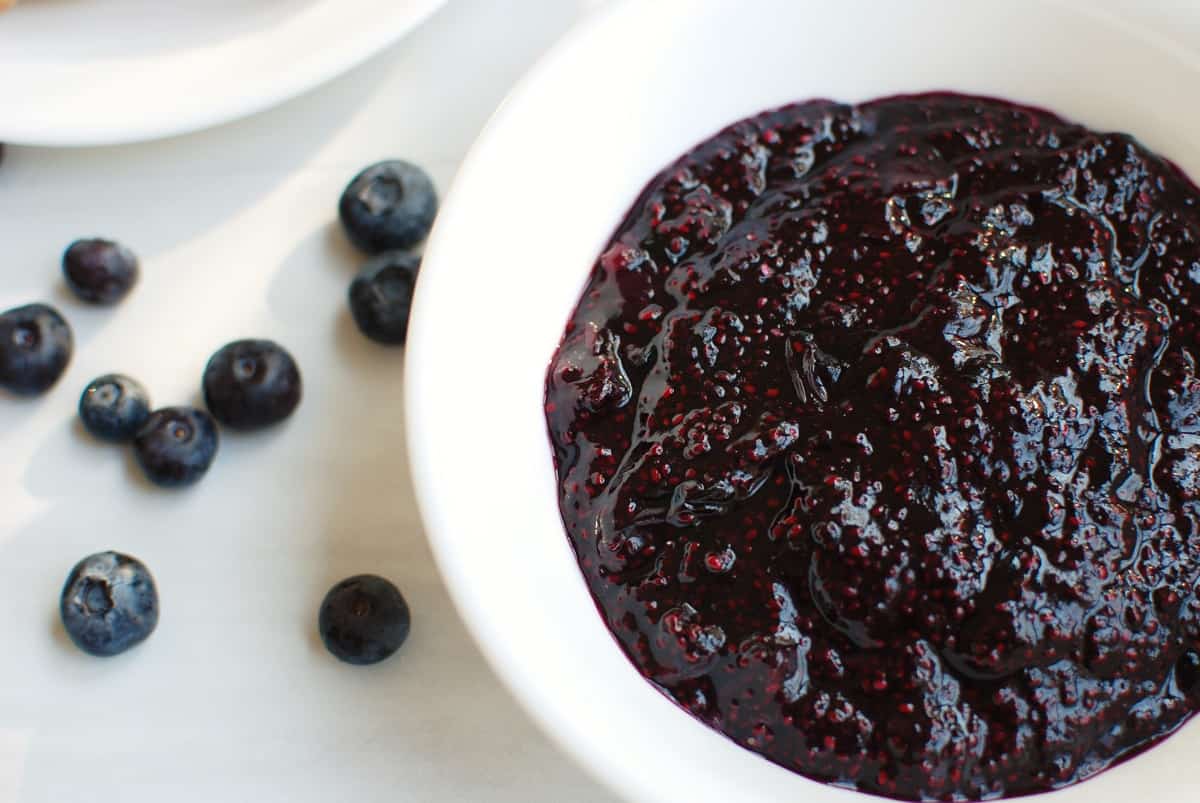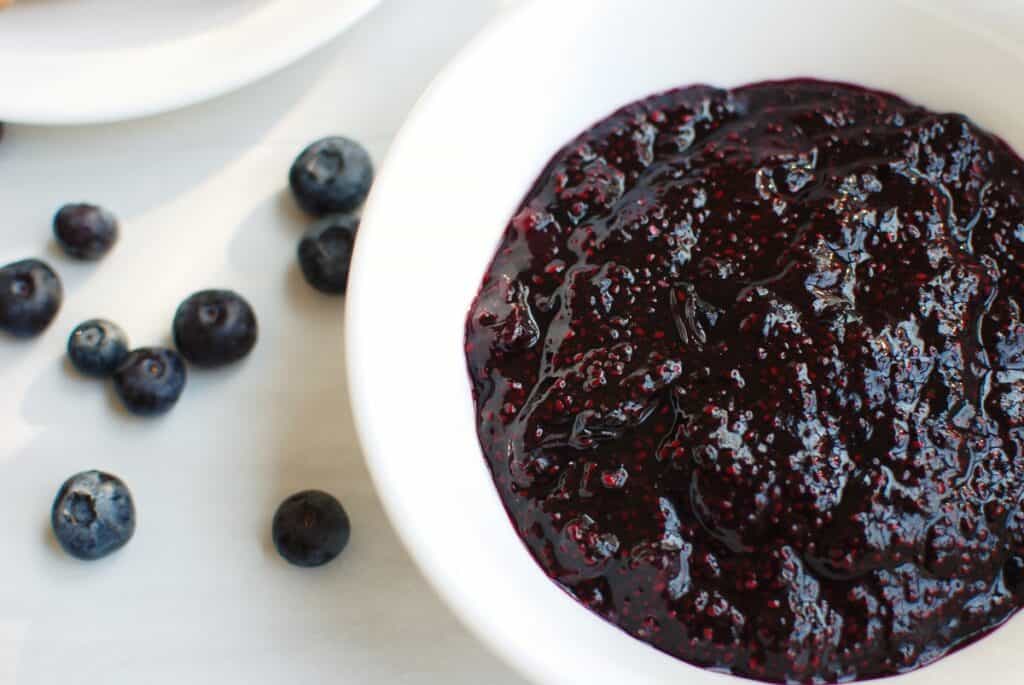 Ingredients
Here's a photo of everything you'll need to make this recipe, along with ingredient notes:
Blueberries: You can use fresh or frozen blueberries for this recipe. If using frozen, there's no need to thaw them before getting started. You can also choose between wild blueberries and conventional blueberries. Wild blueberries are a bit smaller and higher in antioxidants, but conventional blueberries are often cheaper and easier to find.
Maple syrup: I love using pure maple syrup as a sweetener, but you can feel free to use honey or even regular white sugar for this recipe. While most traditional jams pack in a ton of added sugar, this recipe uses just one tablespoon for the whole batch, letting the fruit's natural sweetness shine.
Chia seeds: Chia seeds are a nutritional powerhouse (rich in fiber and omega-3 fatty acids) and can be found in most grocery stores these days. They absorb fluid, which helps create the jammy texture in this recipe when mixed with the mashed blueberries.
Step by Step Instructions
You'll find the full recipe ingredients and instructions in the recipe card below, but here's a helpful overview with photos.
Start by placing your blueberries and maple syrup in a medium pot.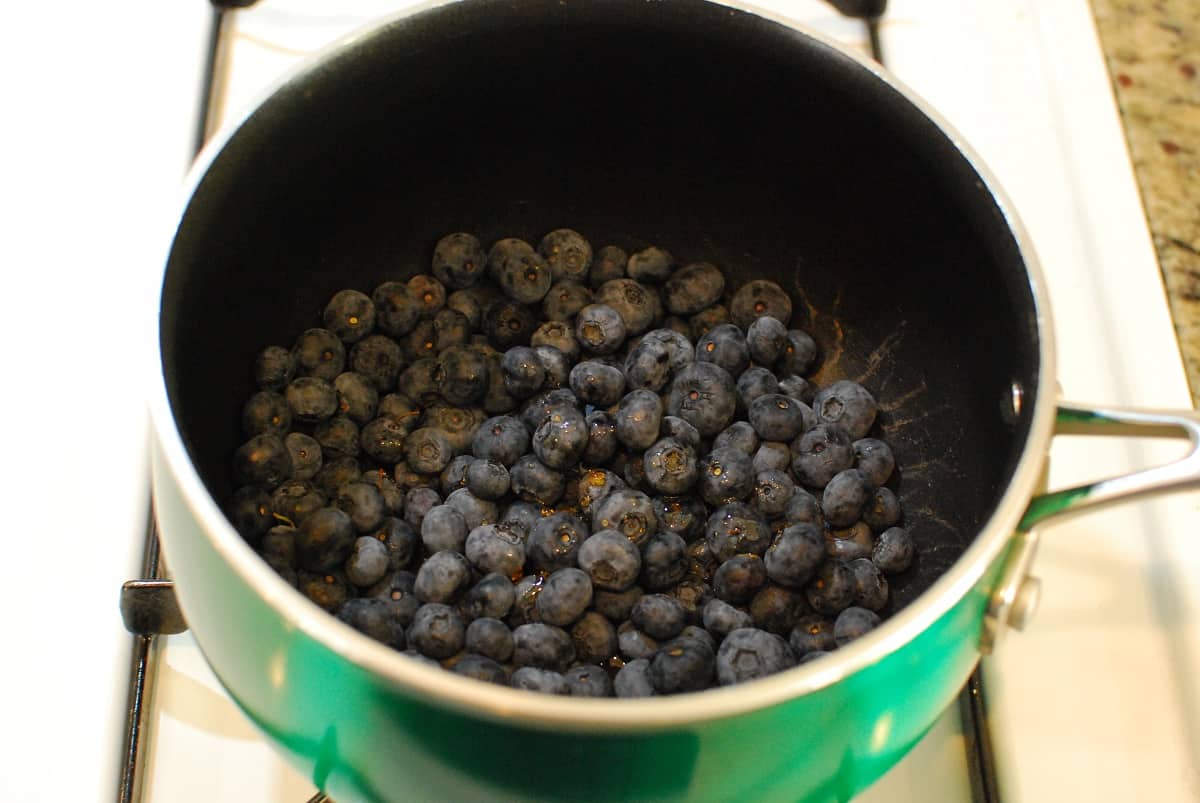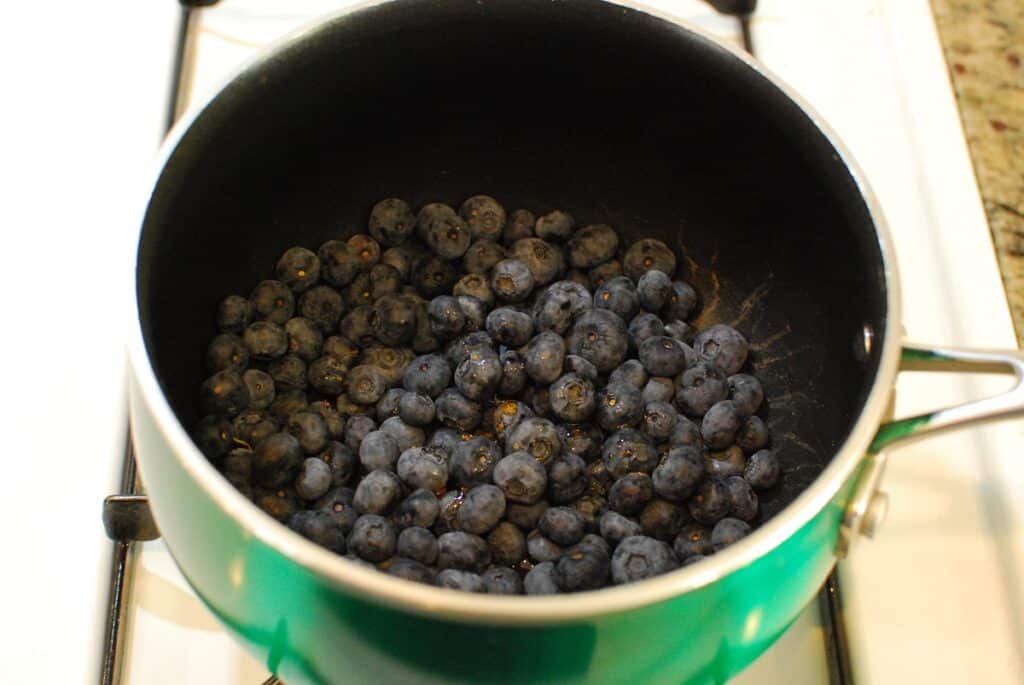 Cook that over medium heat for 5 minutes. You'll notice the blueberries will start to soften and glisten a bit, like this: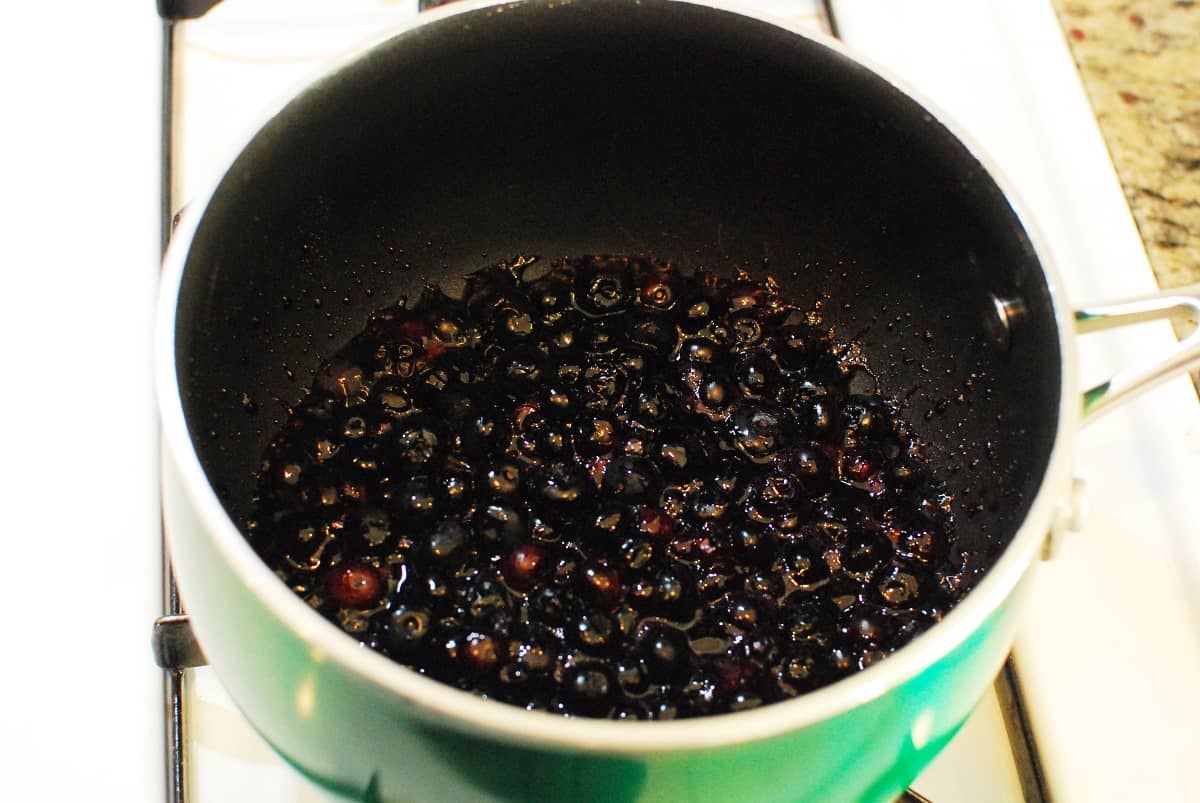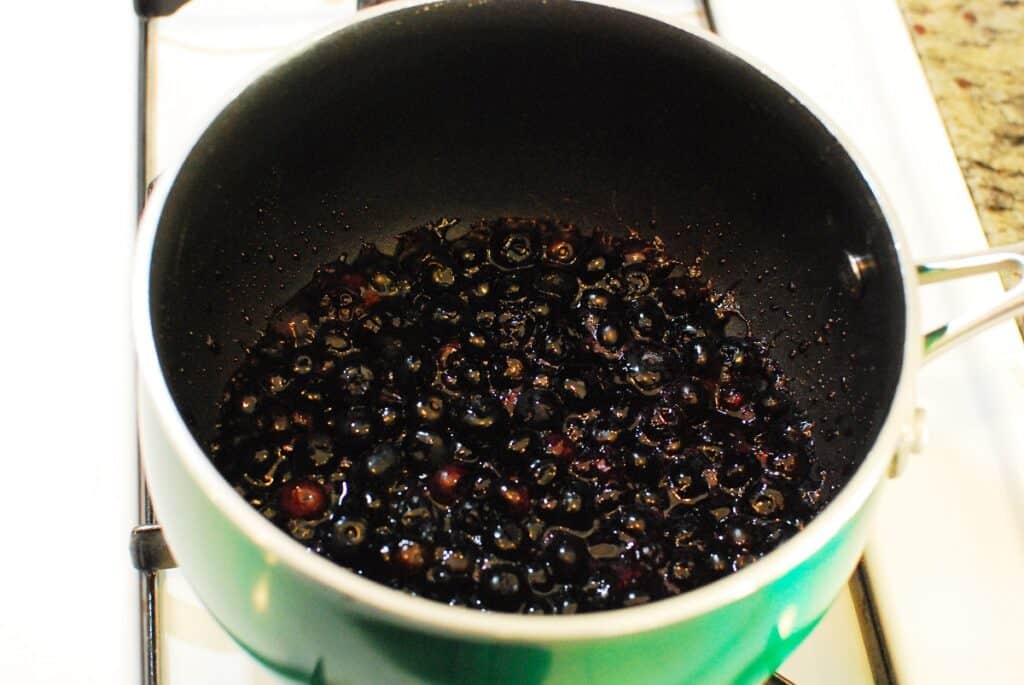 Take a potato masher or the back of a fork and mash the blueberries until they start to break down and release their juices. It's completely fine if there are still chunks of blueberries left throughout.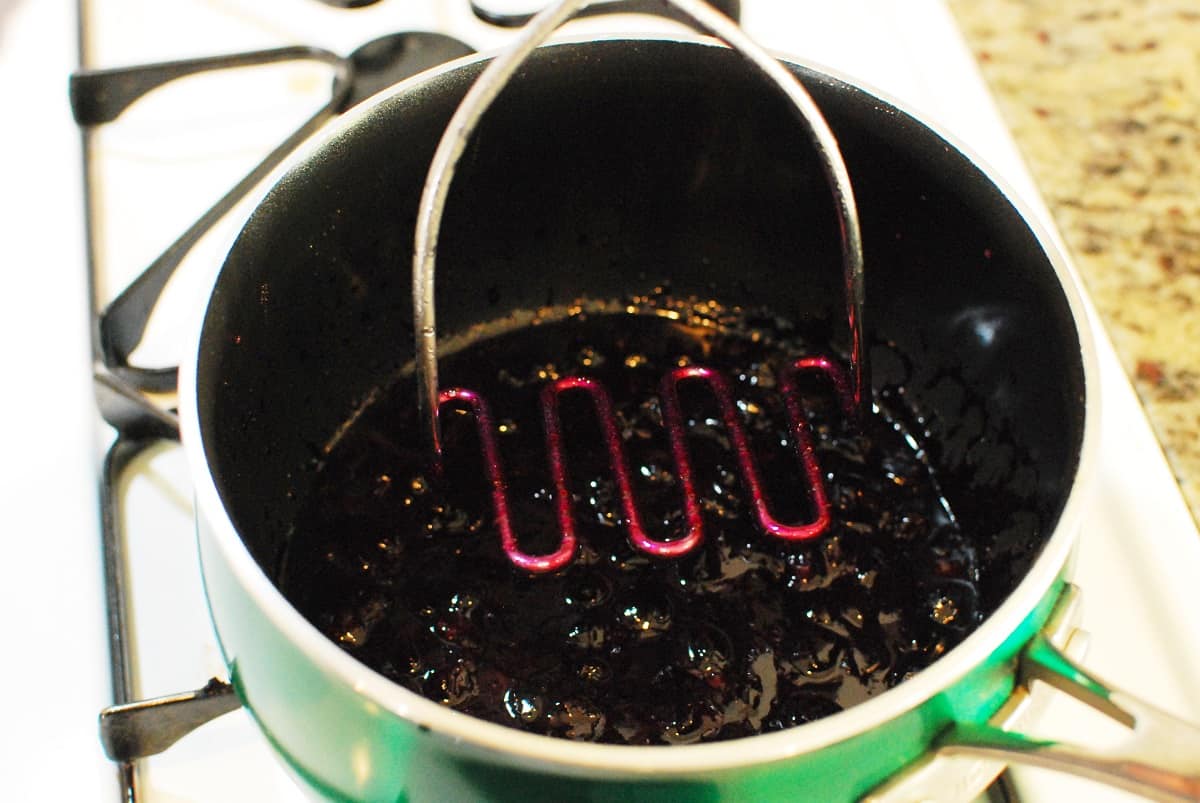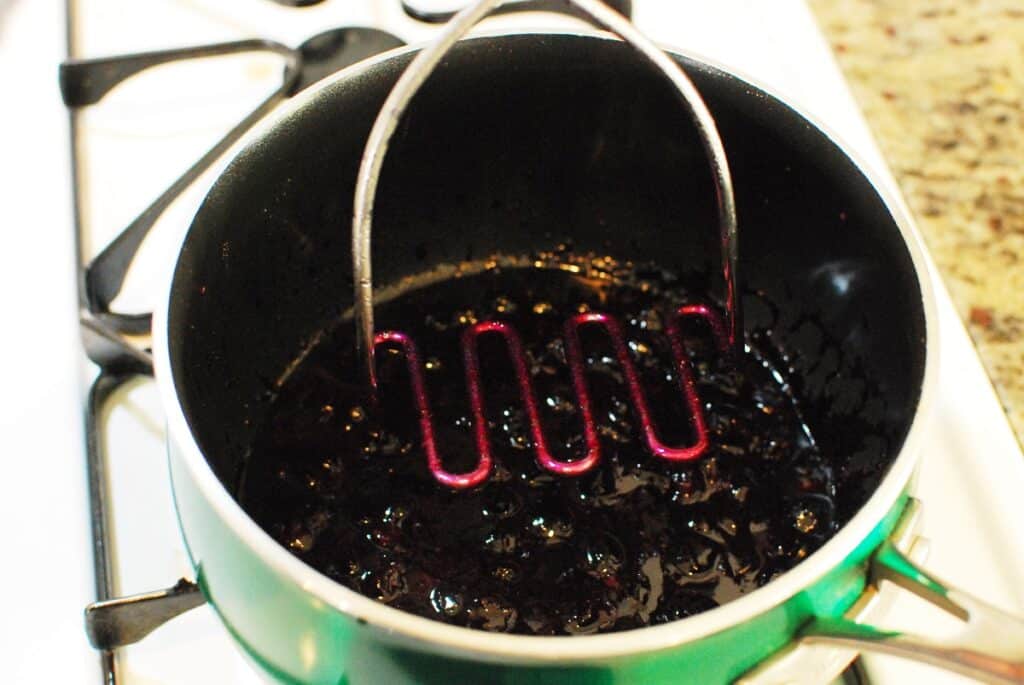 Stir in the chia seeds and let the mixture cook for another minute, then remove it from heat. As it cools, it will thicken up.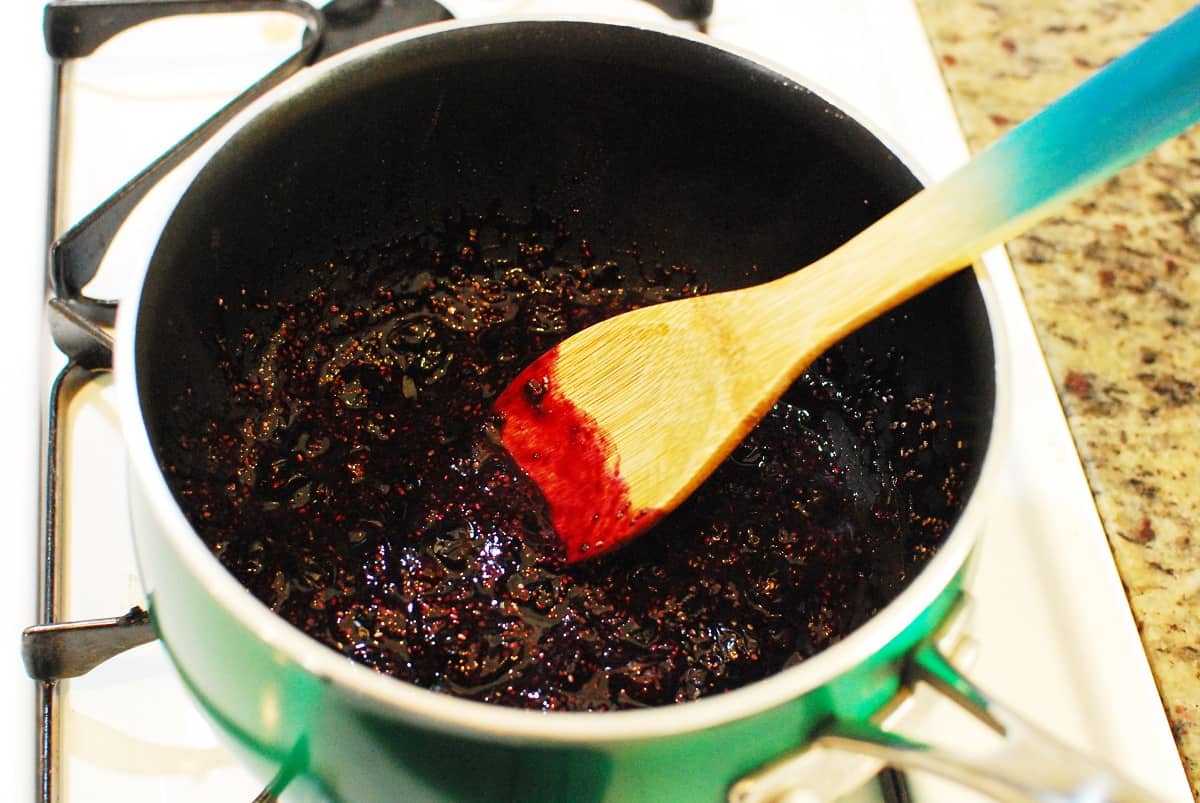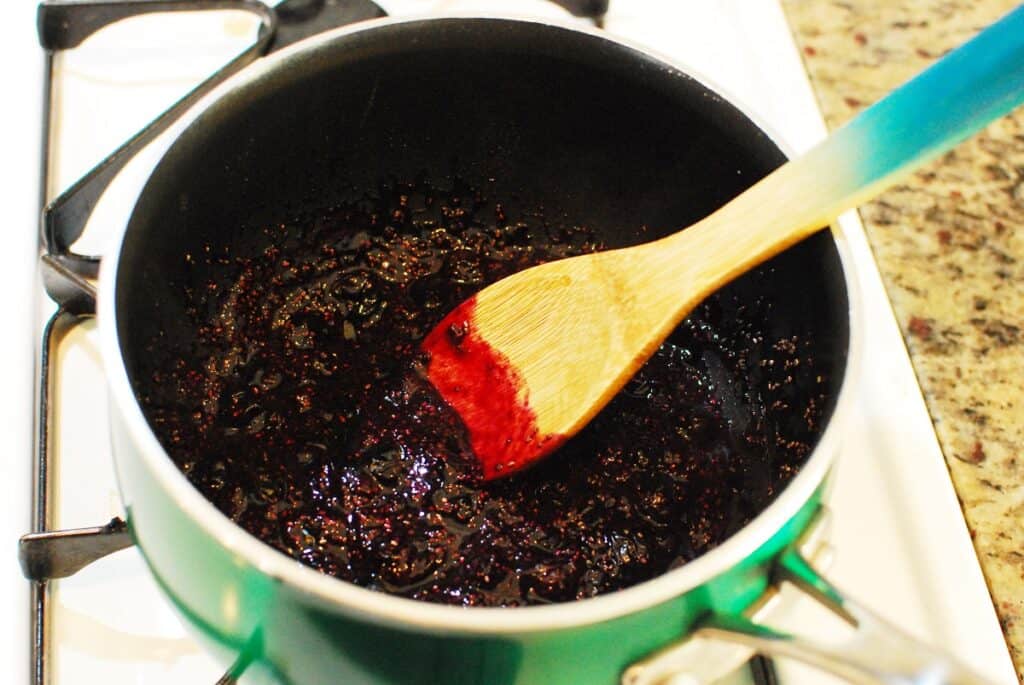 Store this in the fridge and enjoy!
Recipe FAQ
Here are some common questions that may come up as you prepare this recipe:
Can you double a chia jam recipe?
Yes, the recipe ingredients can easily be doubled, then follow the instructions as written.
My blueberries are very tart. Should I add more sweetener when making jam?
Taste your berries before adding any additional sweetener. If they're on the very tart side, you may want to add a smidge more maple syrup or honey. But keep in mind that the chia jam will thicken and become concentrated after cooking, so err on the side of caution when adding any extra sweetener to the recipe. You can always add a little extra at the end if needed.
Can you use a different type of berry to make chia jam?
Yes! This recipe works well with just about any type of berry. Feel free to experiment with raspberries, strawberries, or even cranberries (note that cranberry chia jam does require a little extra sweetener compared to other berries).
How should you store chia jam?
Store in the refrigerator for up to 4-5 days. (Chia jam recipes are not meant for long-term canning; the proportion of sugar is not right.)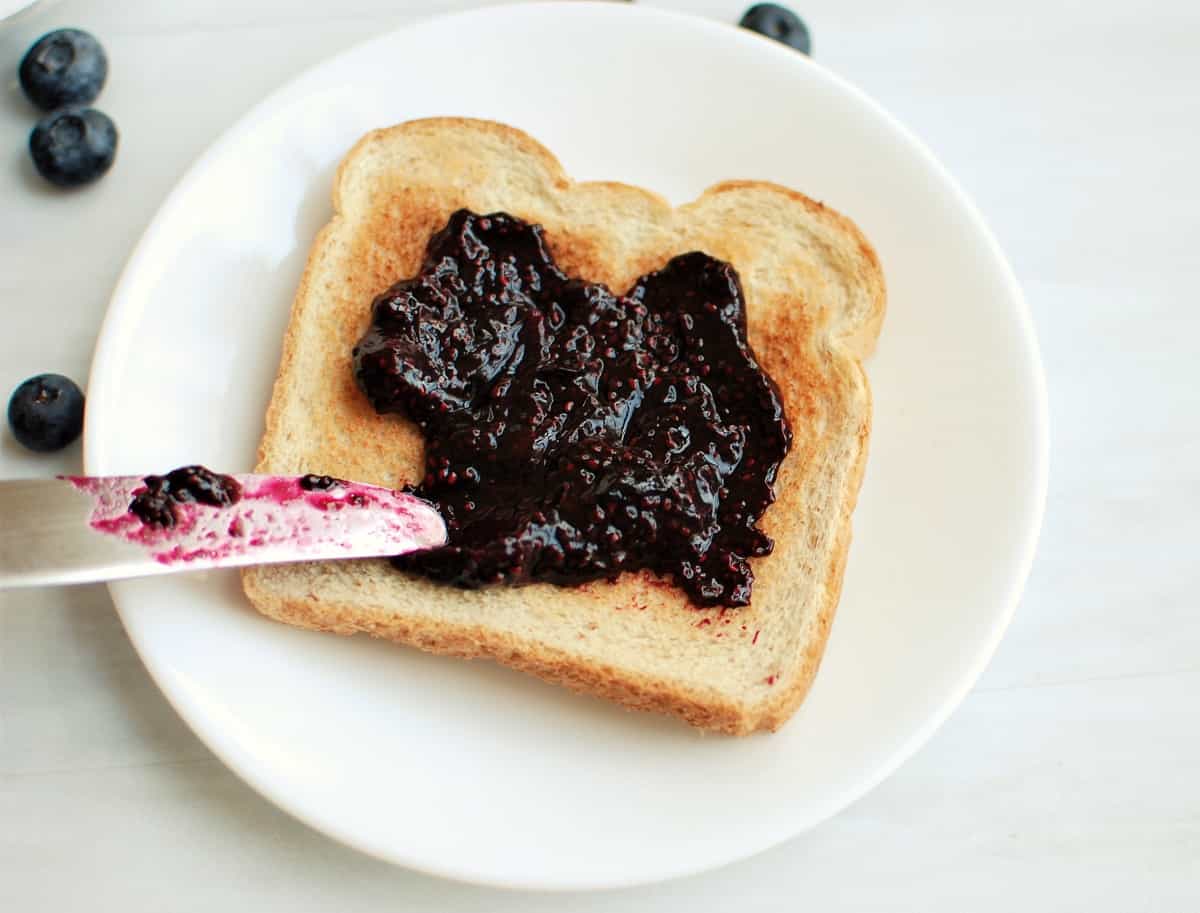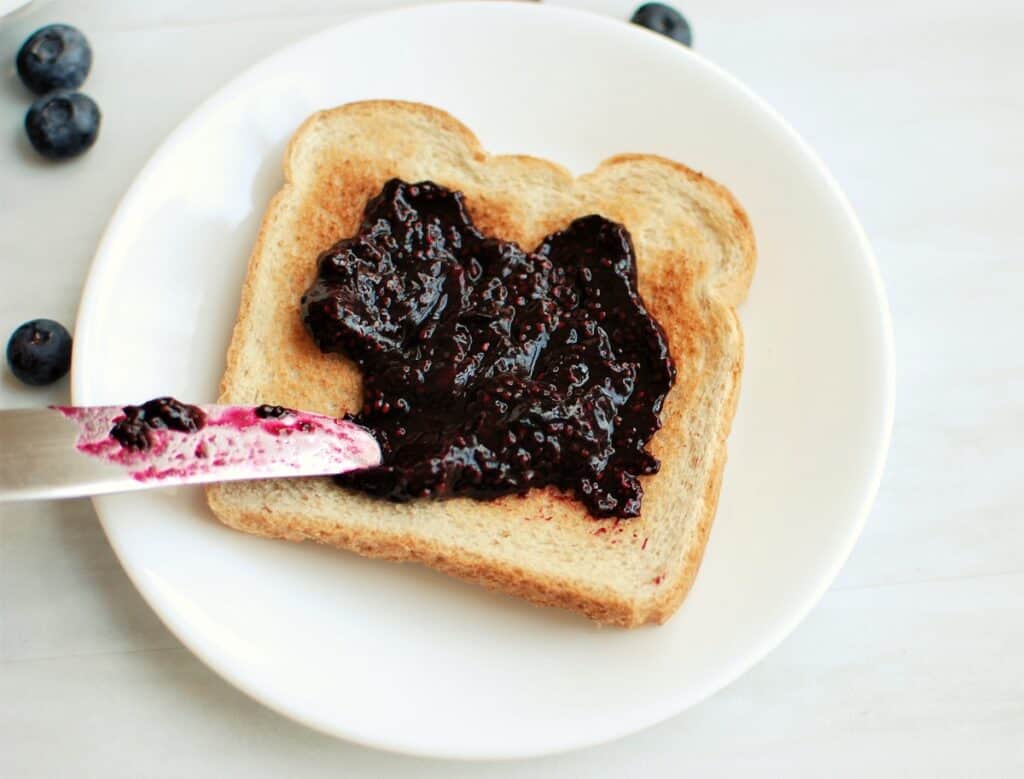 Ways to Eat Chia Jam
Now that you've made this blueberry chia jam, here are a few tasty ways you can use it:
Toast an English muffin and spread on a little butter and jam
Use it as the "J" in your PB&J sandwich
Mix a few tablespoons into warm oatmeal – then top the oatmeal with coconut and almonds
Make PB&J oatmeal with blueberry jam and a big 'ol spoonful of peanut butter
Add a spoonful to vanilla ice cream
Spread some on a corn muffin
Top a slice of roast with ricotta cheese and blueberry jam
Use it for the center of a thumbprint cookie recipe
Top protein pancakes with the jam
Create a yogurt parfait with plain Greek yogurt, blueberry jam, and granola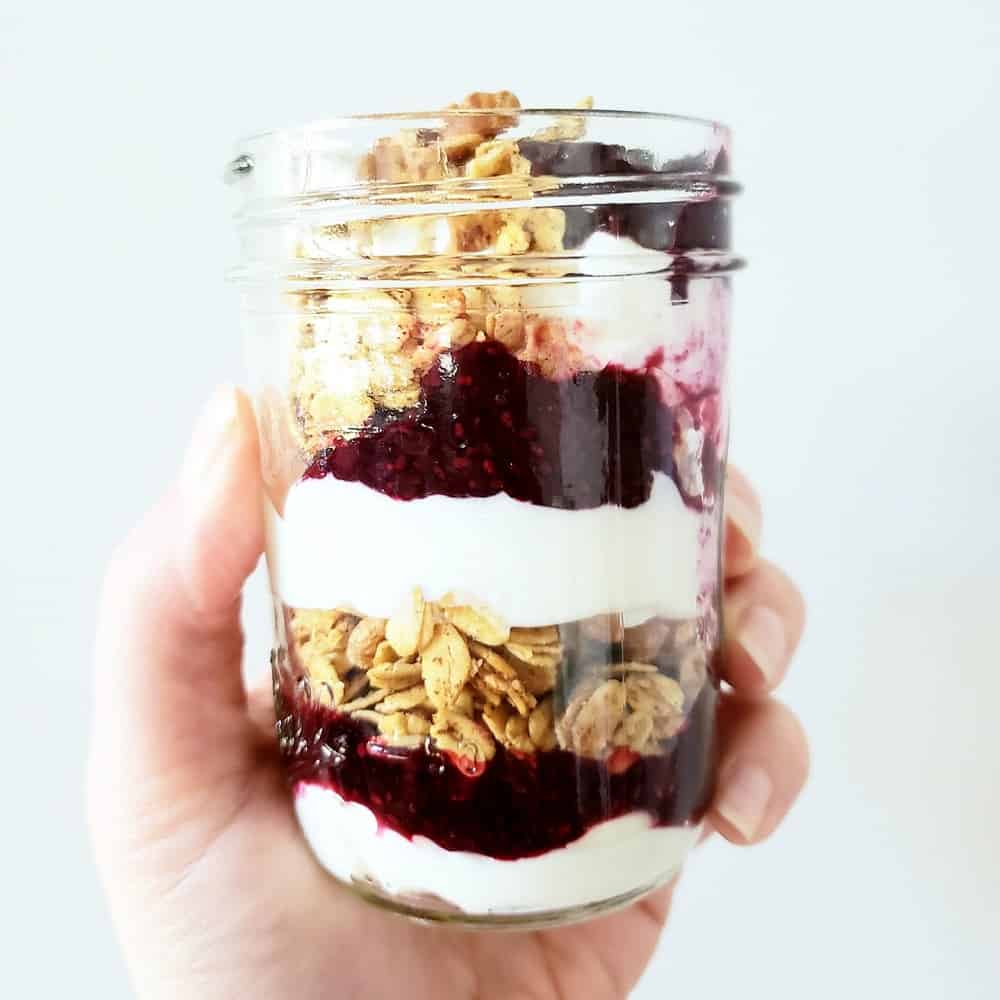 More Blueberry Recipes
If you're looking for more delectable ways to use blueberries, check out these recipes:
I hope you enjoy this blueberry chia jam as much as I do. If you get a chance to try it, feel free to leave a recipe rating or comment below.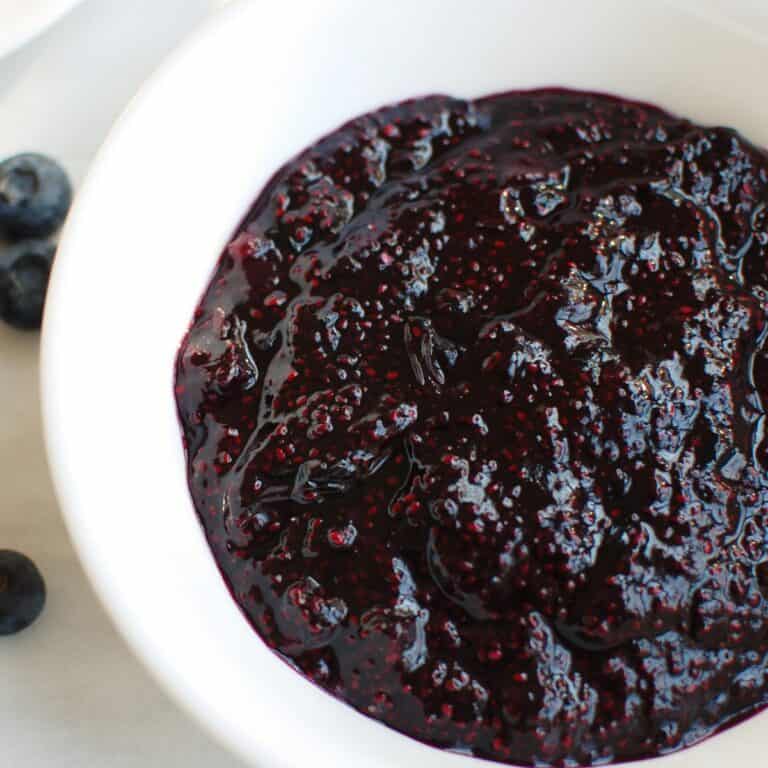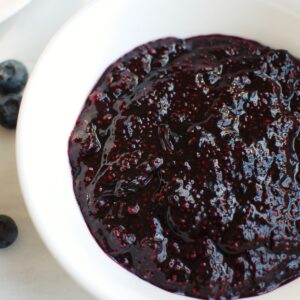 Blueberry Chia Jam
This blueberry chia jam is an easy healthy recipe that's got more fiber and less sugar than the average supermarket jam!
Ingredients
2

cups

blueberries

(fresh or frozen)

1

tablespoon

maple syrup

(or honey or sugar)

2

tablespoons

chia seeds
Instructions
In a small pot, heat the blueberries and maple syrup over medium heat.

Cook for 5 minutes, stirring occasionally, until the blueberries have started to break down and release their juices.

Mash the blueberries with a potato masher or the back of a fork.

Mix in the chia seeds and cook for another minute, then remove from heat.

Let sit for 5 minutes and then enjoy as you please. Store any leftover jam in the refrigerator.
Notes
This recipe makes approximately ¾ cup of jam.
One serving equals approximately 2 tablespoons.
This jam can be stored in the fridge for 4-5 days.
You can also make this recipe using raspberries or strawberries rather than blueberries.
Nutrition Analysis (per 2 tablespoon serving): 53 calories, 1 g fat, 0 g saturated fat, 2 mg sodium, 11 g carbohydrate, 2.5 g fiber, 7 g sugar, 1 g protein, Vitamin D: 0%, Calcium: 2%, Iron: 4%, Potassium: 1%
Nutrition
Share: What's your favorite berry for making chia jam? If you tried this recipe, what did you think?
Feel free to pin this post to share with others!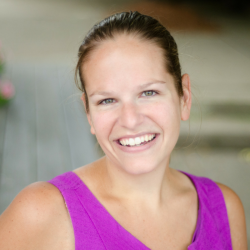 Latest posts by Chrissy Carroll
(see all)