Need a festive holiday appetizer? Try this cranberry jalapeno dip! It's a little sweet, a little spicy, and a whole lotta delicious. Whether you're planning a holiday get together with family or you just want to enjoy a fun festive snack at home on the weekend, you'll love this delicious recipe.
Note: This recipe was originally posted in 2017 and has been updated in 2020 to add additional helpful information.
Creating a healthier cranberry jalapeno dip
My friend Jen had recommended this dip idea to me, and I've seen it on a lot of other blogs as well! I decided to put my own spin on it. You'll find the full recipe in the recipe card at the bottom of the post, but here's what you'll need to make this if you want to skim it quickly:
Fresh cranberries
Jalapenos
Scallions
Cilantro
Sugar
Lime
Salt
Cream Cheese
Most jalapeno cranberry dip recipes are quite high in sugar, so I developed this one to make it a smidge healthier. I mean, let's be real though – it's still cranberries with some sugar and a lot of cream cheese, so we're not winning any health awards here. 😉 But here are the two things I modified in the recipe to add a bit of balance:
Reduced the sugar content. A lot of other recipes I've seen online or in magazines use a full cup, so I reduced that down to half a cup. I don't think it makes a noticeable difference in flavor and that's a lot of sugar that you can cut out.
Used a little less cream cheese than most recipes, and used a lower calorie brand.
I used Arla original cream cheese for this recipe – a 2 tbsp serving has 80 calories, compared to blocks of cream cheese that have 100 calories. It's also creamier than the traditional blocks, which makes it quick to spread in the pie plate.
You could also use Neufchâtel cream cheese (aka lower fat cream cheese) in this recipe too. Either way, you're able to make it slightly lower calorie.
With these changes, a hearty serving of dip clocks in around 120 calories – not bad! And you're getting some awesome antioxidants in those fresh cranberries.
Now to make the recipe, it's really simple – you're just going to chop up those cranberries (I use a food processor to do it quickly) and mix 'em with everything except the cream cheese. Let that sit in the fridge, strain it, then pop it over your cream cheese. Dip in some crackers and be transported to festive holiday delight!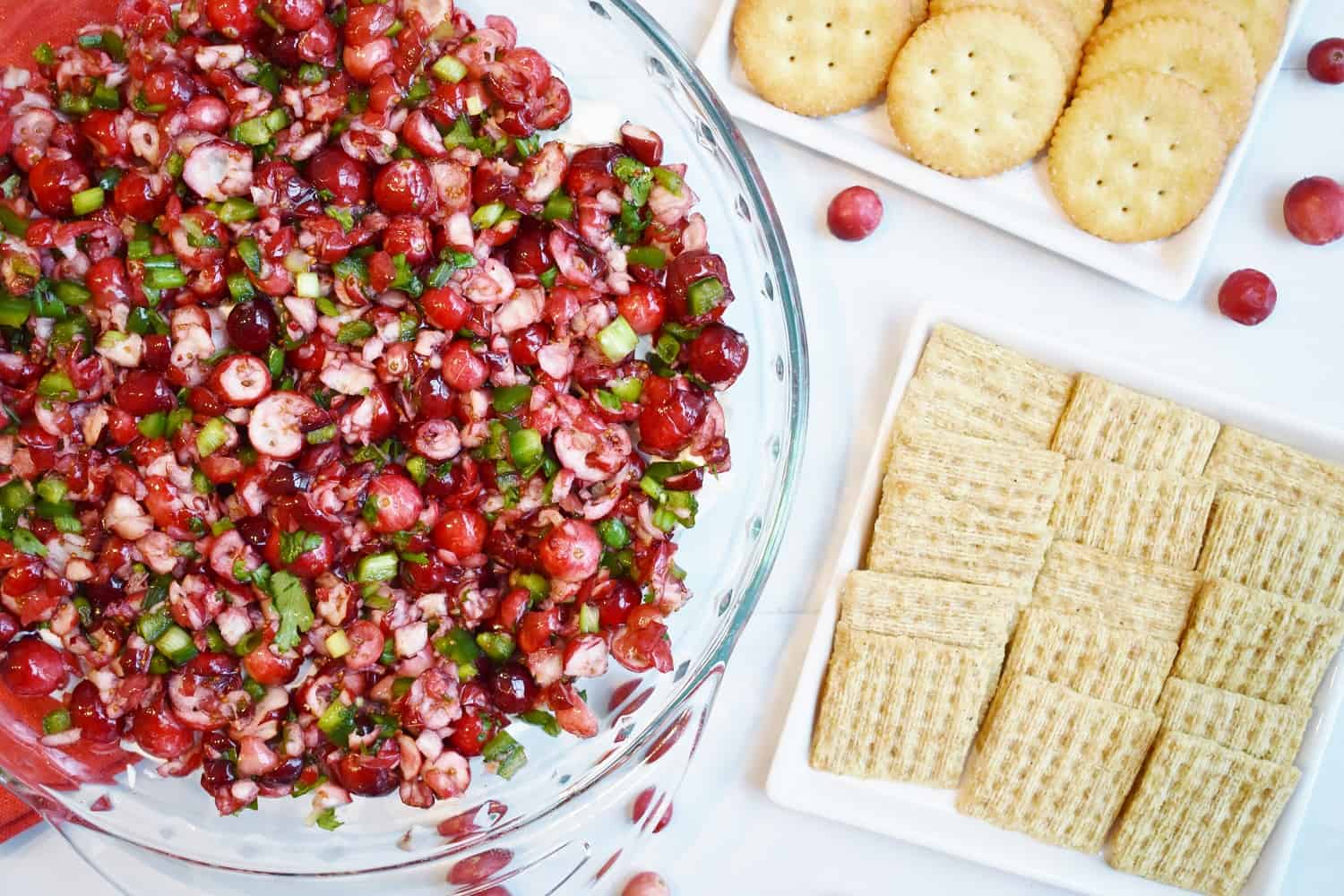 Why eat cranberries?
A few years ago, I was able to learn all about cranberries on an awesome press trip. It was an amazing experience. I rode the machines they use around the bog, decked myself out in waders and hopped into the bog, and dry harvested some berries as well. It really gave me a whole new respect for cranberries and how much work goes into getting them from bog to bag, and how nutritious this fruit is!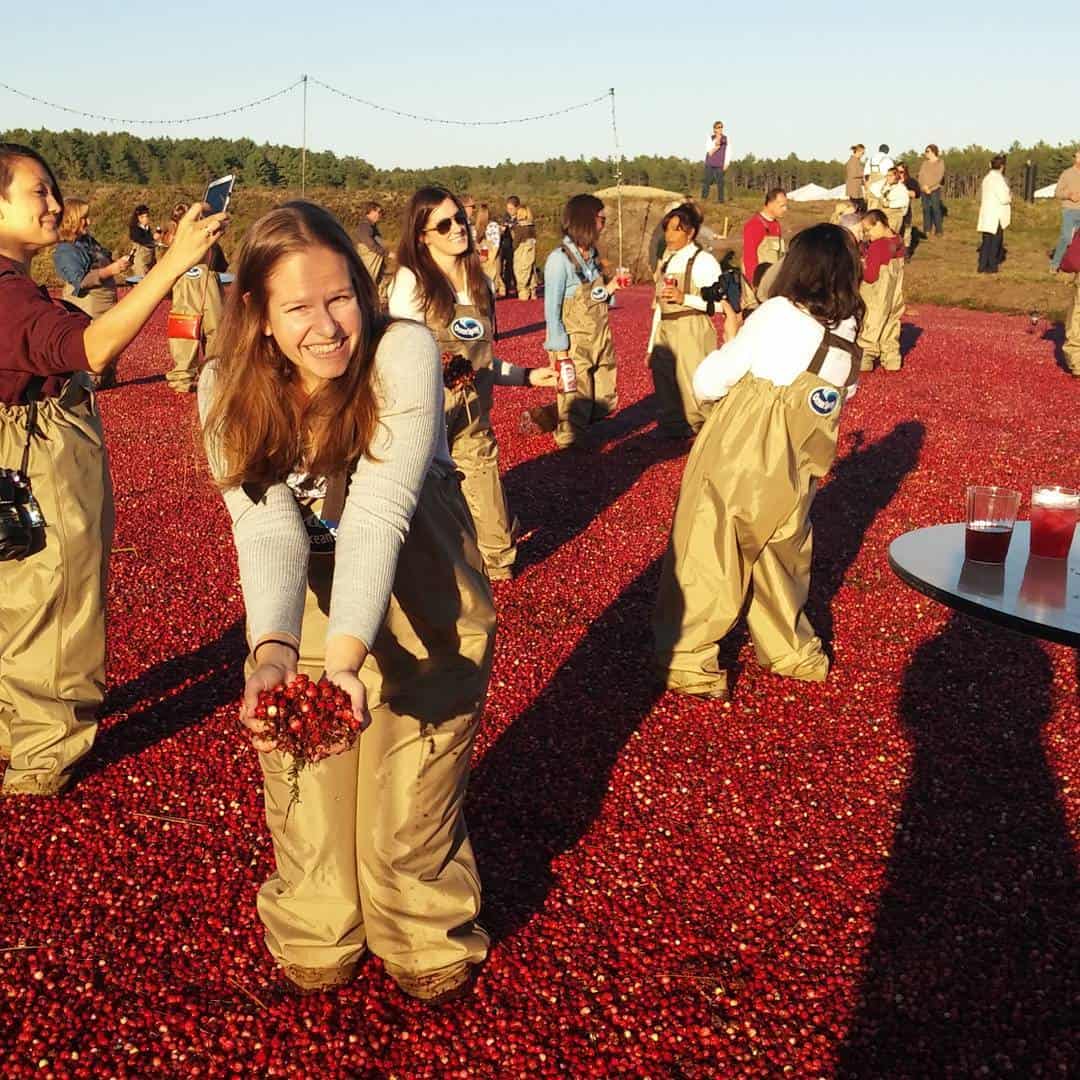 Cranberries themselves are quite nutritious. Whole cranberries are low in calories, a good source of fiber for digestive health, and contain Vitamin C to support your body's immune system.
Plus, they also contain high levels of beneficial components like phenolic compounds, anthocyanin, and flavonoids. These may have numerous benefits in the body.
For example, some research suggests that cranberries may help with gut health by preventing over colonization of bad bacteria (source). One research study showed that cranberries (in the form of freeze dried powder) helped attenuate unfavorable changes that occur in the gut with high animal food intake (source).
They also may improve cardiometabolic health through impacts on blood pressure, inflammation, and oxidative stress (source), and some research has suggested they may play a role in cancer prevention (source).
Of course, all of this is still emerging and not finite, but is definitely another possible reason to include more fresh cranberries in your meals!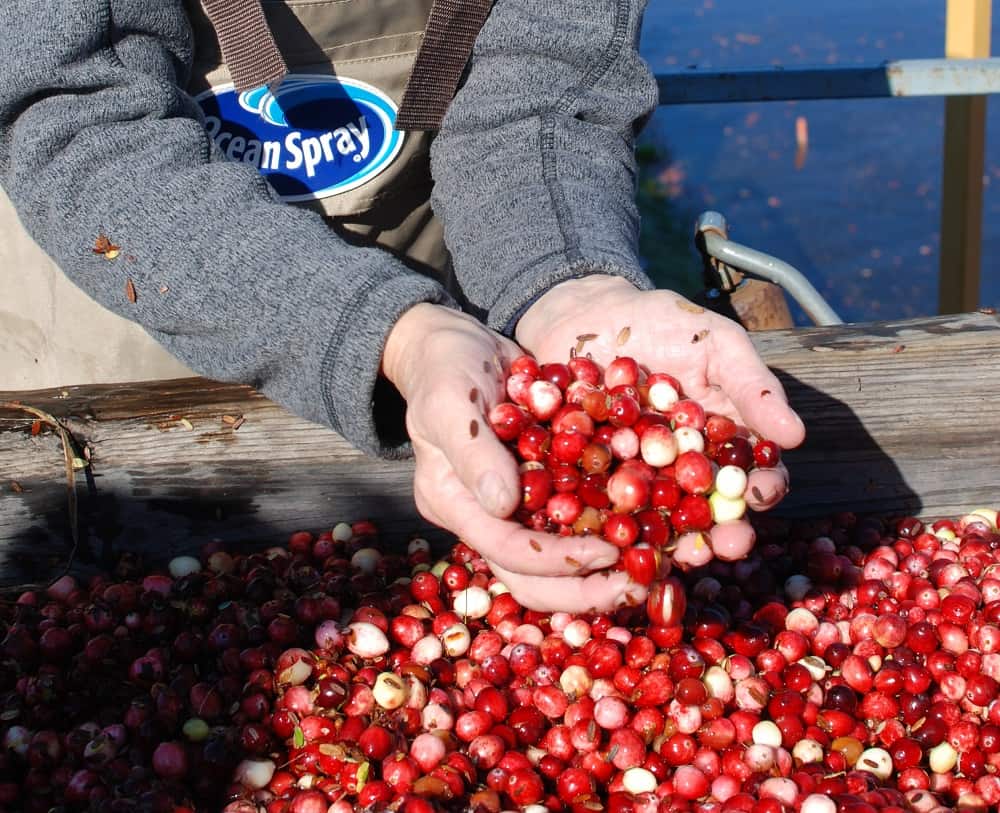 More cranberry recipes
Looking for more ways to utilize fresh cranberries? Try one of these delicious ideas: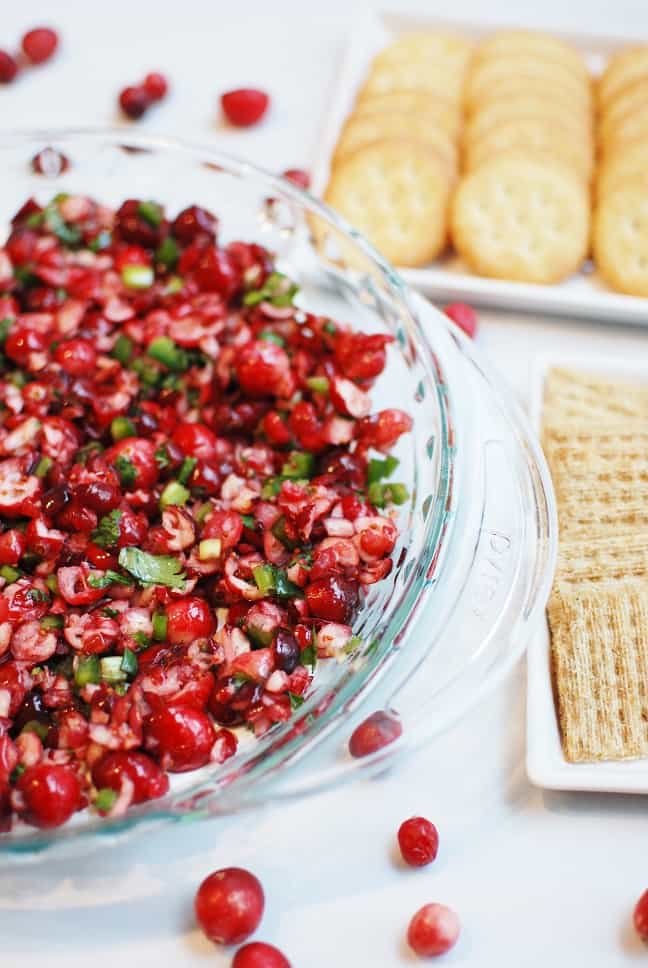 Ready to get cooking? I hope you enjoy this easy cranberry jalapeno cream cheese dip! It makes a big dish of dip that's great for a crowd. The festive red cranberries, green scallions & jalapenos, and white cream cheese make it perfect for your holiday parties. You can serve this with any type of cracker – whole grain or the traditional refined buttery ones (not as healthy, but oh-so-delicious).
Enjoy and happy holidays!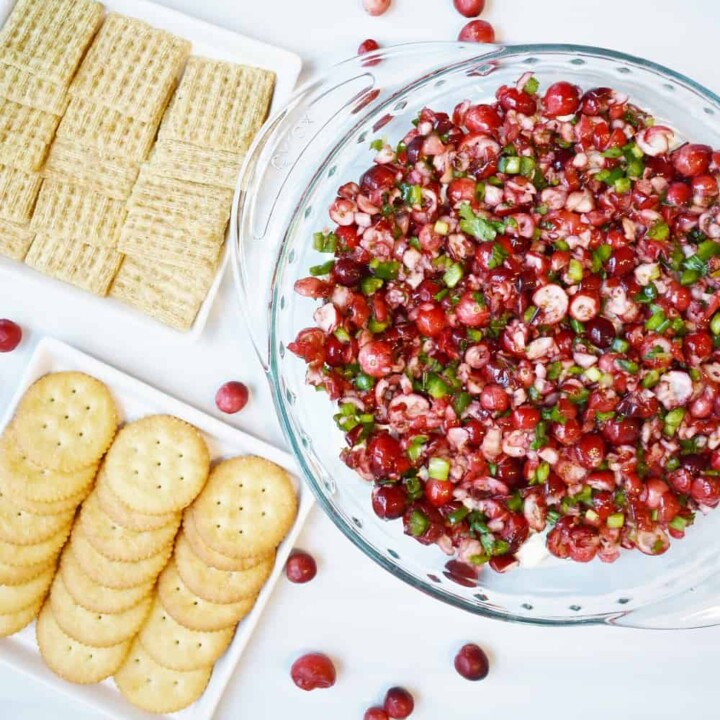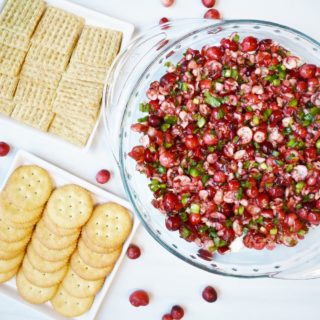 Cranberry Jalapeno Dip
This cranberry jalapeno dip is a festive holiday appetizer for Thanksgiving or Christmas!
Ingredients
12

ounces

fresh cranberries

(one regular size bag)

2

jalapenos, finely chopped

4

scallions, chopped

2

tbsp

cilantro, chopped

1/2

cup

sugar

1

lime, juiced

1/8

tsp

salt

14

ounces

cream cheese
Instructions
Add cranberries to a food processor and pulse once. If after once pulse there are still a lot of whole cranberries, pulse once more. Your goal is for most of the cranberries to be cut but you don't want to puree them.

Pour cranberries in a bowl and mix with jalepenos, scallions, cilantro, sugar, lime juice and salt. Let sit in the fridge for at least 30 minutes (that's the minimum; longer is fine).


When you're ready to complete the dish, spread cream cheese into a pie plate.

Remove cranberry mixture from the fridge and place in a fine sieve. Let as much juice drain from it as possible.


Top cream cheese with cranberry mixture. Serve with crackers and enjoy!
Notes
Nutrition Analysis (approximate per serving; doesn't include crackers):
120 calories, 7 g fat, 4.5 g sat fat, 117 mg sodium, 12 g carbohydrate, 1.5 g fiber, 9 g sugar, 1 g protein
Nutrition
Share with me: What's your favorite way to use cranberries? Have you ever tried cranberry jalapeno dip?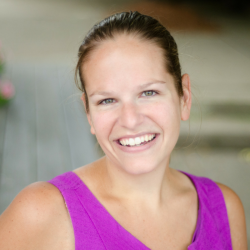 Latest posts by Chrissy Carroll
(see all)