This strawberry banana smoothie bowl is a delicious spoonable treat. With nutrient-dense fruit and protein-packed Greek yogurt, this makes for a perfect meal after a morning workout. Feel free to get creative with the toppings you want to put on it!
Disclaimer: This post contains Amazon affiliate links. As an affiliate, I earn a commission on qualifying purchases.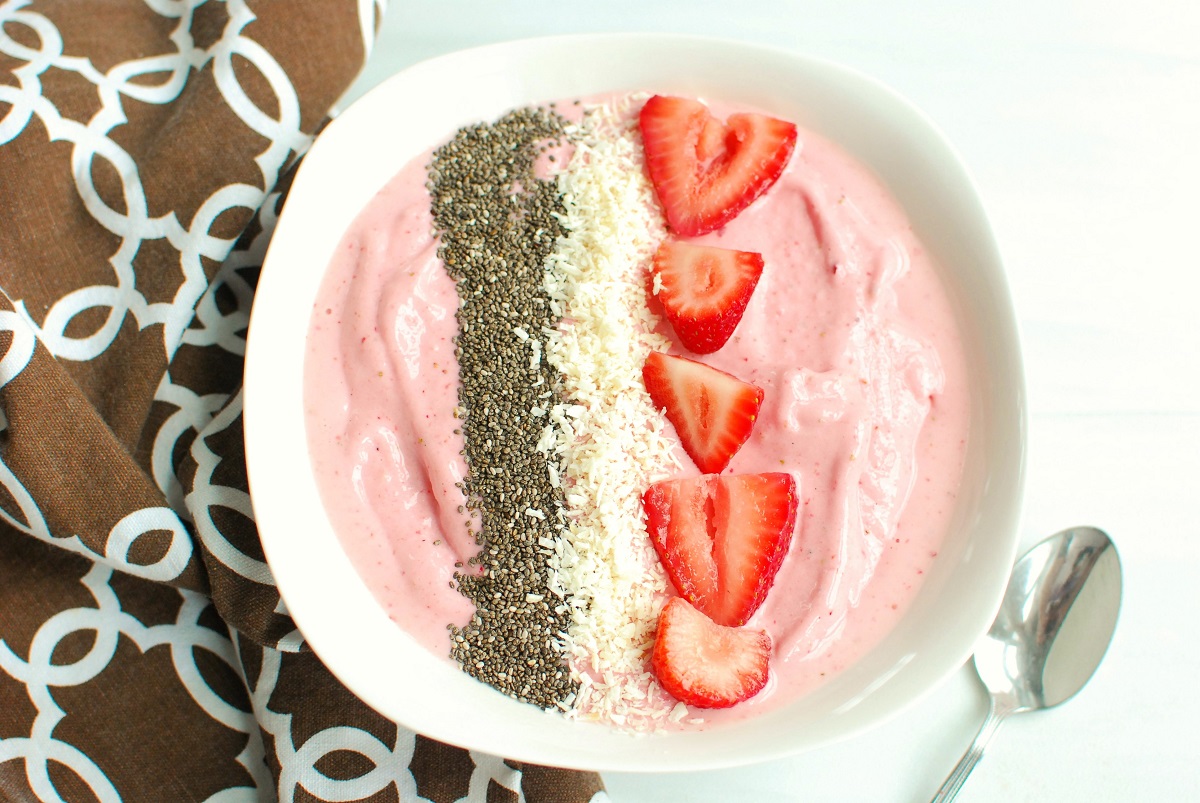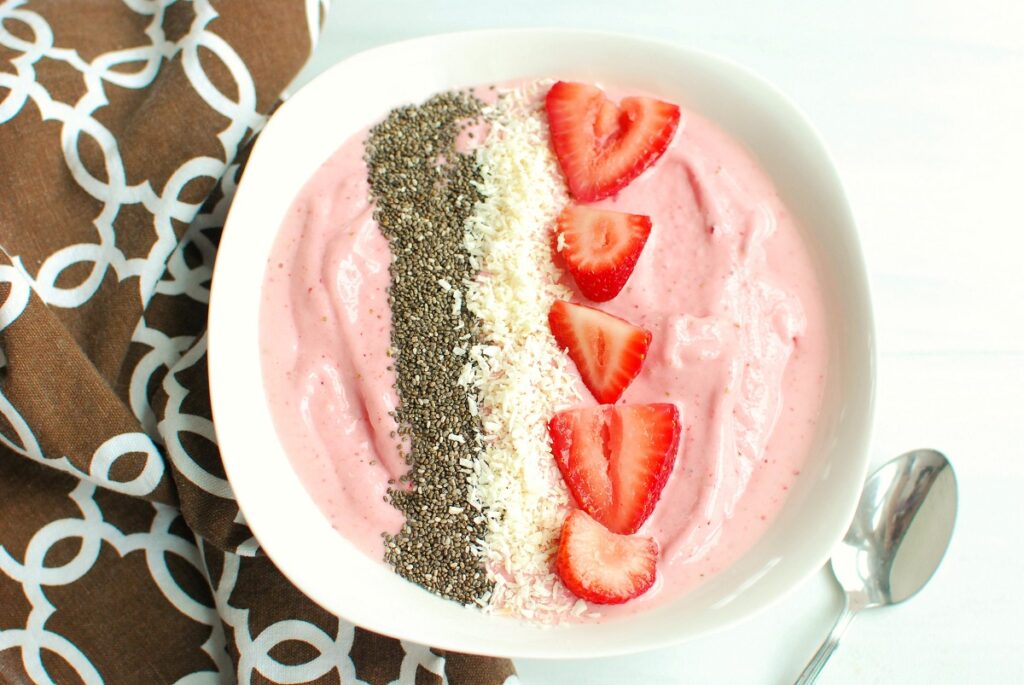 Ingredients
All you need for the base of this recipe is frozen banana, frozen strawberries, yogurt, and milk. You can top it however you'd like – I love chia seeds, more strawberries, and coconut.
Here are a few helpful notes about some of these ingredients:
Banana – This smoothie bowl works best when you've frozen bananas that have brown spots.  You can buy a bunch and wait for them to do this, but you should also check to see if your grocery store has a markdown produce rack.  Mine does, and I can almost always find the perfect smoothie (or banana bread) making bananas on there for super cheap!
Greek yogurt – I personally like making this with vanilla flavored Greek yogurt, but coconut flavored is also yummy.  Try looking for varieties of flavored Greek yogurt that are lower in added sugar.  For example, Siggi's is a favorite of mine if you're looking for a standard sweetener, or Two Good is an excellent choice if you don't mind stevia-sweetened.  You could also swap this out with plain yogurt if you want to cut down on the sugar content.
Chia seeds – Cha-cha-cha-chia!  You remember those commercials, right?  These same types of seeds are now been manufactured specifically for food use – and for good reason!  They're packed with fiber and healthy fats.  You can usually find them in the natural section of your grocery store, or occasionally in the baking section.  You can also buy them online.
Step by Step Instructions
You'll find full recipe ingredients and amounts in the recipe card at the bottom of this post – but here's a quick overview. It's short because this is SO easy to make!
Place all the smoothie bowl ingredients (but not the toppings) in a blender and blend. You may need to scrape down the sides a few times.
If your blender gets stuck, add a splash more of milk and try again.  You want to avoid adding too much milk, otherwise it'll be too thin. Ideally, you're looking for the consistency of soft-serve ice cream.
Once thoroughly blended, go ahead and pour it into a bowl, then add any toppings of your choice! YUM!
Topping Ideas
In this smoothie bowl, I used chia seeds, coconut, and more strawberries. But you can use anything your heart desires! Here are a few more ideas:
Recipe FAQ
Here are some common questions that may come up as you prepare this recipe:
What should I do if my blender keeps getting stuck when making a smoothie bowl? 
High-powered blenders should work well to create a smoothie bowl at the proportions listed.  If your blender keeps getting stuck, try adding another tablespoon of milk at a time.  Don't add too much milk, or the texture will be drinkable rather than spoonable.

If you're still running into problems, try letting the strawberries and banana sit out for about 15 minutes before blending, which can help them slightly defrost and blend easier.
Are smoothie bowls high in sugar?
It depends on how the smoothie bowl is made – but generally they do contain sugar.  However, keep in mind most of the sugar comes naturally from the fruit used in the recipe.  This means you're also getting vitamins, minerals, and phytonutrients. 

For this recipe in particular, feel free to swap to plain Greek yogurt rather than vanilla if you'd like to reduce the sugar content.

(Also, if you're using this as a post-workout meal, remember that carbohydrates are needed after a workout to replenish stored energy in the muscles).
What can I use instead of bananas in a smoothie?
If you're not a fan of banana in a smoothie bowl, try using about 2/3 cup of frozen mango or pineapple instead.  If you'd like to cut down on the sugar content, you can also use that amount of frozen cauliflower rice – a surprising and nutritious way to add that same frosty creaminess.
I hope you enjoy this strawberry banana smoothie bowl recipe!  If you get a chance to try it, feel free to leave a recipe rating or comment below.  And if you want to try another smoothie bowl recipe, definitely check out my spirulina smoothie bowl or pumpkin smoothie bowl.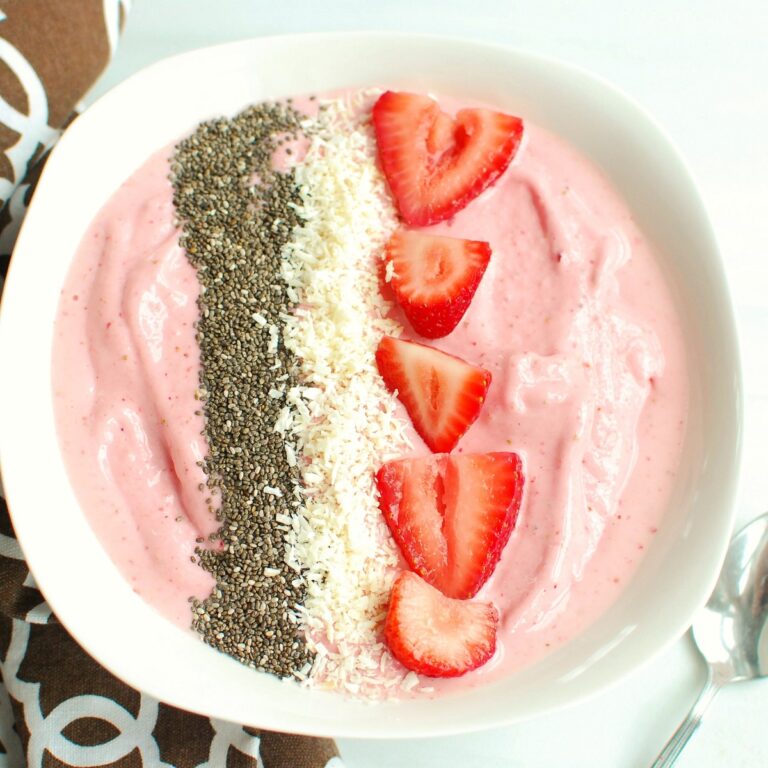 Strawberry Banana Smoothie Bowl
This strawberry banana smoothie bowl is a fun spoonable treat!
Ingredients
For the smoothie:
1 ⅔

cups

frozen strawberries

1

frozen sliced banana

¾

cup

vanilla nonfat Greek yogurt

¼

cup

1% milk
For toppings (optional):
1

tbsp

shredded unsweetened coconut

1

tbsp

chia seeds

⅓

cup

fresh sliced strawberries
Instructions
Combine the frozen strawberries, frozen banana slices, yogurt, and milk in a blender. Turn on and blend until well combined, about 30 seconds.

Pour into a bowl and top with coconut, chia seeds, coconut, sliced strawberries. Enjoy!
Notes
This recipe makes 1-2 servings. If using as a post-workout meal, I recommend eating the entire recipe. If you want to enjoy it as a small mid-day snack, I recommend splitting it with a family member or friend.
Nutrition analysis (approximate for the entire recipe): 440 calories, 8.5 g fat, 4 g saturated fat, 120 mg sodium, 73 g carbohydrate, 13.5 g fiber, 47 g sugar, 25 g protein, Vitamin A: 5%, Vitamin C: 315%, Calcium: 41%, Iron: 19%
Nutrition
Share:  What's are your favorite smoothie bowl combos?
Feel free to pin this post to refer to later! 🙂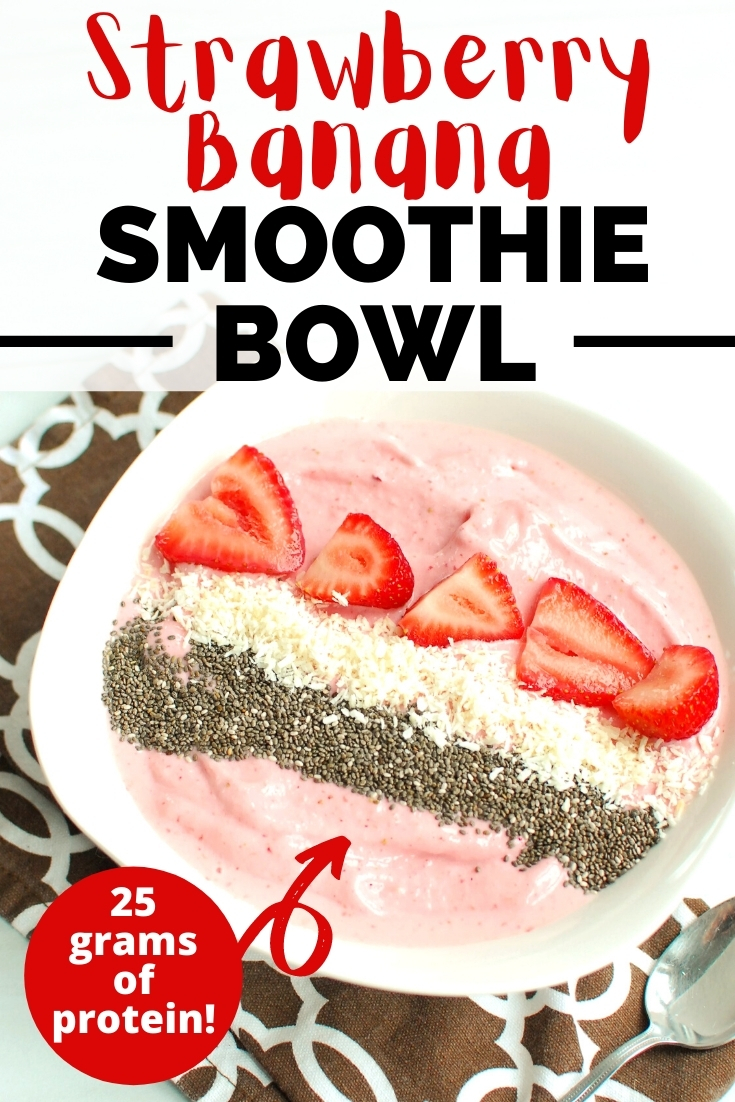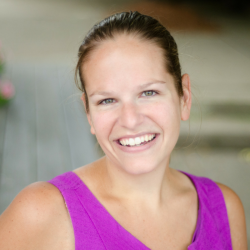 Latest posts by Chrissy Carroll
(see all)