Disclosure: This post about fruits and vegetables for a runner's diet is sponsored by the American Heart Association Healthy For Good Movement. The views, opinions and positions expressed within this post belong to Snacking in Sneakers and do not necessarily represent those of The American Heart Association unless explicitly stated.
We've all heard the adage 'eat a rainbow', but this mantra becomes even more important as a runner or triathlete. Stocking your plate with plentiful produce ensures you're getting healthy carbohydrates to fuel your activity along with a variety of vitamins and minerals to support training. Plus, adding color to your plate means giving your body plenty of phytochemicals, these awesome plant-based compounds that promote optimal health. These different compounds are often responsible for the pigments in produce, which is why it's so important to eat a variety of colors.
Want to commit to adding more color to your plate along with me? I've got a few ideas for you below – and you also want to be sure to join the American Heart Association's Healthy For Good Movement! Their site features great suggestions on adding color – among other healthy lifestyle tips and tricks. You'll find yummy recipes, clever videos, and just lots of good, science-based content when you join (for free).
For example, I was able to find this awesome infographic that includes a ton of different color fruits and vegetables. If you're struggling with eating the same old thing, over and over – this should give you some new motivation for items to seek out at the farmer's market or grocery store. I literally printed this out and put it on the fridge to remind me of different options to look for each week!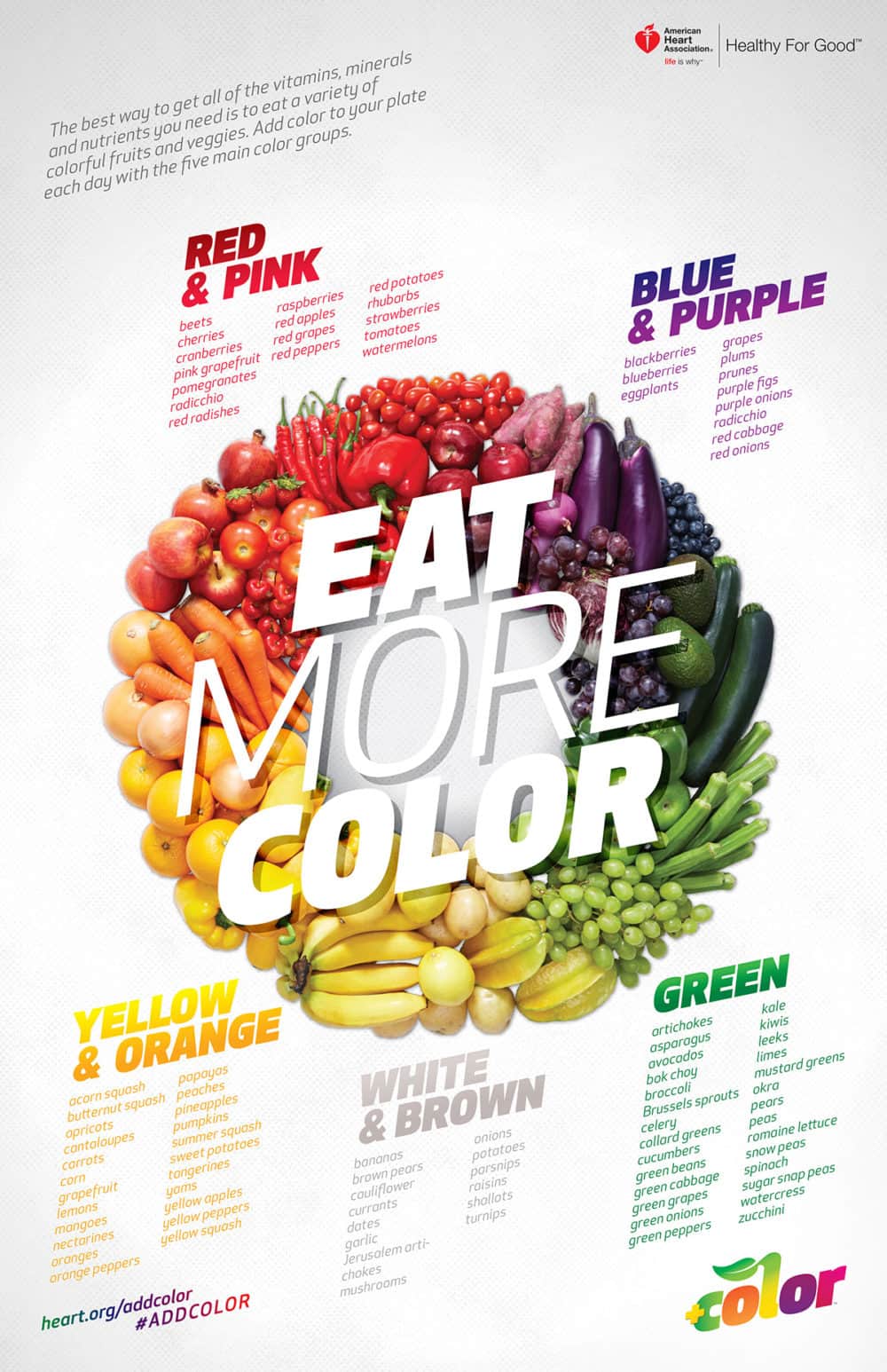 I also wanted to highlight some of my very rainbow of options– in particular, those that are especially important for active folks. Whether you're a new-to-running weekend warrior or a podium-chasing age group triathlete, here are 9 colorful fruits and veggies to include in your diet:
9 Great Fruits and Vegetables to Add to Any Runner's Diet:
[Tweet "Beets, bananas, + blueberries, oh my! Check out 9 fruits + veggies to add to a runner's diet."]
1. White: Bananas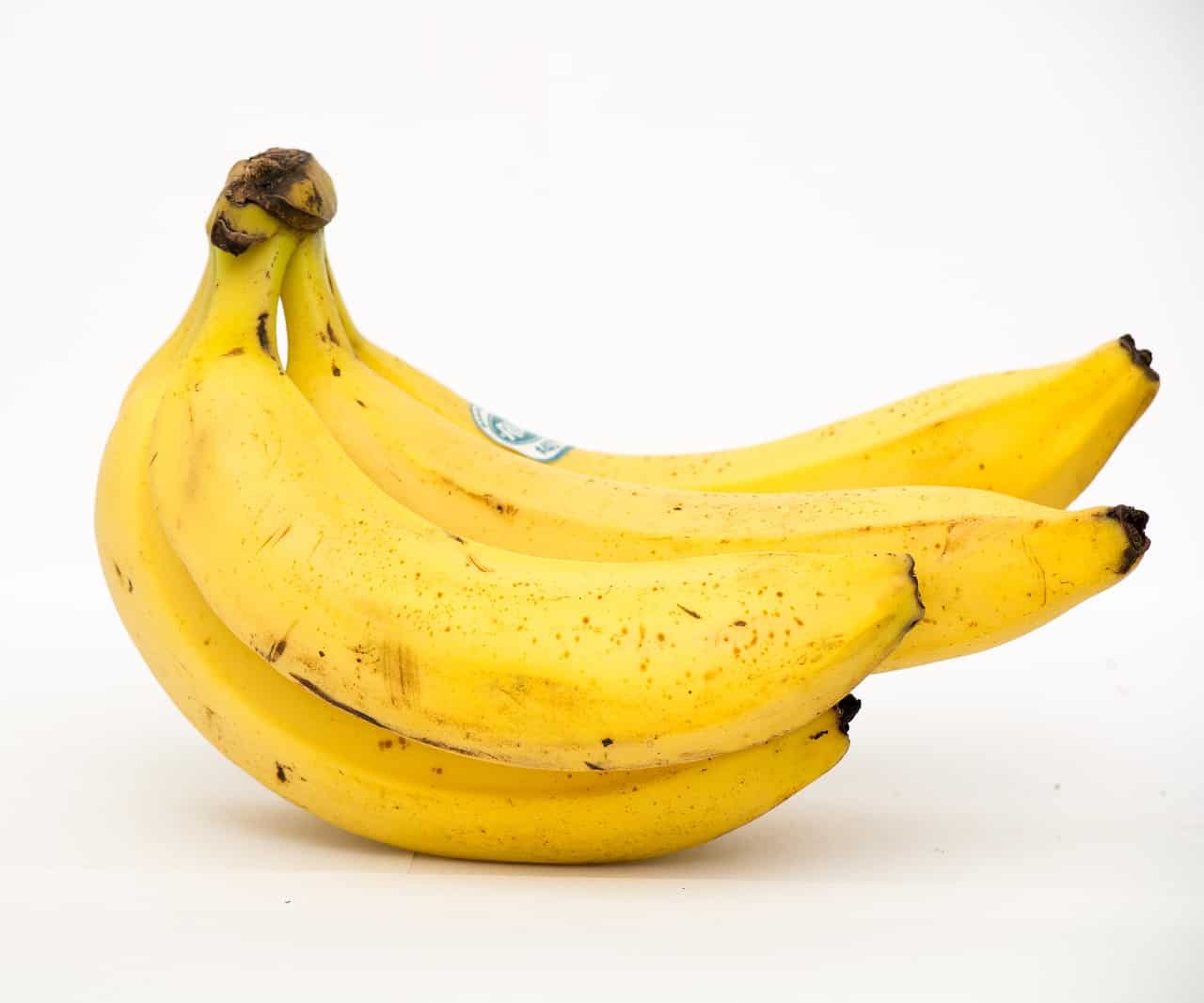 A longtime favorite of runners, bananas definitely deserve a spot on this list. I was going to categorize 'em as yellow, but the AHA categorizes goes with white (ya know, their insides) which is probably more accurate.
I'm sure many of us have seen the pile of bananas after crossing the finish line of the road race; an easy snack to get down that's packed with potassium and healthy carbs. But did you also know that bananas can be used as real food fuel during runs or rides?
A 2015 study on cyclists found that bananas helped athletes perform a 75 km ride 5% faster compared to water alone. And a 2012 study found no difference between bananas versus a carbohydrate sports drink on cycling performance when it came to time, heart rate, or perceived exertion. There's certainly no problem with using commercial sports nutrition products – I definitely do! – but if you're looking for a natural alternative, bananas are a winning choice.
2. Red: Beets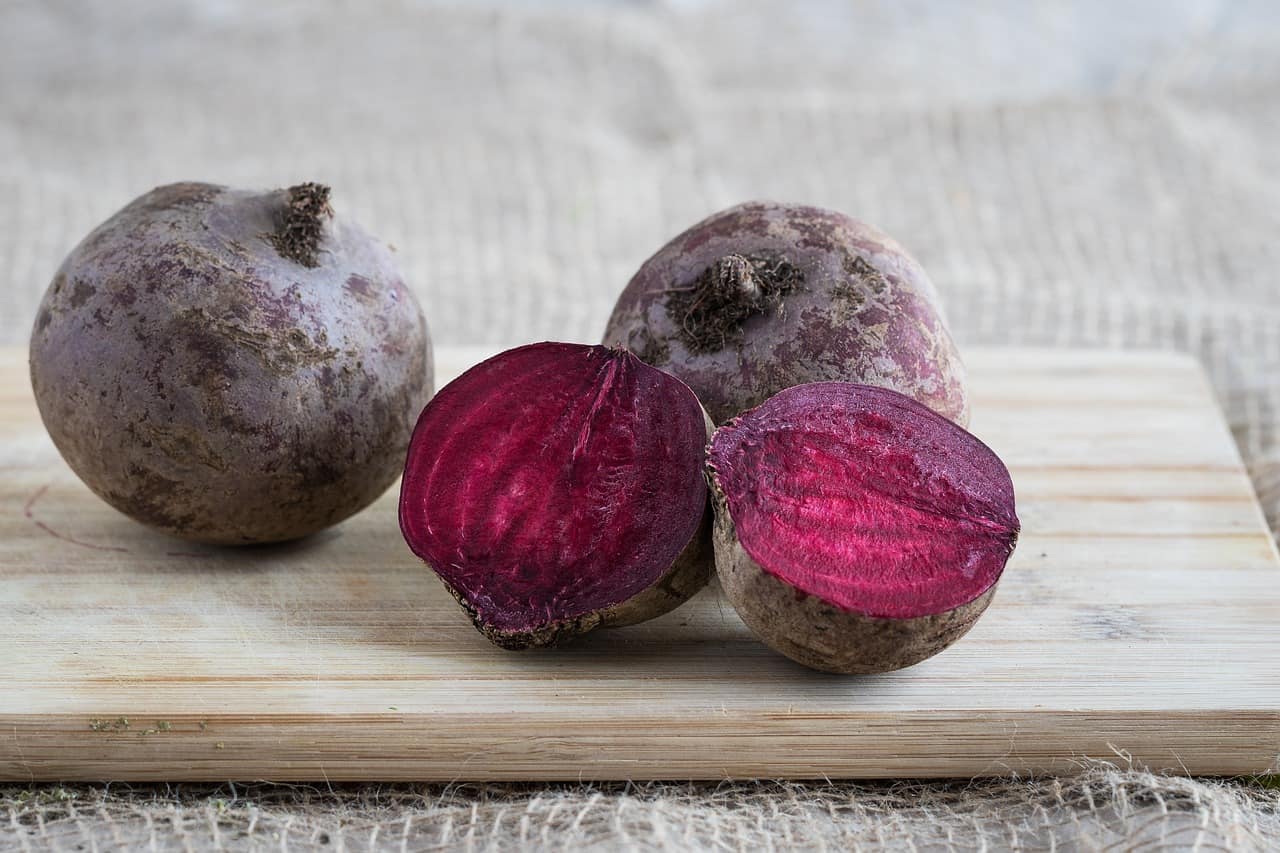 If you've been to any kind of fitness expo lately, you've probably seen the craze about beets and beet juice. And for good reason! Beets are hypothesized to be performance enhancers thanks to their high concentration of dietary nitrates. The theory is that nitrates in beetroot juice may act as a vasodilator, helping improve blood and oxygen flow to muscles.
There have been several studies done over the last few years looking into the effects of beet juice on endurance performance. Many have shown a positive effect on performance, in the area of around 2-4% improvement in time trial performance in both cycling and running.
If you're looking for that boost, try them about 3 hours before a training session. Got an afternoon track workout? Toss some beets in your mid-day salad, blend them in your smoothie, or enjoy these roasted carrots and beets for a possible performance boost – or just because they're tasty!
3. Blue: Blueberries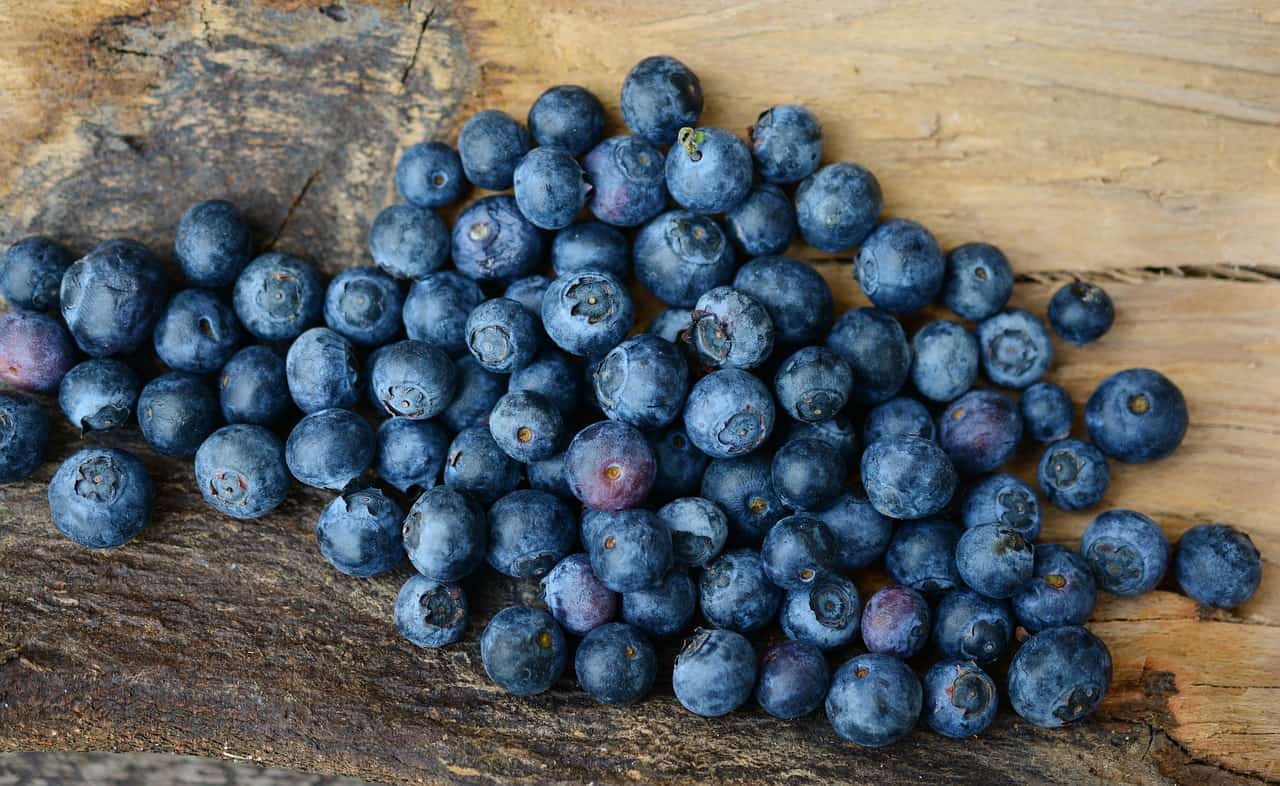 Blueberries are wonderful choice for a runner's diet – a naturally sweet treat that's rich in phenolic compounds (which may have several beneficial effects in the body). Plus, a 2011 study suggested that blueberry consumption before a 2 ½ hour run led to less post-run stress markers and increased anti-inflammatory markers in the body!
Now, in that study, they were giving around 2 ½ cups of blueberries an hour before a run – which might be a lot depending on your preferences and represents several servings if you're watching calories. We don't know if the results would be true with a smaller amount. But there's certainly no harm in mixing them into your pre-workout meal. Consider some blueberry pancakes, a wild blueberry smoothie, or some oatmeal mixed with blueberries an hour or two before your next long run.
4. Orange: Sweet Potatoes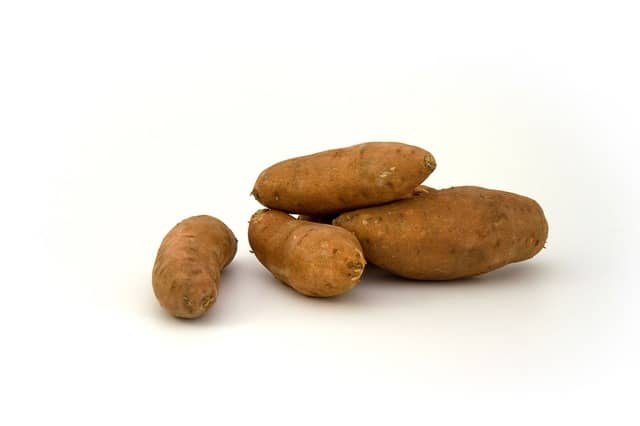 Let me set the record straight first – there's nothing wrong with including standard white potatoes in your meal plan (they are actually packed with potassium). But we want to add variety right?! Sweet potatoes are rich in the same healthy carbohydrates as white potatoes, but they are also higher in fiber and Vitamin A, making them great to add to any runner's diet.
One of my favorite quick meals for athletes is a quick hash. It can double as breakfast or dinner and is SO tasty! Just sauté some bell pepper, onion, ground turkey/beef, and chopped sweet potatoes (microwave the potatoes first so they're already pretty tender). This meal has a nice balance of carbs and protein.
You can also whip up something like these sweet potato nachos for a power-packed snack attack.
5. Purple: Grapes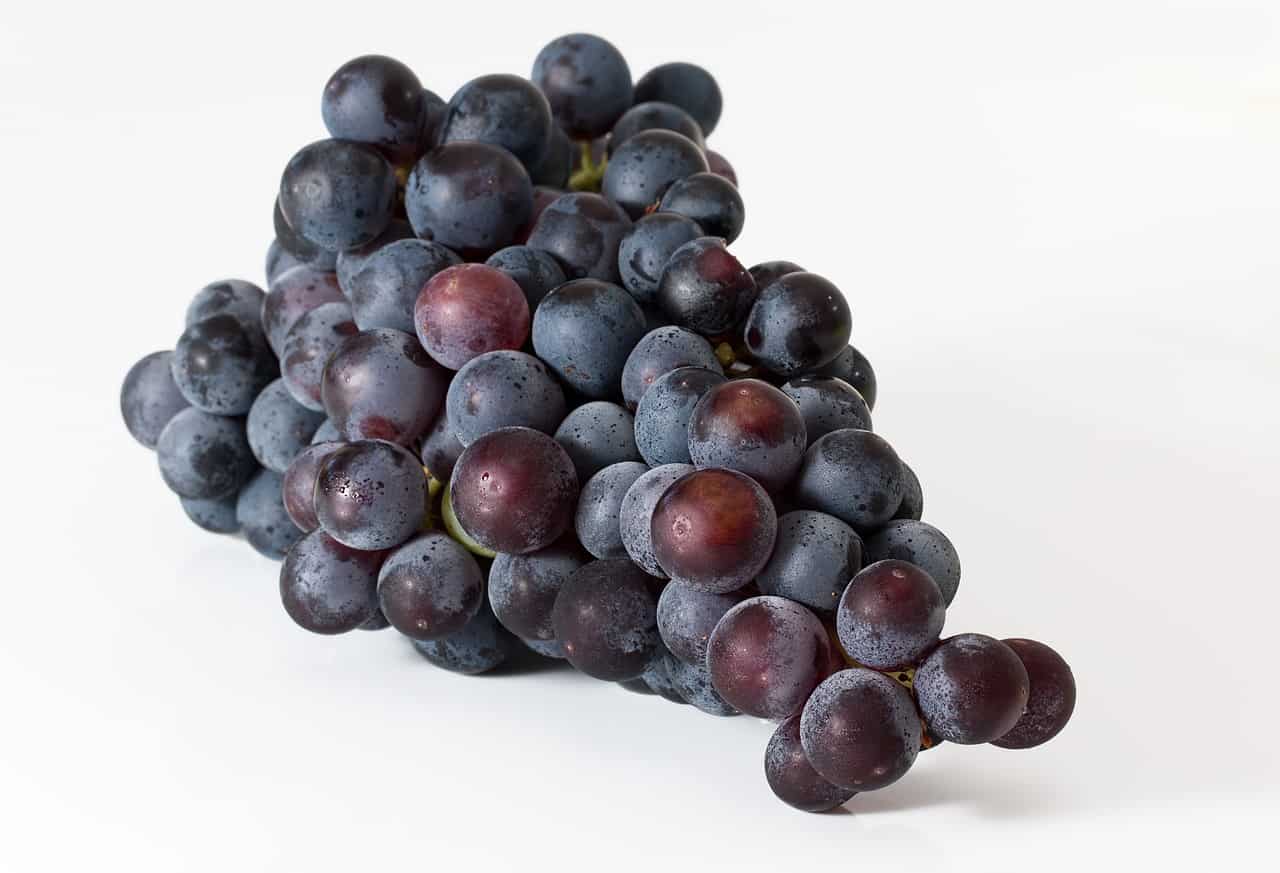 Those deep-colored purple grapes are rich in polyphenols, a class of plant compounds that can have many beneficial effects in the body including preventing inflammation. Some newer research has also looked at performance benefits.
A 2015 study randomized a group of 28 recreational runners into either a daily grape juice group or a control group (the control drink had the same calories and sugar content). Each group did a time to exhaustion run at baseline, and then again after 28 days of either the grape juice or control drink. The grape juice group had a 15% increase in time to exhaustion after the month of the study, while the control group did not change! And another study found that grape juice improved some circulatory system markers among triathletes.
So start mixing those purple grapes – or even perhaps a little 100% grape juice – into your regular routine! I love frozen grapes as a dessert, or you could try this delish grape granita.
6. Brown: Dates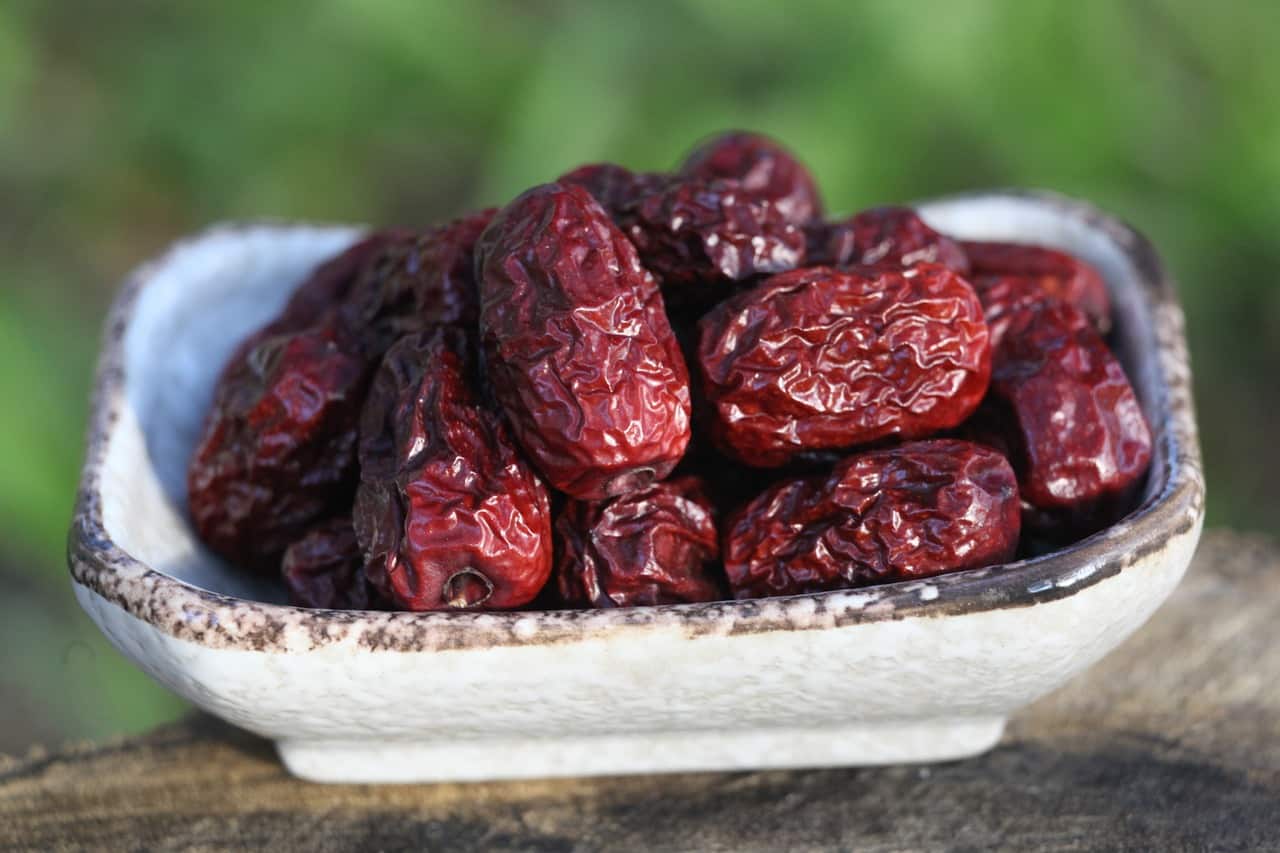 Back when I used to teach in the elementary schools, I remember showing the students a photo of a date. One little 3rd grade boy said "So Miss Chrissy, I guess sometimes a date means 'hey girl, want to go out?', and sometimes it just means an ugly brown fruit." 😉
So yes – while these may not be the prettiest fruits to have in your fridge, they are super useful for a runner's diet. Why? Because you can use them to naturally sweeten a whole lot of desserts and snacks to make more nutrient-dense baked goods.
One of my favorite things to do with dates? Make 'em into energy balls! Just combine them with oats, nut butter, and any other mix-ins of your choice (chia, flax, chopped fruit, etc) then combine it all in the food processor. Roll these into balls and store them in the fridge for an easy, filling treat.
7. Green: Spinach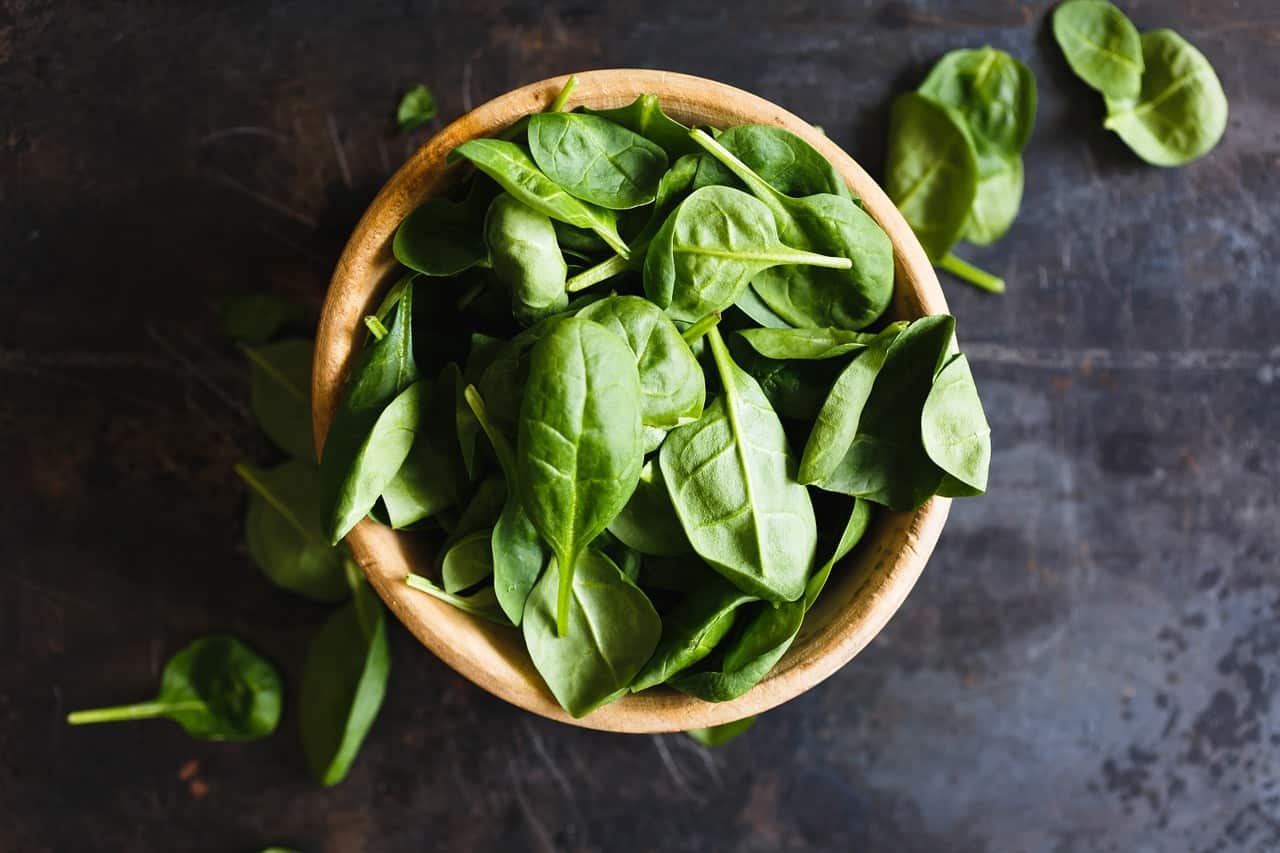 It may not be the sexy star that kale is these days, but spinach is a nutrition powerhouse. A cup of raw spinach clocks in at just 7 calories, yet packs a hefty dose of Vitamins A and K.
And when it comes to athletes, I like that spinach is gives you a little iron too. Iron is essential for preventing anemia and supporting your training. While it's not as well utilized as the iron in meat, spinach is one of the better plant-based sources that you'll want to include. If you're a vegetarian, make sure to include spinach along with beans, dried fruit, whole grains, and seeds regularly to be sure you get plenty of iron.
8. Pink: Grapefruit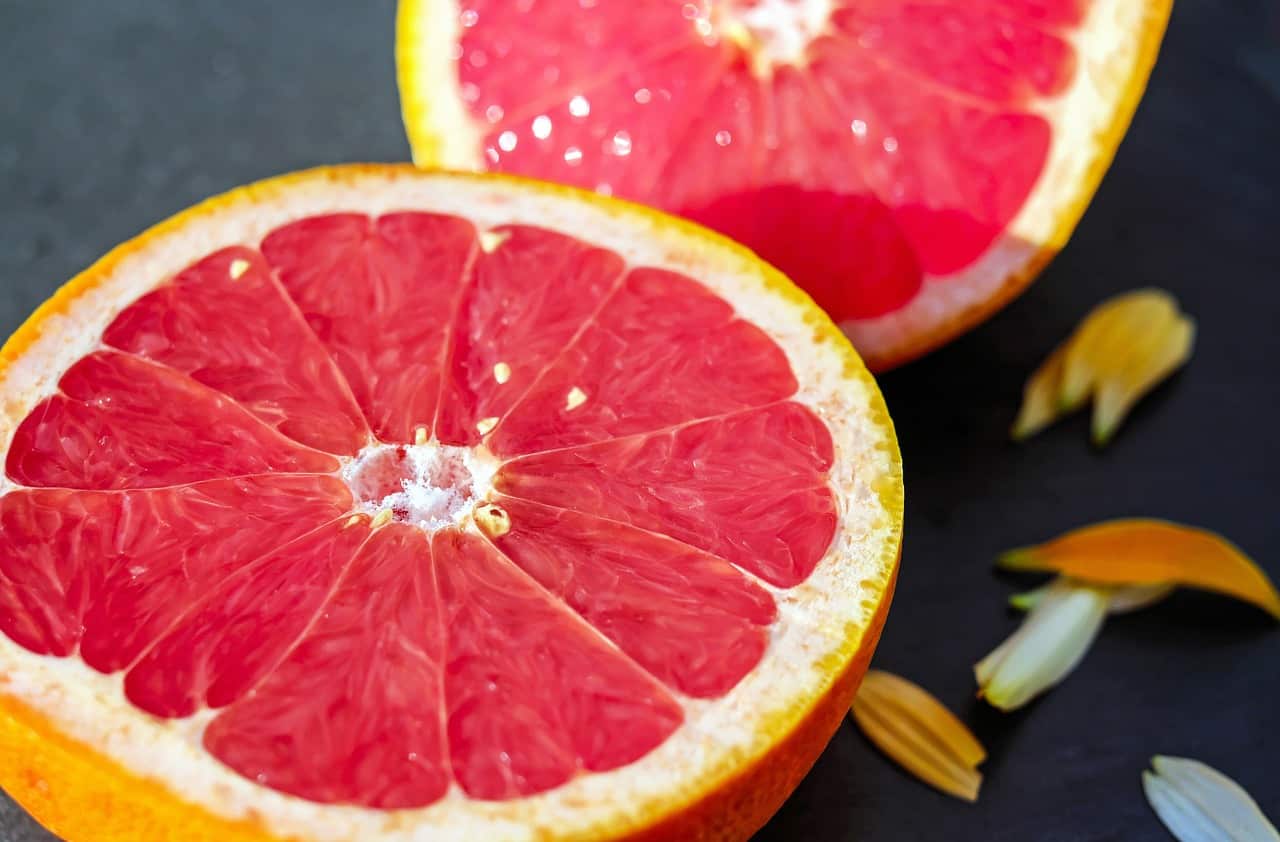 Grapefruit is another winner for a runner's diet thanks to its water content – about 90% of the fruit is made up of water to help hydrate your body. That's key for athletes, since toeing the starting line dehydrated almost surely means you'll end up struggling with hydration on the course. Stay hydrated on an everyday basis by drinking enough water (here are some great infused water recipes to jazz it up), and eating fruits and veggies to naturally get fluid in food.
And while it's only an animal study, in 2010 researchers looked at mice fed a key component in grapefruit. The mice had improved endurance measured by time to exhaustion while swimming. I'm not saying it holds true for humans – we have no idea right now – but it's interesting to note!
9. Yellow: Spaghetti Squash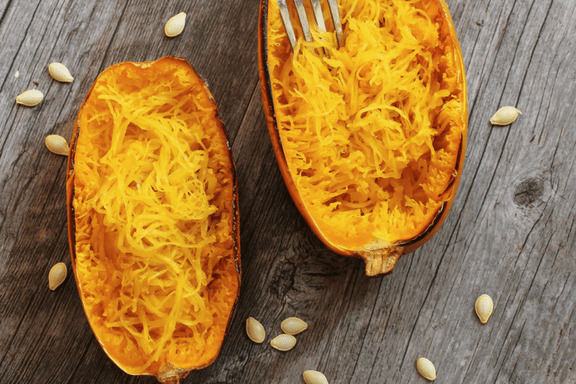 This is one of my favorite foods on this list for satisfying that crazy training hunger. I'm not going to fib and say it tastes just like spaghetti – it doesn't – but it makes an amazing substitute for pasta in a lot of dishes. It's a win-win – you get to eat a big ol' bowl of food without overdoing it (42 calories per cup of squash versus about 200 per cup of pasta), and you increase your daily veggie intake. Try adding these turkey and kale stuffed spaghetti squash boats into your meal routine.
There you have it – 9 of the best fruits and vegetables to add color to any runner's plate!
Share with me: What do you think are the most important fruits and veggies for a runner's diet? Which fruit or vegetable from this list do you want to try to incorporate more? Did you join the AHA's Healthy for Good movement?!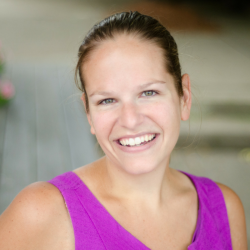 Latest posts by Chrissy Carroll
(see all)