I'm sure by now you know that I'm quite passionate about road races and triathlons – they are great ways to challenge yourself both mentally and physically. But I know taking the leap to complete one can be a big step. Today, enjoy this guest blog post by Beth over at Sublimely Fit as she shares tips on completing your first half marathon!
5 Tips for Running Your First Half Marathon
Signing up for your first half marathon can be a scary thing. You know that it's going to be a fun experience so you're excited, but you're also a little nervous about whether you can really cover all of that mileage. You're nervous about the journey, but you know that the hard work will be worth it. There's nothing like the feeling of crossing the finish line of your first half marathon and collecting that finisher medal. As a running coach and a finisher of 16 half marathons, I wanted to share my top tips for running your first half marathon today. Hopefully you'll find at least one or two tips that will help you cross that finish line!
Tip #1: Respect the distance.
A surefire way to have a bad race is to be undertrained. Yes, you're not training for a full marathon, but the majority of new half marathoners these days will be out on the course for over two hours. You want to make sure that your body built has the proper endurance to cover the distance, so be sure that you're taking your training seriously.
Tip #2: Take recovery seriously.
Really take the time to make sure that you're recovering well after your runs. Make sure you're eating healthy foods and getting in all of the nutrients that your active body needs. Foam roll or do other forms of self-massage at least a couple times a week, if not daily. Strengthen your stabilizer muscles by following a strength training routine or trying barre or yoga classes. Listen to your body and take a day or two off of running if you feel any consistent twinges of pain in your joints or muscles. All of these things will help you reduce your risk of getting injured as you train.
Tip #3: Practice your race day regimen.
If you've done any reading about racing, especially distance racing, you know that you don't want to try anything new on race day unless it's an absolute emergency. Be sure you practice fueling and hydration on your long runs and run in the same gear you'll be wearing on race day, too. That way you'll know if you need to make any changes before race day.
Tip #4: Be prepared.
Set out everything you'll need for the day of the race the night before. Make a checklist to be sure you don't forget anything. Charge your GPS watch or phone if you're using them. (I've learned that one the hard way.) You don't want to get to the start area and then realize that you forgot your shoes at home. This is especially important if you're traveling for your race.
Tip #5: Have fun!
Your first half marathon really is a very unique experience, so be sure to really soak up the experience. Many coaches will suggest that you don't worry about your finish time for your first half marathon and instead focus on having a good time. You can always run more half marathons to get a faster finish time, but sometimes when you're really focused on a time goal, you forget to enjoy yourself.
Good luck and enjoy the journey!
About the author: Beth blogs about running, yoga, and healthy living at Sublimely Fit. Feel free to contact her with any questions at beth (at) sublimelyfit (dot) com or via social media (Twitter, Instagram, Pinterest, or Facebook).
Share with me: If you're a new runner, what are you most excited/scared about for your first half marathon? If you're an experienced runner, what tips do you have to share?!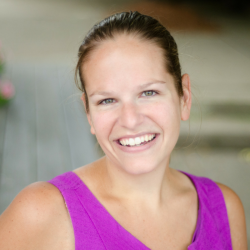 Latest posts by Chrissy Carroll
(see all)