As John Snow might say – "winter is coming!" – and with that comes busy holiday preparations, early darkness, and cold nights. It's easy to get sucked into a crazy schedule or stuck in bad habits that don't serve us. Instead, let's shift some of that focus back on taking care of you with the help of these winter self care ideas.
Disclosure: This post contains Amazon affiliate links. As an affiliate, I earn a commission on qualifying purchases.
Disclaimer: This post is for informational purposes and should not be construed as mental health advice. Seek out a doctor or therapist if you have mental health concerns.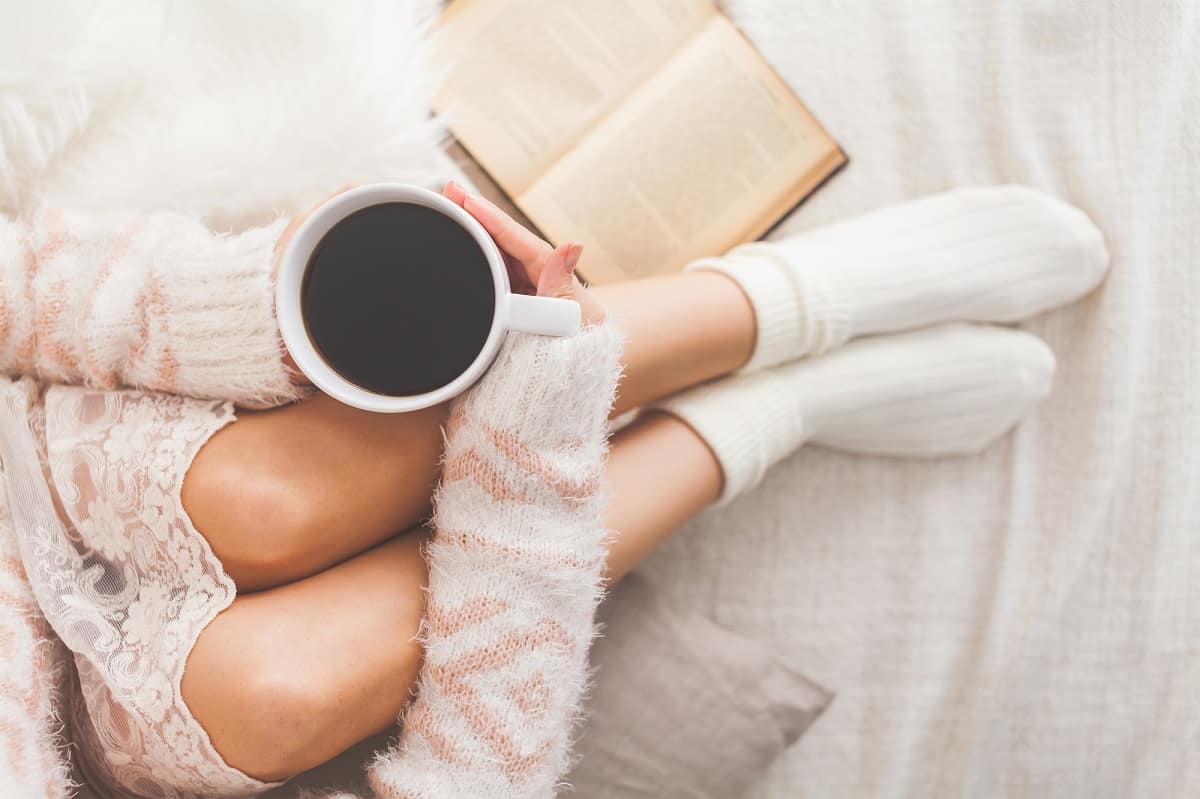 Why self care?
Self care is something we should care about all year round, but especially so throughout the winter months.
According to Henry Ford Health, shorter winter days may impact your energy levels since reduced sun exposure can affect your circadian rhythm, which may lead to your body producing more melatonin. You may also fall short on Vitamin D, which can impact anything from energy levels to immune function.
Some people also experience more severe issues in the winter, like Seasonal Affective Disorder (SAD). According to the Mayo Clinic, this is a type of depression that kicks off each fall and continues throughout the winter, with symptoms resolving during spring and summer.
Whether you are struggling with any of these things or are simply wanting a little time for yourself – self care helps give us moments of joy and care throughout the season. Self care may help you control anxiety, help you feel happiness, keep you from getting burned out, and improve your energy levels.
Now is the perfect time to create a new self care routine if you don't have one already, or incorporate some new ideas to your existing routine. It's a time to put your health and wellbeing first.
15 Winter Self Care Ideas to Add to Your Routine
There's no better time than now to start thinking about how you can bring more self care activities into your winter season. Here are some of our favorite options:
1. Enjoy a hot seasonal drink
Is there anything better than a gingerbread latte, a pumpkin spice coffee, or a mint hot chocolate? (Actually, I'd argue with folks on that last one. Food that tastes like toothpaste?! No thank you 😉 )
Seasonal drinks are warm, cozy, and bring us a limited-time treat that is innately exciting since we typically don't get to enjoy it all year round.
Try stopping by your local coffee shop and sipping your drink while reading a favorite book, or make your own flavored hot drinks at home with your family.
PS – Want new hot drinks to try with your fam? This hot watermelon lemonade is a fun option for winter, as well as these homemade hot cocoa bombs.
2. Practice gratitude
Fresh off the back of Thanksgiving, winter is an ideal time to continue the habit of practicing gratitude.
Try starting a gratitude journal where you list a certain number of things you're thankful for each day.
You could also write a gratitude letter to someone in your life. It's sure to bring more in-depth reflection for you, and will make a huge impact on their life as well.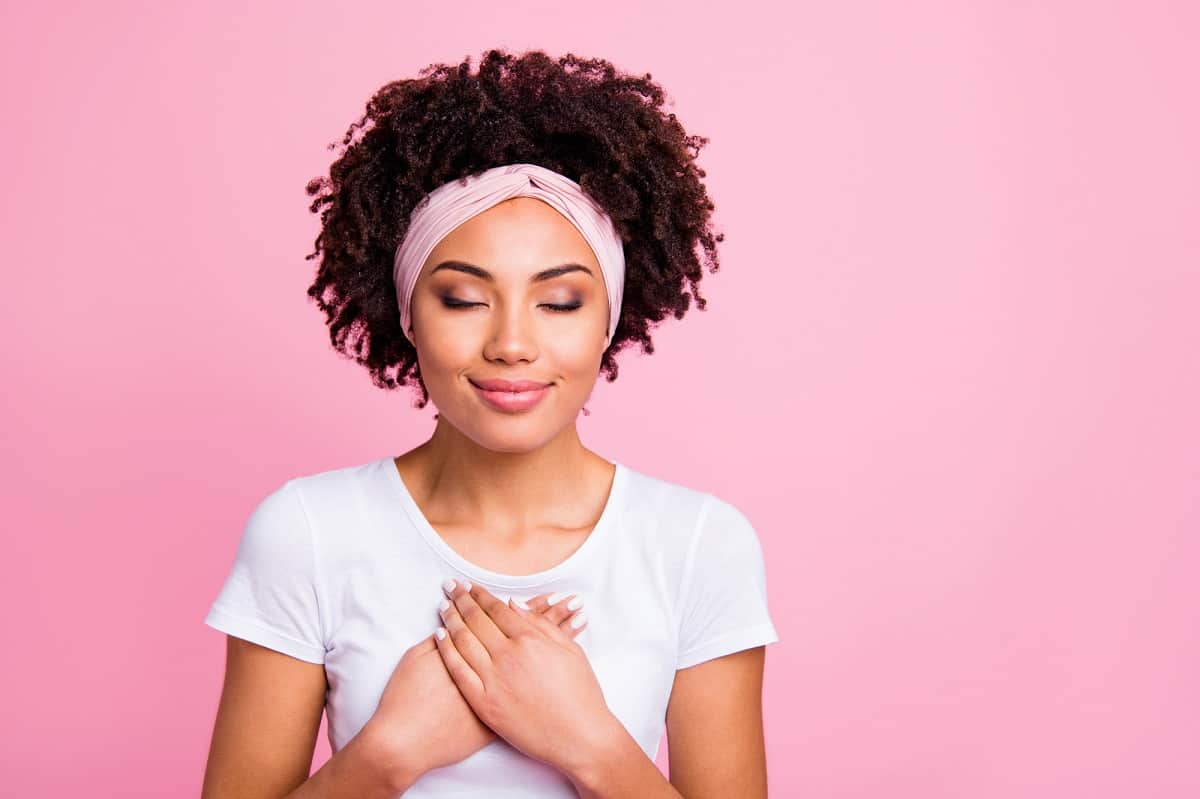 3. Set new goals
After the holiday season we'll move into the New Year, and with it comes a focus on setting and achieving goals. Think about where you are right now and where you want to be, then write a goals list or bucket list for the year ahead. You can use these goal setting worksheets to help you plan your year ahead.
If it seems overwhelming to start thinking about your life as a whole, consider choosing one area to set goals in. For example, you might create a fitness bucket list of the new exercise-related goals you want to knock off this year.
4. Declutter your home
From seasonal decor to holiday gifts, our homes can become cluttered and overwhelming in the winter. I always find the beginning of January to be a great time to clear out, declutter, and clean the house.
This may sound like one more thing to do, but it is definitely a form of self care.
Consider this: Constantly seeing clutter and disorganization can increase anxiety and affect your ability to think clearly. Plus, research has shown that clutter can even affect levels of cortisol (a stress hormone) and your mood.
By taking time to declutter, you may notice that you feel calmer and happier in your house.
If you're having trouble getting started, here are a few of my favorite books that provide interesting approaches to cleaning up:
Side note – One of the biggest things that gets in the way of decluttering is resisting giving things away because you believe you could sell them. If this is you, I'd encourage you to either a) post your items on Facebook marketplace and give them one week to sell, or b) place a pay-what-you-want table outside with your items. Anything that's left after either of these gets donated!
5. Connect with a loved one
When the weather is snowy or icy and schedules are busy, it can be difficult to meet up with friends and loved ones for a coffee and a chat. But that connection can be so important in our lives.
Find a way to reach out to them anyway – like by text, email, social media, or snail mail. You can check in with your loved ones, see how they're doing, and seek support if you need it.
A few years back, I chose "magic" as my word of the year, and frequently sent small snail mail gifts to friends and family that weren't expecting anything. For example, a cute onesie to a friend that just had a baby, or a helpful book to an entrepreneur pal. Just think of the magic of lighting up someone else's day like that – and how you as the giver will also feel that joy.
6. Embrace holiday moments of joy
The holiday season can be a tricky time for some of us, so one of my favorite holiday self care tips is to try and focus on a few small moments of joy that you love about it.
Go for a walk to see the festive lights, head to a Christmas market, or enjoy your favorite holiday treats. Pop on your favorite Christmas movie and make stovetop popcorn. Get a real tree and take in that lovely pine scent.
Make a list of the most important things to you this holiday season, and use those to guide your November and December plans. Don't feel obligated to do everything; enjoy what makes you happy.
7. Get cozy with a book
Sometimes there's nothing better than curling up in the corner with a good book and a hot cup of coffee or tea. Is that not a true hygge moment?!
Choose whatever genre you love, whether that's nonfiction (raises hand), a good novel, poetry, or comic books.
Here are a few of my favorite books from the last year if you need some inspiration:
PS – I recently joined Goodreads and am loving seeing what books others are reading, and tracking my own list of "read" and "want to read".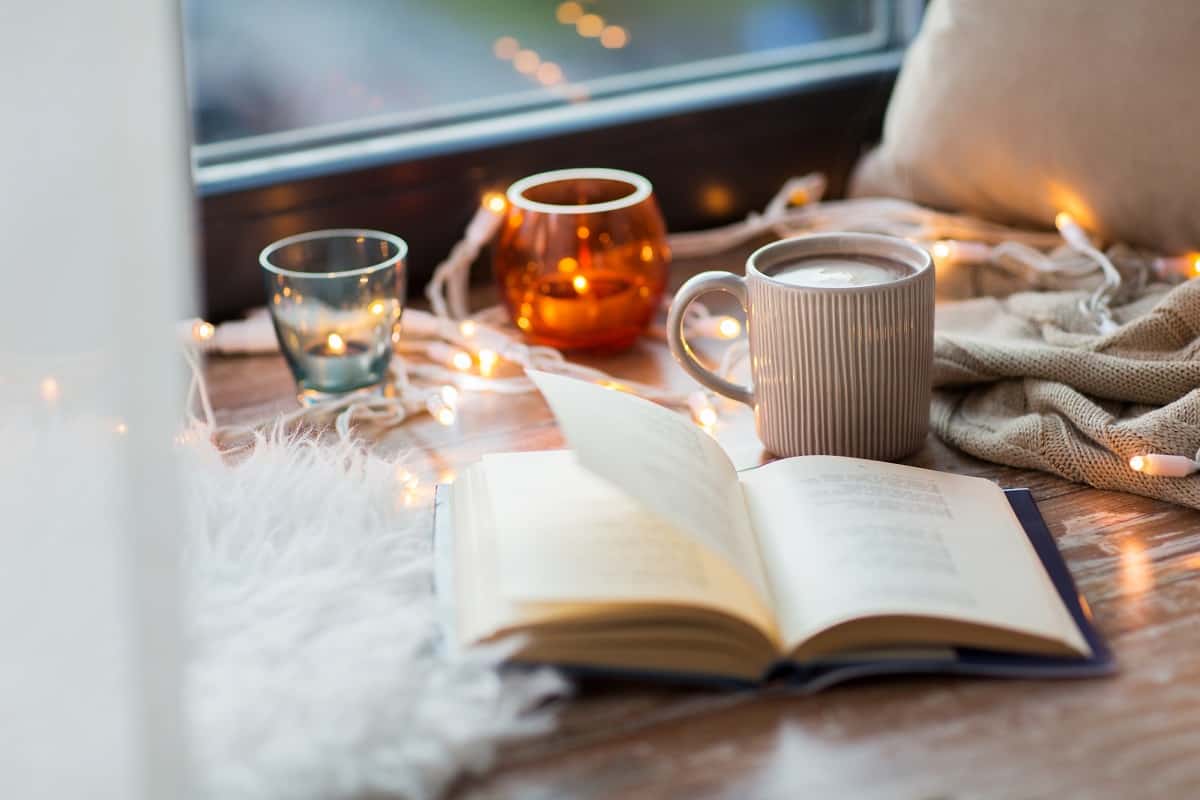 8. Try a creative hobby
As the seasons move and change it can inspire us to consider new hobbies and interests. Use this winter seasonal shift to encourage you to try something creative.
Here are some examples of hobbies you can do in the winter:
Snowshoeing
Painting
Cross-stitching
Lock picking (on your own practice locks, not house locks silly! It's like a puzzle!)
Indoor axe throwing
Writing
Playing an instrument
Baking
Belly dancing
Yoga
For any of these, you can either find online tutorials to help or hire someone to give you lessons.
9. Add some winter items to your home
Many of us spend a lot of time at home during the winter, so having some cozy attributes can be a self care activity that keeps giving beyond the initial investment.
Bring in some cozy blankets and throw pillows, add some scented candles, create a book nook…whatever makes you feel snug and homey.
10. Enjoy a warm bath
Whether you've been outside in the cold or are simply craving some quiet downtime, taking a warm bath is a great self care idea.
You can add some bath salts or a bath bomb and listen to soothing music while you're in there. Afterwards, moisturize with a lotion and put on some comfy clothes to keep the relaxing vibes going.
11. Dance it out
Throw on your favorite 90's playlist or the latest-and-greatest hits, and get your body moving.
It sounds a little silly, but dancing will help you release pent up frustration or anxiety, get your heart pumping to improve your fitness, and bring a smile to your face.
It is one of my very favorite self care ideas for winter. You can do it any time of the day (though I suppose it makes sense to do alone or with family; not sure coworkers would get down with your electric slide) for an instant mood boost.
12. Plan a mini adventure
It can be hard to leave the house during the dreary winter days, but having a mini adventure planned can fill you with excitement and anticipation.
A mini adventure could be anything from going to indoor mini golf on your lunch break, to visiting a nearby mountain on a Saturday for skiing, to taking a midday trip with your family to a local city and exploring a new restaurant and museum.
Essentially, it's any activity that's out of the norm, that you want to do, and that takes anywhere between one hour to all day.
Get creative and get planning!
13. Take a walk outside
Yes, it's cold. There may even be snow on the ground. But you will almost certainly appreciate the fresh air from a walk outside.
See if you can make an effort to regularly get out for a walk each day. It doesn't have to be long – even 10 minutes is great! Research has shown that walking outside in nature may improve health through several mechanisms (including improved Vitamin D status, improved mood, and release of BDNF in the brain).
[Want some motivation for your daily walk? Try our
30-day walking challenge
!]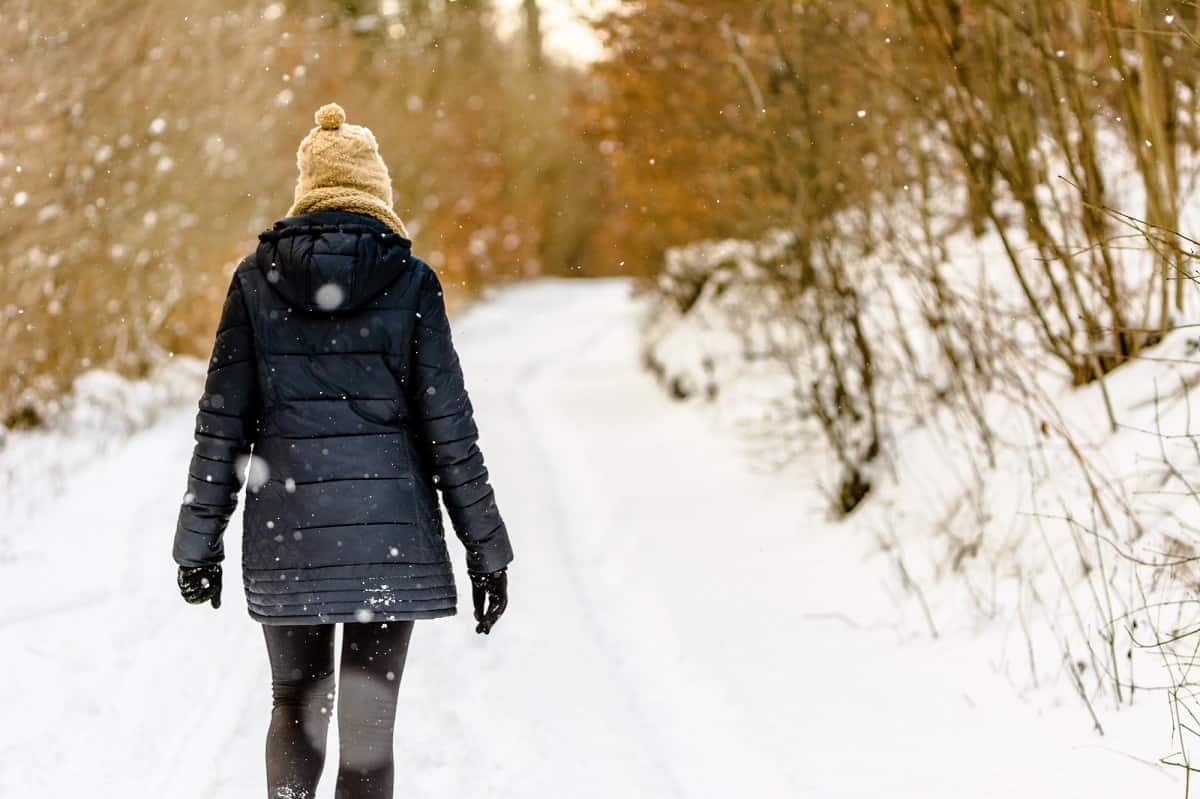 14. Practice deep breathing
This is one of the few self care options that you can do anytime, anywhere.
Boss stressing you out? Deep breaths
Kids yelling and screaming? Deep breaths
Friend monopolizing the conversation again? Deep breaths
Long line at the store when you're already tired and want to get home? Deep breaths.
Obviously, there are greater issues at play in some of these scenarios that might require more action and conversation on your part. But deep breathing can be an initial self care step to regulate your mind and body.
WebMD has some great breathing exercises; an easy one that can be done anywhere is breathing in and out for equal counts. For example, breathe in and count to 5, then breathe out and count to 5.
15. Toast your wins
As the end of the year approaches or the beginning of the year begins, it's important to sit down and remember all that you've achieved throughout the last year. Write a list of your achievements and check off which goals you've reached or made progress towards. Toast yourself, or think of a fun reward to treat yourself.
Final Thoughts
It feels more important than ever to take care of yourself in the winter months. Use these self care tips and ideas to guide you through the season, and help you create moments and memories that bring you joy and happiness.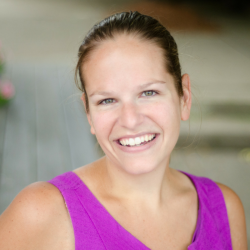 Latest posts by Chrissy Carroll
(see all)